Bring all the delicious flavors and aroma of this Filipino favorite roadside eats right into your kitchen with this easy Beef Pares recipe! A three-in-one dish of tender savory braised beef chunks served with fried garlic rice and a steaming bowl of clear soup. It is a hearty meal your family will surely enjoy!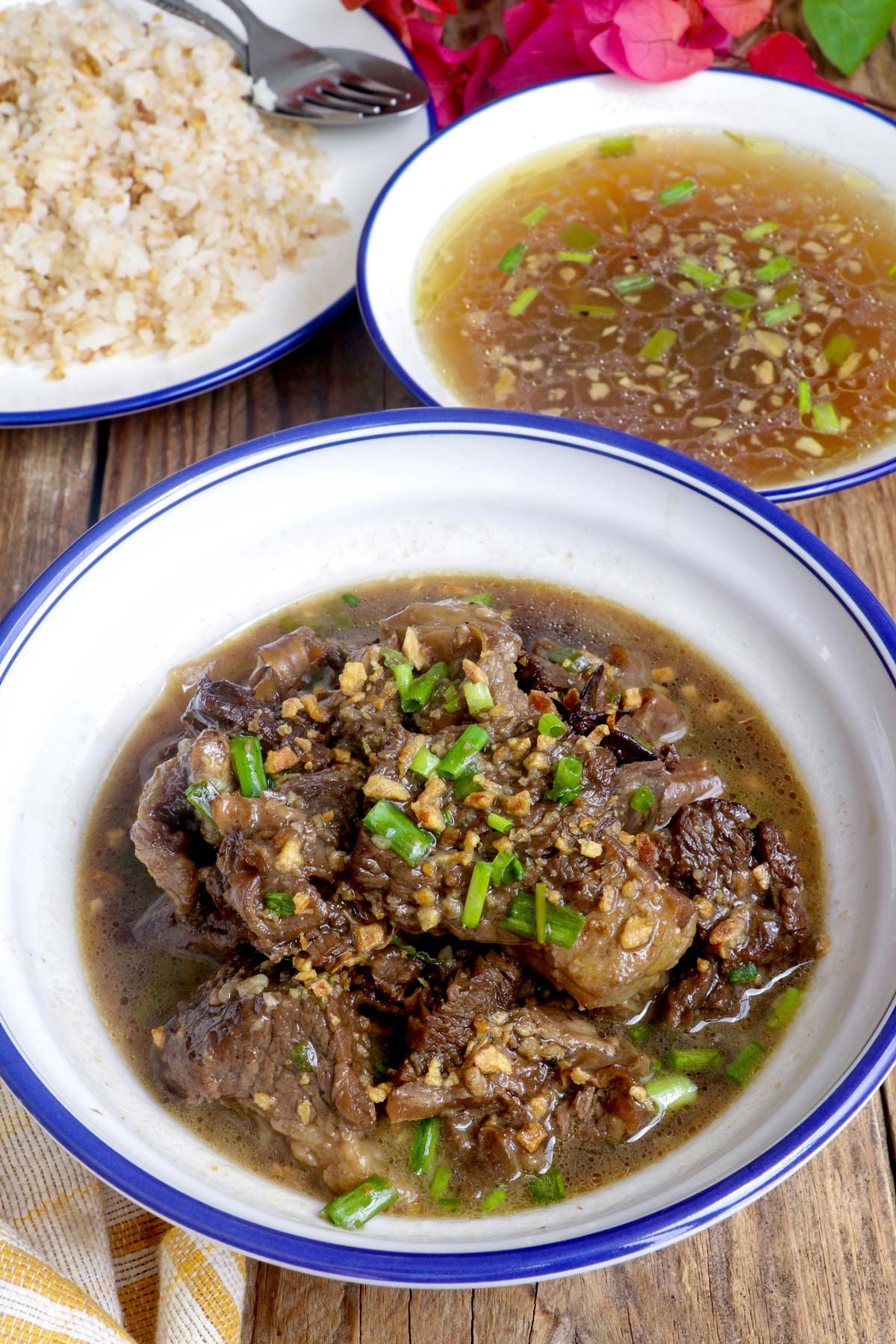 With the cooler season upon us, there is nothing more comforting than warm and hearty home-cooked meals. Classic Filipino comfort foods like Tinola, Bulalo, Sinigang, and Nilaga are always constants in our weekly meal rotation. Beef Pares may not be a usual in our lunch or dinner routine, but it is certainly a comfort meal with its combo of sweet Asado-style beef, garlic fried rice, and savory beef broth.
What is Beef Pares?
The word "pares" means "pair" or "pairing" in English. This term was coined because the beef stew is always served with rice and soup as part of an all-in-one, low-cost meal set sold in local roadside eateries. Beef Pares is a popular dish for motorists looking for a hot, filling meal after a long day on the road. This dish is also available at carinderias or "pares houses" near local establishments such as schools, hospitals, and factories. It is so well-loved and popular that even some high-end restaurants have included this dish on their menus.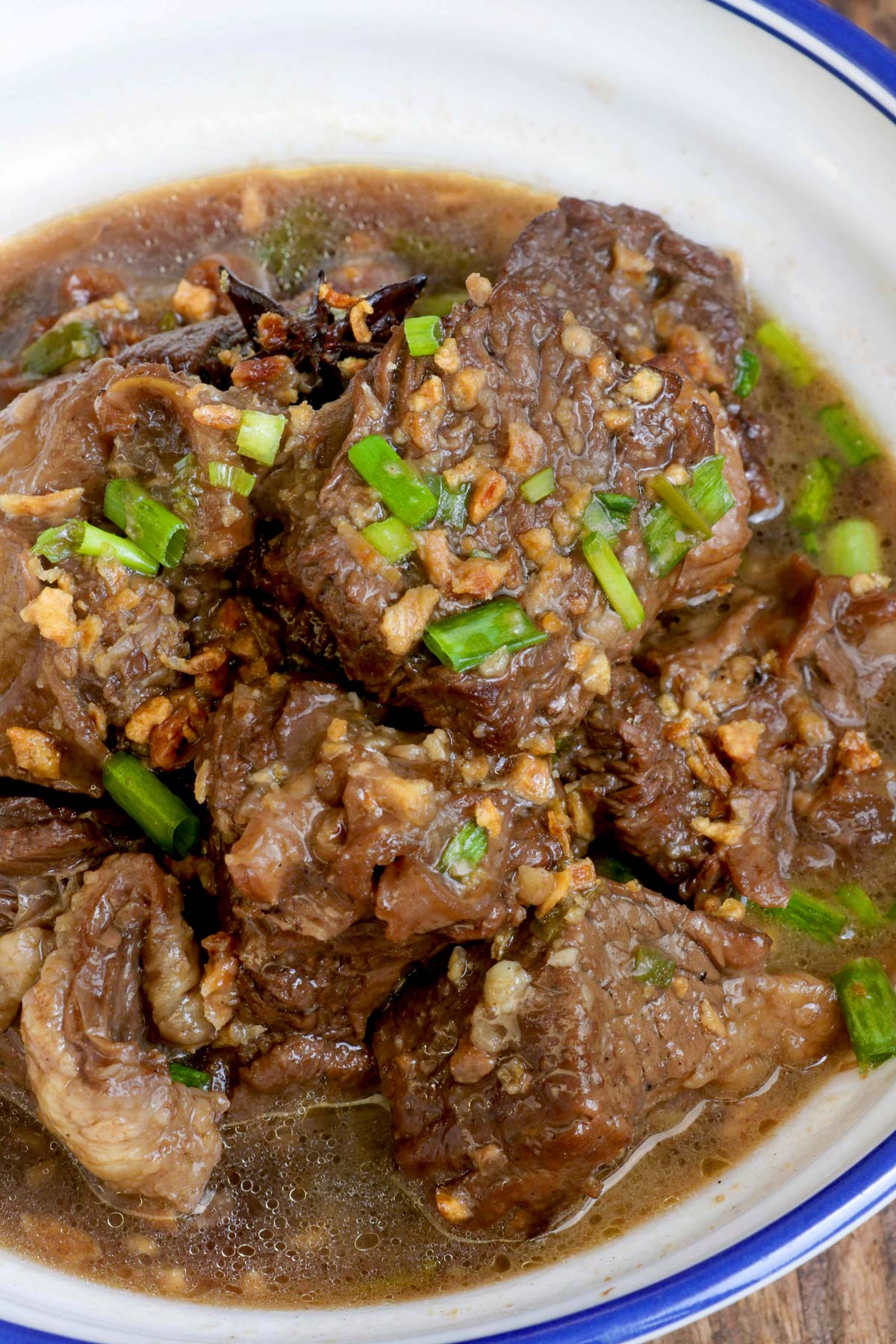 What part of beef is used?
While this dish commonly uses beef brisket, you may technically use any part you prefer. Other cuts of beef that can be used, such as chuck, round, and bone-in short ribs may take slightly longer to tenderize, but you can always use your pressure cooker for these!
You can also use shanks if you want a richer broth due to the bones and marrow. These parts may be tougher than others but are usually cheaper and can be very flavorful! They are also ideal for soups and stews because they are abundant in connective tissues like tendons, which are high in collagen and add richness and thickness to the broth.
Other Mouthwatering Beef Recipe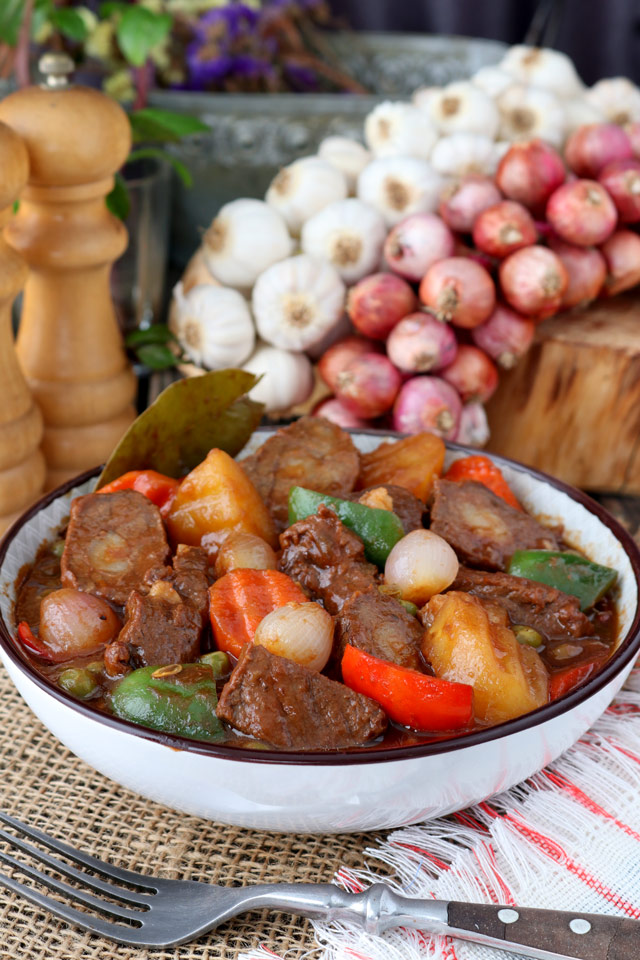 Ingredients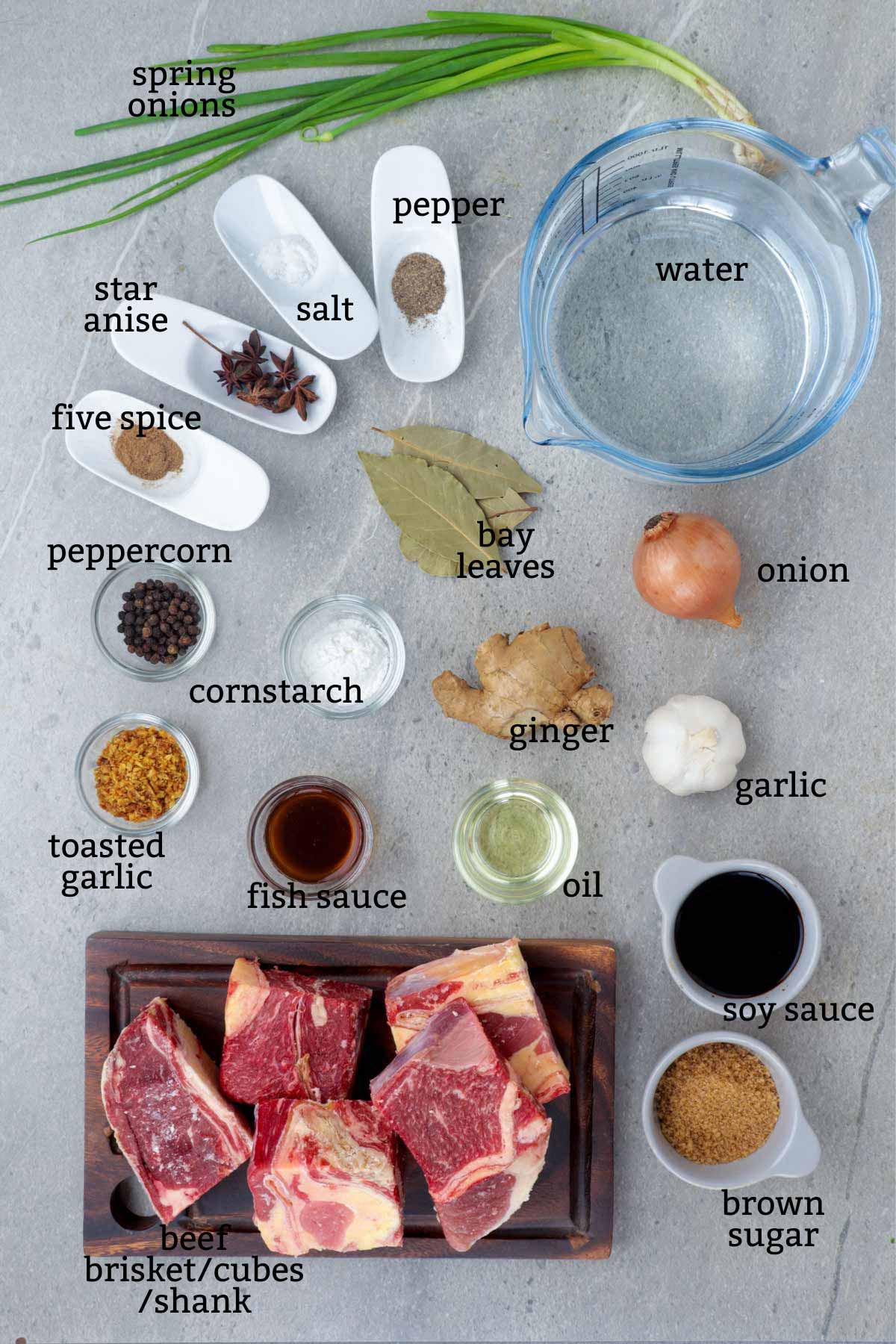 For the Beef Soup:
Beef - buy fresh or frozen with deep red color. Do not buy the meat if it is grayish or brown at the edges.
Water- I used room temperature water for soaking and another 8-10 cups of water to boil the meat to make the broth. 
Flavor Base- I used yellow onion, peppercorns, and fish sauce to add a savory and peppery taste to the soup.
Salt- only as needed.
Garnishes- a sprinkling of toasted garlic and chopped spring onions before serving add flavors that make the broth even more delicious. 
For the Braised Beef :
The beef that was boiled to make the broth.
Oil- you may use any oil you prefer.
Aromatics- I used onion, ginger, and garlic for the saute. You can skip the ginger if not a fan but it helps tone down the gamey taste of the beef for those who does not like it.
Soy sauce- this will give the sauce a nice umami and savory taste.
Spices- you will need star anise, five-spice, pepper, and bay leaves for this recipe. This combination gives the stew its distinct flavor! A mix of mildly sweet, warm, slightly minty, and earthy tastes.
Brown sugar- to add a bit of caramel sweetness.
Cornstarch + water - to make a slurry that makes the sauce thicker.
Spring onions - is optional for garnishing.
Foxy Tips when Making Beef Pares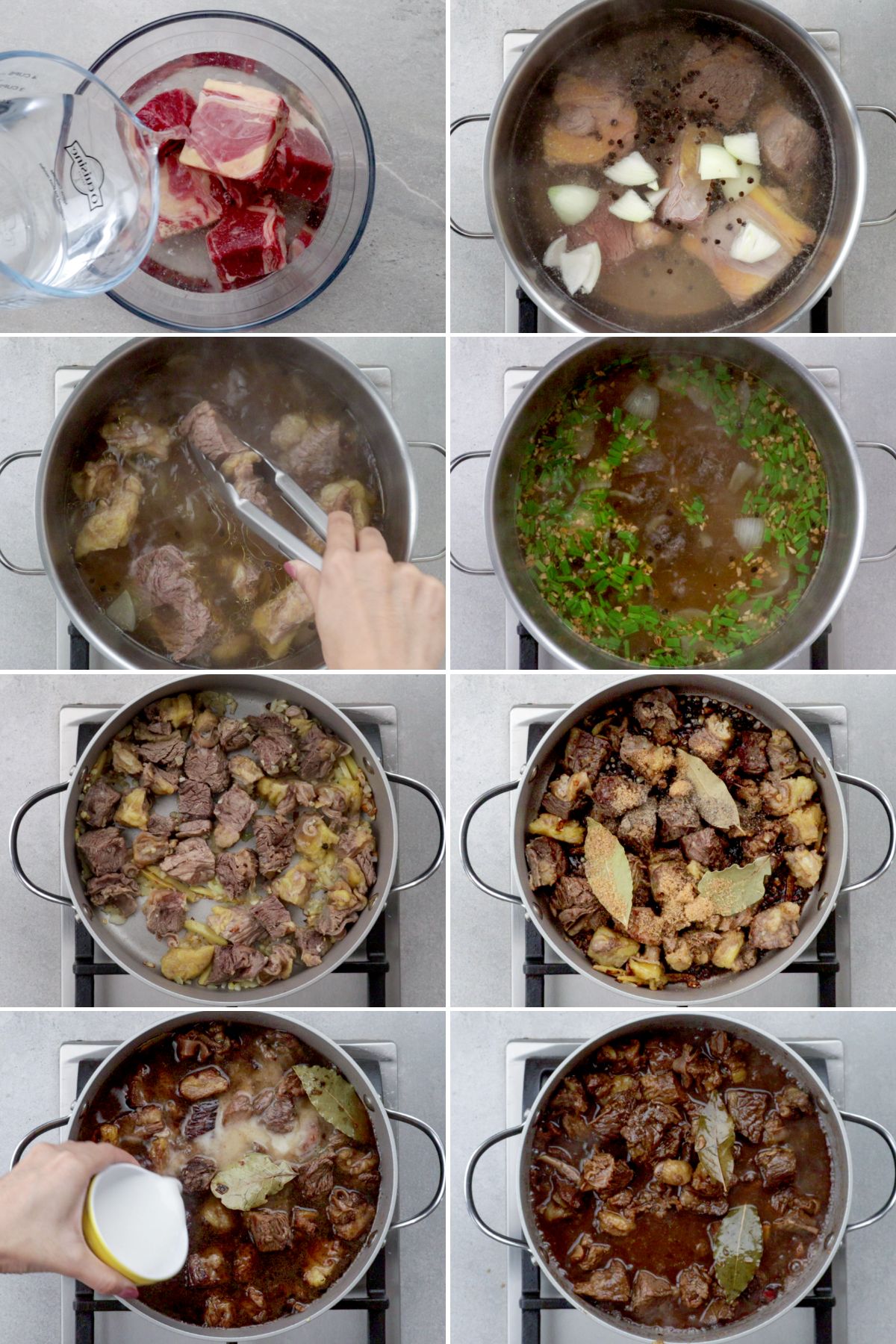 Soaking the beef in water before boiling should draw out the blood and impurities and give you a clearer broth. However, there would still be brown foamy sediments that will float on top as the beef simmers, which is a combination of fats and soluble proteins. You can skim them off if you like your broth to be very clear.
Check the water level when boiling the beef cuts. If it becomes too low, add more because you will need it for the soup later on. You can add more seasoning if needed.
You can also tenderize the beef using a pressure cooker to save time if you are in a hurry.
To have a clear broth for the soup, do not bring the water to a boil. Instead, cook the meat at a gentle simmer until tender. The rendered fat when the meat is boiled creates a cloudy broth.
Use day-old rice from the fridge. It is easier to break apart and perfect when making fluffy garlic fried rice.
Serving and Storing Notes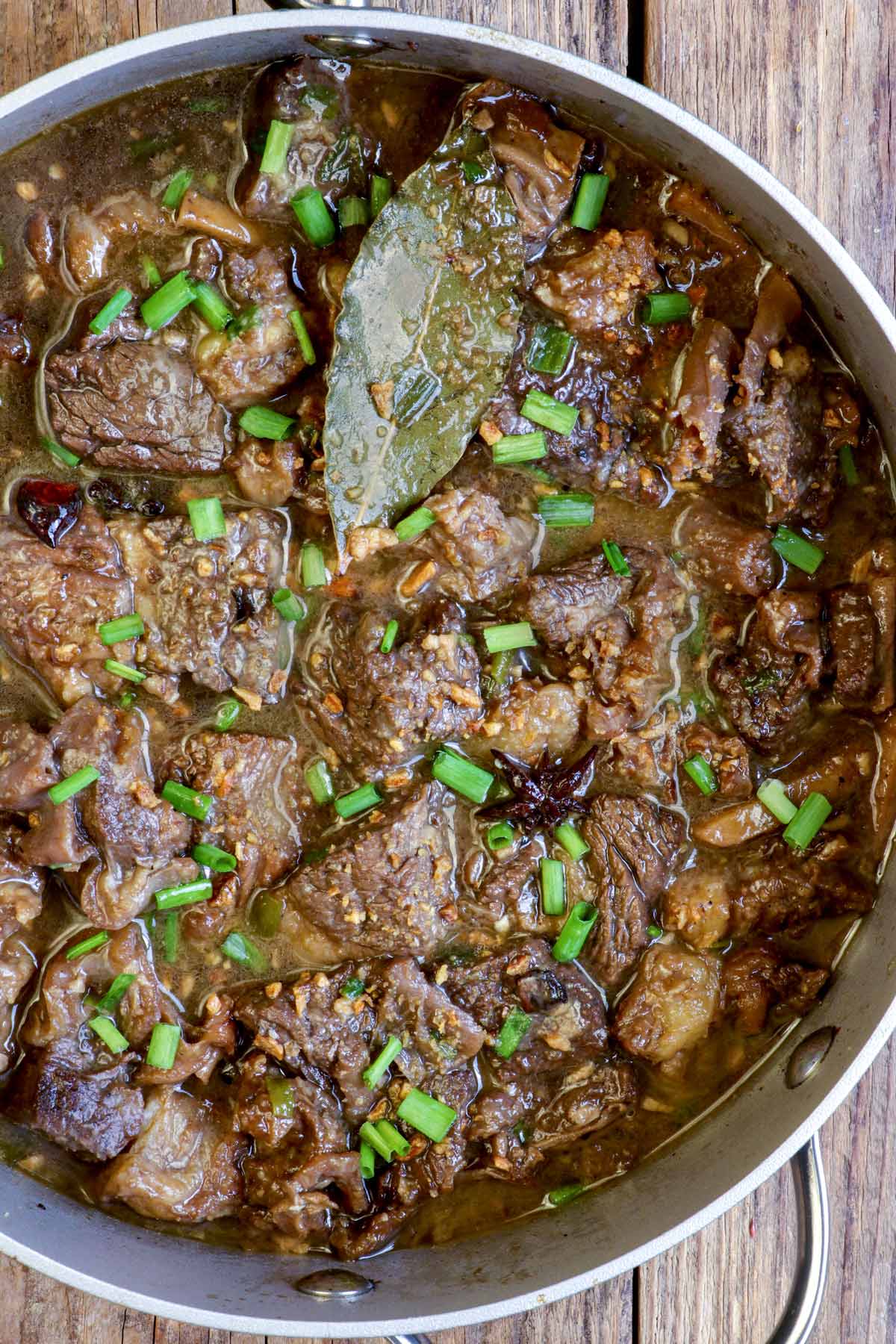 Beef Pares is popularly served in a combo set, with a piping hot bowl of beef broth soup and garlic fried rice. But you may also enjoy this with steamed rice, if preferred.
Place leftovers in an airtight container and store Beef Pares in the refrigerator for up to 3 days or may be frozen for up to 2 months.
To reheat, place on a saucepan over medium-low heat until heated through, or place in a microwave-safe oven and heat in the microwave at 1 to 2 minute intervals until thoroughly heated.
More Combo Meals To Try: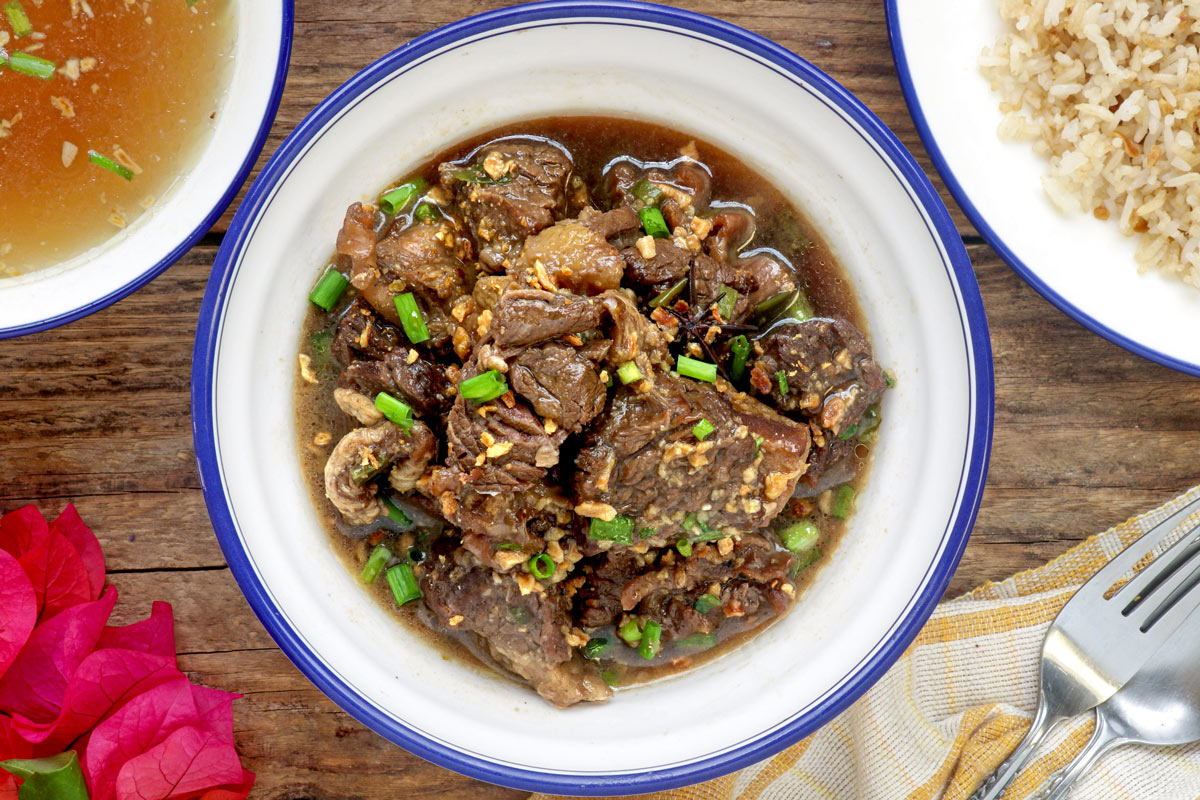 Printable Recipe
Beef Pares Recipe
Bring all the delicious flavors and aroma of this Filipino favorite roadside dish right into your kitchen with this easy Beef Pares recipe! Tender braised beef chunks in a rich and flavorful stew served with fried garlic rice and a steaming bowl of beef soup. It is a hearty meal your family will surely enjoy!
Ingredients
For the Beef Soup:
2

pounds

beef

brisket/cubes/shank

8-10

cups

water

1

medium

yellow onion

quartered

1

tablespoon

peppercorn

2

tablespoons

fish sauce

Salt

to taste

2

tablespoons

toasted garlic

½

cup

spring onions

chopped
For the Beef Stew (including the cooked beef from the soup)
2

tablespoons

oil

1

medium

onion

chopped finely

1

thumb

ginger

julienned

4

cloves

garlic

minced finely

¼

cup

soy sauce

3-4

pieces

star anise

¼

teaspoon

five-spice

3

pieces

bay leaves

2-3

tablespoons

brown sugar

adjust as needed

¼

teaspoon

ground pepper

1

tablespoon

cornstarch

dissolved in ½ cup water

spring onions

for garnish
Instructions
Place the beef in a large bowl. Add tap water and soak for at 10-15 minutes to draw out the blood to have a clearer broth. Discard the water and quickly rinse the beef.

8-10 cups water,

1 medium yellow onion,

1 tablespoon peppercorn,

2 tablespoons fish sauce

Bring 8-10 cups of water to a boil over high heat. Add the beef, onion, peppercorn and fish sauce. Cover with the lid and turn heat to low. Let it cook until the meat is just fork-tender, about 30-40 minutes. You might need to add water if it gets too low, you will need the broth later.

Take the meat out from the broth. Cut it into smaller cubes, about 1x1-inch. Set aside. If using beef shank, return the bones to the pot of broth. You may add some more water if needed and let it boil for a few more minutes.

Salt,

2 tablespoons toasted garlic,

½ cup spring onions

Season the broth with salt if needed and add some roasted garlic and chopped spring onion. This soup will be served later.

1 medium onion,

1 thumb ginger,

4 cloves garlic,

2 tablespoons oil

In a separate pot or deep pan, heat oil over medium heat. Then saute onion, garlic and ginger until tender.

¼ cup soy sauce,

3-4 pieces star anise,

¼ teaspoon five-spice,

3 pieces bay leaves,

2-3 tablespoons brown sugar,

¼ teaspoon ground pepper

Add the beef and cook until the edges turn slightly brown. Pour in the soy sauce, star anise, five-spice, bay leaves, brown sugar, ground pepper and stir.

Add 2 cups of the beef broth and the cornstarch slurry. Cover with the lid and bring to a simmer. Cook for 15-20 minutes or until the meat is very tender.

Divide into serving bowls, top with some roasted garlic and chopped green onions. Serve with fried garlic rice and bowl of the soup.
Nutrition
Calories:
488
kcal
Carbohydrates:
14
g
Protein:
29
g
Fat:
35
g
Saturated Fat:
12
g
Polyunsaturated Fat:
2
g
Monounsaturated Fat:
16
g
Trans Fat:
2
g
Cholesterol:
107
mg
Sodium:
1172
mg
Potassium:
586
mg
Fiber:
2
g
Sugar:
6
g
Vitamin A:
132
IU
Vitamin C:
6
mg
Calcium:
85
mg
Iron:
4
mg