A buttery dish of pan-roasted Garlic Mushroom and Baby Potatoes with herbs. So simple and very easy to make with elegant results that make for a delicious side or appetizer.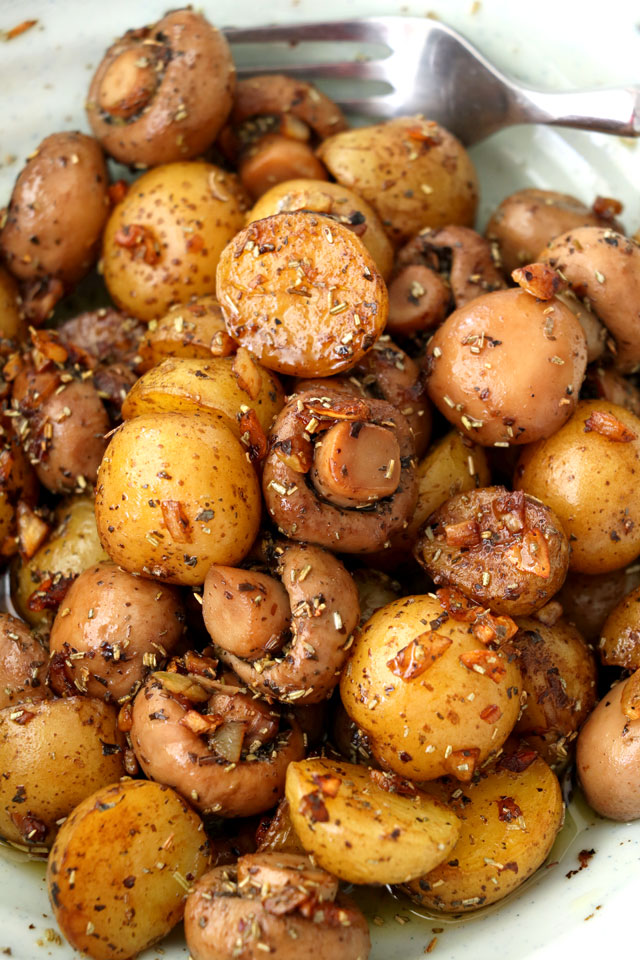 I can't believe that it has been 4 years since I publish the original post of this Garlic Mushroom and Baby Potatoes recipe, showing a photo of me and Sietema harvesting our very first pot-planted potatoes.
Posted on September 21, 2014
After harvesting my potted potatoes from my container garden, we had a basket full of them in various sizes. This is the first time I tried planting potatoes and in a pot too, it was actually a bit of an experiment for me and I felt amazed while I was digging and kept on finding more and more potatoes inside the container. Can hardly wait for next planting season to plant more potatoes!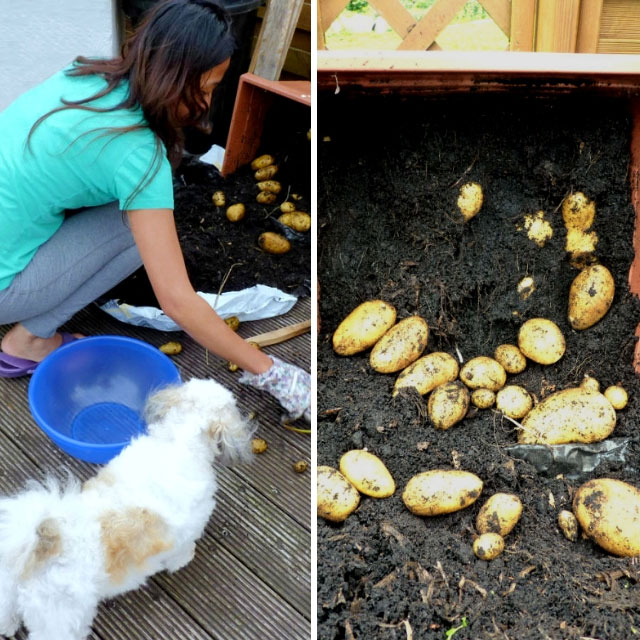 Sietema, who supervised the harvesting, and I  got some potatoes of really good size but there were also these cute, small baby ones. Which are the perfect size for making this side dish that my sister, Glenda, would ask me to cook from time to time when I was still in the Philippines.
Since I cannot cook it for her anymore, she learned how to make it herself (to impress her friends and boyfriend...I think hehe 🙂 ) and so do my other sisters who are living in Dubai (could be for the same reason..haha!).
This dish is quite easy to make, healthy and is always a big hit at dinners or any occasions.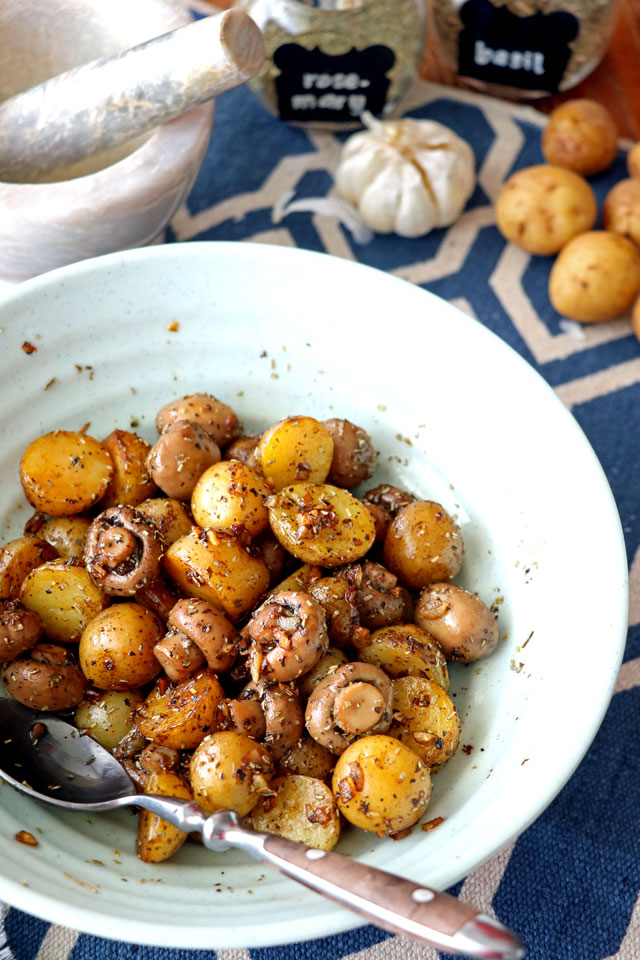 Looking back at old posts like this makes me realize how much has changed in my life and to the people around me.
Glenda is now married (to the mentioned boyfriend?) and so is our youngest sibling, who just gave birth to my cute nephew. My other sister and her husband who used to live and work in Dubai are now staying in the Philippines with their kids.
Sietema and I are also back to the Philippines with Armin for a year now and I can cook this delicious side dish for my family again.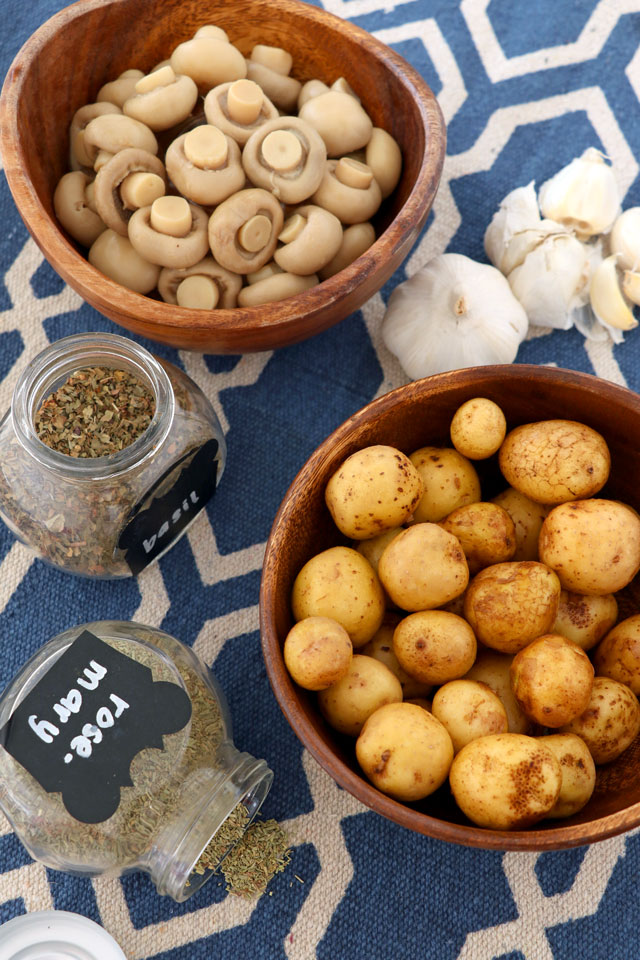 As I said, this recipe of Pan-roasted Garlic Mushroom and Baby Potatoes is quite easy to make.
I used to make it with fresh basil and rosemary from my herb garden back in Germany but I haven't got the time yet to make a garden in our new place so I had to use dried herbs. Use fresh if you can though as nothing beats the flavor and aroma of fresh herbs being roasted.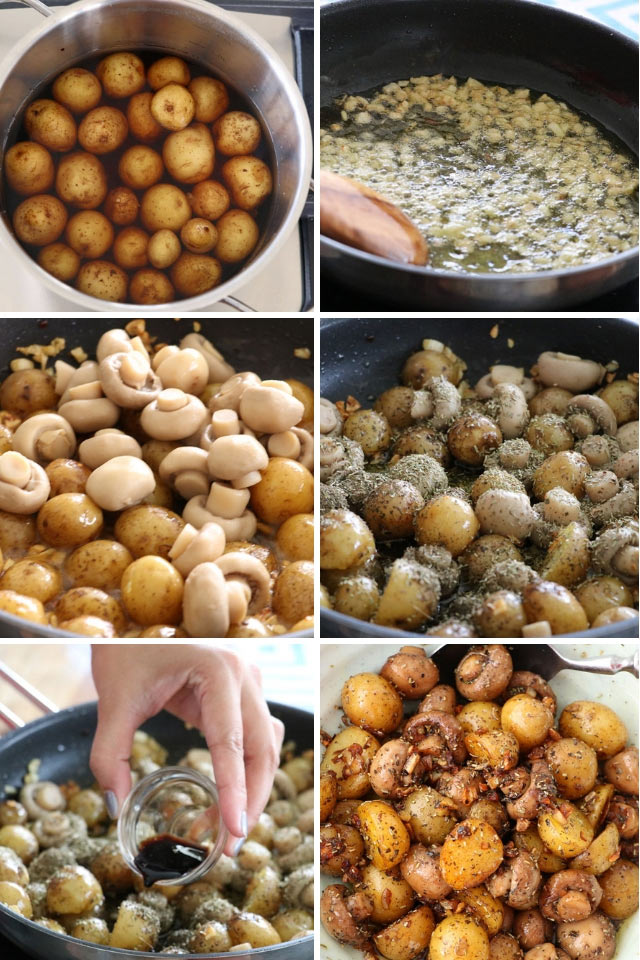 I usually boil the (whole) baby potatoes in water for a few minutes first with a little soy sauce so the savory flavor can already seep in as it cooks. Do not overcook them to prevent them from falling apart when you cut them and while cooking them the second time.
You can opt to add the garlic later after the potatoes and mushroom are browned if you like a more intense garlicky taste. Personally, I prefer the garlic to be roasted as well so it does not overpower the subtle flavor of the potatoes and mushroom.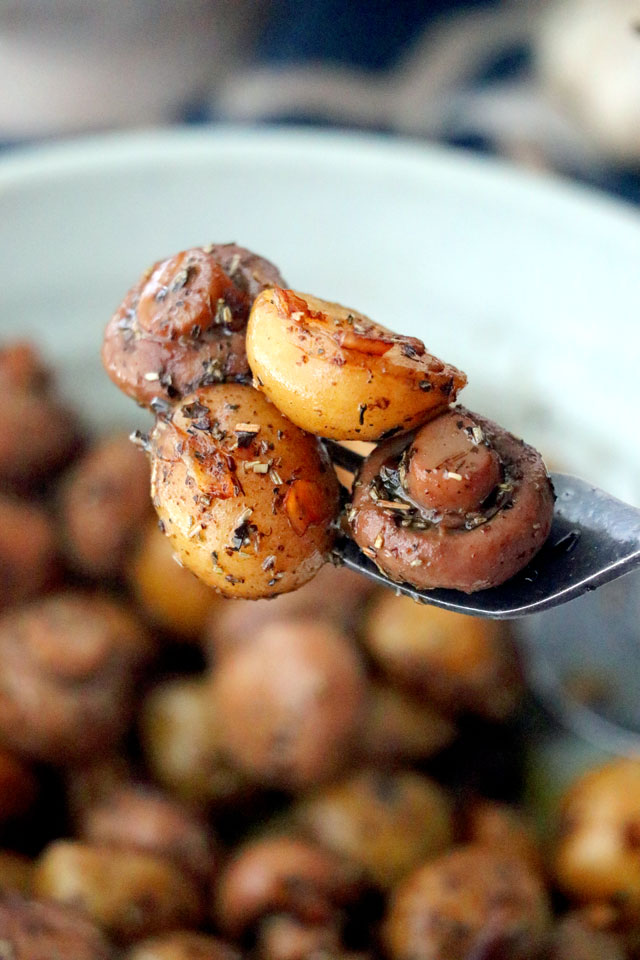 Printable Recipe
Garlic Mushroom and Baby Potatoes
A buttery dish of pan-roasted Garlic Mushroom and Baby Potatoes with herbs. So simple and very easy to make with elegant results that make for a delicious side or appetizer.
Ingredients
4

tablespoons

butter or margarine

1

head medium

garlic

- minced

2

cups

baby potatoes

2

cups

champignon mushrooms

(fresh or canned)

1

sprig

fresh rosemary

(½ teaspoon if dried)

1

tablespoon

fresh basil

- chopped (½ teaspoon if dried)

3

tablespoon

soy sauce

salt and pepper
Instructions
Wash potatoes thoroughly and place them in a small pot. Add water enough to cover the top. Pour in 2 tablespoons of soy sauce.

Boil baby potatoes for 10-15 minutes or just until cooked. Do not overcook potatoes, check by poking one with a toothpick. If it comes through easily then it should be done.

Cut baby potatoes in halves.

In a pan or skillet, melt butter over medium heat and saute garlic until tender.

Add potatoes and mushroom and cook until edges are browned.

Add rosemary and basil and 1 tablespoon soy sauce and season with salt and pepper as needed.

Remove from pan and transfer to a serving dish. Enjoy as a side to your favorite chicken, pork or beef or as an appetizer.
Nutrition
Calories:
166
kcal
Carbohydrates:
18
g
Protein:
4
g
Fat:
9
g
Saturated Fat:
6
g
Cholesterol:
24
mg
Sodium:
691
mg
Potassium:
528
mg
Fiber:
2
g
Sugar:
1
g
Vitamin A:
301
IU
Vitamin C:
18
mg
Calcium:
30
mg
Iron:
1
mg