If you are looking for good cauliflower recipes, this Cauliflower Mac and Cheese is a must try. With added garlicky flavor and lots of cheddar cheese, you can never go wrong with recipe!
We've been busy the last days doing our Christmas food recipes to share here at Foxy Folksy. Speaking of which, you may want to check out our 15 Recommended Christmas Food List.
With all the brouhaha that the holiday preparations bring, it is easy to get off the track in looking after our health. In fact, this is the time of the year that we are most indulgent with almost anything but most especially with food.
All the sweets and (sugar-laden) baked goods are everywhere and that is fine. It is, after all, Christmas time.
We are also not exempted from this. Just yesterday, we made and gave away about a dozen boxes of chocolate cake brownies as part of our yearly Christmas gifts. If you check our fridge, you can mostly see sweets and desserts.
Aside from the ones I made for the blog, we also got some from my sister, Andrea. She is now also involved with the food blog world. She does not run her own blog but make recipe videos for other food bloggers.
So between the two of us, there are lots of Christmas food and sweets going around. Do not get me wrong, no complain here at all.
It actually came from someone else. Well not much of a complain but a request, really.
We were posting Christmas food on our Facebook page for some days now, that means mostly rich dishes  of meat, pastas and desserts. When someone asked if we could add some vegetabes to the mix.
So here it is.
This Cauliflower Mac and Cheese is really easy to prepare. You just blanch the florets, dredge them in galicky  butter and breadcrumbs then  top with melted cheddar and bake it.
A healthier way to endulge your tastebuds as this dish is low carb.  The perfect side dish without (too much) the guilt.
You can either roast your cauliflower or just blanch them. I chose the latter because it saves time. Just be sure not to over cook your florets. What I do is just add them to boiling water for a minute at max.
So they are still crisp even after baking them with the cheese.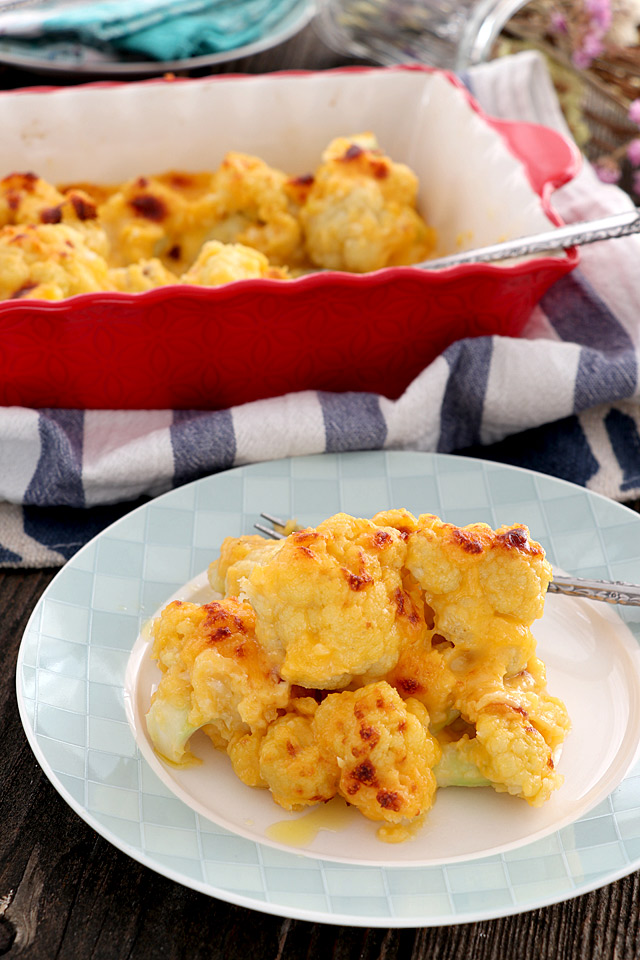 Printable Recipe
Cauliflower Mac and Cheese
If you are looking for good cauliflower recipes, this Cauliflower Mac and Cheese is a must try. Low-carb has never tasted this good!
Ingredients
4

cups

cauliflower florets

½

stick

butter

4

cloves

garlic

- minced

¼

cup

breadcrumbs

1

cup

grated cheddar cheese

½

cup

milk
Instructions
Boil some water in a pot. Add the cauliflower florets and cook for a minute. Drain water and transfer in a bowl.

Melt butter over medium-low heat in a pot or saucepan. Add garlic and cook for a few seconds just until it starts to become fragrant.

Add cauliflower florets and toss until well coated. Remove from heat. Add the breadcrumbs and toss again to coat. Transfer to a baking dish.

In a saucepan, heat milk and add the grated cheddar cheese. Stir well until completely melted.

Pour the melted cheddar cheese on top of the cauliflower florets covering them completely.

Bake at 180°C for 10-15 minutes or until cheese starts to bubble and starts to brown a bit. Remove from oven and serve.
Nutrition
Calories:
284
kcal
Carbohydrates:
13
g
Protein:
11
g
Fat:
22
g
Saturated Fat:
14
g
Cholesterol:
62
mg
Sodium:
369
mg
Potassium:
396
mg
Fiber:
2
g
Sugar:
4
g
Vitamin A:
695
IU
Vitamin C:
49.2
mg
Calcium:
284
mg
Iron:
1
mg