Ginataang Bilo bilo (or Ginataang Halo-halo) is a popular Filipino afternoon snack or dessert.
Made with glutinous rice balls, plantain bananas, sweet potatoes and tapioca pearls that is cooked in sweet coconut milk, and to make it more special, jackfruit is also usually added.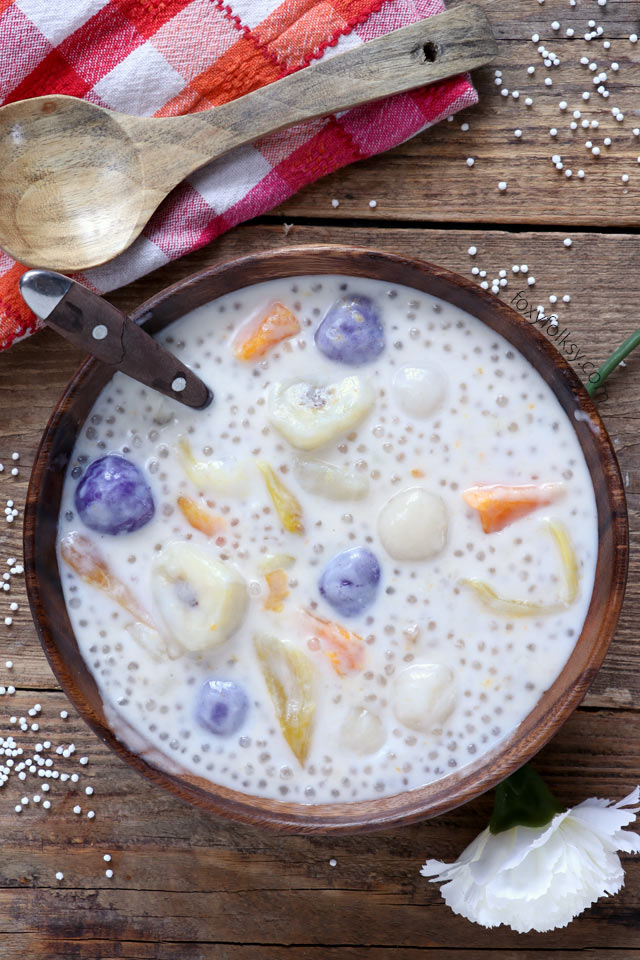 Ginataan Bilo Bilo is a great comfort food, especially on a rainy day. It is very versatile as it can be eaten hot or cold so you can enjoy it as an afternoon snack and even for breakfast or as a dessert.
It is hearty and very nutritious at the same time. Plantain or cooking bananas and sweet potato are both good sources of fiber. They also contain a good array of vitamins and minerals.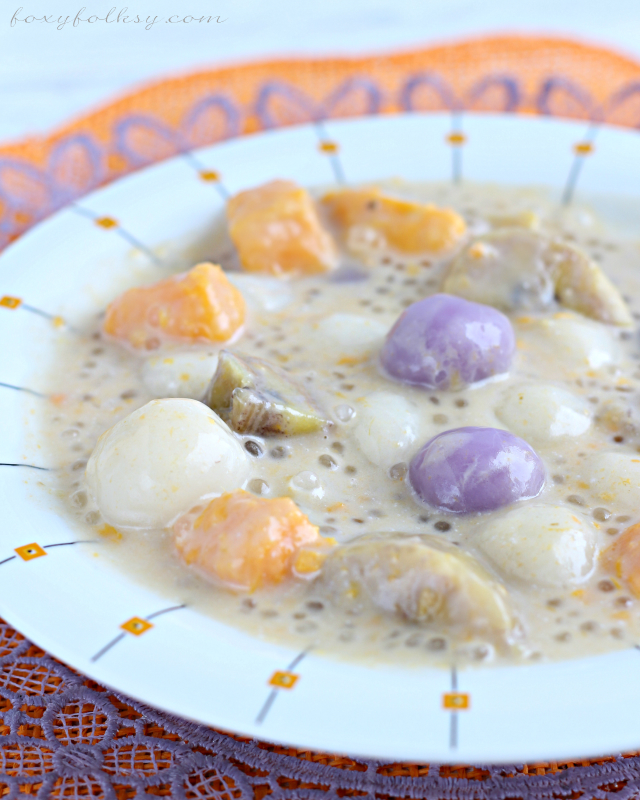 When we were young,  I remember my mama would buy freshly ground glutinous rice from the local marketplace. She would have to buy the glutinous rice from the rice vendor herself and bring it to the grinder afterward.
Nowadays you can buy a bag of glutinous or sticky rice flour and just add water to it and they are ready to use.
As you can see in the photo below, I added some purple or violet food color to half of my sticky rice balls. It makes the Ginataan Bilo Bilo a bit more vibrant so does the orange sweet potatoes.
There is also an Ube food flavoring that you can buy that will give the same result plus the added flavor to the balls.  Just be careful though with using liquid food colors as just some drops can already go a long way.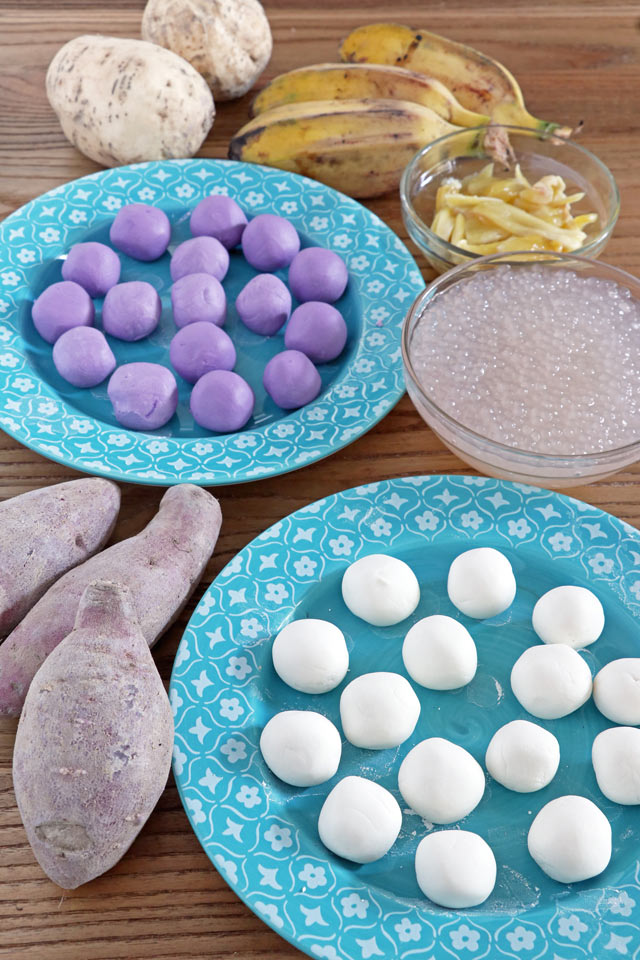 Do not laugh at me but I have to say that it was my first time to see orange sweet potatoes.
Back home they are usually off-white to yellowish or even purple, they looked weird to me at first and it was like I was cooking squash or pumpkin instead but it tasted just like the sweet potatoes I know.
Update: Orange-colored sweet potatoes are now also available in the Philippines. Hurray!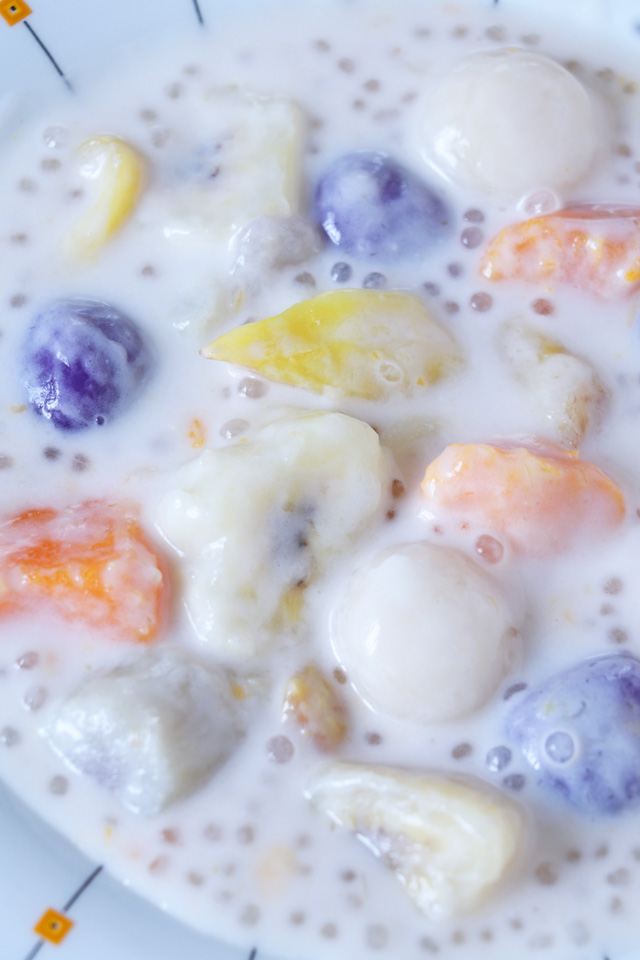 Too bad though I was not able to find jackfruit so I was not able to add some.
I have to ask the other Filipinas around where they get it because I am fairly sure I saw some jackfruit when a friend brought Ginataan Bilo Bilo to a Filipino get-together one time. Of course, it could only be in a can unless she was able to bring it directly from the Philippines.
Update: I decided to remake the photos and as you can see there is now jackfruit in it. I will never make Bilo Bilo without it again! I mean, it is good without but it is so much better with them.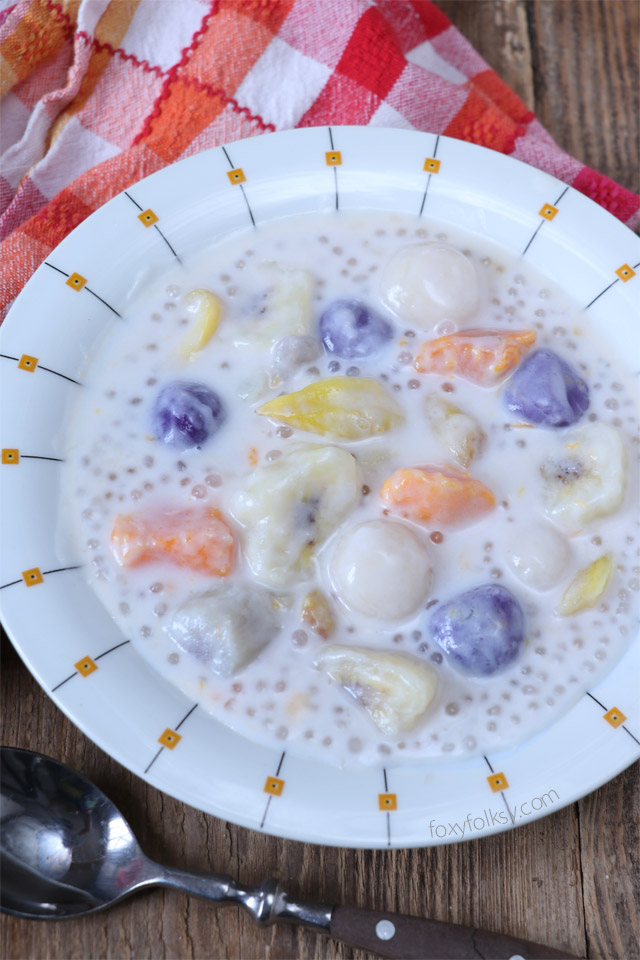 How to cook tapioca pearls?
Cooking sago or tapioca pearls could take a while, depending on the size. The bigger ones could take more than an hour to cook. This steps here is for the small ones that I usually use for making Ginataang Bilo-Bilo.
There are different ways to cook tapioca pearls but I like this method because it is faster and it makes sure that the pearls are cooked through by cooking it twice.
Bring 4-5 cups of water into a rolling boil over high heat. Add the tapioca pearls. Let it cook for 10 minutes.
Place a colander/strainer in a bowl or pot and pour the contents to separate the tapioca from the water. Use the same water and bring it to boil the second time.
Wash the strained tapioca pearls thoroughly with tap water and put it back into the boiling water and cook again for several minutes until they become completely translucent and no more white spot at the core.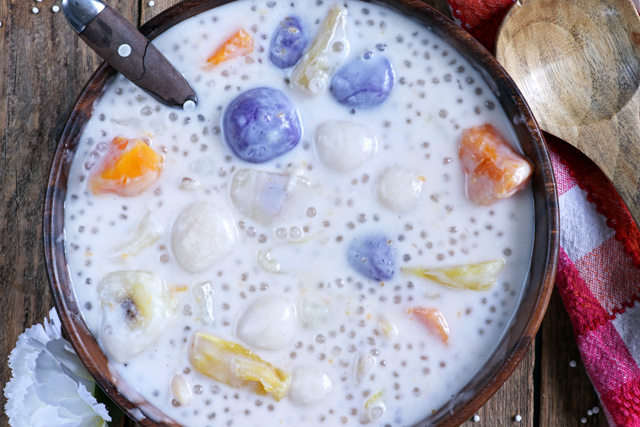 Printable Recipe
Ginataang Bilo bilo (glutinous rice balls in coconut milk)
Filipino dessert from glutinous rice balls, plantain bananas, sweet potatoes, tapioca pearls cooked in coconut milk.
Ingredients
2

cups

glutinous rice flour

1

cup

water

2-3

cups

water

2

400ml can

coconut milk or cream

1 ½

cup

cooked tapioca pearls

¾

cup

sugar

2

big

sweet potatoes

- peeled and cubed

4

piece

plantain bananas

- peeled and cubed

1

cup

jackfruit

- cut into strips
Instructions
Prepare the sticky rice balls by adding 1 cup of water to 2 cups glutinous rice flour. Mix with a fork until it forms a dough. Scoop about half a spoon of the dough and form them into balls using your palms. Set them aside.

In a pot, combine 2 cups water, coconut milk, and sugar and bring to boil. Add the sweet potato cubes and cook for about 3 minutes stirring occasionally. Next, add the plantain banana cubes and cook for about 3 minutes.

Once the sweet potatoes and bananas are almost cooked, add the sticky rice balls and let simmer until they are cooked (about 5 minutes) while stirring occasionally. You know the sticky balls are done when they are floating.

Add the jackfruit slices and the cooked tapioca pearls. Let simmer for another 3-5 minutes or until all fruits are tender and cooked.

Note that it will continue to thicken even after removing it from the heat. Serve hot or cold.
Notes
If you want, food color may be added to the sticky rice when it is still in dough form before forming the balls.
While cooking, you may need to add more water if it is getting too thick.
Nutrition
Calories:
726
kcal
Carbohydrates:
179
g
Protein:
2
g
Fat:
0
g
Saturated Fat:
0
g
Cholesterol:
0
mg
Sodium:
12
mg
Potassium:
340
mg
Fiber:
3
g
Sugar:
42
g
Vitamin A:
95
IU
Vitamin C:
9.1
mg
Calcium:
42
mg
Iron:
2.5
mg