Fall-off-the-bone Baby Back Ribs in Oven
You bake these baby back ribs in oven with beer until it becomes so tender and juicy that they literally fall-off-the-bone. Effortlessly delicious and perfect for indoor barbecue parties.
See how succulent the meat is? This is the kind of stuff your barbecue rib dreams are made of. You can easily achieve this if you follow some simple steps.
Cooking baby back ribs in oven with beer.
Using beer to simmer accentuates the richness of the meat and adds an earthy flavor to the baby back ribs that is great for barbecues. Beer also works as tenderizer when used in the marinade.
As beers differ in flavor, the type of beer to use depends on you. Normally, the beer that you like to drink is a good choice.
Will it taste like beer? Not really, maybe just a little hint of beer taste can be detected, especially if a strong beer is used, but after cooking it for a long time the beer taste disappears.
What is silverskin and how to remove it?
You see, at the back or the bone-side of the rack of the ribs is a white membrane called silverskin.
If not removed, this lining will prevent the seasonings to penetrate the meat from this side and it will also turn tough and leathery when cooked.
To remove it,
Look for an opening at the edge or use a blunt knife like a table knife and slide it under the silverskin then lift it to separate the silverskin from the meat.
Grab the edge with your hand or use a paper towel if it is too slippery.
Pull the silverskin off in one piece. If it breaks, just repeat the process.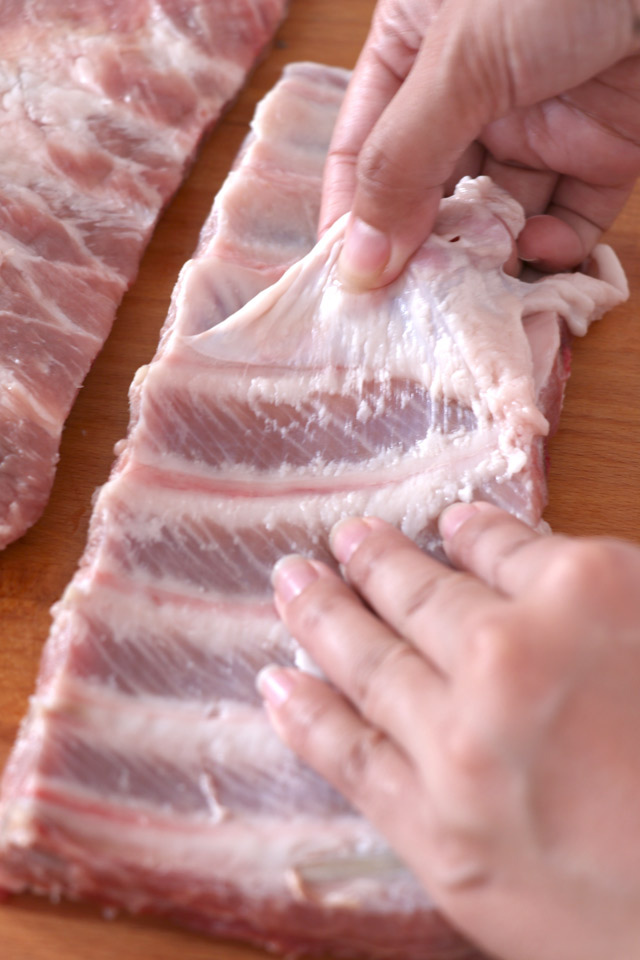 How to cook baby back ribs in oven?
After removing the silverskin, rub the ribs with salt, brown sugar and coarse ground pepper.
Place it on top of the onion and garlic slices on a roasting pan. Drizzle with soy sauce and pour the beer all over the ribs.
Cover the pan with foil and let it marinate for at least 15 minutes. Bake for one and a half to two hours.
Remove from pan and transfer to the grill rack, bone-side up. Baste with barbecue sauce liberally.
Grill for 10 minutes then turn and baste again and finish off with another 5 minute grilling.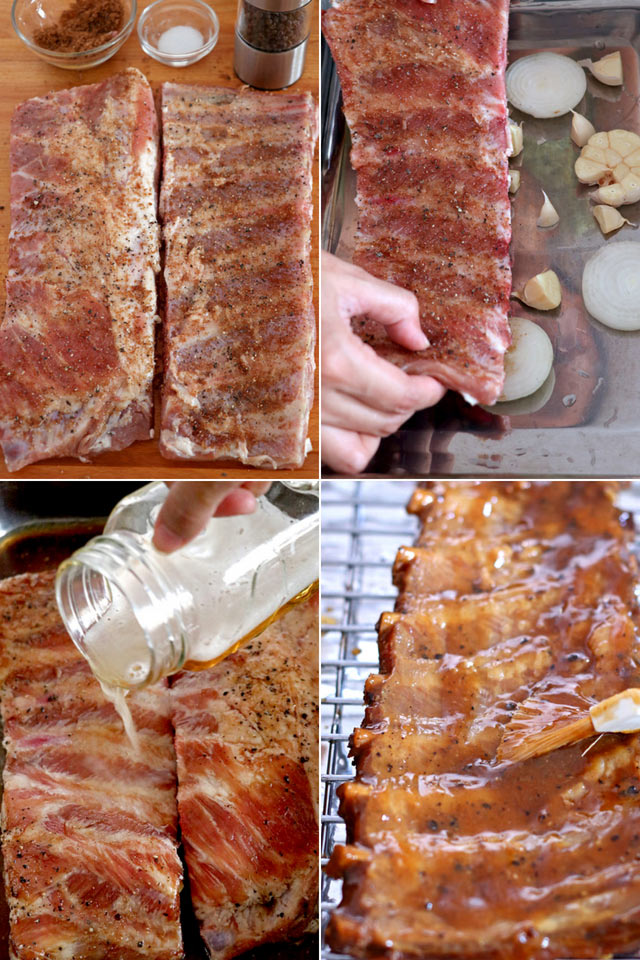 This baby back ribs in oven recipe includes a barbecue sauce to use for basting and brushing before serving. You make it from the sauce or juices left from simmering the ribs.
As it contains the same ingredients (and some) used for the rub and simmer, it enhances the flavors from inside out!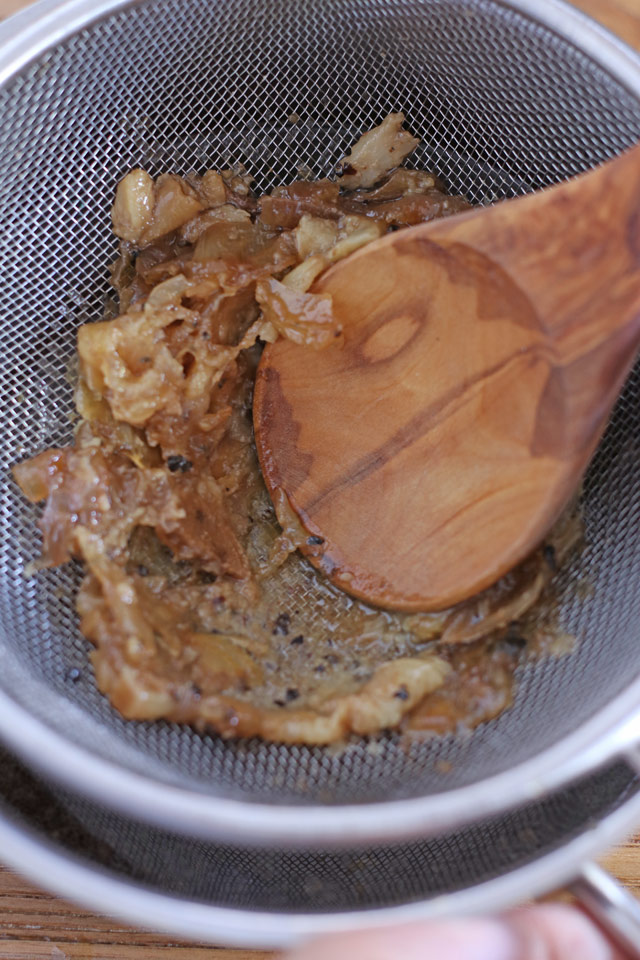 Run the sauce through a sieve to separate the solids from the liquids. Mash the solids to extract the garlic and onion to be added back to the sauce.
Add the rest of ingredients and bring to a simmer then add the cornstarch mixture to thicken the sauce.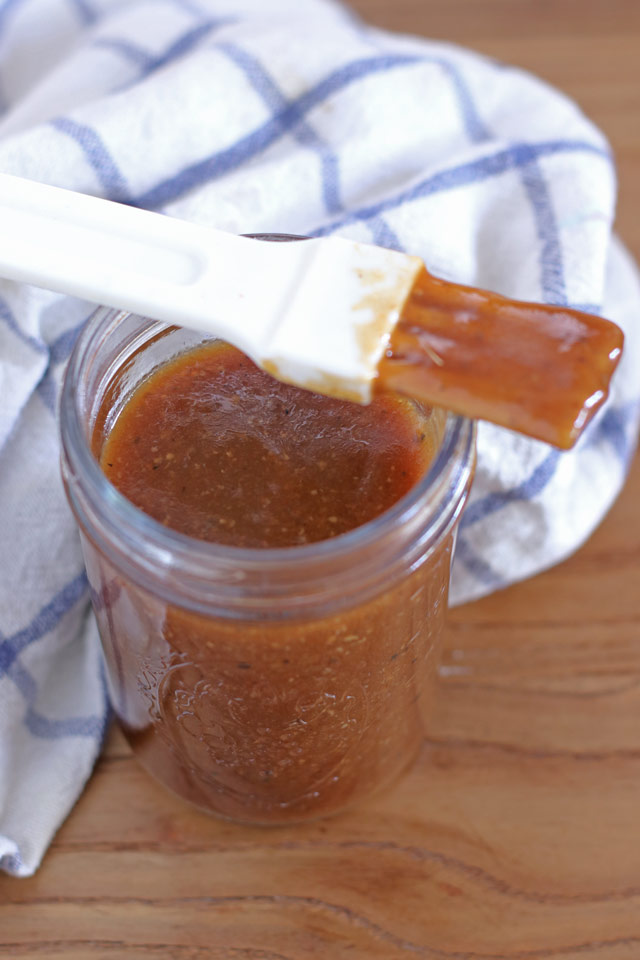 You see nothing is really wasted in this recipe. You can even keep the excess barbecue sauce if any, and store it in the fridge for some days for later use.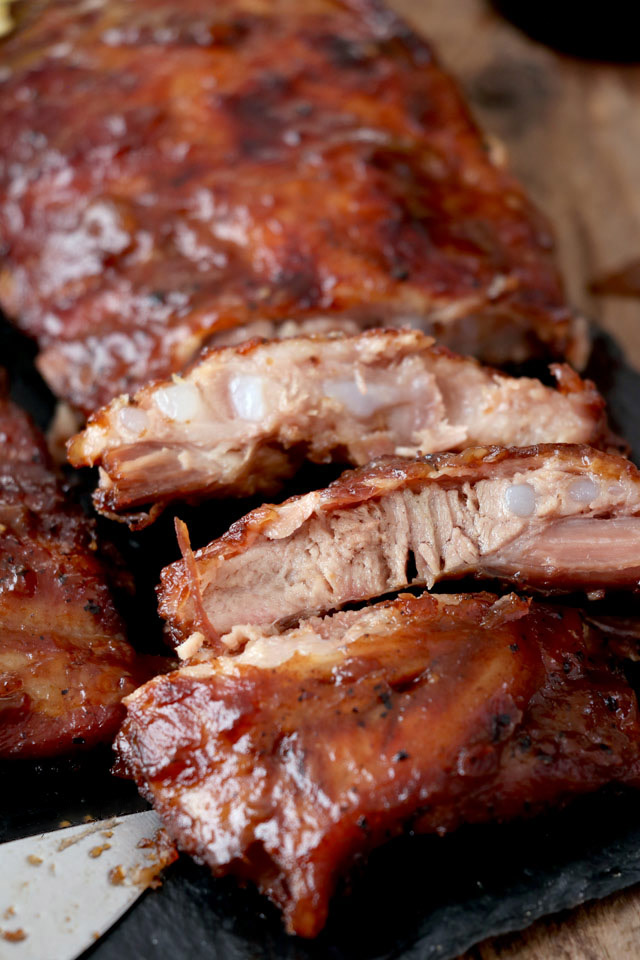 WANT MORE RECIPES? Subscribe to our newsletter and follow us on Facebook, Pinterest and Instagram for all of the latest updates.
Fall-off-the-bone Baby Back Ribs in Oven
Try this succulent, melt in your mouth baby back ribs in oven marinated and cooked in beer and simple spices.
Print
Rate
Marinating time:
15
minutes
Total Time:
2
hours
5
minutes
INGREDIENTS
2-3

racks

baby back ribs

-

- silverskin removed

4

tablespoons

muscovado or brown sugar

1

teaspoon

salt

1

teaspoon

ground pepper

4

tablespoon s

soy sauce

1

head

garlic

-

- cut across into half

1

medium

onion

-

- cut into 4 rings

1

can

beer
BARBECUE SAUCE
1

cup

leftover sauce

-

- more or less a cup

1

tablespoon

brown sugar

1/8

teaspoon

ground pepper

dash

paprika powder

dash

hot chili powder

-

- optional

2

tablespoons

cornstarch

2

tablespoons

water
INSTRUCTIONS
Spread garlic and onions at the base of a roasting pan.

Rub each baby back ribs rack with salt, sugar and ground pepper. Place the ribs on top of the garlic and onion slices, bone side down. Drizzle the ribs with soy sauce and pour beer over the ribs.

Cover the top of the roasting pan tightly with aluminum foil. Let it marinate for at least 15 minutes then

bake at 170°C/340°F for 2 hours.

Remove ribs from the roasting pan and transfer to a grill rack, bone side up. Brush with barbecue sauce and grill about 10 minutes. Flip ribs over, brush with sauce and grill for another 5 minutes. Serve white hot
TO MAKE BARBECUE SAUCE
Skim some of the fat from the sauce that is left on the roasting pan from baking the ribs, leaving about 2 tablespoons of fat.

Pour the rest of the sauce through a sieve into a bowl. Press the solids through the sieve until completely mashed. Scrape the bottom of the sieve to take the remaining mashed onion and garlic and add this to the sauce.

Add brown sugar, ground pepper, paprika powder, and hot chili powder. Transfer sauce to a saucepan and bring to a simmer.

Dissolve cornstarch in water and pour into the sauce, cook while constantly stirring until it thickens. Transfer sauce to a bowl or a jar.
Nutrition Facts
Fall-off-the-bone Baby Back Ribs in Oven
Amount Per Serving
Calories 99
% Daily Value*
Total Fat 0g 0%
Cholesterol 0mg 0%
Sodium 1594mg 66%
Potassium 130mg 4%
Total Carbohydrates 15g 5%
Protein 3g 6%
* Percent Daily Values are based on a 2000 calorie diet.
Tried this recipe?
Tell us how it went. Tag us at @foxyfolksy or leave a comment and rating below.