Ladle yourself a warm, hearty bowl of Nilagang Baboy. The tender, fall-off-the-bone pork ribs, and flavorful soup will keep you coming back for more.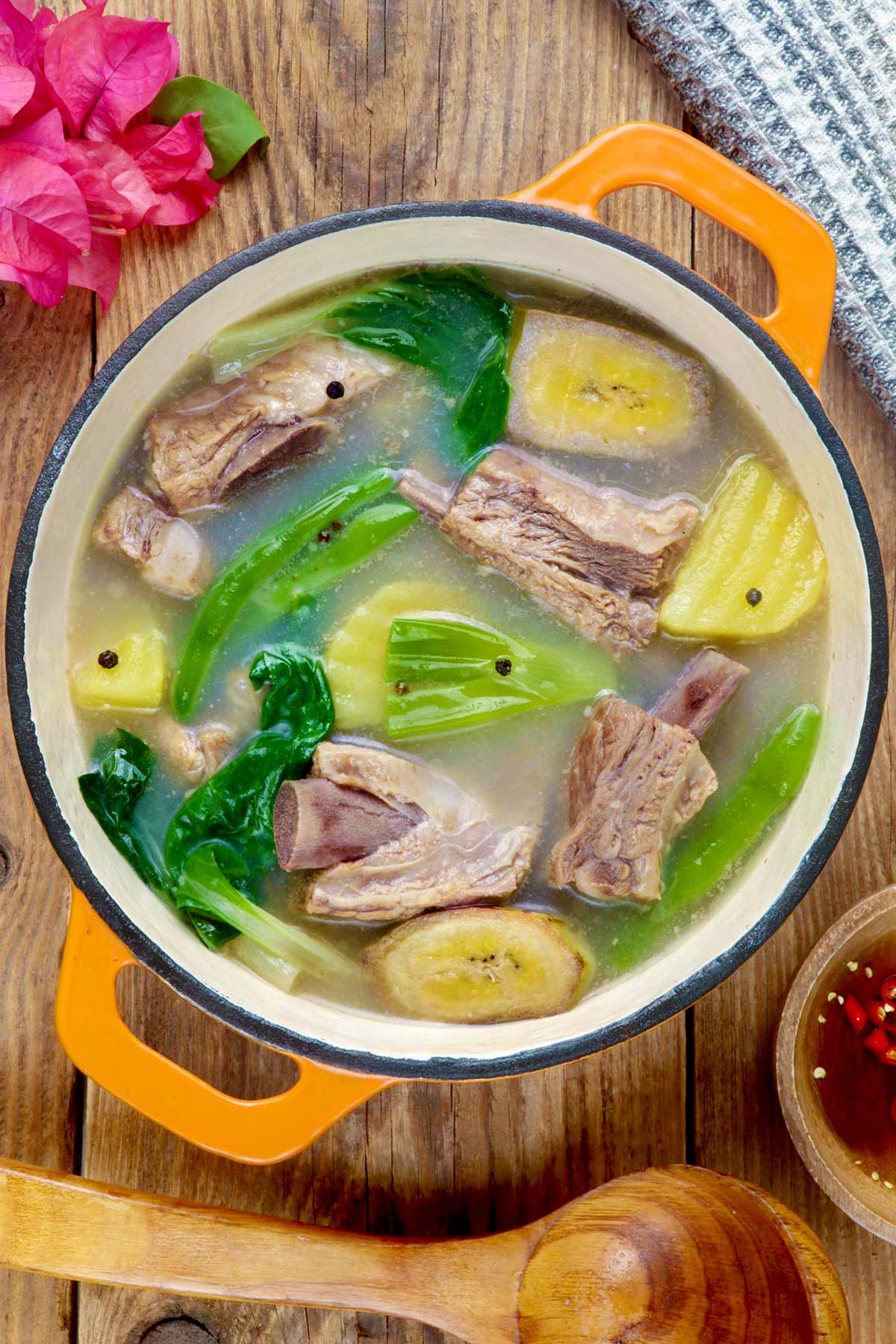 What is Nilagang Baboy?
Nilagang Baboy or Pork Nilaga is a classic Filipino soup wherein pork (any cut) is boiled until tender and vegetables such as but not limited to potatoes, cabbage or pechay, beans, and green onions are added for flavors. Usually served with steamed rice for a satisfying lunch or dinner. This dish is among the many comfort foods popular throughout the country, along with Tinola, Sinigang, and Bulalo.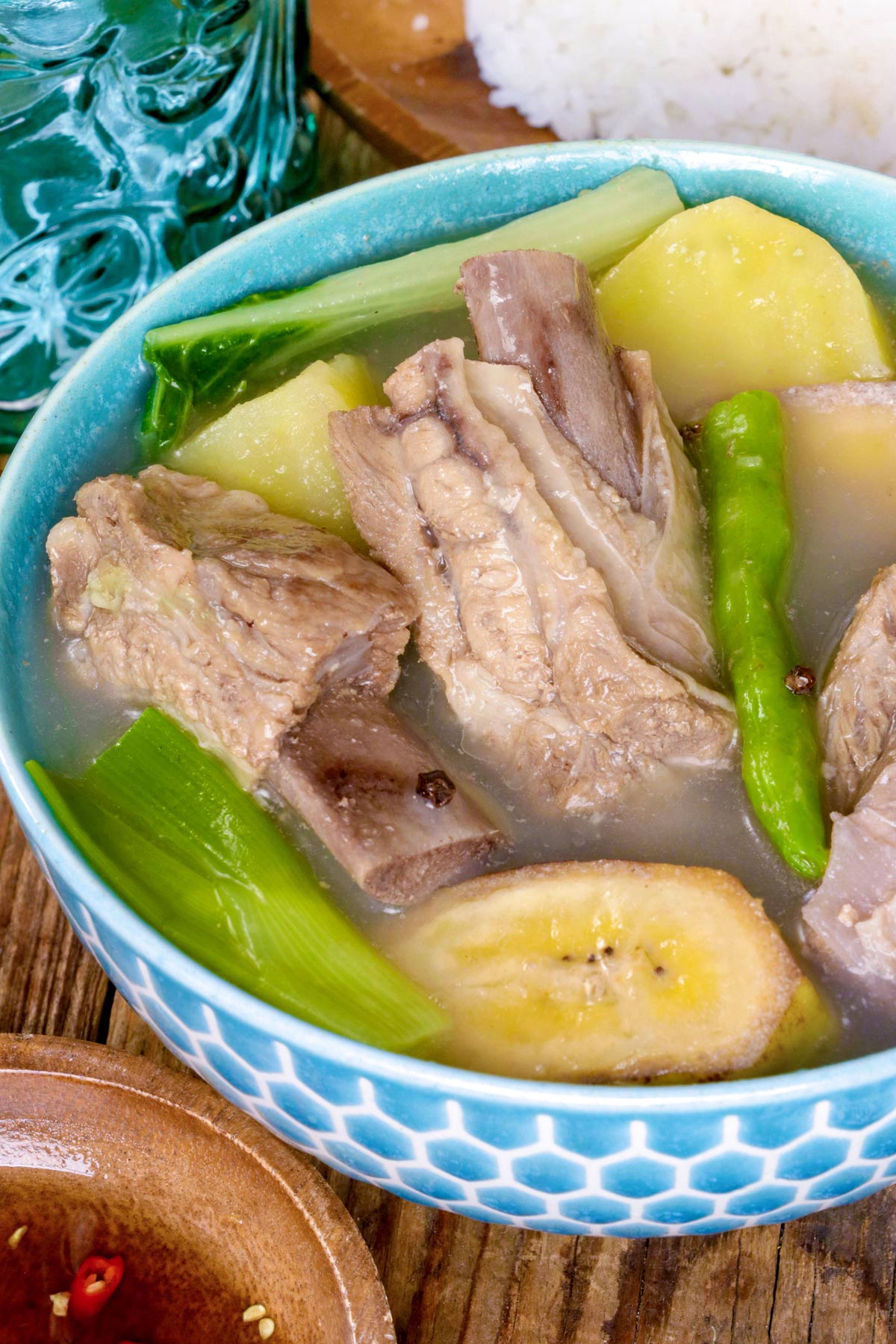 Nilagang baboy has many different versions in every region of the country. Any part of pork can be used to make the broth. The vegetables used also varies where you are and what is in season. As an example, not everyone is familiar with adding green plantains to this soup but it is not uncommon in Pampanga and nearby provinces. It is a great meat extender as they are cheap, and grows practically in everyone's backyard. Also, keeping the peels on gives it a whiter broth and is completely edible too.
It is one of the easiest dishes to make as it is practically throwing in all the ingredients in a pot of boiling broth. With the savory flavor of the pork and all the nutrients from vegetables, this traditional dish offers a symphony of flavors and textures in every spoonful.
Ingredients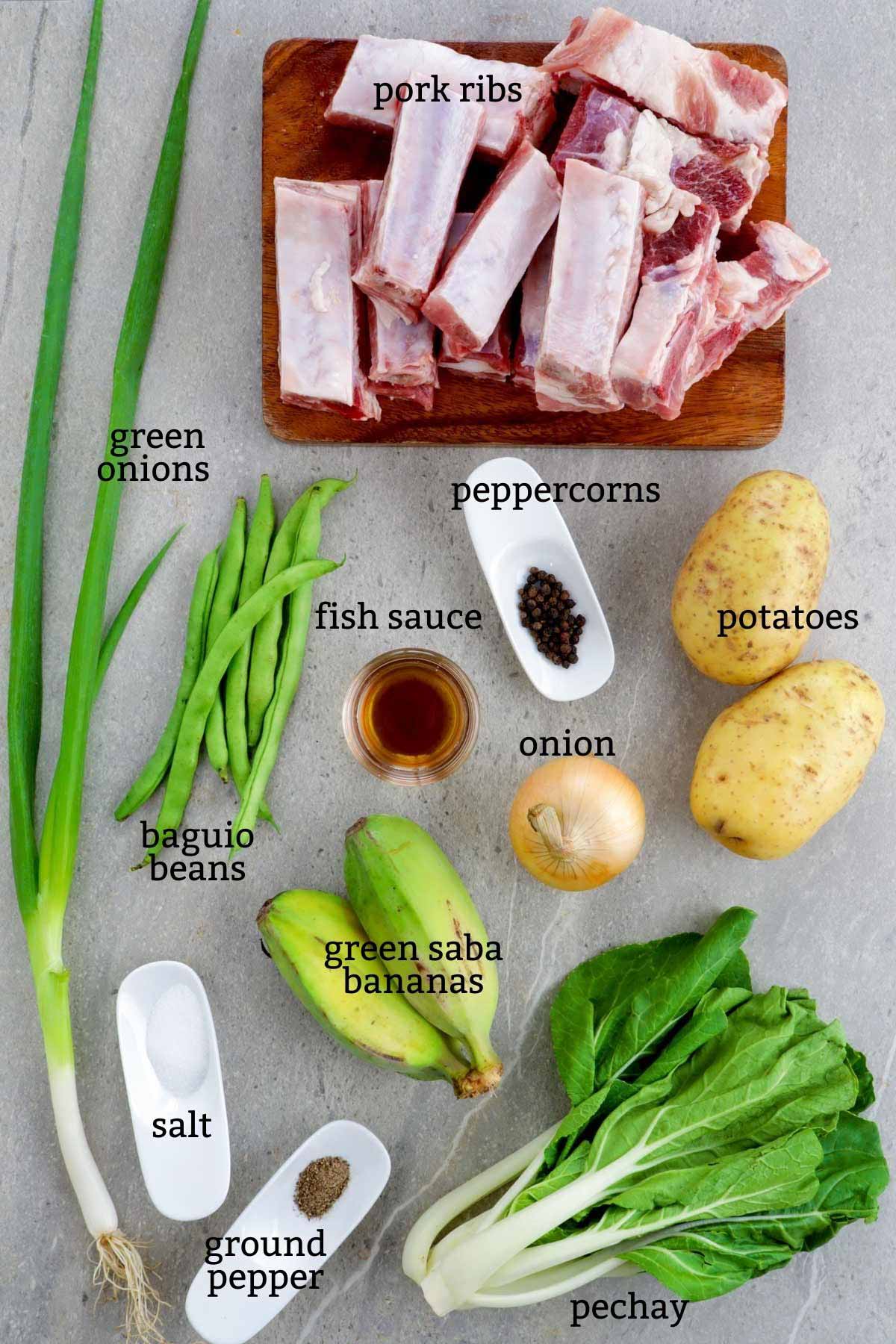 Pork ribs - Among other parts, I prefer pork ribs since the bone produces a more savory broth that gives our soup an umami flavor. But you may also use pork belly, shoulder, or even pork leg (pata). You may also use beef and have nilagang baka instead.
Flavor Base - Adding yellow onion, peppercorn, and fish sauce help build the flavor of our soup.
Potatoes - This recipe calls for medium-sized potatoes that are quartered. Make sure to cut them into uniform slices for even cooking.
Green Saba bananas - If you do not prefer the banana with the peel, you may remove it. But note that it will be too mushy when unpeeled. You may use ripe ones, however, it might make your soup sweeter.
Veggies - A bundle of pechay, Baguio beans, or green beans, together with onion leeks or green onion, would certainly transform this into a superfood.
Cooking Tips
To prevent discoloration of the sliced potatoes and bananas, soak them in a bowl of water while not in use.
Try not to skip parboiling the meat and remove any scum that floats while boiling to have a clear broth.
If you're short on time, you may cook the pork for about 20 to 25 minutes in a pressure cooker.
Pick the appropriate pot size. We need to give the broth a little room to boil.
Properly wash leafy greens under running water. We don't want any dirt or grime in the broth.
You may also throw in other veggies like corn, kalabasa (squash), and kamote (sweet potato). They not only add flavor to the soup but also extend the serving. Aside from pechay, you may also use cabbage or bok choy.
You can add fish sauce or broth (bouillon) cube if it is too bland.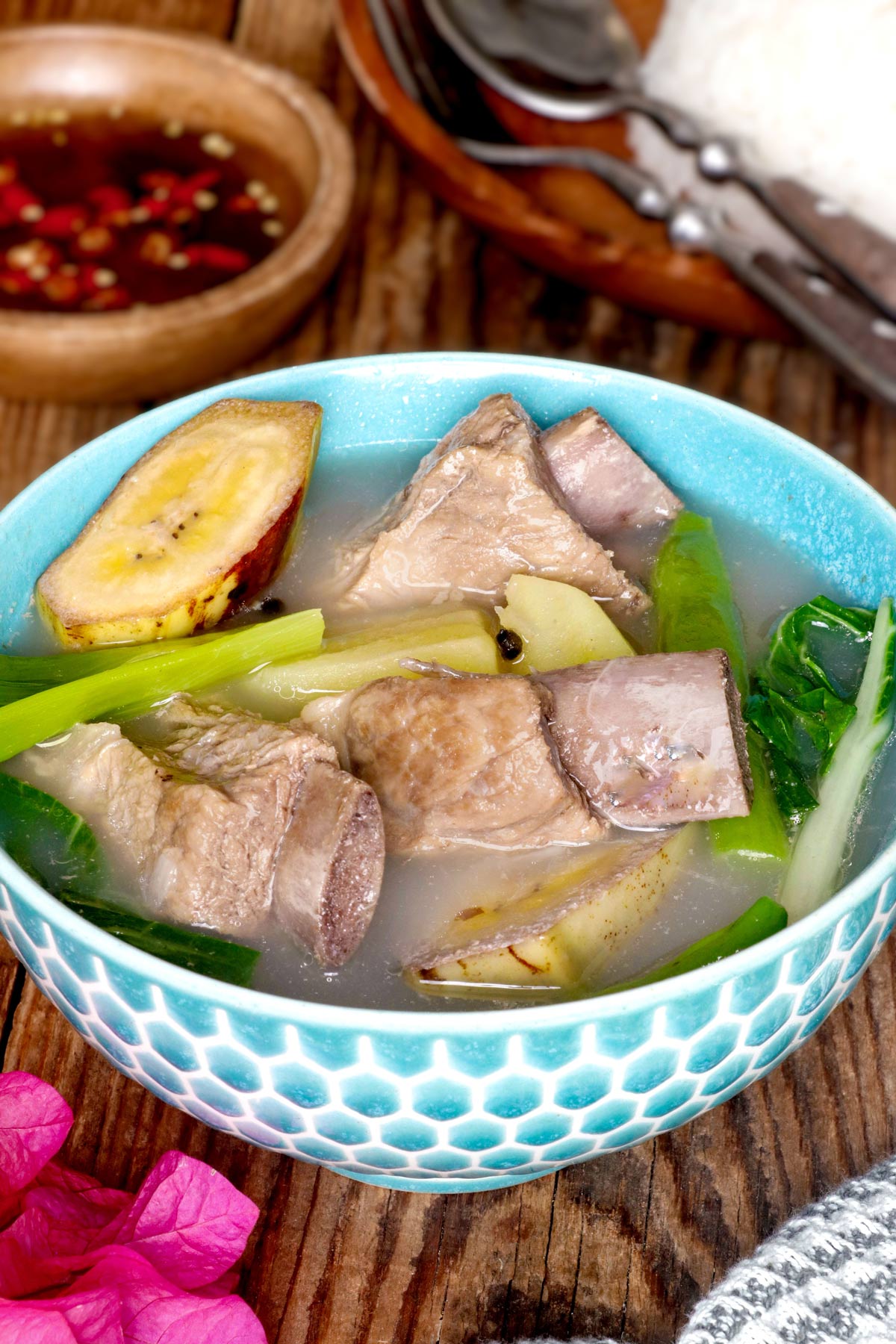 Serving and Storing Notes
Serve pork nilaga piping hot with steamed white rice and patis (fish sauce) with chili as a dipping sauce on the side. This combination is a sure winner!
Keep leftovers in a tightly sealed container and store them in the fridge for up to 3 days. If you like, you may store the vegetables separately as they tend to spoil faster. Reheat in a pot over medium-low heat and add back the veggies to boil for several minutes so they do not turn mushy.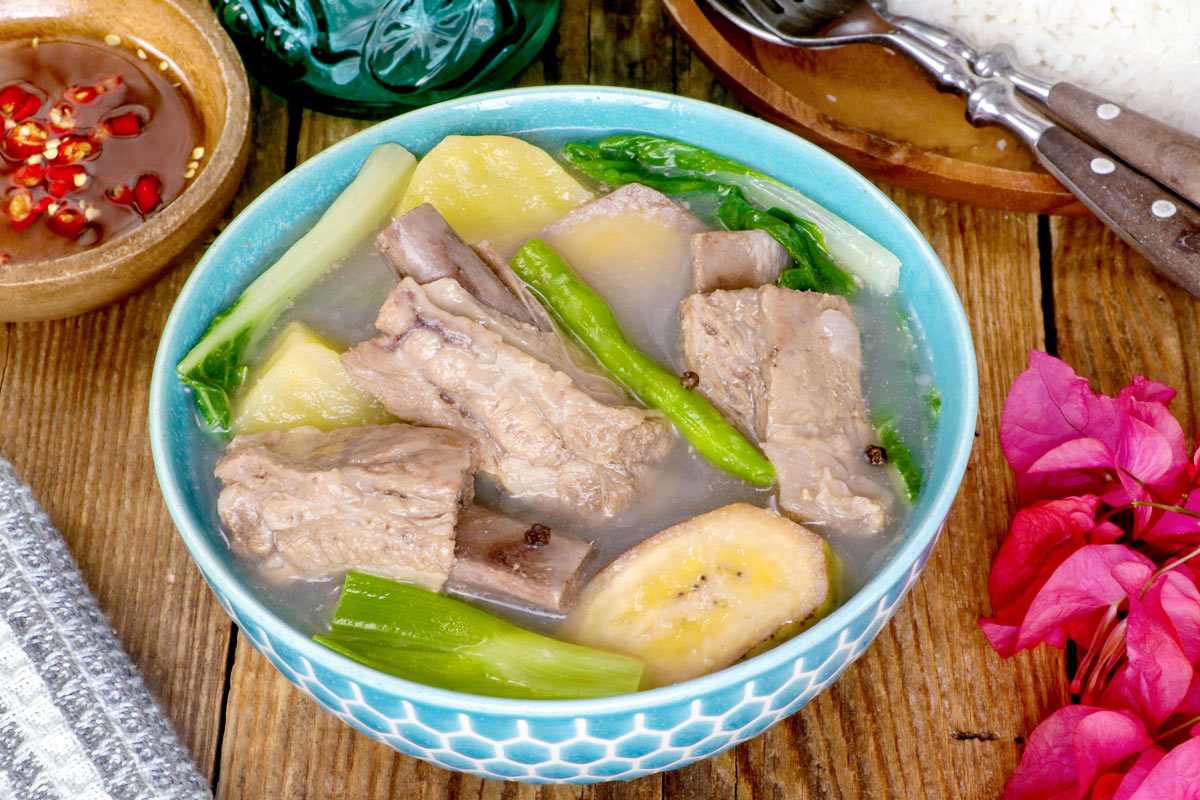 Printable Recipe
Nilagang Baboy Recipe
With the savory flavor of the fall-off-the-bone tender pork ribs and all the nutrients from vegetables, this everyday Filipino soup dish offers a symphony of flavors and textures in every spoonful. 
Ingredients
2

pounds

pork ribs

8

cups

water

1

large

yellow onion

sliced thickly

1

teaspoon

peppercorn

2

tablespoons

fish sauce

3

pcs

medium potatoes

2

pcs

green saba bananas

6

pieces

Baguio beans / green beans

1

stalk

onion leek or green onion

1-2

bunch

pechay

or cabbage

salt and pepper

to taste
Instructions
Place pork ribs in a large pot. Add just enough water to submerge. Bring to a boil over high heat. Once the scum has come out, turn off the heat, throw away the water, and give the pork ribs and pot a quick rinse.

1 large yellow onion,

1 teaspoon peppercorn,

2 tablespoons fish sauce,

8 cups water

Return the pork ribs to the pot and add about 8 cups of water. Add the onion, peppercorn, and fish sauce. Bring to a boil over high heat. Once boiling, cover and turn the heat to low. Let it simmer until meat is fork tender.

3 pcs medium potatoes,

2 pcs green saba bananas

Meanwhile, prepare the vegetables and bananas. Wash and peel the potatoes and then cut them into quarters. Cut off the ends of the bananas and wash thoroughly, then cut each into 3 pieces diagonally, unpeeled. Soak both potatoes and saba bananas in water until ready to use.

6 pieces Baguio beans / green beans,

1-2 bunch pechay,

1 stalk onion leek or green onion

Cut off the stem of the pechay and wash the leaves thoroughly. Remove the ends of the beans and cut into about 3-inch lengths. Remove the root part of the onion leek and cut it into 2-inch pieces.

Add the green bananas and cook for 5 minutes, then add the potatoes and cook for another 5 minutes and then add the green beans and cook for another 5 minutes or until the potatoes are cooked.

Season with salt and pepper as needed then lastly add the green onions and pechay. Cover the pot and let simmer for a minute before turning it off.

Serve in a large soup pot or individual bowls. Enjoy with rice and a spicy fish sauce dip.
Nutrition
Calories:
285
kcal
Carbohydrates:
22
g
Protein:
23
g
Fat:
12
g
Saturated Fat:
2
g
Polyunsaturated Fat:
1
g
Monounsaturated Fat:
3
g
Trans Fat:
0.1
g
Cholesterol:
73
mg
Sodium:
568
mg
Potassium:
884
mg
Fiber:
5
g
Sugar:
5
g
Vitamin A:
708
IU
Vitamin C:
28
mg
Calcium:
89
mg
Iron:
3
mg
FAQs
Is pork better than beef?
Both are equally delicious however, beef is more expensive than pork. Nilagang baboy is a budget-friendly alternative. It also has a shorter cook time than beef.
Why do we throw away the first batch of broth? 
We want to get a soup that is clear without any scum and other impurities. Don't worry the broth would still have a rich flavor from simmering the meat.
Is nilagang baboy keto-friendly?
To make this recipe low-carb or keto-friendly, simply remove the potatoes and bananas.