This amazing Sweet and Sour Pork recipe will show you how to get that golden and crispy breading that stays crispy while giving you that super tender and juicy meat using an inexpensive cut.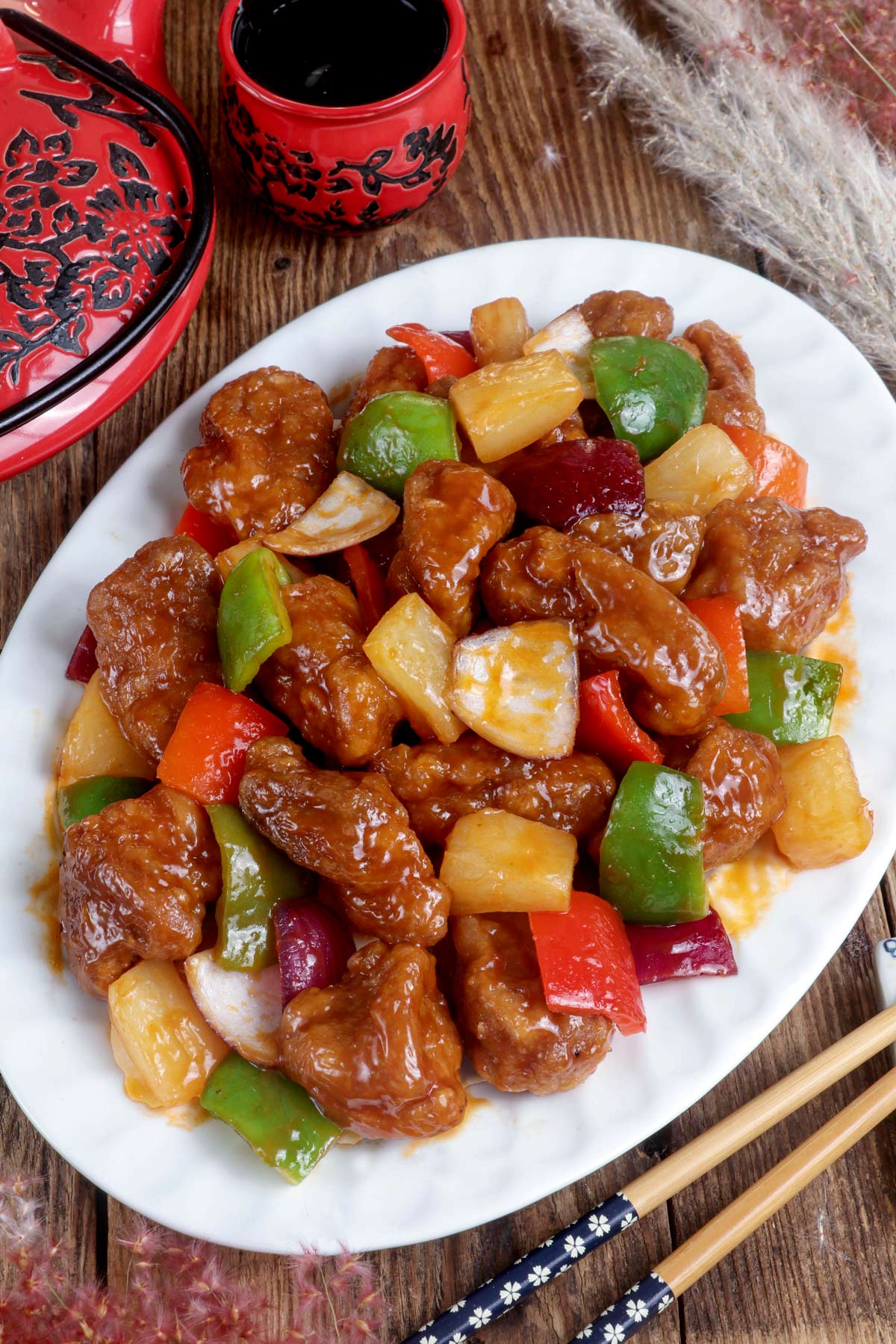 This recipe is similar to my Sweet and Sour Meatballs, Sweet and Sour Fish, and Escabeche; however, it features bite-sized pork shoulder cuts instead. Yes, you do not have to buy prime cuts to make this amazing dish. I used a tried-and-tested Asian cooking technique that makes the meat super tender and juicy inside while crunchy and golden on the outside.
Ingredients Needed for Sweet and Sour Pork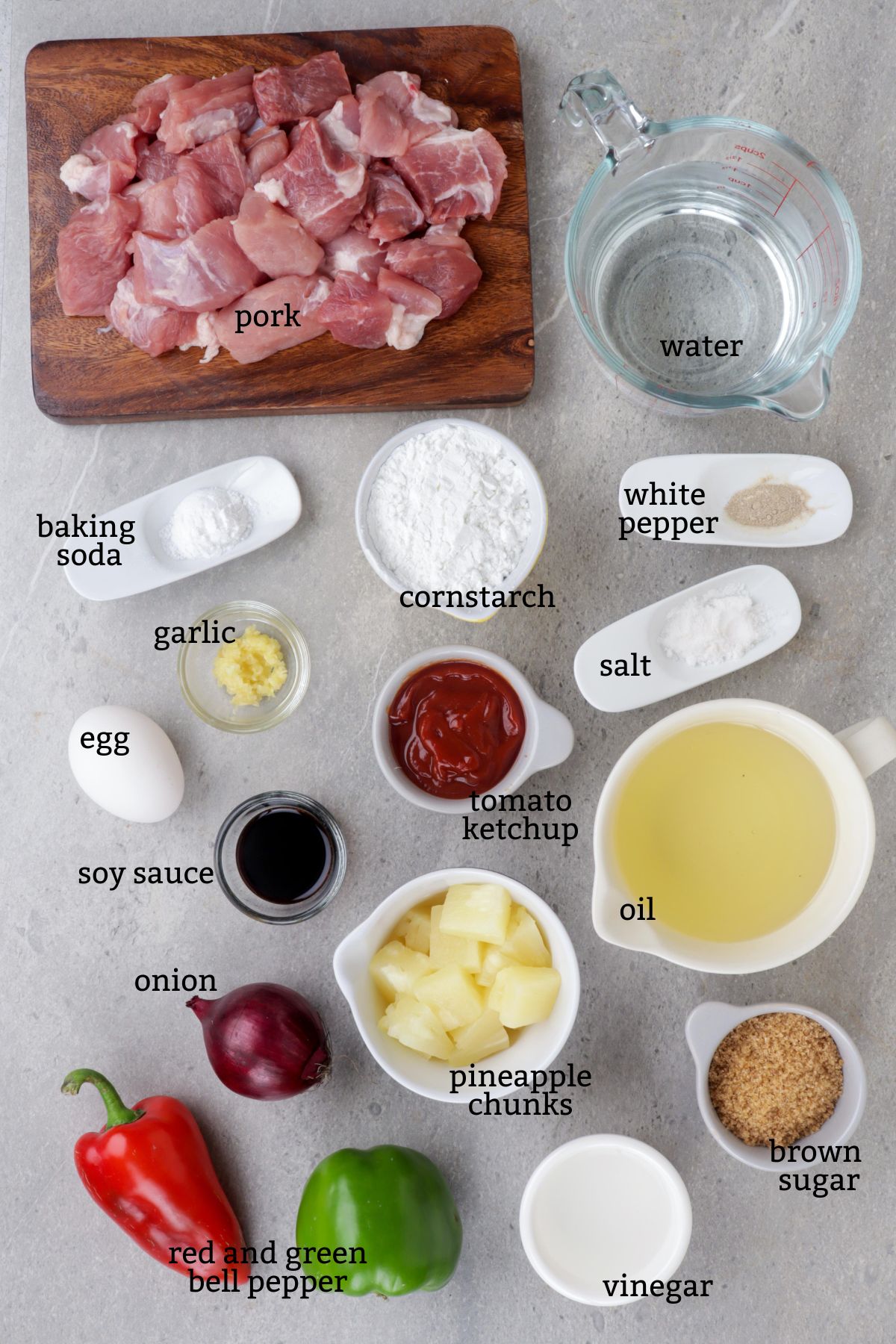 Pork shoulder- cut into bite-size strips or slices. You can also use pork tenderloin, but since this is a tender meat cut, you can skip the first step in the recipe.
Baking soda + water- is used to make the meat soft and moist.
Vegetables- Cubed red onion, green, and red bell pepper are used in this recipe.
Pineapple- I used canned pineapple chunks because it is more convenient. However, you can use fresh pineapple if you prefer.
Cornstarch- to give the pork cuts a light and crisp crust.
White pepper - you may also use fine ground black pepper if unavailable.
Oil- Canola, sunflower, or corn oil is best for this recipe, but you can use any neutral, high-smoke-point oil if these aren't available.
Salt - enhances and balances the flavors of the dish.
For the Marinade:
Garlic -this is optional but it give the meat nice flavor
Soy sauce- to season the meat and add umami flavor.
Egg- this also helps tenderize the meat and make the cornstarch adhere better to the pork slices.
For the sauce:
Tomato ketchup- is ideally used as it is already sweet and tangy. You can also use banana ketchup if that is what you have but may have to adjust the vinegar.
Brown sugar- you can use other types of sugar or sweetener if you do not have this.
Vinegar- you can use white distilled vinegar as I did. Or use apple cider or rice vinegar too.
Cornstarch- this will give the sauce a silkier and thicker consistency.
Water
Salt - for seasoning. You can also use fish sauce.
Cooking Tips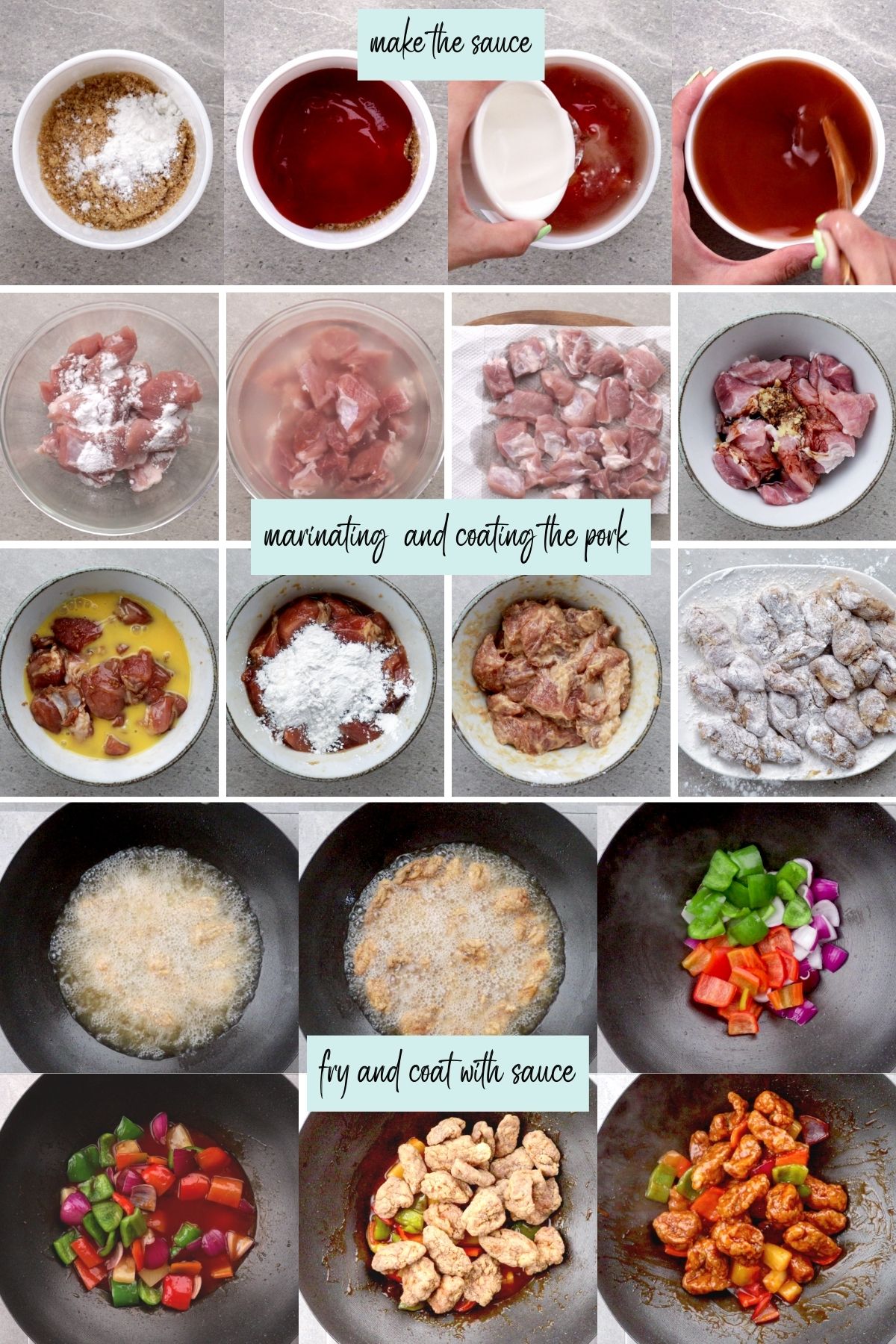 After dredging the marinated pork in cornstarch, squeeze them lightly in your hand. This ensures that the cornstarch adheres better.
When frying the pork cutlets, check the temperature of the oil by dipping a chopstick or wooden skewer into it; the oil should bubble up immediately. If the oil is not sufficiently hot, the coating will simply absorb the oil, and the pork won't be as crispy.
Use a wide pan, or fry in batches. Do not overcrowd the pan to get the best result.
Let the pork pieces fry undisturbed for about 1-2 minutes so that the cornstarch won't crumble or fall off leaving the oil crumb-free.
When cooking the sauce, just simmer until it is paste-like and glossy. Avoid overcooking it because it will lose its thickness after a while.
To keep the crispiness of the pork longer, just toss them quickly in the sauce. Once they are coated evenly, remove them from the pan and serve.
The secret to tender pork and long-lasting crispy breading
The technique for having really tender pork (or any meat) without spending so much for the prime cuts is using tendering agent: baking soda. The process is quite simple and easy. It involves soaking the meat cuts in a baking soda solution for 15 minutes before marinating them.
Now to have that really crunchy breading, we use cornstarch to thicken the marinade and then more cornstarch for dredging. Next is to fry them in hot oil not only once but twice to achieve the perfect crunch in every bite!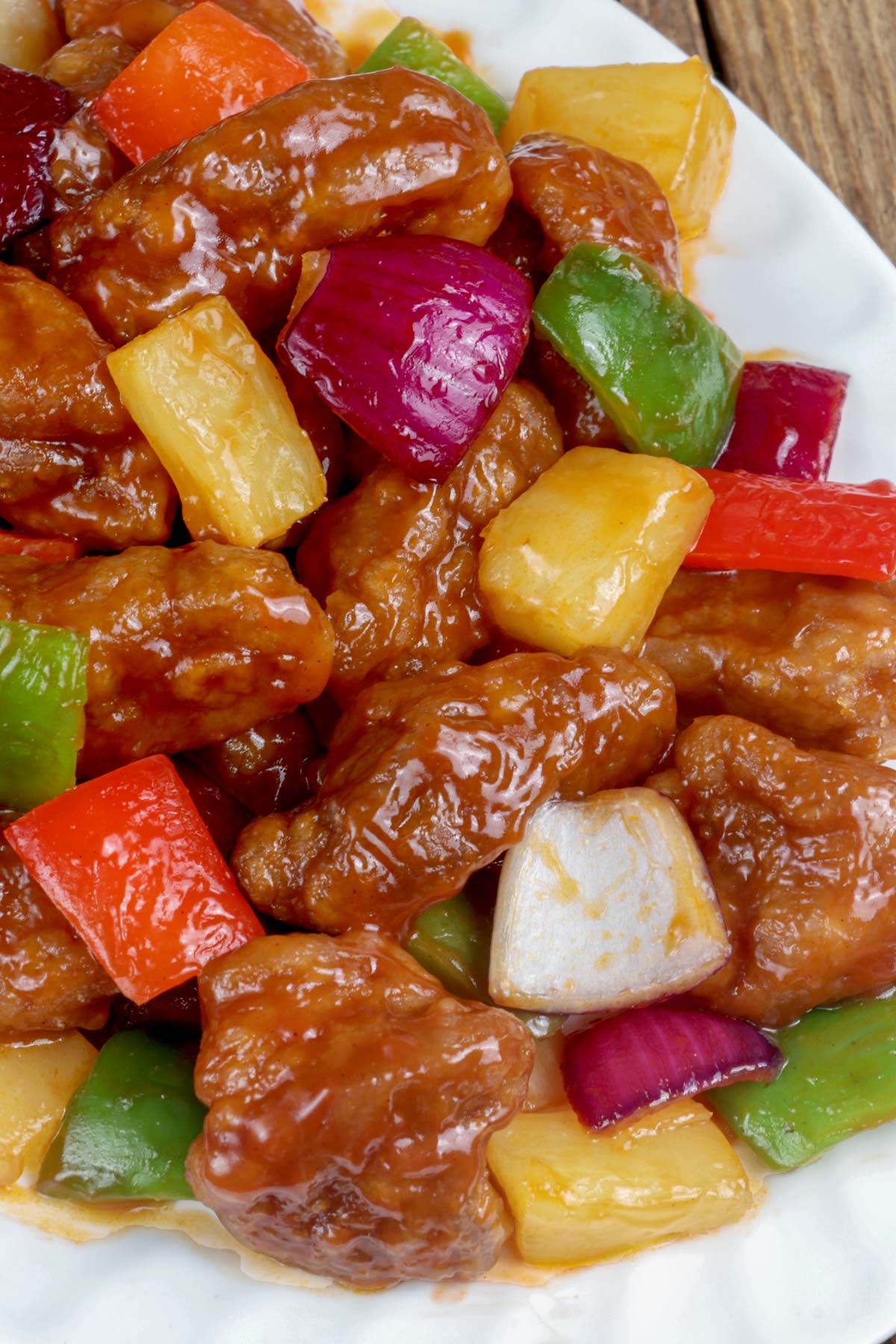 Storing Notes
If you are making this ahead of time, it is better to keep the fried pork pieces on a cooling rack and then just toss them in the sauce right before serving. This is because the longer they are coated in the sauce, the more the coating will soften.
You can store leftovers in the fridge for up to 4 days. Make sure they are stored in a lidded container. You can reheat them in the microwave or stovetop.
Printable Recipe
Sweet and Sour Pork Recipe
These golden and crispy pork cutlets with bell pepper and pineapple chunks coated in a delicious sweet and sour sauce are cooked in less than 20 minutes using only one pan! It is perfect topped over steamed rice for a hearty family lunch or dinner.
Ingredients
Instructions
300 grams pork shoulder,

1 teaspoon baking soda,

400 ml water

Place pork slices in a glass bowl. Add baking soda and mix. Pour the water and mix again. Let it sit for 15 minutes. Drain then pat the meat dry using paper towels.

½ tablespoon garlic,

1 tablespoon soy sauce,

1 small egg

Place meat in a bowl and add the grated garlic and soy sauce and mix. Add beaten egg and mix again. Let it marinate for at least 15 minutes or while you prepare the other ingredients, like cutting the vegetables.

¼ cup tomato ketchup,

¼ cup brown sugar,

½ teaspoon salt,

¼ cup vinegar,

1 teaspoon cornstarch,

¼ cup water

In a separate bowl mix all the ingredients for the sauce. Set aside.

Add 3 tablespoon cornstarch to the marinated meat and mix well with your hands or a spatula.

½ teaspoon fine salt,

½ cup cornstarch,

¼ teaspoon white pepper

On a plate combine ½ cup cornstarch,fine salt, and ground white pepper and mix. Take a piece of meat and place on top of the cornstarch mix then cover the top with the same. Press it inside your hand to make sure the cornstarch sticks firmly to the meat. Do the same to the rest.

1-2 cups canola or corn oil for deep frying

Heat oil in a wok over medium-low heat. Check if oil is hot enough by dipping a chopstick, it should bubble immediately.

Deep fry the meat in batches if needed, do not overcrowd. Do not stir for 1-2 minutes after putting in hot oil so the cornstarch won't shed off. Fry for 5 minutes or until golden brown. Remove the meat from the oil using a spider ladle and place it on a plate, no need to drain excess oil.

Once all the meat is fried the first time, turn heat to medium-high and fry them again (first-in, first-out) for 1-2 minutes or until brown and crispy. You can now cook them altogether if they fit in the pan or in just 2 batches, it is ok to overcrowd.)

1 medium red bell pepper,

1 medium green bell pepper,

1 medium red onion,

1 cup pineapple chunks

Empty the oil from the wok, no need to wipe it clean. Turn on the heat to medium-high and add 1 tablespoon of oil. Add onions and bell peppers and cook for 30 seconds. Add the pineapple chunks and cook for another 30 seconds.

Pour the sauce into the wok and simmer until it has thickened to a paste-like consistency for about a minute or two.

Add back the fried pork (excess oil and all). Toss and mix for 10-20 seconds until everything is coated with sauce. Transfer to a serving dish.
Nutrition
Calories:
835
kcal
Carbohydrates:
56
g
Protein:
12
g
Fat:
64
g
Saturated Fat:
6
g
Polyunsaturated Fat:
17
g
Monounsaturated Fat:
39
g
Trans Fat:
0.2
g
Cholesterol:
66
mg
Sodium:
1331
mg
Potassium:
480
mg
Fiber:
3
g
Sugar:
30
g
Vitamin A:
1209
IU
Vitamin C:
71
mg
Calcium:
56
mg
Iron:
2
mg
Frequently Asked Question
Can I add the pineapple juice from the can to the sauce?
Though some do, I do not find it necessary to do so. If you plan on adding pineapple juice, reduce the amount of sugar or vinegar in the recipe.
Can I make it spicy?
Sure you can! Just add chopped labuyo (red chili) or chili powder to the sauce.
Why is the sauce not as dark as it is in restaurants?
It can be because of the ketchup used. Also, some restaurants add red food dye to get that bright red color.