Savor this steamed whole fish cooked Chinese-style in less than 20 minutes using pompano! It is very simple and easy to make, yet it packs much piquancy and flavor. Transform your ordinary fish into a delectable and eye-catching dish!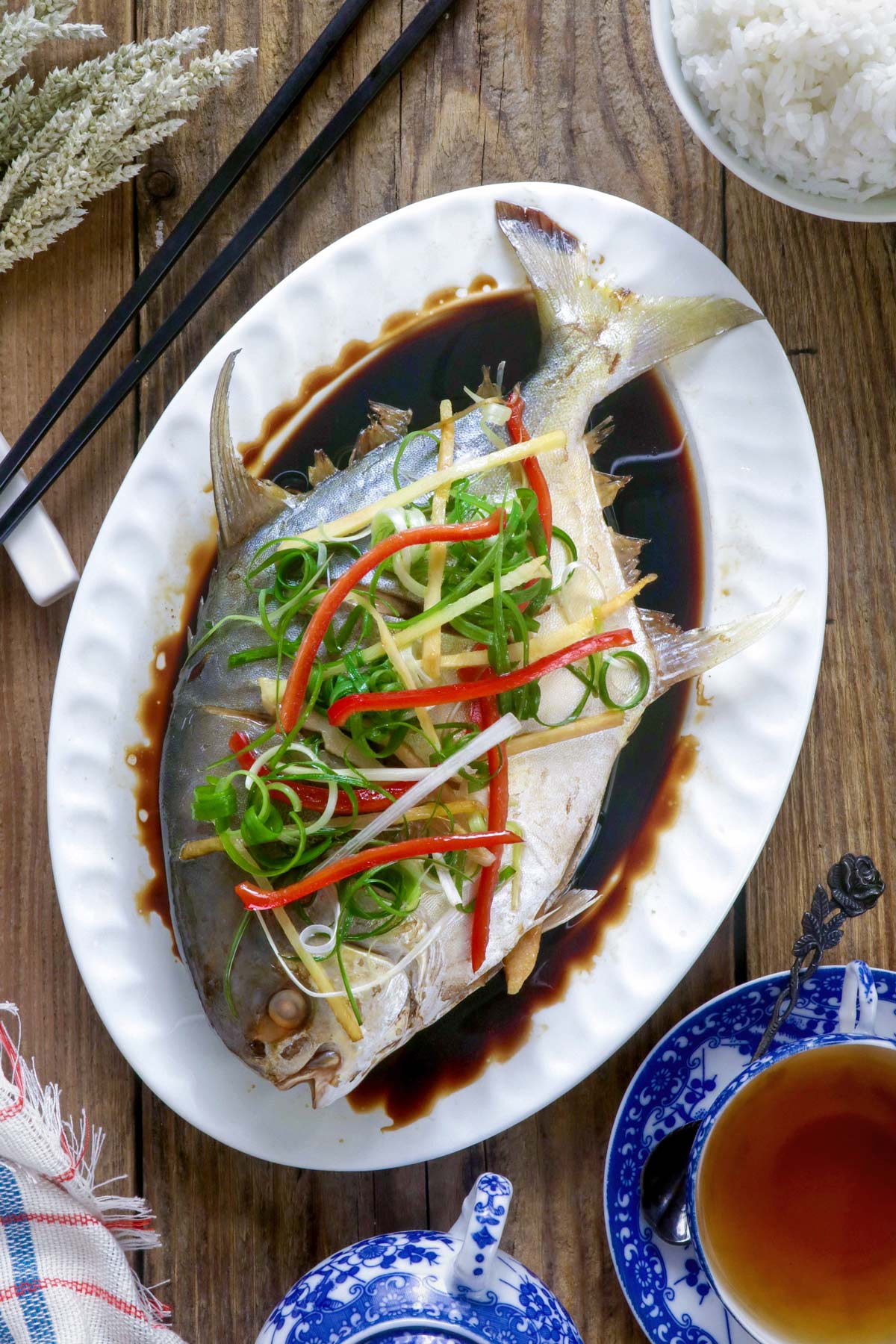 The Chinese proverb wú yú bù chéng xí (it wouldn't be a banquet if there is no fish) illustrates the significance of fish to Chinese cuisine. The fish must be whole, with the head, tail, and fins in their proper places, as it serves as the centerpiece. The tradition of serving whole fish on holidays and special occasions stems from its symbolic meaning of abundance and good fortune. Some whole fish recipes you can try are escabeche, steamed fish with mayonnaise, or this Cantonese Steamed Fish.
About this Steamed Fish Recipe
Whole steamed fish has a regal appearance which makes it a fantastic dish to serve during holidays and special gatherings. This Steamed Fish Chinese-style recipe is simple to follow, yet it has the complexities of flavor that everybody will surely love.
The sweet, delicate flavor of the steamed fish drizzled with soy sauce-wine mixture and topped with slices of ginger, green onions, and cilantro will definitely appeal to adults and kids alike. This dish doesn't require extensive kitchen skills even a newbie would have no issue cooking it. In short, it is a simple yet healthy and delicious dish that is perfect for any occasion.
Other Delicious Chinese Style Recipes
Ingredients You'll Need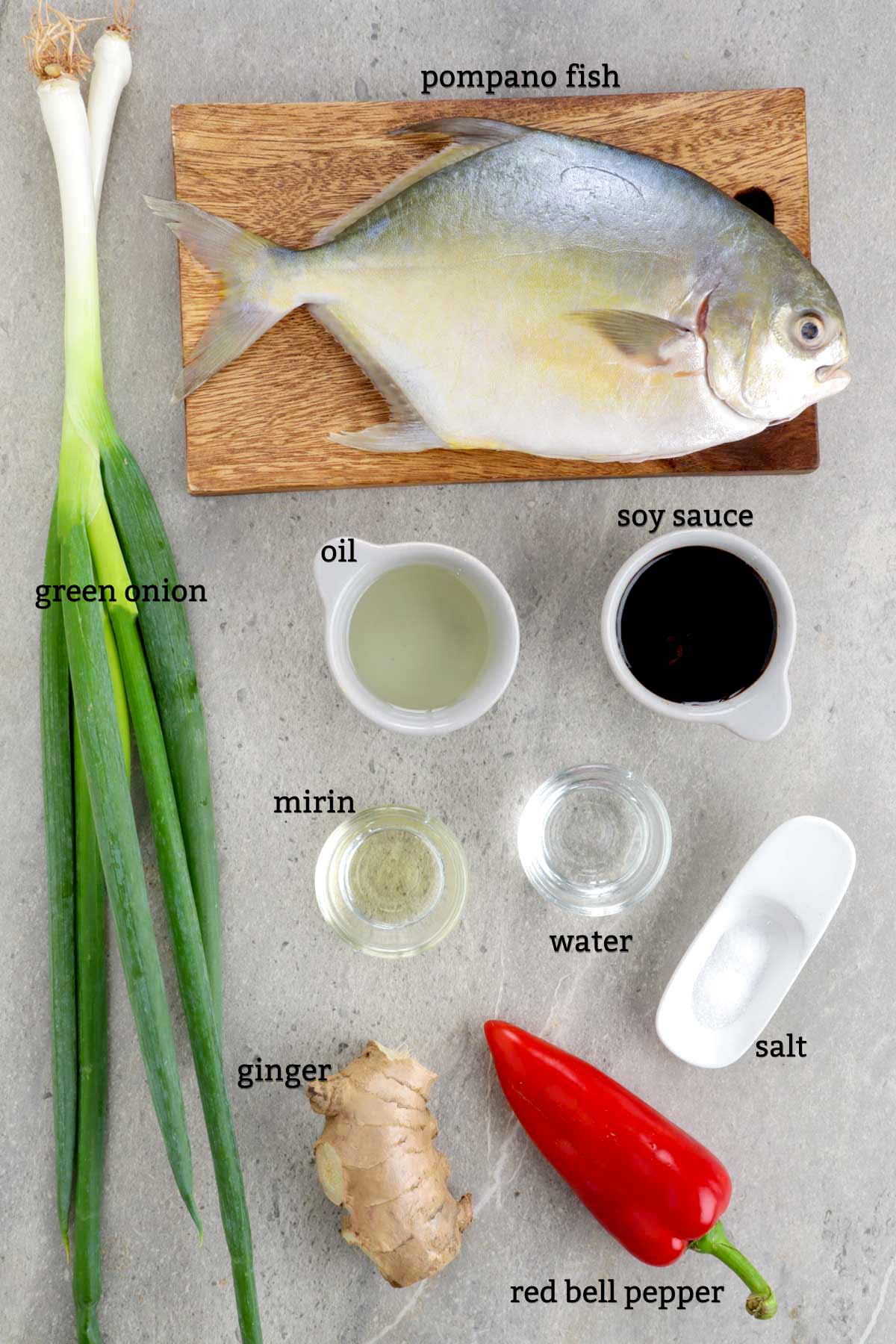 Pompano - has firm white flesh with a mild and sweet flavor. It is considered by some as the "world's most edible fish" as it has no scales and very few bones.
Green Onions - add color, flavor, and freshness to the dish. If unavailable, you may substitute it with leeks.
Ginger - packs a warm, spicy, peppery flavor that works well with fresh fish.
Cilantro - is also known as coriander or wansoy in Filipino. It has a bright, citrusy, and pungent flavor that is popular in Chinese cooking.
Red Bell Pepper / Chili Pepper - bell peppers add a fresh taste and crunchy texture, and chili peppers add spice and smokiness, and it adds a pop of color to the dish.
Soy sauce - lends an umami and salty flavor. For lower sodium content, you may use light soy sauce.
Mirin / Shaoxing wine - adds depth and flavor complexity to the dish.
What type of fish is best for steaming?
This Steamed Fish Chinese-style recipe works well with any type of fish. Aside from pompano, you may also use maya-maya (red snapper), lapu-lapu (grouper), sea bream, cod, or tilapia. They have a firm, flaky texture and a mild flavor that makes them ideal for steaming.
Tips for Making the Perfect Steamed Fish Chinese Style
Regardless of the type of fish you use, make sure it is as fresh as possible. Fresh fish have clear eyes, firm flesh, and red gills.
You may use fish fillets if whole fish is unavailable. Depending on the thickness of the fillet, adjust the cooking time.
The fish's incisions will let the fish soak up the flavors and aromas. The cuts allow you to check the fish's doneness easily.
Do not skip brushing the fish with oil, as this help seals the natural moisture of the fish.
There is only a small amount of alcohol added to the recipe, and the majority of it evaporates as the sauce cooks. If you prefer a dish without alcohol, feel free to leave this ingredient out.
You can use dry sherry, sake, or ordinary cooking wine if you don't have mirin or Shaoxing wine.
You can cut the fish in half if it won't fit in the steamer you have. You can combine the two halves on a serving platter after steaming.
Adjust the cooking time depending on the size of the fish you'll be using. The meat should be opaque down to the bone, soft, and juicy.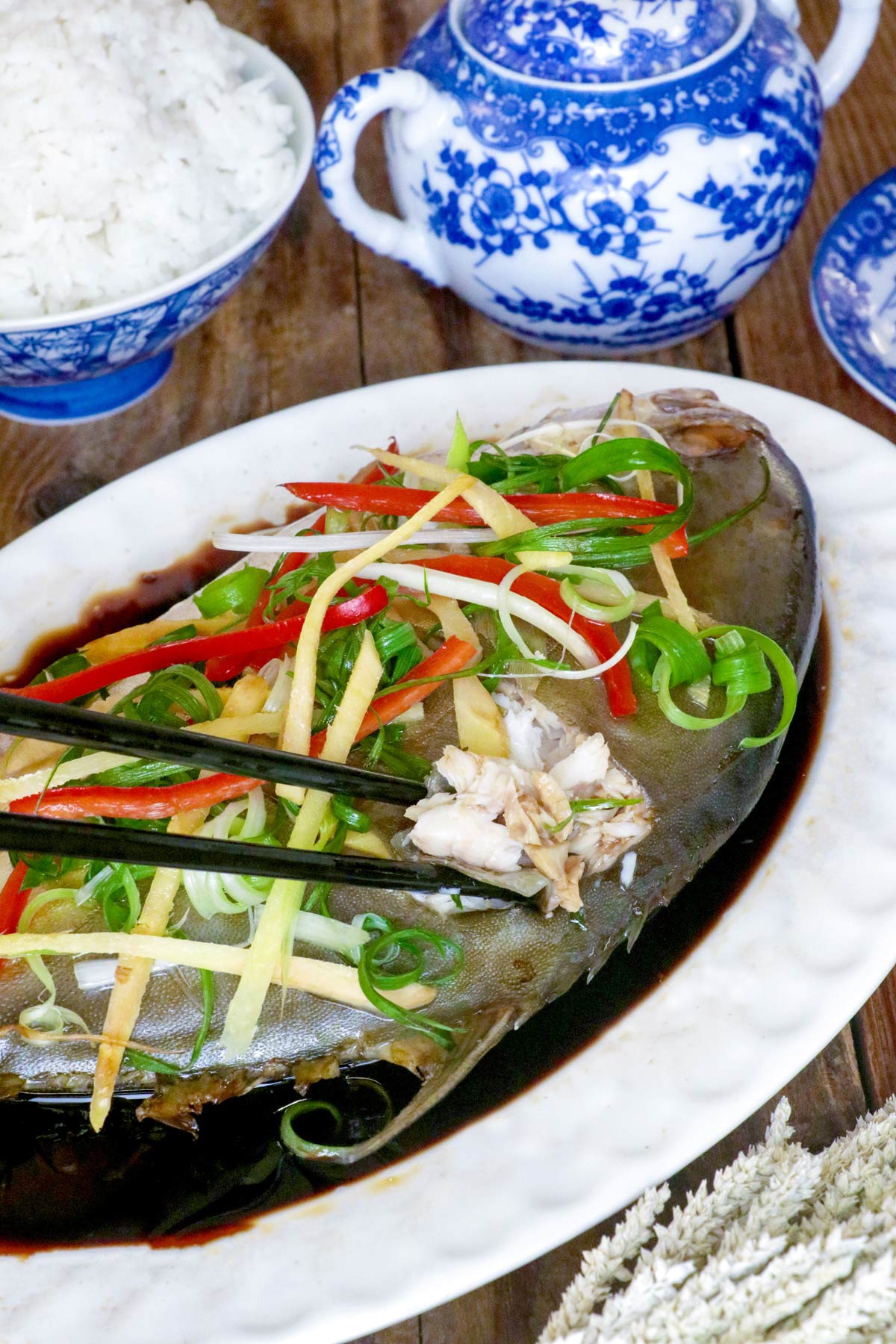 Serving and Storing Notes
Serve the Steamed Fish Chinese style immediately while it is still hot. Enjoy it with a bowl of steamed white rice.
If they are any leftovers, keep them in a container with a tight-fitting lid and keep them in the refrigerator for up to three days.
Printable Recipe
Steamed Fish Chinese Style Recipe
Savor this whole Steamed Fish Chinese-Style in less than 20 minutes! It is very simple and easy to make, yet it packs much piquancy and flavor. Transform your ordinary fish into a delectable and eye-catching dish!
Ingredients
1

medium-size

whole Pompano

cleaned and gutted

2

stalks

green onions

3-

inch

ginger

4

tablespoon

oil

Fine salt

3

stems

cilantro

chopped - optional

1

small

red bell pepper or chili pepper

cut into thin sticks - optional
SAUCE:
¼

cup

soy sauce

1

tablespoon

Mirin or Shaoxing wine

2

tablespoon

water
Instructions
1 medium-size whole Pompano

Make sure the fish is cleaned well. Make 2 slits cross-wise on the flesh on both sides. Soak in a bowl of water for a few minutes to make sure all blood is removed.

Cut off the root from green onions and cut it into 3-inch pieces. Then cut them thinly and lengthwise. Soak in cold water until ready to use. Put aside the leftover tips that are too short.

Peel the ginger and cut it into 8 batons, then take 2 batons and cut it into matchsticks, set it aside.

Take the fish out of the water and insert one to two of the ginger batons and the leftover green onions in the cavity.

4 tablespoon oil,

Fine salt

On a plate or big shallow bowl big enough to fit the whole fish, spread the remaining ginger batons then place the fish on top of them. Brush the whole fish with a layer of oil including the head and tail. Sprinkle some fine salt over the fish.

In a steamer or pot fitted with a steamer stand, bring enough water to a boil over medium heat. Place the plate/bowl with fish in the steamer and steam for 8 - 10 minutes. Take out the plate/bowl of fish and check through the slits if cooked thoroughly. The meat should be opaque down to the bone.

¼ cup soy sauce,

1 tablespoon Mirin or Shaoxing wine,

2 tablespoon water

While waiting, in a small bowl, mix together soy sauce, mirin, and water.

3 stems cilantro,

1 small red bell pepper or chili pepper

Transfer the fish to a serving plate. Pour the sauce all over the fish. Mix together ginger sticks, green onions, bell or chili pepper, and chopped cilantro and spread them over the top of the fish.

Heat 3 tablespoons of vegetable oil until very hot but not smoking. Pour this on top of the garnishing over the fish.

Serve.
Nutrition
Calories:
305
kcal
Carbohydrates:
10
g
Protein:
4
g
Fat:
29
g
Saturated Fat:
2
g
Polyunsaturated Fat:
8
g
Monounsaturated Fat:
18
g
Trans Fat:
0.1
g
Cholesterol:
0.3
mg
Sodium:
1784
mg
Potassium:
229
mg
Fiber:
2
g
Sugar:
5
g
Vitamin A:
1379
IU
Vitamin C:
51
mg
Calcium:
21
mg
Iron:
1
mg
Frequently Asked Questions
Can I overcook fish from steaming?
Yes, fish have delicate flesh. Steaming can inevitably overcook it, which will result in rubbery and falling apart flesh.
I don't have a steamer, what can I use?
You may use a wok that is big enough to fit a heat-proof dish that holds the fish. Place a wire steamer rack in the middle of the wok (you may also use a small bowl or even an empty aluminum can). Add enough water to the wok but lower than the rack/bowl. Bring the water to a boil, and then add the plate with the fish on the rack. Cover with lid and steam.