Get this simple recipe for braised beef for that savory-sweet tender chunks of beef that is rich in flavor and spices. This is a Filipino-Chinese version of braised beef similar to Chowking's.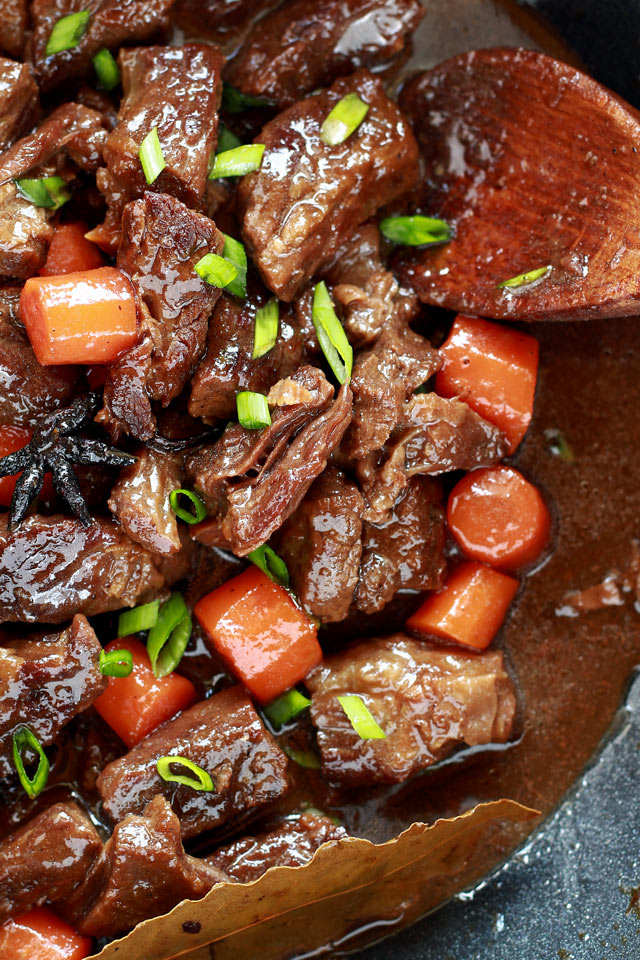 The first thing that pops into my mind, when I think of braised beef, is "Chowking". It is a favorite Filipino-Chinese fast-food restaurant among Filipinos (myself included).
My favorite dish to order is their famous braised beef rice topping accompanied by Kangkong with bagoong (water spinach with shrimp paste) and hot soup (which used to be free but is now sold for a minimal amount of Php5 last time I was there).
So I guess, you can say that this is my attempt at replicating Chowking's braised beef rice topping.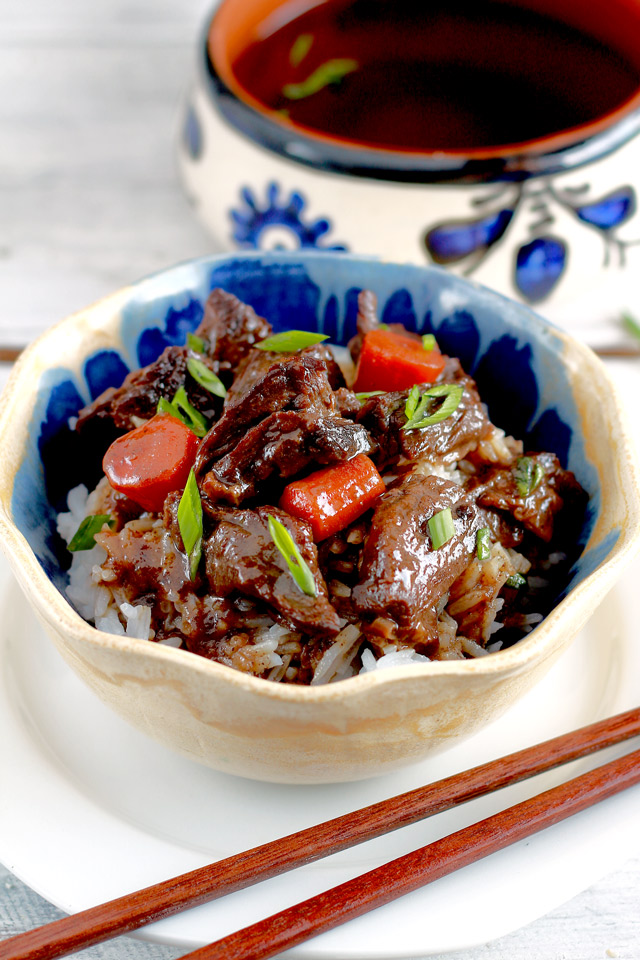 What is braising?
To quote Wikipedia: " Braising (from the French word, "braiser") is a combination-cooking method that uses both moist and dry heats: typically, the food is first seared at a high temperature, then finished in a covered pot at a lower temperature while sitting in some amount of liquid (which may also add flavor)".
I saw some recipes for braised beef in the net requiring so many different spices and seasonings but I just stick to the basics, like star anise and cloves, and it was enough to do the trick. 

Braising Vs. Roasting Vs. Stewing
Braising is a cooking technique that uses both moist and dry heat. Meat is first seared, wherein high heat is applied to the meat to brown the surfaces to build flavor. You can do it using a very hot pan or a grill. Liquid is then added during the second phase and temperature is turned to low and meat is to be cooked until it becomes tender and flavorful.
Roasting, on the other hand, uses only dry heat. It could be an open fire or oven. When you roast, you want to brown the surface of the food or meat to enhance the flavor. Typically, basting the meat with liquid or sauce throughout the roasting process is also done to increase the flavor.
Stewing is similar to braising, both use the low and slow way of cooking. However, unlike in braising where a little amount of liquid is needed, stewing requires that the meat and/or vegetables are fully submerged in the liquid.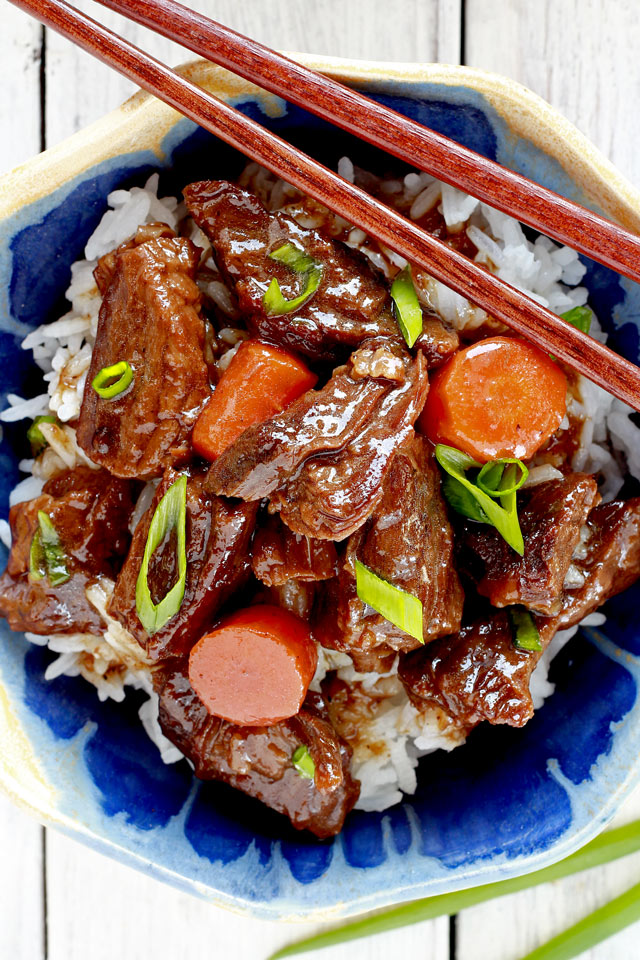 What cuts to use for braised beef?
Braising is ideal for tenderizing tough cuts of meat that are also normally less expensive than the prime cuts. These are usually the parts of the cow that work harder, therefore the muscles and connective tissues are stronger.
With braising, the slow cooking part helps tenderize these muscles and tissues as it cooks for a long time at low temperature. The result is flavorful, fork-tender beef!
The ideal cuts for braising or pot roasting are:
Brisket - meat from the breast or lower chest of beef
Chuck - shoulder part
Round - from the rear leg of a cow. Bottom Round Roast
Short Ribs - come from the loin, chuck, or midrib area.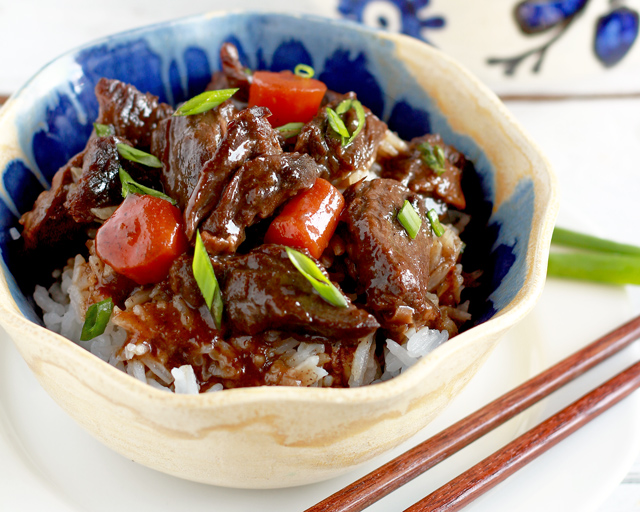 Printable Recipe
Braised Beef
Get this simple recipe for braised beef for that savory-sweet tender chunks of beef that is rich of flavor and spices. Inspired by Chowking's braised beef rice toppings.
Ingredients
2

tablespoons

oil

1

medium

onion

- chopped

1-2

cloves

garlic

- minced

1

pound

beef brisket

- cut into cubes

2-3

cups

water

4

tablespoons

soy sauce

3-4

pieces

star anise

3-4

pieces

cloves

2

pieces

bay leaves

2

tablespoons

brown sugar

¼

teaspoon

ground pepper

1

cup

carrot

- cut round about an inch thick

½

tablespoon

cornstarch

- dissolved in ¼ cup water

spring onions

- chopped, for garnish
Instructions
Heat oil in a pot over medium heat. Then saute garlic and onion until slightly tender. Add the chunk of beef and sear the meat in hot oil on all sides, about 5-7 minutes total.

Add the rest of the ingredients except for the carrots, cornstarch and spring onions and bring to a simmer, cover pot with lid and turn the heat to low. Let it cook for 40-50 minutes or until the meat is fork tender. You may need to add some water if beef is not yet tender at this point.

Stir in the carrots and cornstarch mixture and boil the sauce for about 5 minutes or until reduced and becomes thick.

Serve on top of steamy rice bowls and garnish with some chopped spring onions.
Nutrition
Calories:
409
kcal
Carbohydrates:
20
g
Protein:
35
g
Fat:
21
g
Saturated Fat:
4
g
Cholesterol:
93
mg
Sodium:
1509
mg
Potassium:
754
mg
Fiber:
2
g
Sugar:
11
g
Vitamin A:
7170
IU
Vitamin C:
5.9
mg
Calcium:
67
mg
Iron:
4.4
mg