Planning a Korean BBQ party? Complete it with this homemade Korean Fish Cake recipe! Simple and easy to make, Korean Fish Cake is a great side dish or appetizer to complete your meal plans.
The Korean wave has taken the Philippines by storm, and the Korean culture is here to stay. From the numerous Samgyupsal restaurants, K-dramas, and of course, the K-pop idols, you can see that Korean culture has really made an impact on Filipino lives.
We can see this influence in our tastebuds as well. These days, it's normal to see Kimchi, Korean sauces, and ready-to-eat frozen Korean corn dogs and fish cakes in our local groceries.
But if you are curious to know how Korean fish cakes are made, it is actually not that difficult. Read on and try it yourself, it is actually quite handy to have in your freezer for impromptu Korean BBQ night or simply as a snack or side dish anytime.
What is Korean Fish Cake?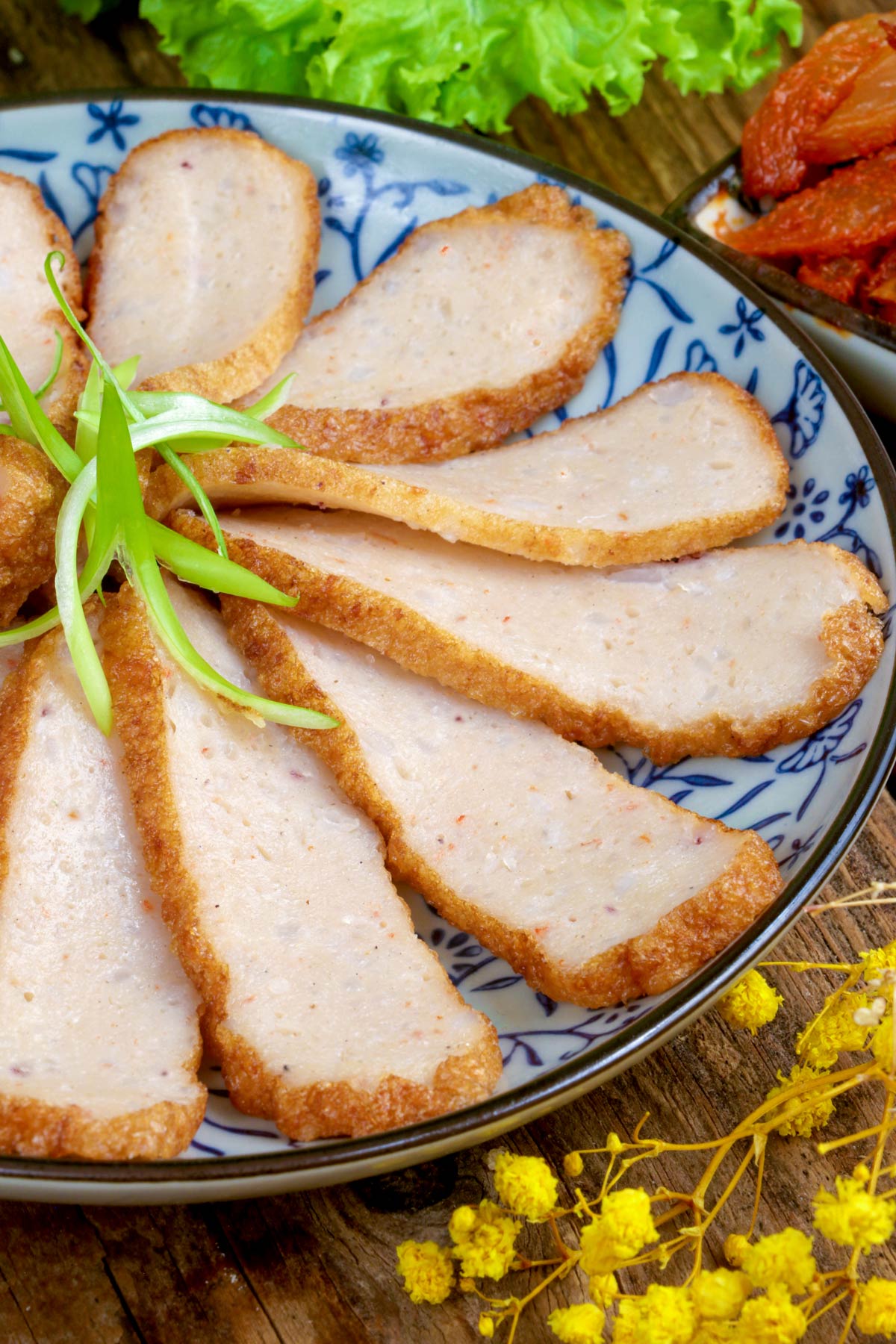 Also called Eomuk or Odeng. It is one of the more popular side dishes and street foods in Korea. Korean Fish Cake is made with ground or minced fish or seafood, starch, and seasonings. It is formed into rectangles or cylinders and then fried until golden.
The Korean Fish Cake is quite different from the Japanese fish cake Kamaboko, also known as "Naruto," which is typically used in soups. The western fish cake, on the other hand, resembles a croquette but is still made from ground white fish.
Ingredients
Prawn, squid, and fish fillet - Using fresh ingredients is always best. But if fresh ingredients are unavailable, you may also use frozen alternatives. Using frozen raw squid rings will save you time cleaning it.
Onion and garlic powder - For a smooth and lump-free fish cake mixture, using powders is more convenient and efficient than using fresh onion and garlic. But if this is what you have, then just make sure that you pulse it until very smooth.
Salt, sugar, and white ground pepper - are the condiments used for this recipe. They enhance and add flavor to the dish. Use very fine white ground pepper if possible.
Starch- There are only minor differences between the three starch options. You may choose what suits you best:
Potato starch is better for deep frying as it can withstand higher temperatures than tapioca and cornstarch. It also has fewer calories and carbs, so these are something to keep in mind if you're watching your weight.
Cornstarch might cook faster than potato starch but will give you a crispier and crunchier outer layer for your fish cake. It has more calories and carbs but lower sodium content compared to potato starch.
Tapioca starch comes from cassava. While not as great as potato and cornstarch for frying, I recommend you choose this if you plan to store the Korean Fish Cake and freeze it for a while before frying it.
Egg white -used as a binder for the mixture.
Oil for frying- Choose an oil with a high smoke point like vegetable oil, peanut oil, or corn oil.
Useful Tips
If you prefer, use only fish fillets (the most common are tilapia or cod) or you may use a combination of seafood for a more intense flavor. I used a combination of fish fillet, prawns, and squid in this recipe.
To easily devein the prawn, use a toothpick. Pierce the flesh between the joints and pull the vein by the tip. You can also carefully cut along the back outer edge of the prawn with a paring knife. With the tip of the knife, remove the vein.
Refrigerate the egg for a few minutes before separating the egg white from the yolk. When egg yolks are chilled, they become firmer and easier to separate.
To avoid the burning taste in food, use oil with a higher smoke point.
What to serve with Eomuk?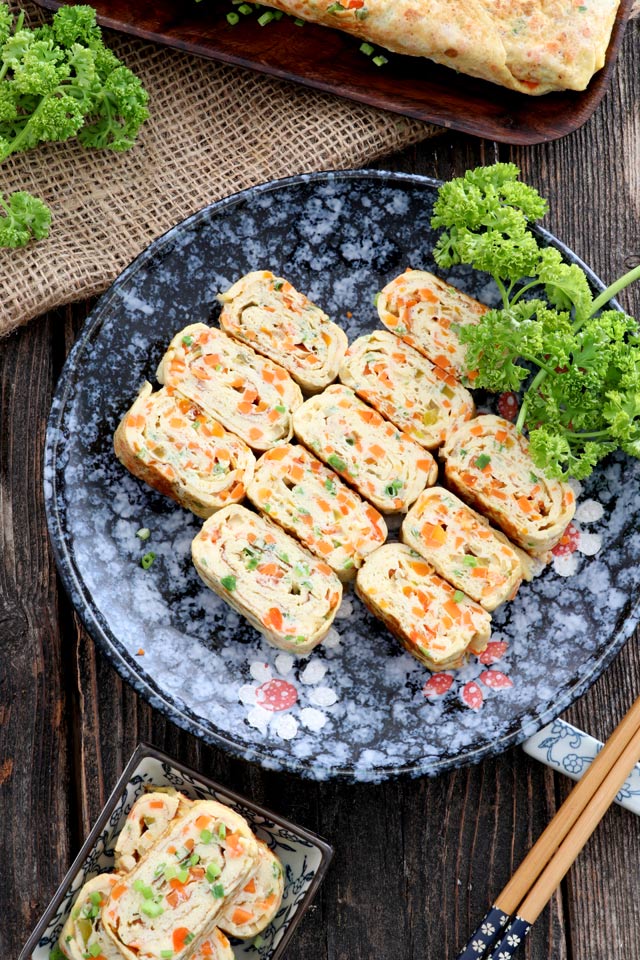 Serving and Storing Notes
Serve and enjoy Korean Fish Cake on its own as a snack or appetizer with dipping sauce or as a side dish to your Samgyupsal. You may also add it to soups or stir-fries.
To store, place cooked Korean Fish Cake in an airtight container or Ziplock bag and keep it in the fridge for up to 5 days or freeze it for up to 3 months. Defrost frozen fish cake and refry it in hot oil before slicing.
You can also reheat sliced fish cake by bringing some water to a boil in a saucepot. Once it boils, turn off the heat and add sliced fish cakes and let sit for about a minute. Drain well.
Printable Recipe
How to make Korean Fish Cake (Eomuk/Odeng)
Make your very own Korean Fish Cake from scratch. It is simple and easy to make and makes a great side dish or appetizer.
Ingredients
250

grams

fish fillet

slightly frozen

200

grams

prawn

125

grams

squid

1

tablespoon

onion powder

1

teaspoon

garlic powder

2

teaspoon

fine salt

1

teaspoon

sugar

1

teaspoon

white ground pepper

1

tablespoon

oil

¼

cup

flour

¼

cup

potato starch or tapioca or cornstarch

1

large

egg white

Oil for frying
Instructions
Separate the head of the squid from the body. Pull out the cartilage from the body and make a cut on one side to make one flat piece. Remove anything left inside the body tube and then peel off the skin. Cut it in smaller pieces. Cut the head just above the eyes and discard the eyes and lower parts. Remember also to remove the cartilage part, if any, on the head.

Shell and devein the prawns if needed.

Cut fish fillet into smaller pieces.

1 tablespoon onion powder,

1 teaspoon garlic powder,

2 teaspoon fine salt,

1 teaspoon sugar,

1 teaspoon white ground pepper,

1 tablespoon oil,

¼ cup flour,

¼ cup potato starch or tapioca or cornstarch,

1 large egg white

Place the squid, prawn, and fish in a food processor or blender. Add onion powder, garlic powder, salt, sugar, ground pepper, oil, flour, starch, and egg white.

Pulse for a couple of minutes until it gets a homogeneous texture. About 2-3 minutes depending on speed of the processor.
Shaping.
Divide the mixture into 3 or 4 equal parts. Take one part and spread it on a flat surface lined with plastic wrap, making sure there is no air trapped. Scrape it together to form a rectangle, about 1 inch high. Wrap it with the plastic wrap liner. Do the same with the rest.

Place the uncooked fish cakes in the freezer and chill for 20 minutes.

Heat enough oil, about 1-inch high, in a small pot over medium high heat until it reaches 350°F. Take the fish cakes and fry them one at a time for 10-12 minutes, flipping them over for even cooking until it becomes golden brown.

Transfer to a plate lined with paper towel to get rid of excess oil.

Slice and serve while still warm. You may store the cooked fish cake in the fridge or use it for other Korean recipes.
Nutrition
Calories:
124
kcal
Carbohydrates:
10
g
Protein:
15
g
Fat:
3
g
Saturated Fat:
0.4
g
Polyunsaturated Fat:
1
g
Monounsaturated Fat:
1
g
Trans Fat:
0.01
g
Cholesterol:
92
mg
Sodium:
653
mg
Potassium:
276
mg
Fiber:
1
g
Sugar:
1
g
Vitamin A:
5
IU
Vitamin C:
1
mg
Calcium:
33
mg
Iron:
1
mg