Get a taste of this Hawaiian treat with this Spam Musubi. Fried luncheon meat smothered in a sweet, savory sauce on top of sticky rice, and wrapped with nori seaweed. They make a delicious snack or even a filling lunch.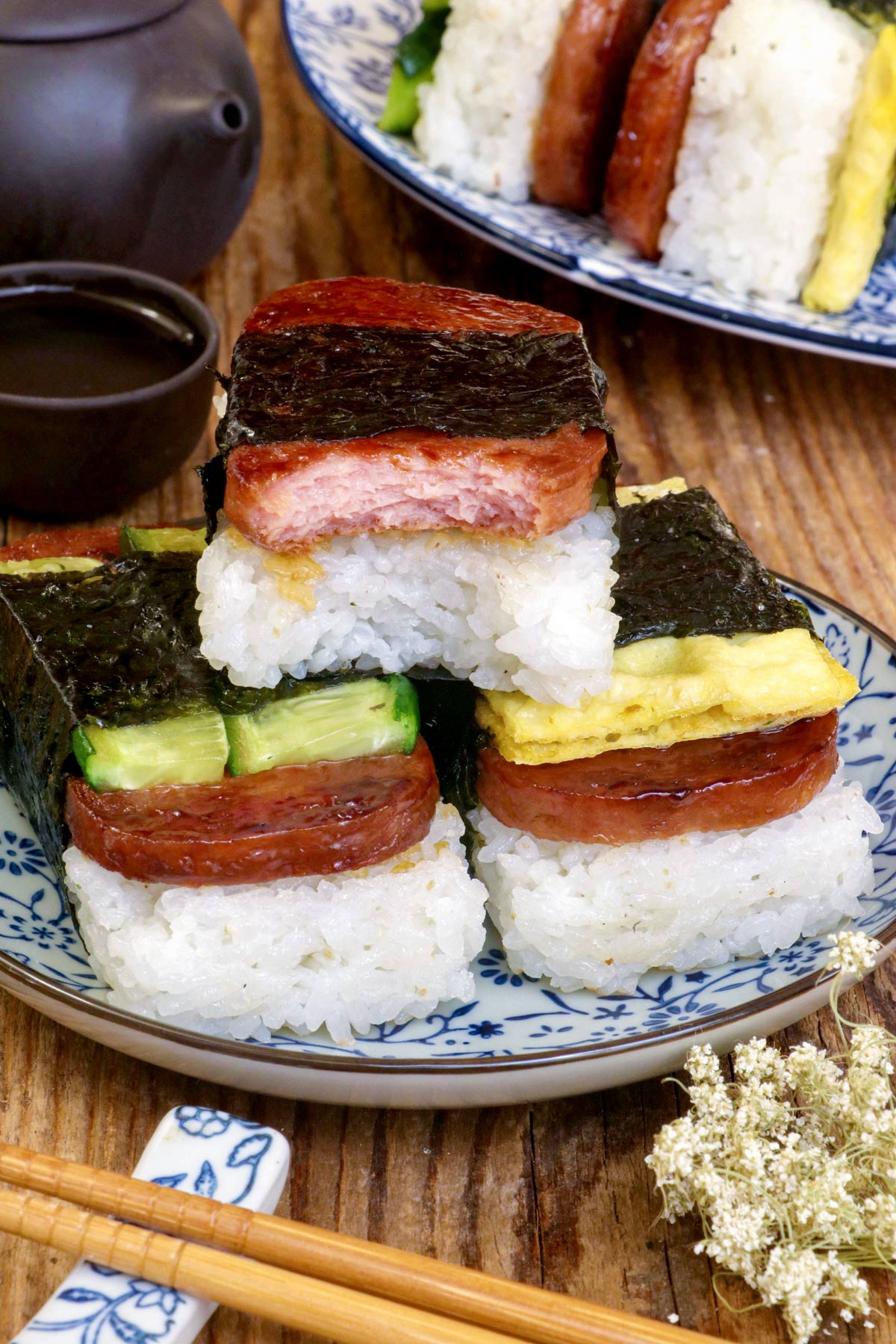 Japanese cuisine has influenced many Western and Asian dishes where certain Japanese ingredients or cooking methods are used to create new delicious and exciting recipes. Among the popular ones are Omurice, Japanese Siomai, Kani Salad, Menchi Katsu, and Spam Musubi.
What is Spam Musubi?
It consists of fried or grilled sliced Spam, sushi rice, and nori. It is prepared omusubi-style where the luncheon meat is either placed on top or sandwiched between blocks of rice and wrapped together with the nori sheet.
Because it is budget-friendly and portable, it is widely available in convenience stores and pop-up shops all over Hawaii, Guam, and some Hawaiian restaurants in the US. Spam Musubi is typically served as a lunch or snack with soy sauce or Japanese mayonnaise.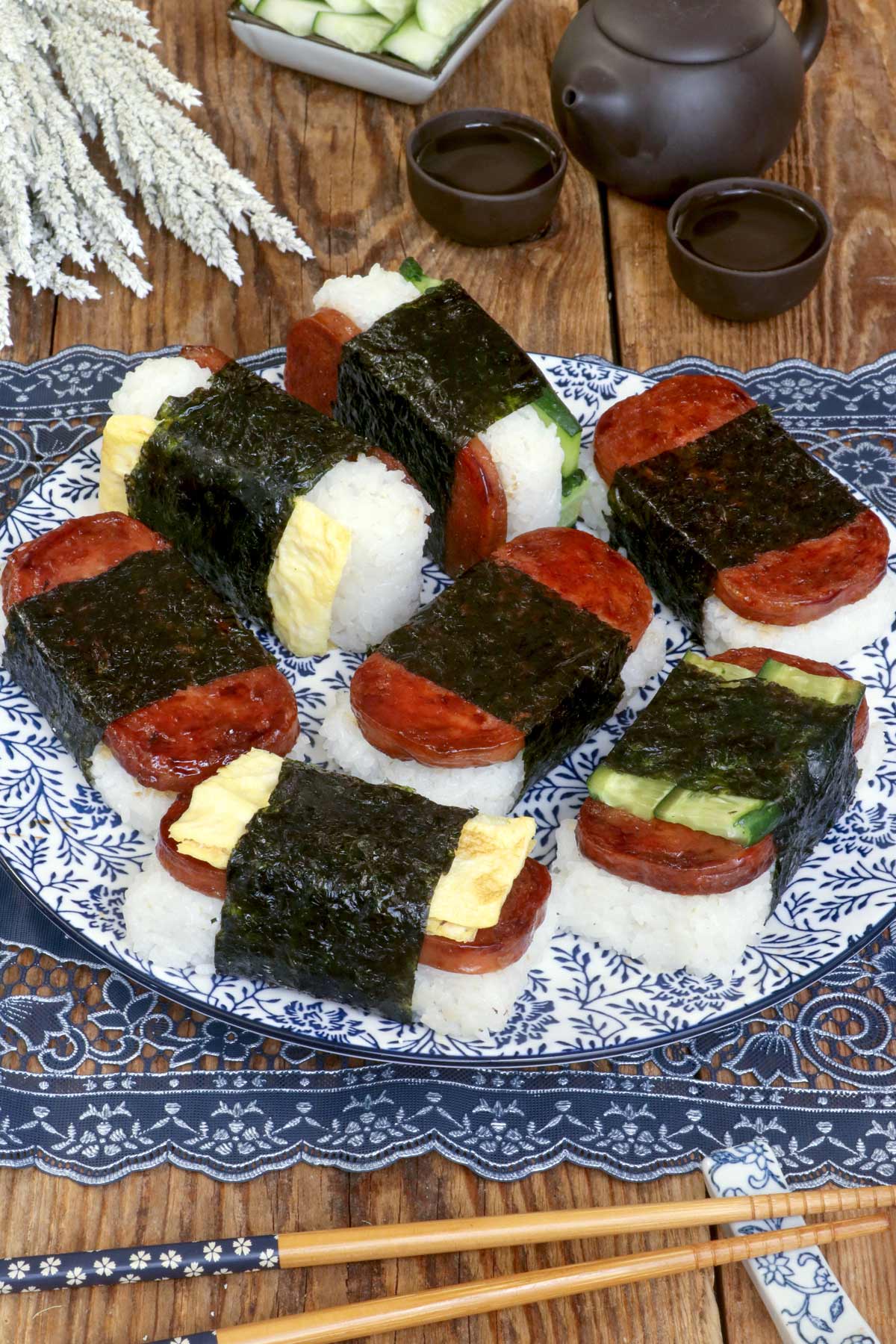 Origin of Spam Musubi
This onigiri-style snack is said to have originally been created in Hawaii by a Japanese-American woman, Barbara Funamura. During WW2, the canned luncheon meat brand Spam was introduced in Hawaii, Guam, the Philippines, and other islands within the Pacific. Initially, they were sent to the troops stationed at these locations. By the end of the war, it was ingrained into Hawaii's local culture and became widely popular worldwide. People patronize it because it is readily available, affordable, long-lasting, and easy to prepare.
So, you might be wondering where the musubi originated. The word "musubi" means "rice ball" in Japanese. Spam Musubi is a modified version of onigiri, a Japanese rice ball snack, usually shaped in triangles or balls, that is filled, mixed, or topped with a variety of ingredients and decorated with strips of nori.
More Japanese-inspired Dishes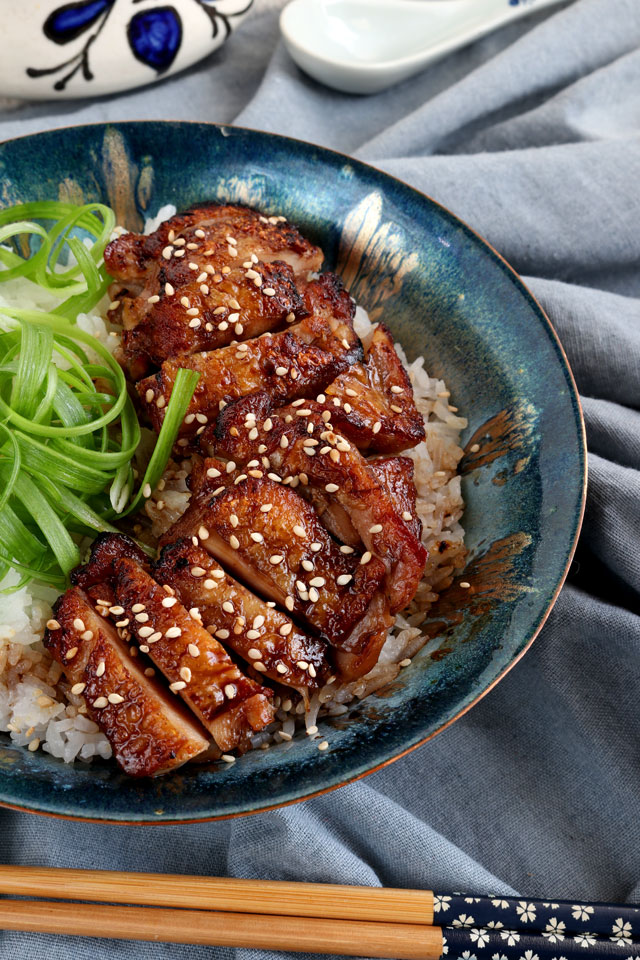 Ingredients for Spam Musubi
SUSHI RICE
Rice - Japanese rice or short-grain rice is best for this recipe as it contains more starch, has a high moisture content, and tends to stick together when cooked. Jasmine rice is a good alternative, as it is fluffy and slightly sticky when cooked.
Rice Vinegar - helps preserve the musubi and makes the rice more sticky. If rice or white vinegar is unavailable, you may use apple cider vinegar.
Sugar – this is optional, but it is traditionally used to counteract the sourness of the vinegar.
Salt - this is also optional, but it contributes to the overall taste and balances the flavors in the sushi rice.
Oil - neutral tasting oil is best for frying, such as canola, safflower or vegetable oil.
Spam – I think we are all familiar with this popular brand of canned luncheon meat. It is the main flavor carrier of the dish, which has a salty and slightly spicy flavor. If you don't have Spam on hand, you may use any brand of canned luncheon meat you prefer.
Nori sheet – is a dried edible seaweed commonly used to wrap sushi rolls. It has a natural umami flavor and a salty-sweet taste.
SAUCE
Soy sauce - it has an umami flavor and gives more depth to the color of luncheon meat.
White Sugar - you may also use brown sugar.
Mirin - adds shine to the sauce and gives the sauce a warm and rich flavor. Dry sherry or sweet marsala wine are also good alternatives. In a pinch, you may just use water.
Cooking Tips for Spam Musubi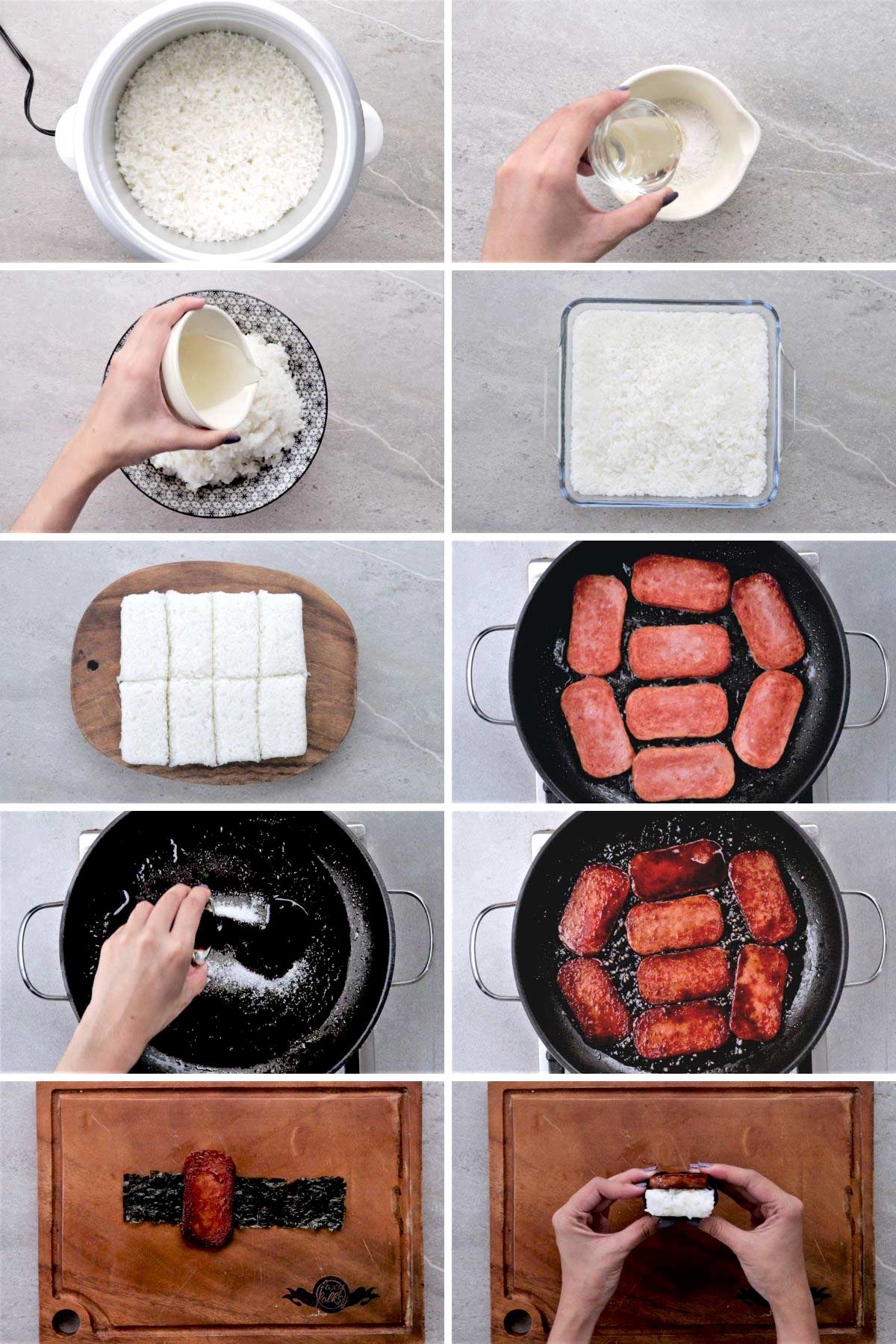 To get that crispy texture, sear Spam on all sides until golden.
I usually use nori sheets with the shiny side down when wrapping the spam musubi, so that the shiny side will be visible when done.
The secret to making the ideal musubi is to use hot rice. The steam aids in sealing the ends of the musubi without having to use water.
With this recipe, you don't need a musubi mold to make single servings. Just make sure that the rice will not stick to the square container or dish.
If you want to use a mold, you can utilize the Spam can by removing the bottom part, or you can use molds that are sold commercially.
If you are in a rush, you can use store-bought teriyaki sauce instead of making the sauce in the recipe.
If you're in a rush and don't have time to put the musubi together, you may simply serve a bowl of sushi rice, Spam, and sauce, with some cut nori sheets on the side.
Serving and Storing
Serve these handy snacks immediately on their own or with Japanese mayo. Egg rolls, cucumbers, or even avocados can be added to your Spam Musubi for variation. You may sprinkle furikake or toasted sesame seeds on top.
To store Spam Musubi, wrap them individually with the plastic film placed in an airtight container and keep them in the fridge for up to 1 week. Reheat by unwrapping and placing it in the microwave oven for 20 to 30 seconds, or until warm.
Printable Recipe
Spam Musubi Recipe
Get a taste of an authentic Hawaiian treat with this Spam Musubi. Fried luncheon meat is slathered with sweet, savory sauce on top of sticky rice, and wrapped with nori seaweed. It's great as a snack or even for lunch!
Ingredients
SUSHI RICE:
2

cups

uncooked rice

2-3

cups

water for cooking rice

depending on the kind of rice

3

tablespoons

rice vinegar

or white vinegar, optional

1

tablespoon

sugar

optional

1

teaspoon

salt

optional

1

tablespoon

oil

1

can

Spam

12oz/340g, cut into 8 slices

2-3

pcs

Nori sheets

cut into 1.5- inch wide pieces.
SAUCE:
2

tablespoons

soy sauce

2

tablespoons

sugar

2

tablespoons

mirin

or water if not available
Instructions
2 cups uncooked rice,

2-3 cups water for cooking rice

Rinse the rice and drain. Cook rice in the rice cooker as usual but add a bit more water to make it stickier than usual, if needed.

1 can Spam,

1 tablespoon oil

While waiting for the rice to cook, heat oil in a large pan over medium heat and fry the spam slices until browned and crisp on both sides, about 2-3 minutes on each side. Transfer to a plate for now. Don't remove the oil from the pan yet, it will be used later.
SUSHI RICE:
3 tablespoons rice vinegar,

1 tablespoon sugar,

1 teaspoon salt

Mix the rice vinegar, salt, and sugar in a small bowl, and mix well until sugar is dissolved. Once the rice is cooked, transfer to a bowl and pour the mixture into the freshly cooked rice and toss until evenly distributed. Cover with plastic wrap or a lid to keep it moist for now.

2 tablespoons soy sauce,

2 tablespoons sugar,

2 tablespoons mirin

In the same pan used for frying the spam, add the ingredients for the sauce. Let it simmer to reduce and thicken a bit. Add back the fried spam and continue to simmer until most liquid is absorbed by the spam, turning it once or twice. Turn off the heat and allow to cool down a bit.
ASSEMBLY:
Transfer the sushi rice to a square or rectangle baking dish or container, spreading it evenly then pressing it down compactly. It should be about 2 cm high. Tip the compacted sushi rice into a clean cutting board.

Cut the compacted rice into 8 rectangles the same size as the spam slices.

On a plate or cutting board, lay a piece of nori. Place a slice of spam on top of one end of the nori. Take a piece of sushi rice and place it on top of the spam. Roll up the nori around the spam and rice. Lightly wet the other end of the nori to seal the roll. If rice is too sticky, wet your hands a bit before handling it.

Transfer finished musubi on a serving plate, seam-side down.

You may also add flat scrambled eggs, cucumber slices, or avocado slices for variety
Nutrition
Calories:
356
kcal
Carbohydrates:
48
g
Protein:
10
g
Fat:
13
g
Saturated Fat:
4
g
Polyunsaturated Fat:
1
g
Monounsaturated Fat:
7
g
Trans Fat:
0.01
g
Cholesterol:
30
mg
Sodium:
1188
mg
Potassium:
241
mg
Fiber:
1
g
Sugar:
6
g
Vitamin A:
13
IU
Vitamin C:
0.1
mg
Calcium:
17
mg
Iron:
1
mg