Crispy skin yet tender-juicy meat drizzled with sweet-savory sauce,- this Chicken Teriyaki Recipe is indeed a delicious mix of contradictions that you will love. More so because it is so easy to make!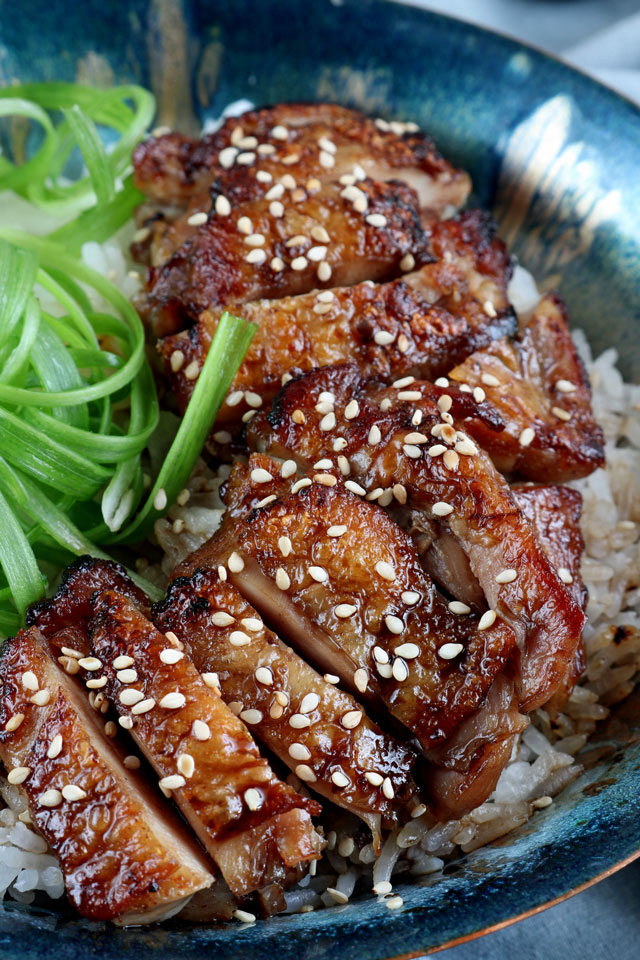 What is Teriyaki?
Teriyaki is a famous Japanese cooking technique where the meat is usually broiled or grilled and served with a glazed sauce. The term itself is derived from two Japanese words- Teri and Yaki. Teri refers to the gloss or sheen in the sauce created by the sugar, while Yaki simply means to grill or to broil.
Teriyaki Sauce and Its Ingredients
Teriyaki sauce is made from four basic ingredients, soy sauce, sugar, mirin, and ginger. While three out of these four ingredients are very familiar to a lot of us, some may not know much about mirin.
Mirin is a Japanese rice wine used for cooking. It is similar to Sake but it has more sugar and less alcohol content in it. I get a lot of questions about substituting Sake for Mirin- this is fine, as long as you are aware of the difference between the two. Remember- while Marin is purposely made for cooking, Sake is made as an alcoholic drink that can be used for cooking as well.
I substituted sugar with honey on this recipe. Though both are considered sweeteners, honey is sweeter so I used less of it. Honey has more health benefits compared to processed sugar as it contains minerals, amino acids, and is a good source of antioxidants.
You will also notice that my recipe below does not have ginger on it but feel free to use it if you want to. I would say that it is more apt to use it for fish teriyaki recipes.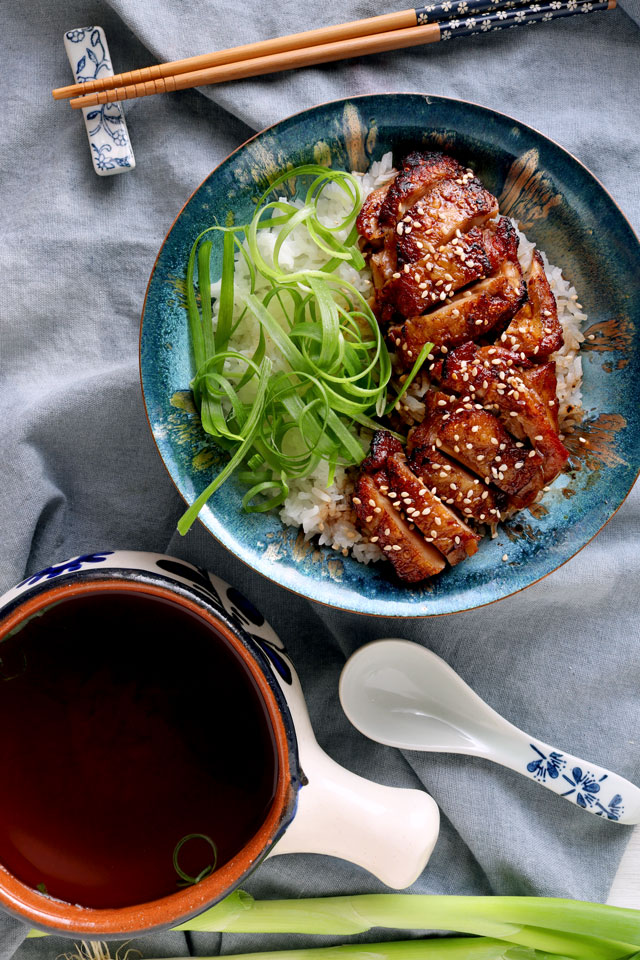 More Teriyaki Options
I opted to use chicken thighs for this recipe because I wanted to have crispy chicken skin with the tender meat. I personally prefer using the thigh versus breast part as it packs more flavor and is juicier, making it perfect for frying.
If you do not like chicken in general, don't fret! Teriyaki sauce can be paired with an array of options. You can use fish like tuna, mackerel, salmon, and trout. If you prefer other meats, you can also use pork, lamb, and beef. This is a very versatile sauce that goes well with a lot of food.
You can serve this chicken teriyaki as rice toppings and with some green vegetables like steamed broccoli or pak choi. I like garnishing mine with thinly sliced fresh green onions stalk because it adds more crispiness from the already crispy chicken skin. It gives every mouthful a refreshingly good taste.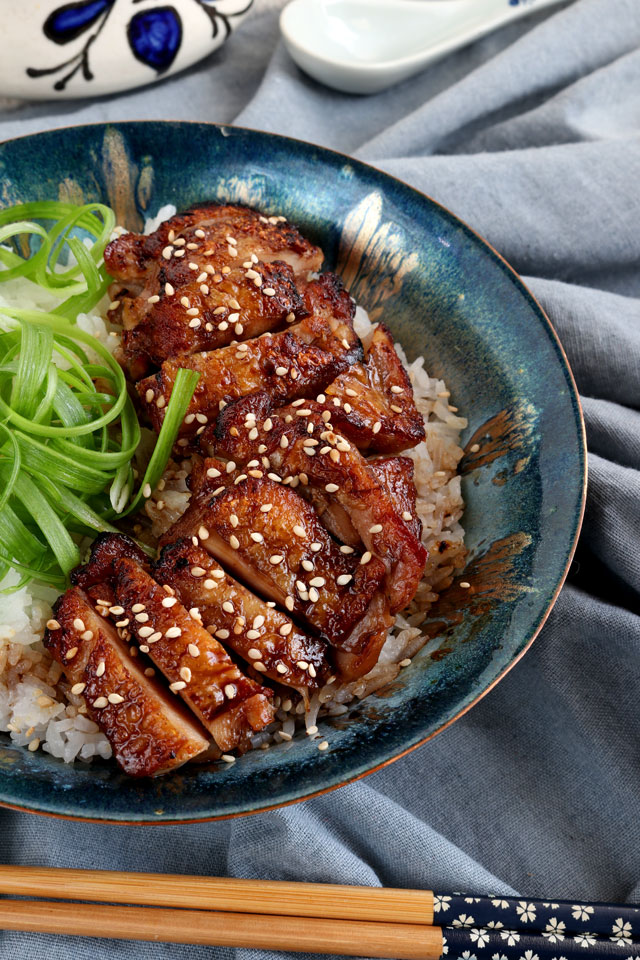 More Japanese food for you...
If you are still in the mood for more scrumptious Japanese food after trying this Chicken Teriyaki Recipe, try these:
Printable Recipe
Easy Teriyaki Chicken
Sweet and savory sauce, crispy yet tender meat, this Chicken Teriyaki Recipe is indeed a delicious mix of contradictions that you will love.
Ingredients
2

pounds

boneless chicken thigh with skin

or chicken breast -about 4-5 pieces

2

teaspoons

salt

2

teaspoons

sugar

3

teaspoon

mirin

2-3

tablespoons

oil

- for frying

1

teaspoon

sesame seeds

- for garnishing

1

stalk

green onions

- sliced thinly for garnishing
TERIYAKI SAUCE
¼

cup

soy sauce

¼

cup

Mirin

¼

cup

honey

¼

cup

water
Instructions
Combine chicken, salt, sugar, and mirin in a bowl and mix well. Cover and let it marinate for at least 30 minutes.

While waiting, prepare the teriyaki sauce by combining all ingredients in a saucepan and bring to a simmer over medium heat. Let it cook until reduced by half and slightly thicker. Set aside.

Heat oil in a frying pan over medium-high heat. Fry the chicken with the skin side first for 3-5 minutes or until golden and crispy. Then turn and do the same on the other side.

Transfer chicken to a chopping board and cut into bite-size. Transfer to a serving dish and drizzle with teriyaki sauce. Finish with a sprinkle of sesame seeds on top and some green onions.
Nutrition
Calories:
447
kcal
Carbohydrates:
19
g
Protein:
26
g
Fat:
30
g
Saturated Fat:
7
g
Cholesterol:
148
mg
Sodium:
1527
mg
Potassium:
338
mg
Fiber:
1
g
Sugar:
16
g
Vitamin A:
138
IU
Vitamin C:
1
mg
Calcium:
17
mg
Iron:
1
mg
This recipe was originally published in Novem 2017. Updated in August 2020 to include new photos, more tips, and a recipe video.