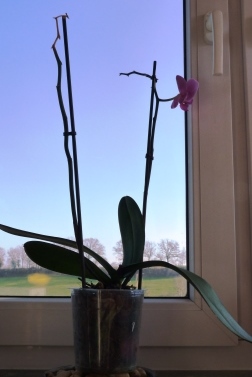 Help! My orchid is dying!!! Or so it looks like, right? But before you panic, calm down and read this article about Phalaenopsis Orchid Care.
I love love love orchids!!! They look so pretty, dainty and elegant. I've always like orchids but it was only until recently that I have the guts to be an orchid owner. Well, that is not entirely true. It was more like I was forced into being one. You see a relative gave me a Phalaenopsis orchid (also known as "Moth" orchid, maybe because the flower resembles a moth?! duh!) for my birthday 2 years ago. So there I was taking care of my phal the best I could. After some weeks though, it started to lose the all its flowers, so I panicked and started reading articles on how to take care of orchids. I read somewhere that you should cut the stem at the base so I did, later I read on another site that you should cut only before the first node closest to where the first flower was. Oh well, too late for that. Then I got another one from my husband for Valentine's. But guess what? The same thing happened again. Weird eh?! After a year my phals didn't have any new growth: no new flowers and no new leaf, instead the leaves started turning yellow. Panicking again, I read and learned then that I should re-pot it to check the roots as well. And yes, the roots were starting to rot, I guess I was watering too much. So I re-pot and hoped for the best. But then I went home to the Philippines and I left my precious babies to the caring hands of my husband. When I came back after 3 weeks, they are both dead! ( ;-( sniff, sniff) They drowned! Apparently, my husband got confused with my watering instruction with that of my other plants and watered the phals every other day!!Ooopppsss!
The sad experience taught me a lot about proper caring for Phalaenopsis orchid. Now I have 6 of them and all are doing great.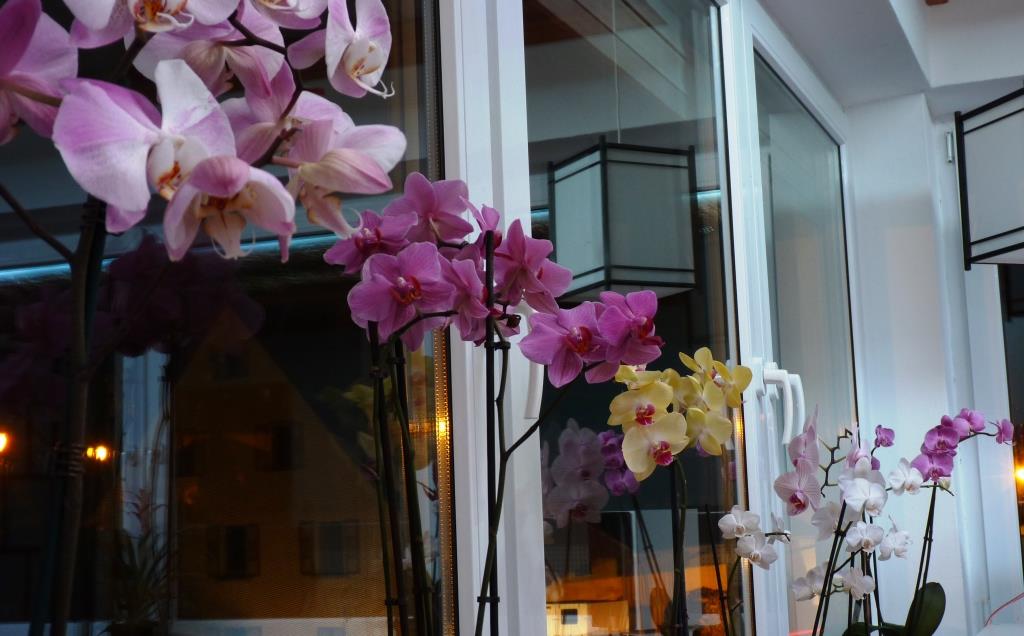 It is only natural that the flowers will start to wilt and fall after blooming for some time (some lasts to 2-3 months if well cared), so no need to panic...yet. First, look for other signs on your phals to know if they are still in good shape.
Leaf reading
You can tell a lot about the health of your phals by just looking at the leaves.
The leaves should be firm and not drooping, shiny and not wrinkled. Drooping and wrinkled leaves means they are not getting enough water. When they do get too much, they turn yellow and roots will start to rot.

Ideally, the leaves should have a light green color, but a bit darker for darker colored flowers. Too dark green leaves mean that they are not getting enough sunlight but very light green leaves mean too much. They can also have a yellowish to red spot which means sunburn!

Splitting of the leaves sometimes occur, it might look ugly but no need to worry, however, this usually happens when the plant was deprived of water at some time and was suddenly given a lot.
Going deeper.
Check the roots from time to time. Silvery looking roots could mean it's time to water. But it also means they are in a healthy state, when wet they should be green. Brown and soggy roots are rotting roots. You should trim these away. When a lot of roots start to come out from the pot, then it says `repot me´.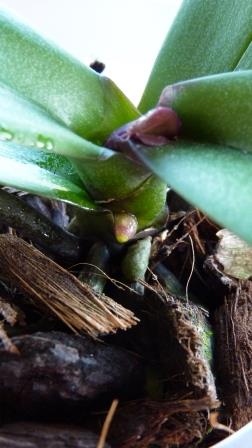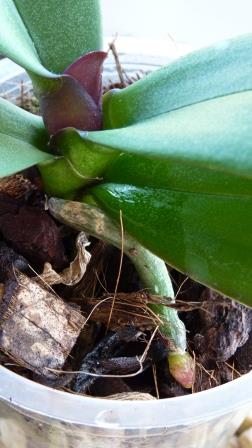 Tips for new phalaenopsis owners:
Water your phals in the morning. Avoid getting water in the crown or if you did, remove it by using cotton or cotton buds. Watering frequency varies, it is best to ask your phals directly. Stick a finger 3-4 cm inside a pot, if it's dry then water. If it is still moist to your touch, the do not water yet.
Recommended Products
The best way to water your Phals is to let the water run through the roots and drain excess water. If you are using a pebble tray, then no need to bring them to the sink. Just water normally making sure that all roots gets wet and just let the excess water go to the pebble tray.

Try to move your plants around the house for different seasons. Place them on windowsills during winter to get enough sunlight but not on summer if your windowsill is directly facing the sun.

Orchids like it humid and the temperature is also important. A humidity of 50% - 70% is ideal and a temperature of 70°-80°F (21°-26°C) during daytime and 60°-65°F (15°-18°C) at night will make your phals bloom longer. They can be exposed to a temperature as high as 95°F (35°C) or as low as 30°F (0°C) but only for short periods.

For me to achieve the ideal humidity level. I followed the tip of using pebble trays. Just use a saucer, fill it with pebbles, fill it with water and place the pot on top making sure that the base of the pot does not sit on water.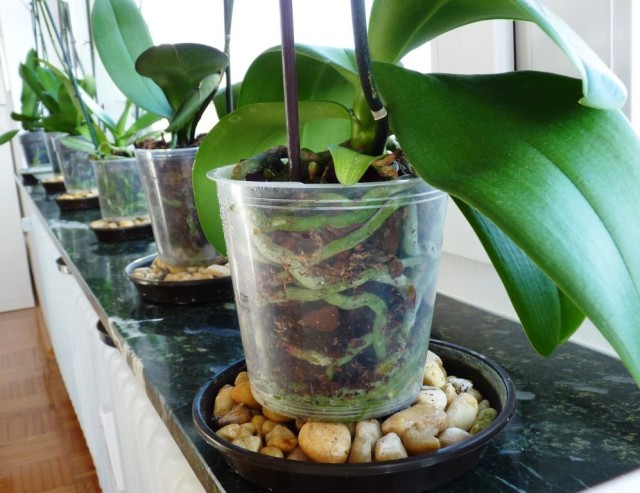 Ventilation is also a factor to consider, give them a breather from time to time like opening a window for some minutes or so.
If you are a newbie I suggest using a transparent plastic pot (they usually sell them in these anyway) to easily observe the health of the roots and the plastic pot keeps the moisture much longer, so lesser watering. Also, when buying Phals choose a healthy one following the clues I mentioned above. You do not want to start with a difficult challenge for a beginner. Let's leave that to the experts.