Easy Pork Hamonado Recipe using Pork Belly
Updated: November 11, 2019
Get this easy recipe for Pork Hamonado that has a perfect balance of sweet and savory and with meat so tender, it melts in your mouth.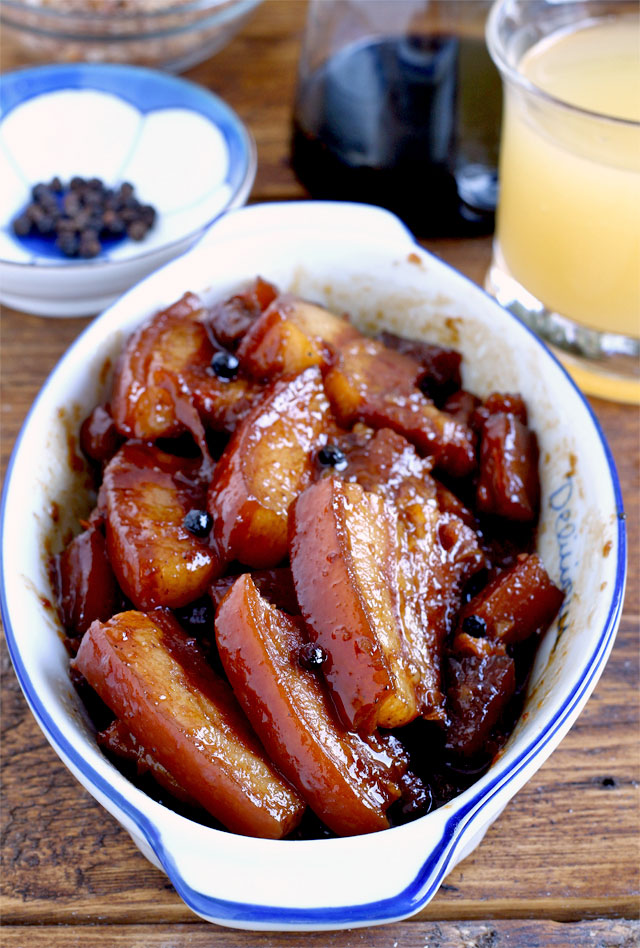 Pork Hamonado is a Filipino dish that involves cooking the meat in pineapple juice.
It is or was a kind of food that is only served at special occasions like for Christmas or Fiestas. Understandably, not only because most ordinary people from earlier years could not afford to eat pork every day but, also, such rich food should be only eaten occasionally.
But nowadays, it's become common to see it on the lunch or dinner tables on any regular day.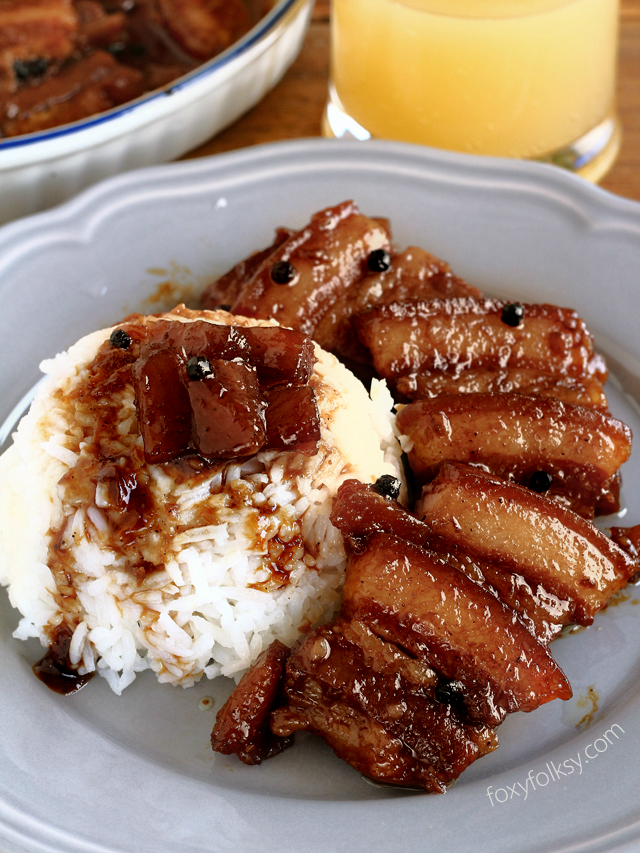 Different kind of pork cuts can be used as long as there is some fat in it.For this Pork Hamonado recipe, I used pork belly.
What I like about this recipe is it is fairly simple and easy. The hardest part, for me at least, was the waiting while the meat is cooking which might take some time to get that tender melt-in-your-mouth meat, but it was definitely worth it!
Some Q&A about cooking this Pork Hamonado Recipe
What pork cuts to use?
I used pork belly for this recipe but Pork knuckles, pork legs (ham), pork shoulder or any part that has fat attached should be good for this recipe. Cooking time may vary though depending on the toughness of the meat.
What kind of soy sauce to use?
I know that this would not be a question if you are in the Philippines as we only know one kind of soy sauce. The others go by a different name for us (usually we call them by the brand).
In other countries however, there are different soy sauces in the market and they have different flavors and render different outcomes. If you can find a regular soy sauce from the Philippines, then that would be perfect, otherwise look for the all-purpose or dark variety.
Sweetened pineapple juice or not?
You can use any of the two actually. But if you are going to use sweetened pineapple juice, skip the sugar first as it may be already too sweet if it is added.
WANT MORE RECIPES? Subscribe to our newsletter and follow us on Facebook, Pinterest and Instagram for all of the latest updates.
Easy Pork Hamonado
Get this recipe of Pork Hamonado that has a perfect balance of sweet and savory and with meat so tender, it melts in your mouth.
Print
Rate
INGREDIENTS
1

pound

Pork belly

-

- cut into 2 inch long and about 3/4 inch thick

3

cloves

garlic

-

- crushed

1/2

cup

soy sauce

1

cup

water

1

cup

pineapple juice

1

tablespoon

brown sugar

1

teaspoon

pepper corn

1

teaspoon

salt

1/2

cup

pineapple chunks

a dash of

ground pepper
INSTRUCTIONS
Place the pork belly slices in a pot or deep pan.

Mix all the rest of ingredients in a bowl until well blended and salt and sugar are dissolved.

Pour the liquid mixture to the pork belly and bring to boil over medium-high heat.

Once it starts to boil, lower down the heat to medium-low and cover with a lid then let it simmer for 40-50 minutes or so or until the meat and fat quite literally melts in your mouth. By then, the liquids would have been reduced to a thick sauce.

Serve while hot with steamed rice.
Nutrition Facts
Easy Pork Hamonado
Amount Per Serving
Calories 1392
Calories from Fat 1080
% Daily Value*
Total Fat 120g 185%
Cholesterol 163mg 54%
Sodium 4488mg 187%
Potassium 918mg 26%
Total Carbohydrates 49g 16%
Protein 28g 56%
* Percent Daily Values are based on a 2000 calorie diet.
Tried this recipe?
Tell us how it went. Tag us at @foxyfolksy or leave a comment and rating below.