Omurice - a classic westernized-Japanese comfort food often seen in Asian diners and cafes. This omelet with rice dish fuses the sweet taste of ketchup and the savory taste of chicken fried rice.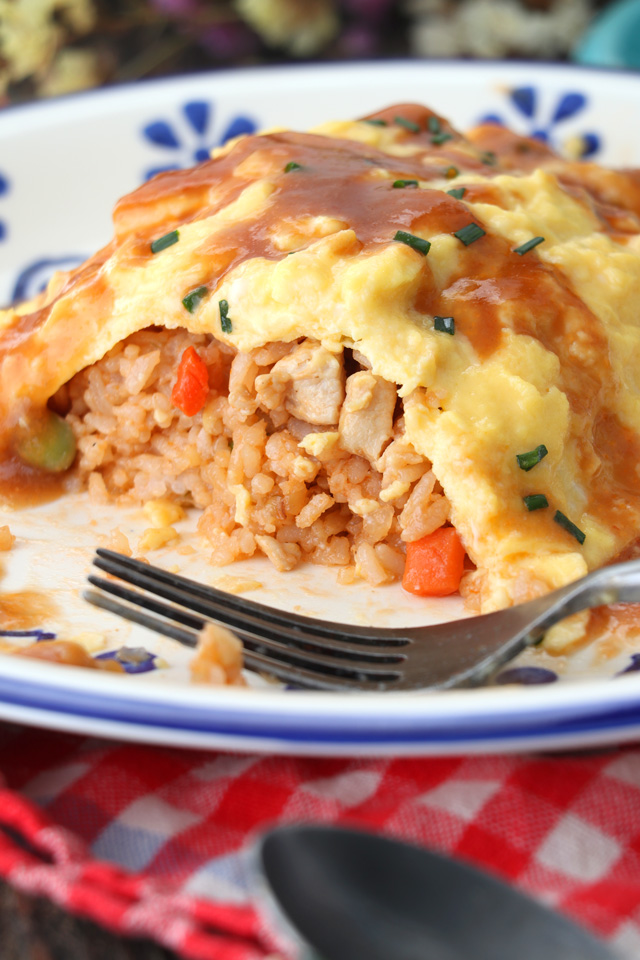 It took me several tries (and many trays of eggs) to get it right.  But I did get the technique in the end. Was it worth it? Yes, it is! And nobody complained while stuffing their faces with omelette the whole day, definitely not Armin, so all was fine. I could have opted for the easier version of this dish but I have the time...and the eggs. And I so wanted to have that soft scrambled eggs ooze down the delicious rice hill as I cut through it. That show alone was worth it!
What is Omu Rice?
Omurice or Omuraisu, made from the combined words of omelet and rice (raisu in Japanese), is basically that— but with a Japanese twist. It's a fairly popular fusion dish said to have come from a western-style Japanese restaurant in the early 2000s. It quickly spread to their neighboring countries like Korea and Taiwan. The blending of the Western omelet and the Eastern fried rice makes it so you can eat this no matter where you come from!
It's a pretty simple dish lets you have a lot of room for creativity. There can be many variations out there but it has three main parts, the fried rice, the scrambled egg, and the sauce.
How to make Omu rice?
There are two popular versions of how it's cooked
The traditional way and much easier way is to scramble the eggs on a bowl, pour it on the pan and let it cook. Wait until the downside is cooked slightly but the topside is still moist. Then pour the rice on top then fold the sides of the egg is wrapped around the rice.
The other, more difficult way and the one you are likely to see in Japanese restaurants, is where you first cook your fried rice separately then put it into a plate and shape it like an inverted boat. After that,  a half-cooked scrambled eggs delicately folded around itself, thereby enclosing the half-raw center, will be placed on top of the rice. It has to be sliced open for the inside to ooze out blanketing completely over the rice. A demi-glace is then poured on top.
Being a glutton for punishment (but only from time to time), I opted to make the second one!
What is it made of?
In Japanese Omurice, chicken is normally the main ingredient used for fried rice. You can also use whatever you have on hand or prefer like pork, beef or even shrimp. The vegetables also depend on you, you can add carrots, green peas, onion or even something like celery or zucchini.
But for convenience, using frozen mixed vegetables is an ideal alternative.
For the scrambled egg, you can cook it with butter for tastier eggs. Vegetable oil can also be used. You only need a bit of salt to season it. However, adding a little milk or cream will make it creamier.
For the sauce, ketchup is the most popular choice, especially for home cooks. Omurice can also be served with Japanese curry sauce or demi-glace.
Here is a simple sauce you can at home:
Melt 2 tablespoons the butter into a pan over medium heat. Add 1 tablespoon of flour and mix.
Pour 1 cup of water and stir. Add 1 tablespoon of soy sauce, 1 tablespoon oyster sauce, 2 tablespoon ketchup, and 1 tablespoon honey.
Bring to a simmer until sauce thickens.
Additional Tips
Leftover rice is best used for this recipe, as the day-old rice will be more dry and easier to fry.
If you're going to be using a new batch of rice, make sure to reduce the amount of water you use or it will be too moist.
Use a non-stick pan for making the omelette. It is ideal to use pans that have a side slightly slanting outwards than a straight one. This will make it easier to flip the egg.
Use low heat and remove the pan from the heat from time to time to avoid cooking the eggs too much. The goal is that the inside should easily ooze out after cooking them.
WANT MORE RECIPES? Subscribe to our newsletter and follow us on Facebook, Pinterest and Instagram for all of the latest updates.
Omurice (Japanese Rice Omelette)
Omurice is a classic westernized-Japanese comfort food often seen in Asian diners and cafes. This omellete with rice dish fuses the sweet taste of ketchup and the savory taste of chicken-rice.
Print
Rate
INGREDIENTS
FRIED RICE
2

tablespoons

oil

200

grams

chicken breast fillet

-

- cut into small cubes

1

small

onion

-

- diced

½

cup

frozen mixed vegetables

-

- thawed

1

tablespoon

soy sauce

2

cups

cooked rice

2

tablespoons

ketchup

2

tablespoons

oyster sauce

salt and pepper
OMELETTE
6

large

eggs

-

- 3 pieces per batch

2

tablespoons

milk

-

- 1 tbsp per batch

salt

1

tablespoon

oil
INSTRUCTIONS
FRIED RICE
In a skillet, heat oil over medium heat. Add chicken cubes and cook until it turns opaque.

Add the diced onions and cook until aromatic. Add the mixed vegetables then season with soy sauc. Cook for 2-3 minutes or until vegetables and chicken are cooked.

Add the cooked rice and mix until well combined. Add the ketchup and oyster sauce and mix well. Season with salt and pepper as needed and mix again.

Remove pan from heat. Take half of the fried rice and put it in a cup or bowl. Press it gently down to compress then transfer to a plate. Take a plastic wrap and place over the mound of the rice. Shape rice with your hand into an oval mound. Set aside.
OMELETTE
In a bowl, beat together the 3 eggs, salt, and 1 tablespoon of milk.

In a non-stick pan, heat 1 tablespoon oil over low heat. Pour in the beaten eggs. Using chopsticks, stir the eggs continuously until it starts to become custardy but still very fluid.

Take the pan out of the heat and let it rest a few seconds to set a bit. Then, using the chopsticks or a silicon spatula, start to fold the egg from the side nearest you towards the other side. Tip it slightly to make it easier.

Return the pan to the heat with the farther end on top of the heat. Wait a couple of seconds for it to set then gently fold it towards the middle. Remove again from heat to avoid cooking it further. Tap several times to move the egg and the brink of the pan.

Return pan to the heat and position the spatula or chopsticks just underneath the egg at the other side. Toss the pan to flip the egg with the help of the spatula/chopsticks. Tilt the pan from one side to the other, the egg should roll smoothly, it means the insides are still soft and not overcooked.

Repeat above with the other batch of eggs.
ASSEMBLY
Immediately transfer the egg by gently rolling it from the pan to the top of the rice, using the chopstick to hold it in place.

Take a sharp knife and cut the top of the egg from one end to the other to let it unfurl letting the insides spread over the rice.

Pour demi-glace or your preferred sauce on top and enjoy!
Nutrition Facts
Omurice (Japanese Rice Omelette)
Amount Per Serving
Calories 800
Calories from Fat 351
% Daily Value*
Fat 39g60%
Cholesterol 623mg208%
Sodium 1491mg62%
Potassium 869mg25%
Carbohydrates 62g21%
Protein 48g96%
Vitamin A 3255IU65%
Vitamin C 9.2mg11%
Calcium 144mg14%
Iron 4mg22%
* Percent Daily Values are based on a 2000 calorie diet.
Tried this recipe?
Tell us how it went. Tag us at @foxyfolksy or leave a comment and rating below.