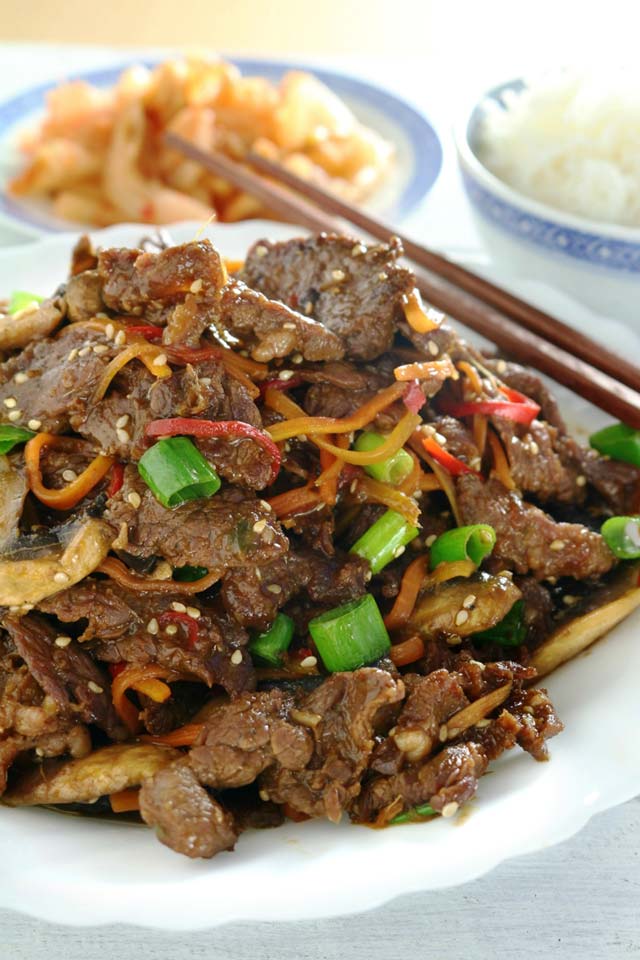 Beef Bulgogi is a classic Korean dish of grilled marinated beef but it is also great stir-fried. Back home in the Philippines, Korean food has become a fad as proven by the numbers of Korean restaurants that are opening everywhere. In Pampanga, where I grew up, there is a place that is now known to be a 'Korean Town' because of the many shops and other businesses owned by Koreans who decided to settle down in the Philippines. This place is nearby where I used to work, in Clark, and in those days, this was where I got my regular dose of yummy Korean food enjoyed with friends, colleagues and family. I also brought Armin there on his first visit to the Philippines for his first taste of Korean food and he was hooked.
Beef Bulgogi is one of the favorites, of course, together with Samgyeopsal and Kimchi…ooohhh just thinking of these food makes me hungry. How I miss those days especially because Korean food is not (yet) so popular here in Germany. I've seen a lot of Chinese, Thai and Japanese restaurants around here but not a single Korean. I think there are some in the big cities but that would be too far to travel just to eat. Good thing there is internet though and I am really thankful for Google! They make almost everything possible, because now I do not have to go and look for the nearest Korean restaurants when we crave for some Kimchi, Samgyeopsal or Beef Bulgogi because I can make them by myself at home.
I am surprised too how easy and simple it was to make Beef Bulgogi. This recipe was actually inspired from A Spicy Perspective with a bit of a tweak. I like her advice of cutting the beef while still frozen to be able to cut it into really thin slices, which I used to do but I didn't have time to freeze my beef before so I just used really sharp knives and tried my best. I also decided to add some vegetables to my Beef Bulgogi, which is totally allowed, like carrots, bell peppers and mushrooms so it is like an all-in-one meal, especially since Armin is back to his low-carb diet.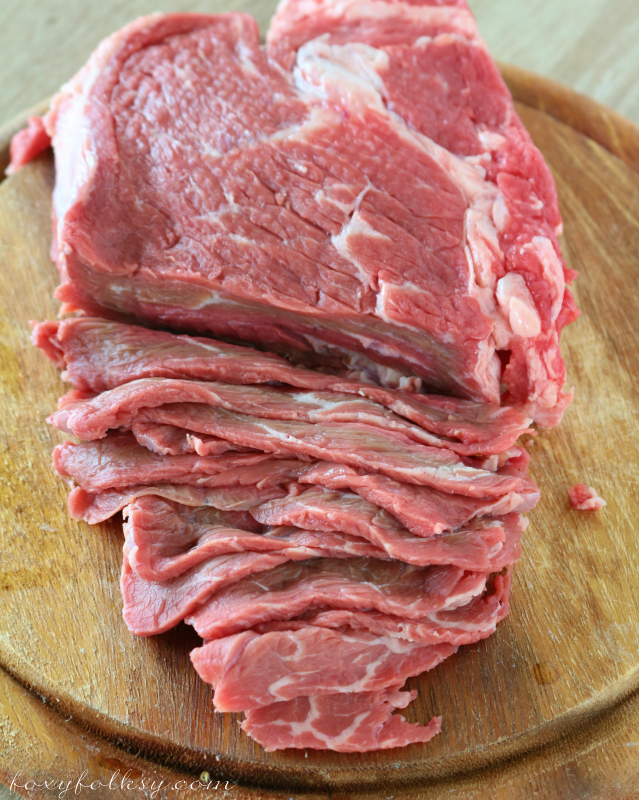 What cut of beef to use??? Honestly, I still get confused with the meat cuts and which is good for what…some say to use well-marbled sirloin or tenderloin while others prefer the leaner part. The problem is, Armin likes it lean and I like it with a bit of fat. So I went and got something in between…this meat is actually labeled 'Suppenfleisch' which means it for making soup, but I tell you what, it was perfect! Tender and tasty and costs less than the steak cuts.
WANT MORE RECIPES? Subscribe to our newsletter and follow us on Facebook, Pinterest and Instagram for all of the latest updates.
Beef Bulgogi
Try this easy recipe for Beef Bulgogi, a classic Korean dish of grilled marinated beef that it is also great stir-fried. Added some veggies and its so good!
Print
Rate
INGREDIENTS
1

pound

beef

-

- sliced thinly

2

tablespoons

sesame seed

3

tablespoon

sesame oil

1

medium

carrot

-

- julienned

1/2

big

red bell pepper

-

- julienned

5

big

mushrooms

-

- sliced

3

stalks

green onions

-

- chopped with the white part separated

1/4

cup

water
INSTRUCTIONS
Combine all ingredients for the marinade in a mixer or blender and pulse a couple of times until the garlic and ginger are chopped into fine bits.

Place the beef slices in a bowl and pour the marinating sauce into it. Mix with your hand making sure every meat is covered. Cover the bowl with plastic wrap and let it marinate for at least an hour.

Heat skillet or wok over medium heat and toast your sesame seeds until golden brown. Remove from work/skillet and turn heat to high.

Add sesame oil into the hot wok or skillet. Once the oil is hot, add half of the meat using tongs spreading them around the skillet. Let them sear on one side first then stir until all is cooked and have a nice brown color. Do not overcook the meat so it stays tender. Remove from skillet using tongs and do the same on the other half of meat. Set meat aside once all done.

In the same skillet, add a bit more of sesame oil if needed. Add the carrots, bell peppers and mushrooms. Add 1/4 cup water to the bowl used for marinating and add this to the vegetables in the skillet. Let it simmer for a few minutes just until the veggies are about cooked.

Add back the cooked meat to the skillet and the toasted sesame seeds and green onions stir a couple of times until fully mixed. Transfer into a serving dish.

Serve with Kimchi and rice while still warm.
Nutrition Facts
Beef Bulgogi
Amount Per Serving
Calories 527
Calories from Fat 378
% Daily Value*
Total Fat 42g 65%
Cholesterol 80mg 27%
Sodium 1172mg 49%
Potassium 460mg 13%
Total Carbohydrates 14g 5%
Protein 22g 44%
* Percent Daily Values are based on a 2000 calorie diet.
Tried this recipe?
Tell us how it went. Tag us at @foxyfolksy or leave a comment and rating below.