These Galbi (Kalbi), Korean BBQ short ribs, are so rich in flavor! With a sweet and salty soy-sauce-base marinade that is uniquely Korean! Make it at home with this simple recipe.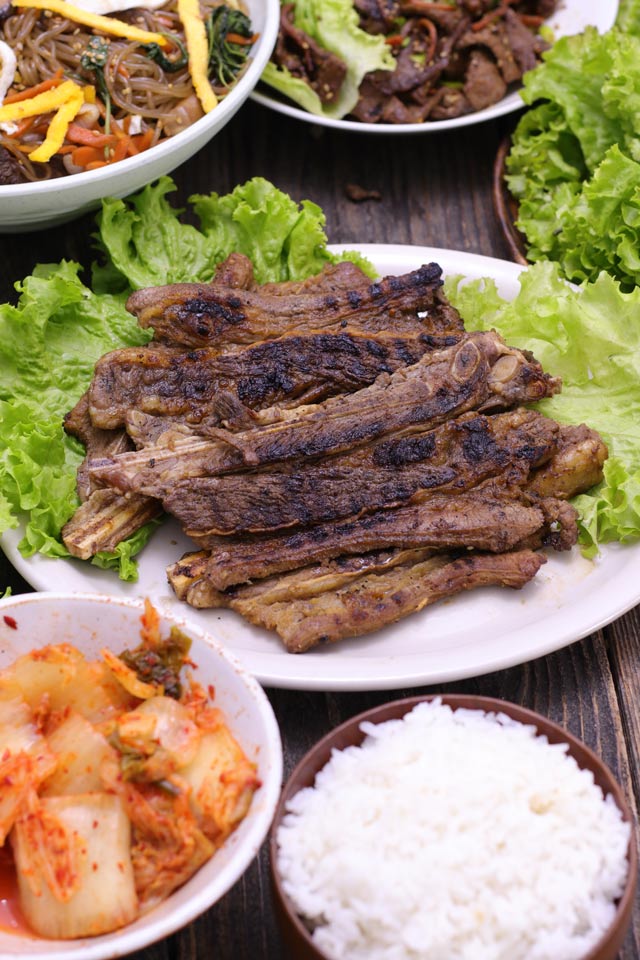 Armin and I decided to have a Korean dinner party for two recently and had it at the comfort of our home. Galbi is one of the dishes I chose to make. The other two were Japchae (with my easy version) and Bulgogi. I chose to make them together with practicality in mind. Of course, served with Kimchi and some rice.
This dish will also go very well with Samgyeopsal, instead of Bulgogi if you want to feast on a variety of meat.
What is Galbi?
Galbi, also Kalbi, is a kind of grilled meat in Korean cuisine that specifically refers to ribs. Typically, this means beef short ribs. But pork ribs can also be used and they refer to it as dwaeji galbi.
This dish is normally served raw to be grilled on tabletop grills, that is also typical to other Korean BBQ dishes. It may be marinated (yangnyeom-galbi) or served non-marinated (saeng-galbi).
There is another version known as LA Galbi which is marinated similarly to the traditional Korean version. The only difference is that it is cut across the bones and is thinner.
What is the difference between Bulgogi and Galbi?
They are both types of Korean BBQs and more often than not, they both refer to beef. The main difference is the cut of meat used. Bulgogi uses ribeye or loin while Kalbi uses short ribs.
Kalbi does not have to be marinated but the marinated version is very much like the Bulgogi. Like Bulgogi, Kalbi is usually also marinated in a sweet-savory soy sauce based marinade. They use basically the same marinade ingredients.
So you can serve two different dishes but cut the prep time into half. Also saves you from buying another set of ingredients.
How does Galbi taste like?
A burst of flavors on every bite! The soy sauce gives it its slightly salty taste. While the brown sugar, mirin, and pear add sweetness to it and act as a meat tenderizer. The sesame oil adds a distinctive smokey or toasted flavor to the meat. However, the garlic, ginger and grated onion contradict it by giving out a refreshing taste.
Printable Recipe
Beef Galbi (Korean BBQ Short Ribs)
These Galbi (Kalbi), Korean BBQ short ribs, are so rich in flavor! With a sweet and salty soy-sauce-base marinade that is uniquely Korean.
Ingredients
800

grams

beef short ribs

- cut thinly

1

small

onion

- peeled

½

Asian pear

- peeled

1

tablespoon

honey

2

tablespoons

mirin (sweet rice wine)

2

cloves

garlic

- peeled and chopped finely

½

thumb

ginger

- peeled and chopped finely

¼

teaspoon

ground pepper

2

tablespoon

brown sugar

¼

cup

soy sauce

¼

cup

water

1

tablespoon

sesame oil
Instructions
Pound the meat slightly to tenderize. But this step can be skipped.

Place beef in a bowl or a container with a lid.

Hold a grater over the meat and grate the onion and the pear over it. Add the rest of the ingredients and mix well.

Marinate for at least 4 hours or overnight for best results.

Preheat the grill over medium-high heat. Grill the short ribs for 2-3 minutes on each side, turning only once.

Serve with your favorite Korean side dishes.
Notes
The best way to grill Galbi is over hot charcoal. However, you can also enjoy it indoor with s griddle or grill pan over the stove top.
Nutrition
Calories:
366
kcal
Carbohydrates:
20
g
Protein:
30
g
Fat:
18
g
Saturated Fat:
7
g
Cholesterol:
86
mg
Sodium:
974
mg
Potassium:
603
mg
Fiber:
1
g
Sugar:
15
g
Vitamin C:
2.7
mg
Calcium:
26
mg
Iron:
3.5
mg