Try this Cansi (Kansi) recipe, a hearty and comforting Ilonggo sour soup with tender beef shanks, unripe jackfruit, batwan, and chilis made extra tasty with annatto seeds. This flavorful soup is perfect for those gloomy, chilly days that would keep you toasty warm from head to toe!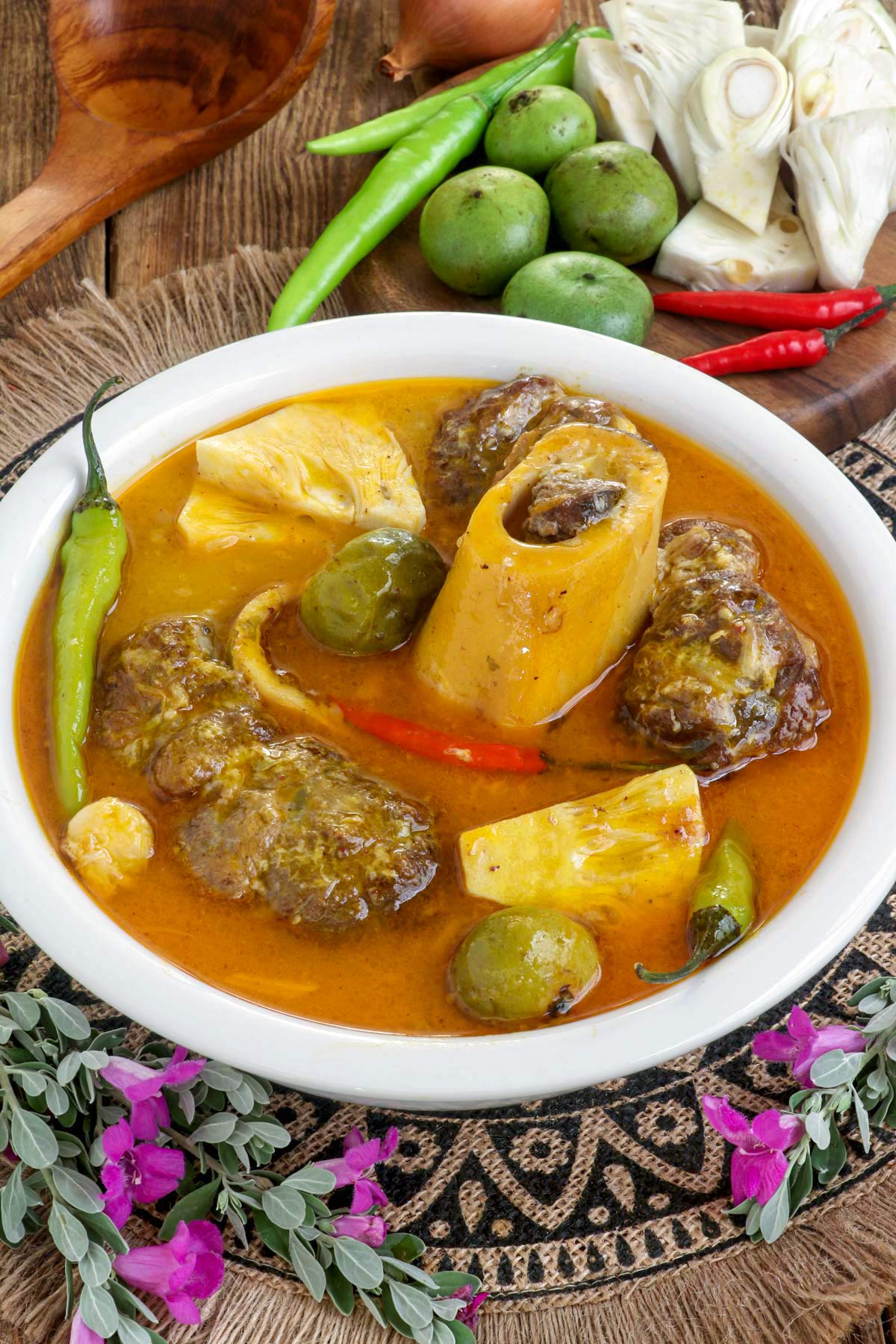 What is Cansi?
Cansi or Kansi is a hearty beef soup popularly known for its tangy and fresh flavor that is known to have originated from Bacolod and is a staple dish in the Ilocos region. This soup is normally made from broth of beef shanks with green jackfruit, chili peppers, and batuan (batwan).
Many have said that this Ilonggo delicacy is a fusion of Bulalo and Sinigang. Similar to Bulalo, because of the use of beef shanks and bone marrows. Meanwhile, Kansi has the same lip-smacking sour and tangy flavors much like Sinigang. The one unique component is the use of green jackfruit as a vegetable or extender.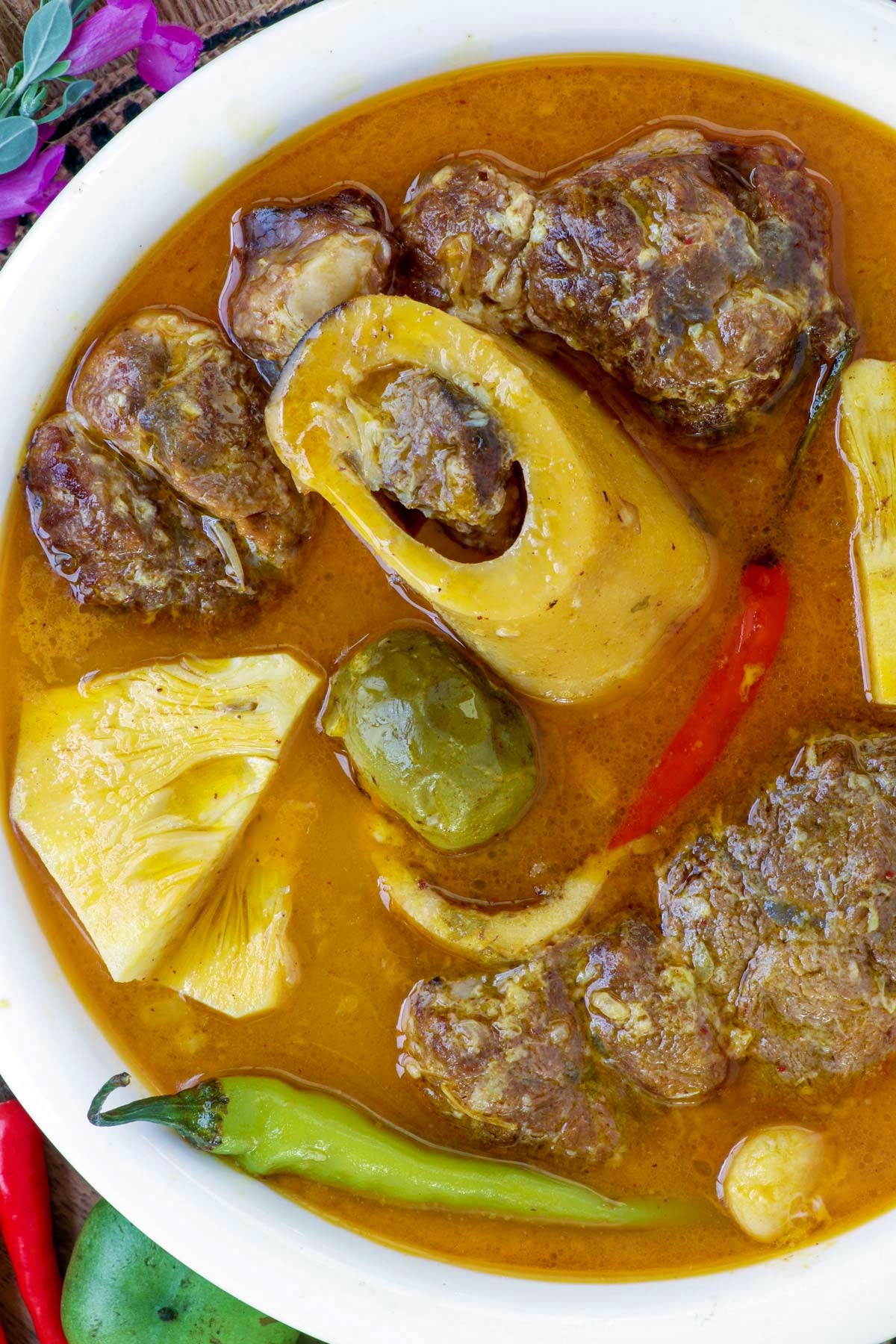 Cansi's fork-tender beef is loved by many. The beef shanks are boiled over low heat to achieve the desired tenderness. You may simmer the meat in a pot or, better yet, in a pressure cooker to cut down on the cooking time.
Most of the time Cansi is distinguished for its yellowish or orangey soup. Some locals add atsuete to the broth to make it extra appetizing but it also adds an extra savory taste and aroma to the dish.

Ingredients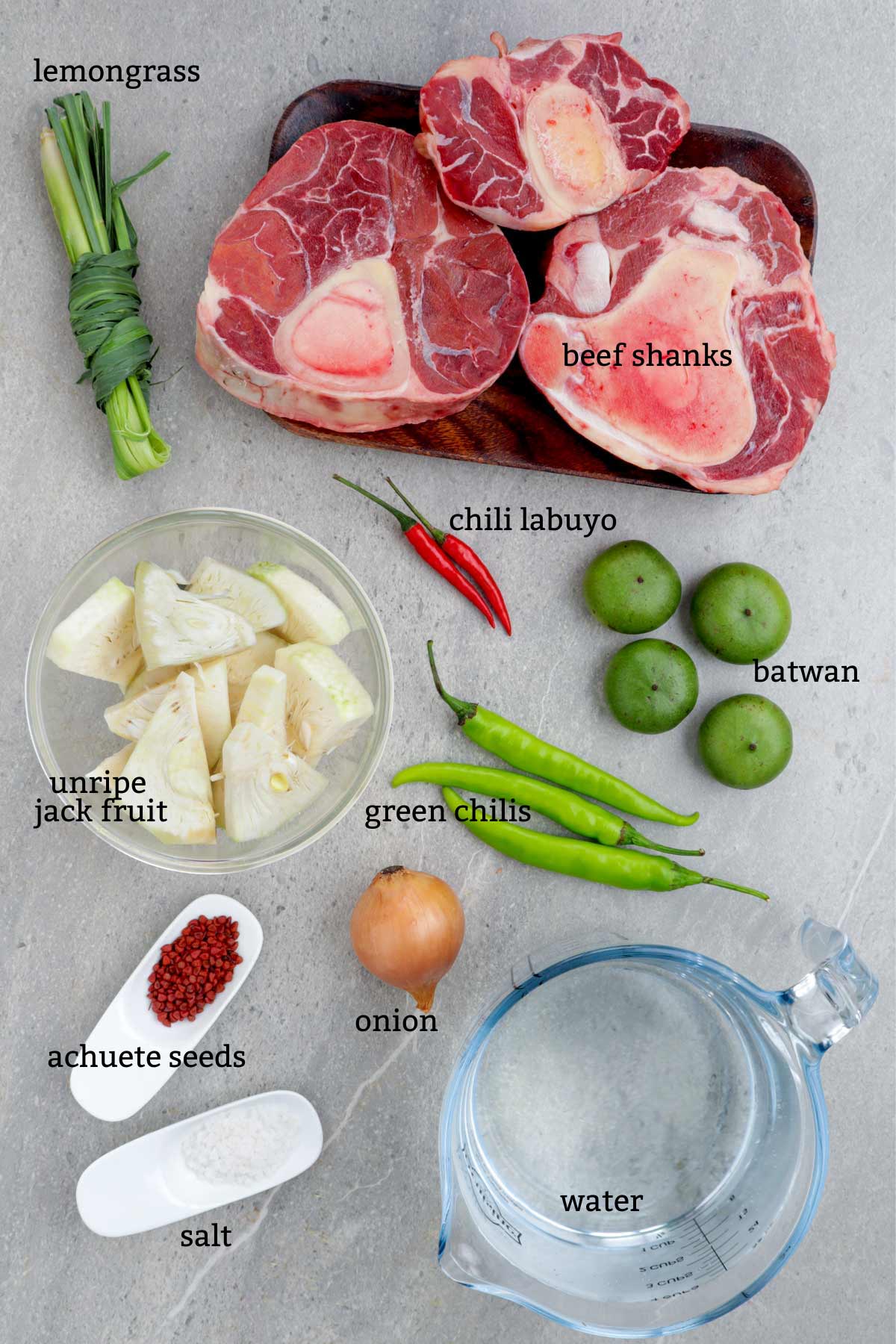 Beef Shanks - Cansi usually uses beef shanks as its meat. If unavailable, you may use beef cuts like beef short ribs, beef bone, or oxtail to keep and achieve a similar taste and texture. These cuts are best for making flavorful beef soups.
Batwan - as souring-agent
Unripe or green jackfruit - has a neutral taste and a meaty, stringy texture similar to meat. If fresh langka is unavailable, you may use the canned one.
Onion - yellow onion is best for cooking soups. If not available, you may also use white onion.
Lemon grass -is optional but it gives the soup a mild citrusy flavor and aroma.
Green and Red Chilis - add a kick of spice to your soup. You may chop the chilis to add more heat to the soup.
Achuete Seeds - is optional, you may also use annatto powder as a substitute. (see Tips)
What is batwan?
Batuan or batwan is a plant that is endemic to the Visayan region with its green, round fruits that are used mainly as a souring agent in many Ilonggo dishes and are especially known and preferred in cooking Kansi. It is called binukaw in Tagalog from the scientific name Garcinia Binucao.
Alternative to batwan for Kansi?
Since it is a native fruit in the Western Visayas region, chances are it is not available in all local stores. But here are some alternative souring agents that you can use for your Kansi recipe:
Kamias - is a small, green fruit that has a sour taste. It is used in various Filipino dishes as well.
Tamarind (Sampaloc) - is a pod-like, brown fruit known for its sweet and sour taste. If not available, you can opt-in using Tamarind Sinigang Mix.
Cooking Tips
To prepare the unripe jackfruit, cut off the skin until you get to the smooth surface. Cut into quarters and remove the inner white part of each piece. Depending on the recipe, cut the green jackfruit into the desired size.
Prepare the lemongrass by peeling off the outer layers of the stalks until you reach the lighter core. Pound the white part a few times to release its flavor. Tie them together into a knot.
Parboiling the beef shanks helps remove the impurities for a clearer broth. But if you are in a hurry, you may skip this and just thoroughly rinse and drain the beef shanks. Do not forget to skim any scum that may float on top.
If using annatto powder, take about ½ cup of the broth, stir in about a tablespoon of annatto powder until dissolved, then add to the pot.
To reduce the cooking time, use a pressure cooker to tenderize the meat if available.
Serving and Storing Tips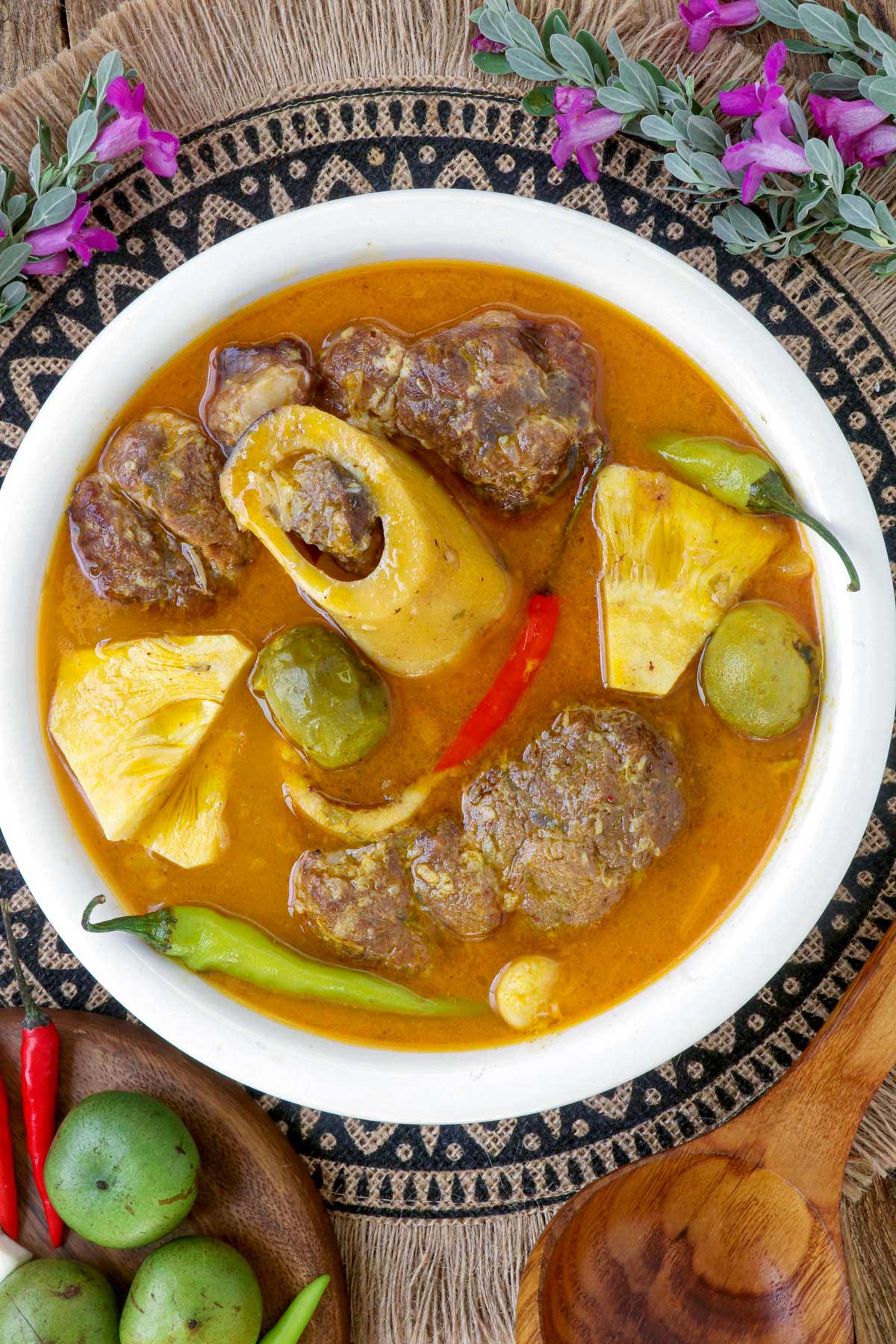 Locals enjoy eating Kansi piping hot served with steamed rice and patis (fish sauce) with calamansi as a dipping sauce.
Allow leftovers to cool completely before storing them in the refrigerator. Do not leave it at room temperature for longer than four hours, especially on a hot day. Transfer them to a container with a tight-fitting lid. It should last for up to 3 days.
To reheat, place in a sauce pot and simmer over medium heat until heated.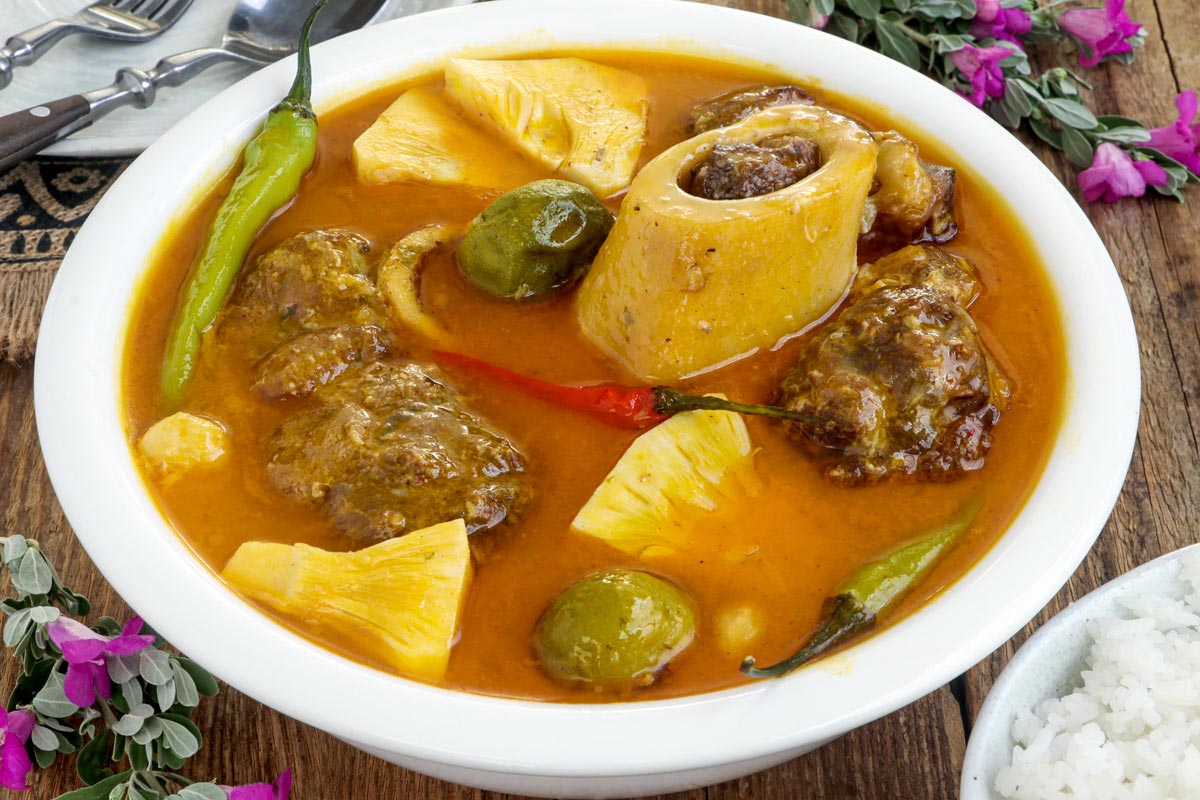 Printable Recipe
Cansi - Authentic Ilonggo Recipe
Try this Cansi recipe, a hearty and comforting Ilonggo sour soup with tender beef shanks, unripe jackfruit, batwan, and chilis made extra tasty with annatto seeds.
Ingredients
2-3

pounds

beef shanks

6-8

cups

water

1

tbsp

rock salt

1

medium

onion

sliced

1

stalk

lemongrass

tied into a knot

salt

to taste

5-6

pcs

batwan

1

tbsp

annatto seeds

3

cups

unripe jackfruit

sliced

3

pcs

green chilis

2

pcs

red chilis
Instructions
2-3 pounds beef shanks,

6-8 cups water,

1 tbsp rock salt

Place beef shanks in a pot and add water and salt. Cover and cook over high heat and bring to a rolling boil.

Drain the water from the pot. Rinse the meat and the pot.

Return the meat to the pot and add enough water to cover the meat. Cover and bring to a boil over low heat.

1 medium onion,

1 stalk lemongrass,

salt

Remove the cover and add onion, lemongrass, and salt to taste. Cover and simmer until beef is fork-tender.

Add the batwan, cover the pot again and cook until soft.

Place annatto seeds in a small fine-mesh sieve/ strainer. Submerge it into the pot and press to release the color.

3 cups unripe jackfruit,

3 pcs green chilis,

2 pcs red chilis

Add unripe langka and cook until tender. Add chilis and simmer for about 3 mins.

Remove from heat and serve while piping hot.
Nutrition
Calories:
211
kcal
Carbohydrates:
23
g
Protein:
22
g
Fat:
4
g
Saturated Fat:
1
g
Polyunsaturated Fat:
0.2
g
Monounsaturated Fat:
2
g
Cholesterol:
35
mg
Sodium:
1254
mg
Potassium:
793
mg
Fiber:
2
g
Sugar:
18
g
Vitamin A:
100
IU
Vitamin C:
14
mg
Calcium:
54
mg
Iron:
3
mg