Experience a burst of rich Filipino flavors with this Balbacua recipe! Enjoy tender ox feet with pineapple chunks, pork and beans, and bell pepper simmered in a hearty stew flavored with annatto, star anise, and peanut butter.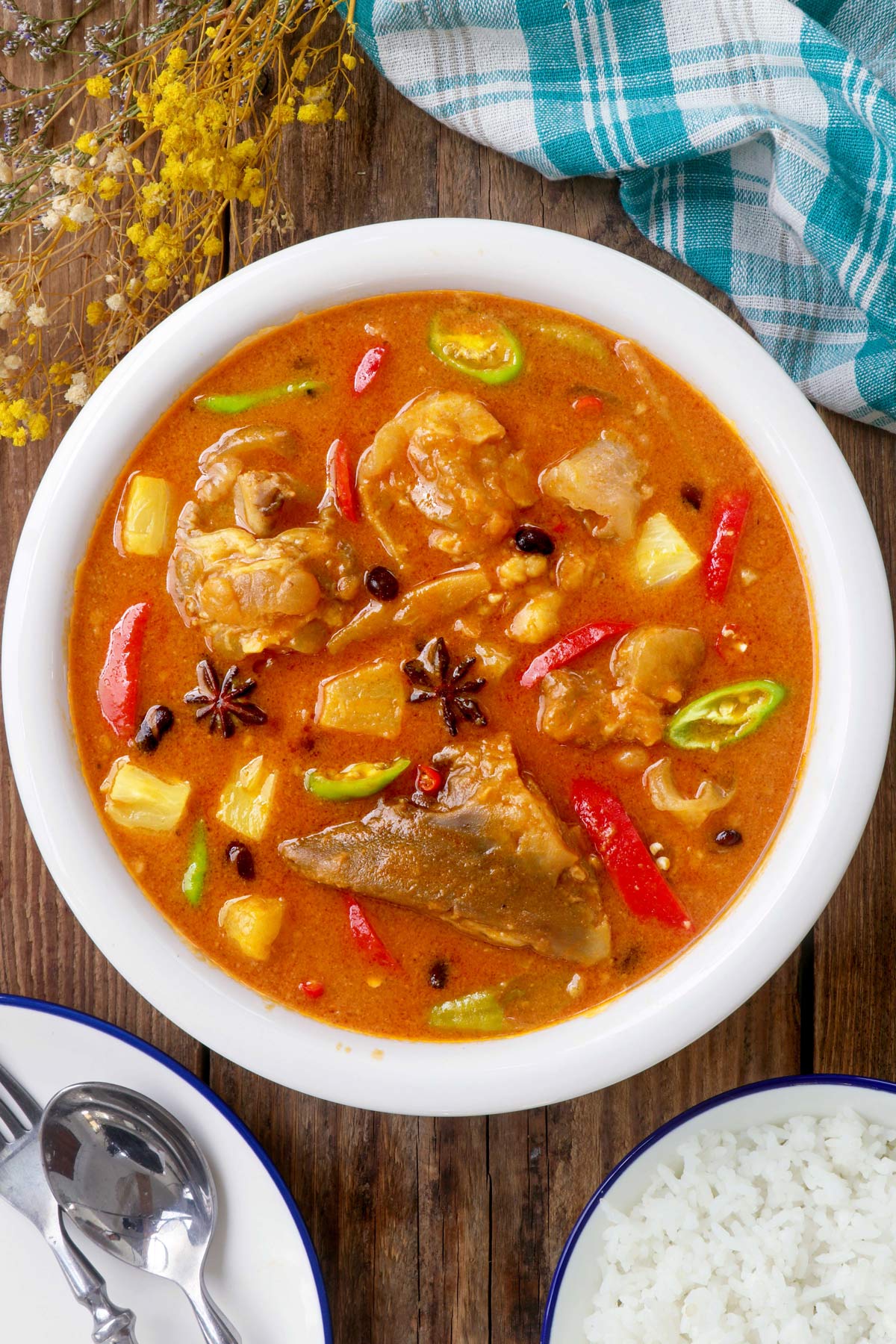 This dish got its vibrant orange color from atsuete seeds (a.k.a annatto). Filipinos use it in a lot of our native dishes. Not only does it impart a beautiful yellow-orange color, but it also enhances the flavor due to its peppery and slightly sweet taste and fragrance. Some of the most popular dishes that use this spice are Kare kare, Chicken Inasal, Kutsinta, and today's featured recipe, Balbacua.
What is Balbacua?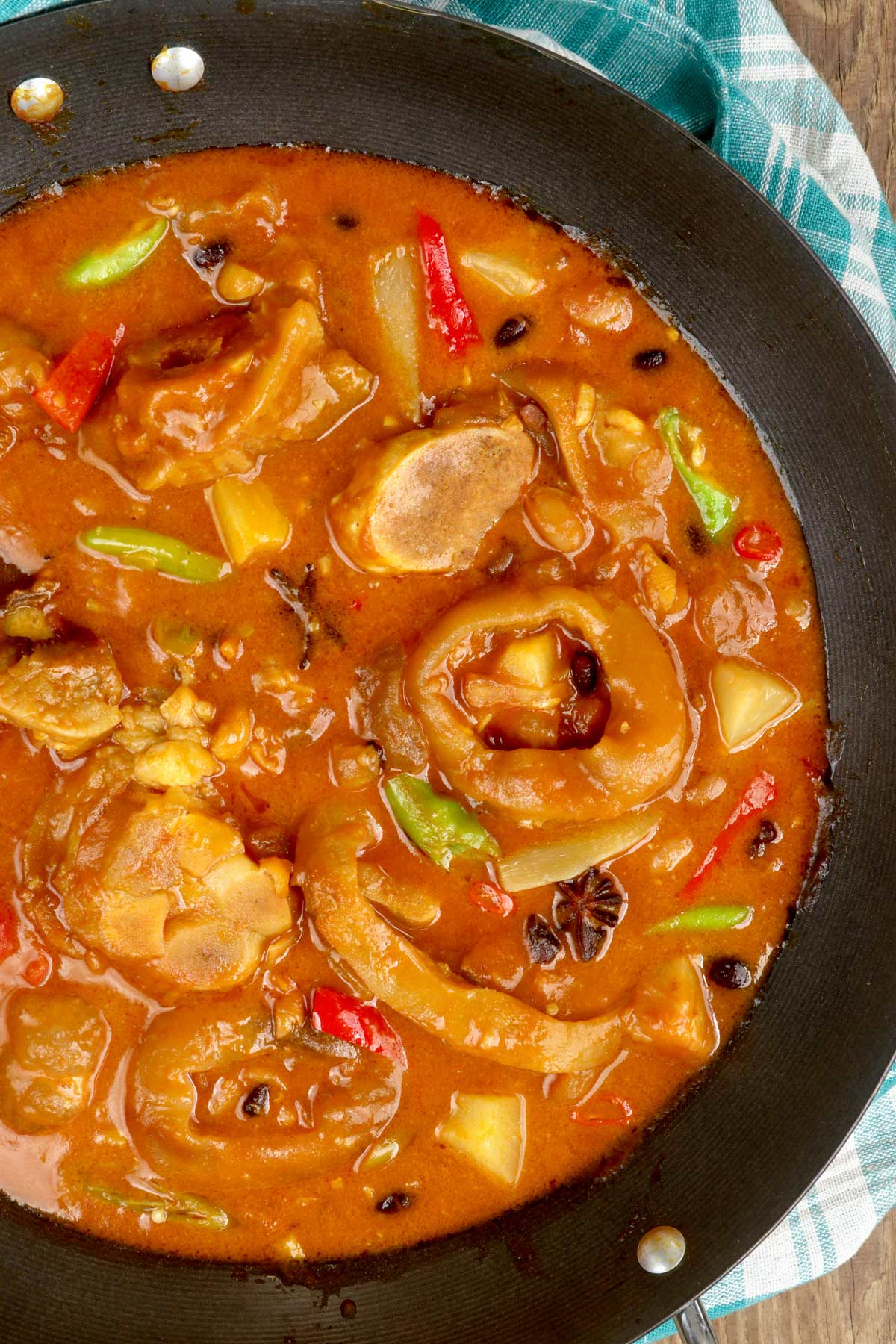 Balbacua is a popular Filipino beef stew that is typically served at roadside eateries. It is said to have originated in the Visayan region, specifically Cebu. It is commonly made with beef and collagen-rich parts including ox feet, ox tail, skin, or joints, which are slowly simmered until gelatinous and very tender in a hearty stew flavored with annatto and tomato paste.
Balbacua is derived from the Spanish word "barbacoa," which means to slowly cook meat over an open fire for several hours. This dish is most likely named after it because of the similarity in cooking time. But don't fret! This recipe makes use of a pressure cooker to reduce cooking time and allow you to enjoy the Balbacua right away.
Ingredients You'll Need
Ox feet - If ox feet are not readily available, you can also use oxtail. You can also replicate ox feet with beef skin and ribs.
Achuete seeds - You may substitute this with about two teaspoons of achuete powder if that is what you have.
Ginger - adds a warm spicy note to the broth. It also helps tenderize the meat.
Margarine - you may also use butter as substitute.
Onion and garlic - aromatics used in this recipe.
Star anise - adds a fragrant aroma to the dish and gives it a sweet, licorice-like flavor.
Fermented black beans - also called tausi. It is high in protein and fiber, give a mildly sweet and salty flavor to the Balbacua with a tinge of bitterness.
Tomato paste - adds flavor to the stew and helps thicken the sauce. You may also use tomato sauce if it's unavailable. (See recipe card for measurement)
Peanut butter - make sure you use the unsweetened variety of peanut butter. The peanut butter will add depth to the Balbacua flavor and thicken the soup. You may also use chopped/ground peanuts to add texture.
Pork and beans - impart a sweet and savory taste to the dish and makes the Balbacua heartier!
Pineapple chunks - provide a sweet flavor that balances the savory flavor of the dish.
Red bell pepper - has a tangy and sweet flavor. You may also use yellow or orange bell peppers.
Green long chili and chili labuyo - give your Balbacua a spicy kick. Depending on your spice tolerance, you can increase or decrease the amount you put in.
Cooking Tips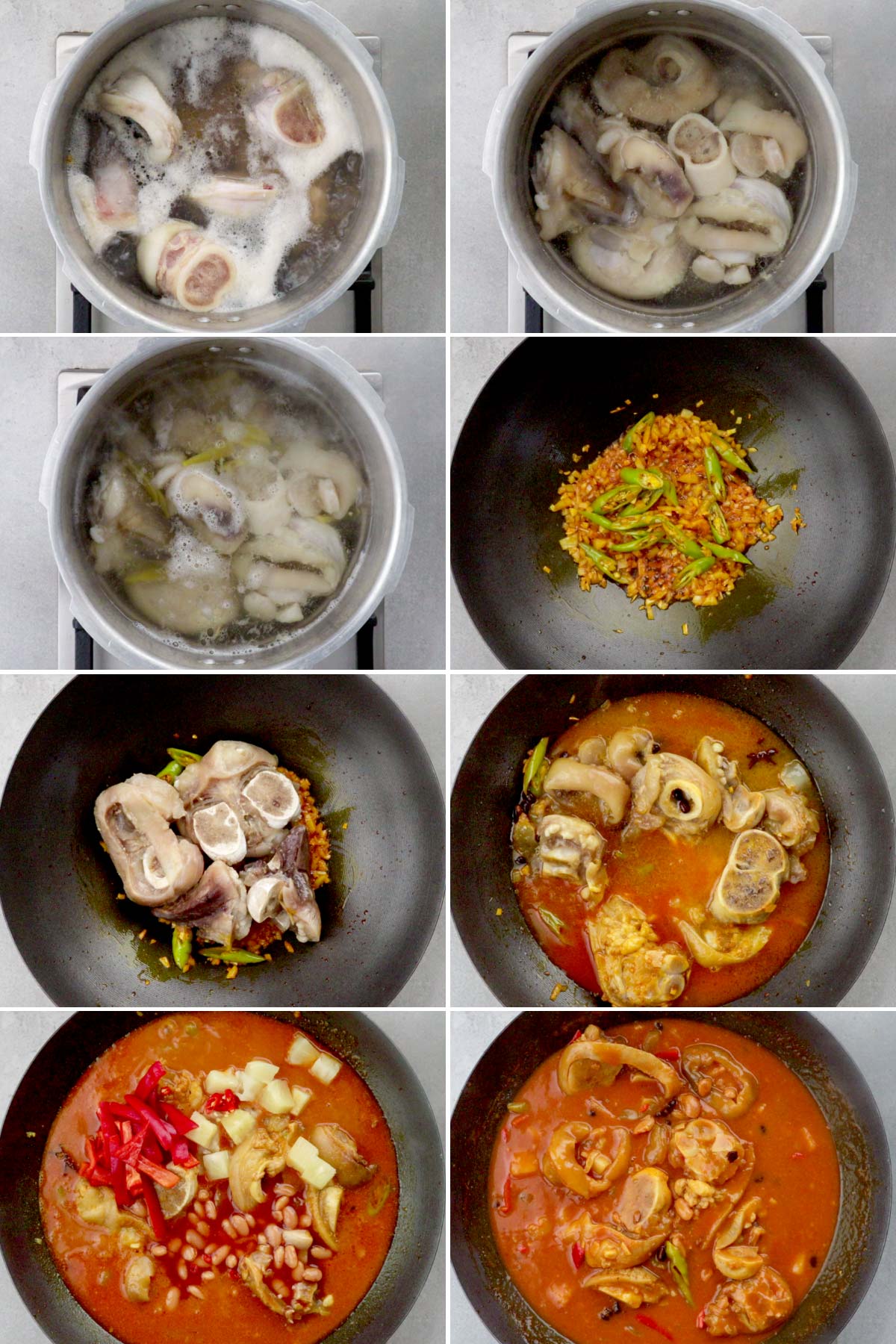 Blanching the ox feet before pressure cooking/boiling them helps remove the impurities of the meat.
When cooking the annatto seeds, make sure the heat is not too high, or it will start to pop. Remove the seeds from the oil when bubbles start to form around them. Do not overcook the annatto seeds, as they will produce a bitter taste.
A pressure cooker was used to lessen the cooking time. If you do not have a pressure cooker, boil the ox feet in a pot over medium-low heat for about 2-3 hours or until tender.
You may also add pechay and saba bananas to add flavor and extend the serving of the dish. If adding bananas, fry them first before adding them to the stew.
The stew should have a thick and sticky consistency when done.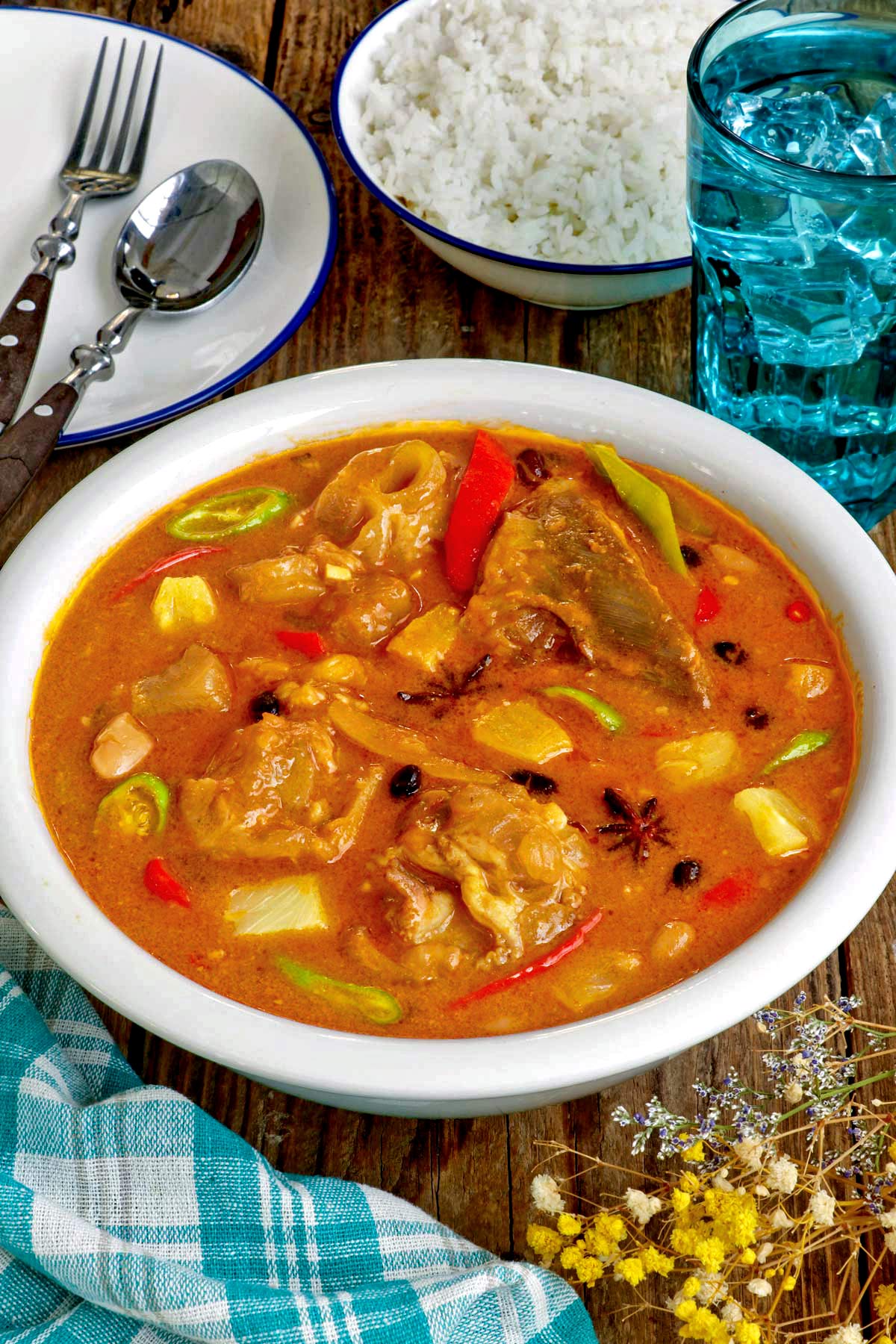 Similar Recipes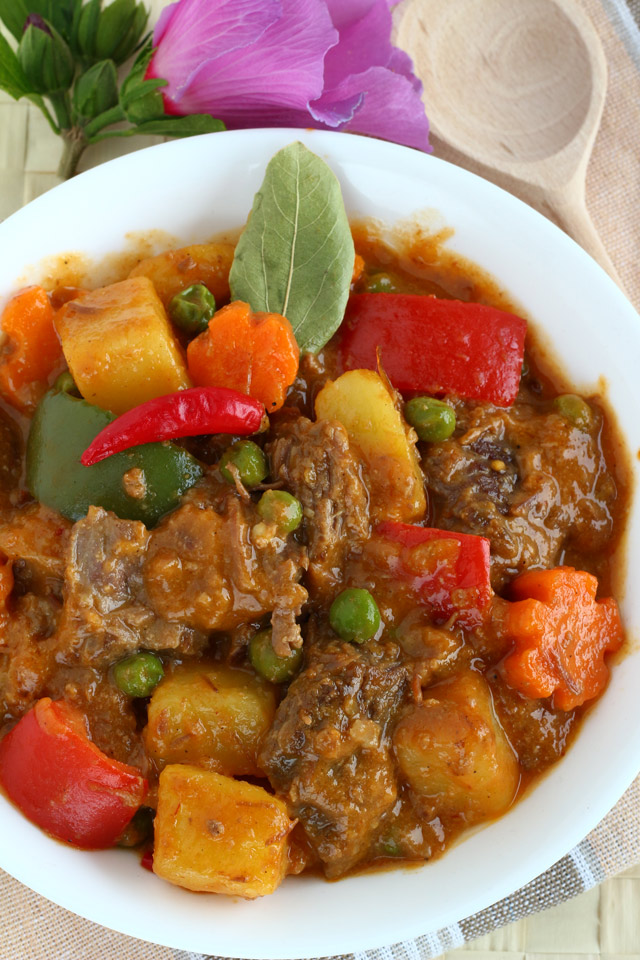 Serving and Storing Balbacua
Serve Balbacua while still hot with steamed white rice ,misua, or miki noodles. Garnish with chopped spring onion or onion leeks.
Place leftovers in an airtight container and refrigerate for up to 3-4 days. To reheat, place in a saucepot and simmer until heated through. If the sauce becomes too thick, add a little bit of water.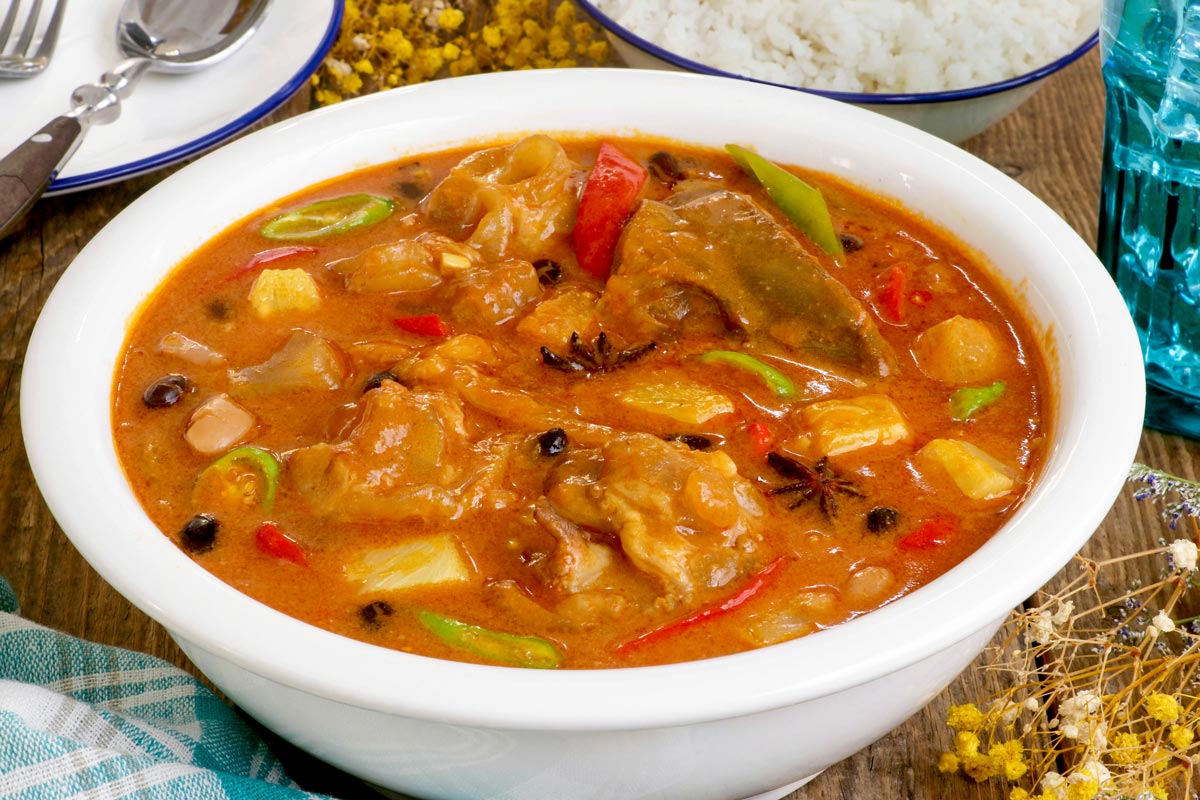 Printable Recipe
Balbacua Recipe
Experience a burst of rich Filipino flavors with this Balbacua recipe! Enjoy tenderized ox feet with pineapple chunks, pork and beans, and bell pepper simmered in a hearty stew flavored with annatto, star anise, and peanut butter.
Ingredients
3

pounds

ox feet

or ox tail or skin or mix

water

for blanching

8

cups

water

1

thumb

ginger

1

tablespoon

salt

2

tablespoons

oil

1

tablespoon

achuete seeds

1

tablespoon

margarine

1

medium

onion

5

cloves

garlic

3

green long chili

3

pieces

star anise

1

small can

fermented black beans

drained (180 grams)

¼

cup

tomato paste

or ¾ cup tomato sauce

⅓

cup

peanut butter

unsweetened

1

small can

pineapple chunks

drained (137 grams)

1

can

pork and beans

390 grams

1

medium

red bell pepper

cut into strips

1

pc

chili labuyo

chopped

Fish sauce or salt

to taste
Instructions
Place the ox feet cuts in a pot or pressure cooker. Add just enough water to submerge. Bring to a boil over high heat uncovered. Boil for about 10 min then remove from heat. Discard water and rinse the meat well.

8 cups water,

1 thumb ginger,

1 tablespoon salt

Add 8 cups of water to the pressure cooker/pot. Bring to a boil over high heat. Add the ox feet, ginger, and salt. Close the lid and pressure cook for 45-60 mins or simmer in a normal pot for 2 hours or until tender. Remove the meat from the broth and set it aside. Reserve about 2 cups of broth.

2 tablespoons oil,

1 tablespoon achuete seeds

In a wide wok or pot, heat oil over medium heat then add achuete seeds. Cook for about 1 minute or until the oil turns deep orange. Remove seeds using a slotted spoon.

1 tablespoon margarine,

1 medium onion,

5 cloves garlic,

3 green long chili

Melt margarine. Sauté onion, garlic, and green chilis until aromatic.

3 pieces star anise,

1 small can fermented black beans

Add the ox feet, star anise, and black beans. Stir until well distributed.

¼ cup tomato paste,

⅓ cup peanut butter

Pour 2 cups of the reserved broth. Add tomato paste and peanut butter. Stir until dissolved.

1 small can pineapple chunks,

1 can pork and beans,

1 medium red bell pepper,

1 pc chili labuyo,

Fish sauce or salt

Add the pineapple chunks, pork and beans, bell pepper, and labuyo. Season with fish sauce or salt as needed. Simmer for 5 minutes or more.

Turn off heat and transfer to a serving platter. Enjoy with steamed rice.
Nutrition
Calories:
1483
kcal
Carbohydrates:
91
g
Protein:
128
g
Fat:
70
g
Saturated Fat:
23
g
Polyunsaturated Fat:
8
g
Monounsaturated Fat:
34
g
Trans Fat:
0.03
g
Cholesterol:
388
mg
Sodium:
3548
mg
Potassium:
1446
mg
Fiber:
21
g
Sugar:
27
g
Vitamin A:
1402
IU
Vitamin C:
63
mg
Calcium:
267
mg
Iron:
20
mg