Updated: November 4, 2019
Learn how to make Kutsinta with this easy recipe. Kutsinta is a native Filipino snack that are small steamed sticky rice cakes. A simple and healthier snack alternative.
Kutsinta is a native sweet Filipino snack that are like small steamed sticky rice cakes. It is brown or reddish in color because it is sweetened with brown sugar that is further enhanced using annatto or achuete. It is usually eaten with grated coconut.
I remember when I was a kid, I would wake up to the sound of a peddler howling in the streets, early in the morning to sell his Puto and kutsinta for breakfast. I think the two are really inseparable like a tandem, you will always see them sold or served next to each other.
But between the two, I would always get the kutsinta. I really enjoyed eating it with grated coconut before going to school and they are quite filling.
Now that I think of it, it is kind of funny and amazing how both puto and kutsinta are traditionally made from rice, but came out to be so different.
They are also both steamed, but puto is made from regular sweet rice while kutsinta from glutinous or sticky rice. One thing they share in common is that they are both yummy and make great snack or breakfast.
I've been meaning to make kutsinta for quite a while now. Well actually, I did try it once. I did not have lye water at the time and they turned out to be too sticky and soft. It was so bad, I had to throw them all away.
But since a special Filipina from Norway asked for Kutsinta recipe, I looked everywhere for lye water. Just so that I could finally make and post them here. Thanks Chona for being an avid follower of Foxy Folksy and I hope you will like this kutsinta recipe!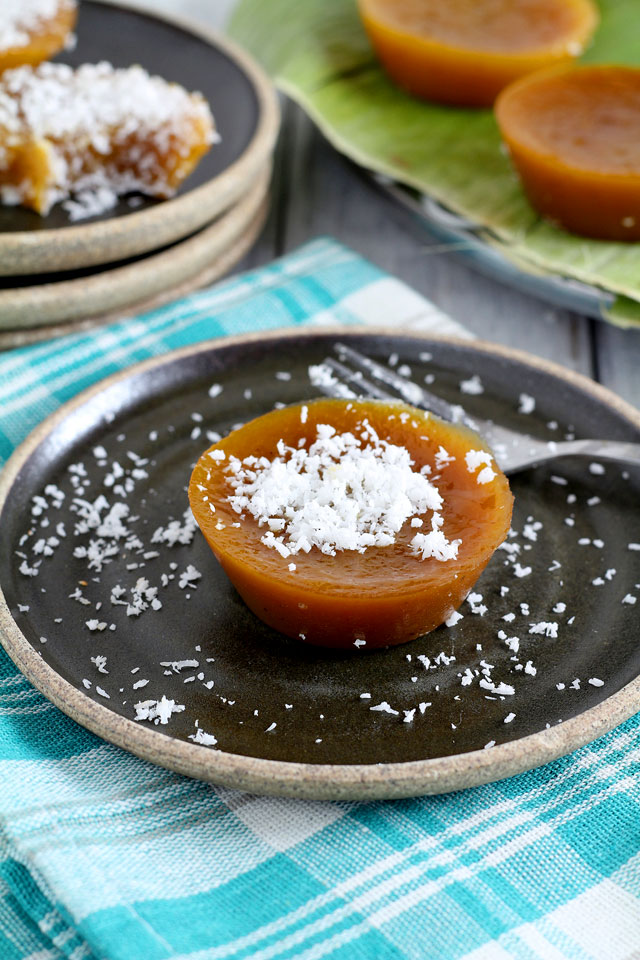 While I was searching the net, I found that there are 2 different kinds of kutsinta recipe. One uses a mix of glutinous rice flour and sweet rice flour. The other uses a mix of all-purpose-flour and tapioca flour. I liked the texture of the latter much better, firmer but still soft and chewy.
If you've read my post about Pichi-pichi and Palitaw, then you are already aware that I use desiccated coconut. Since freshly grated coconuts are hard to get by and I personally had a not so good experience with the frozen one.
By the way, if you bought a whole bottle of lye water and do not know what to do with the rest, try making pichi pichi. Mmmm..yum!
WANT MORE RECIPES? Subscribe to our newsletter and follow us on Facebook, Pinterest and Instagram for all of the latest updates.
Kutsinta
Kutsinta is a native Filipino snack that are small steamed sticky rice cakes. It is brown or reddish in color from brown sugar and enhanced with annatto.
Print
Rate
INSTRUCTIONS
Slightly grease your kutsinta molds with oil and set aside.

In a bowl, combine the all-purpose flour, tapioca flour and sugar.

Add in the water and stir until sugar is dissolved and the mixture is smooth.

Add the annatto/achuate powder and mix well. Then stir in the lye water.

Fill the molds about three quarters (3/4) full and steam for 40 minutes or until top is set when touched.

Remove from heat and allow to cool before removing from molds.

Serve with grated coconut.
RECIPE NOTES
If using desiccated coconut: In a bowl, add about a quarter cup of water to half a cup of desiccated coconut and mix really well. Make it ahead of time, like 30 minutes earlier so it can sit for a couple of minutes to absorb the liquid, make sure to mix from time to time. Adjust the measurements as needed. If you need to make more kutsinta, triple the amount of this recipe to about 30-36 pcs. The ratio of all-purpose-flour to tapioca flour is 3:1.
Nutrition Facts
Kutsinta
Amount Per Serving
Calories 88
% Daily Value*
Total Fat 0g 0%
Cholesterol 0mg 0%
Sodium 4mg 0%
Potassium 23mg 1%
Total Carbohydrates 21g 7%
Protein 0g 0%
* Percent Daily Values are based on a 2000 calorie diet.
Tried this recipe?
Tell us how it went. Tag us at @foxyfolksy or leave a comment and rating below.