I so love this Puto Cheese recipe. So soft and fluffy and definitely better tasting than the Puto mix you buy in a box but equally easy to make.  You will never think of buying ready mix Puto after trying this!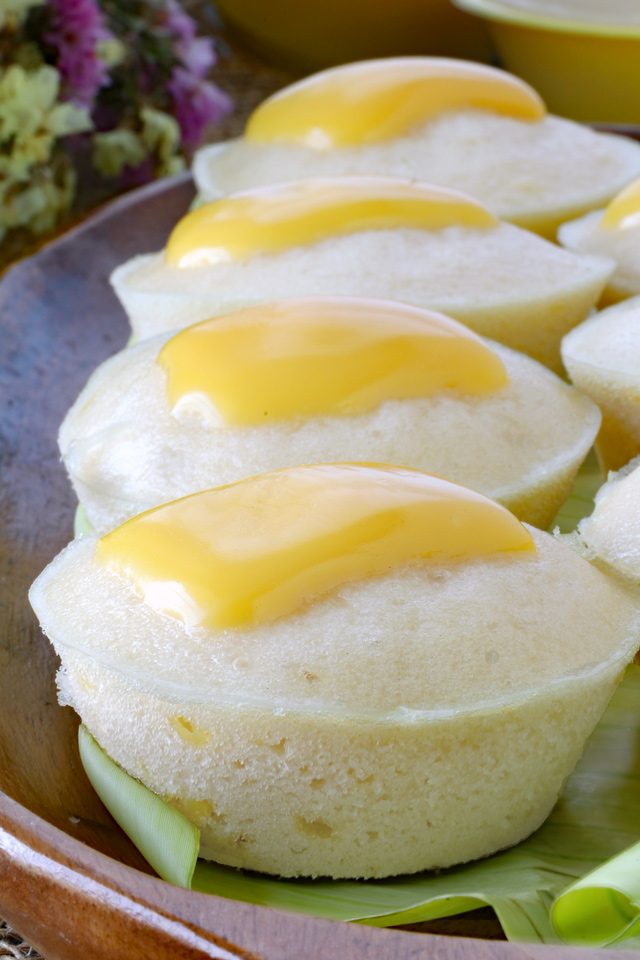 What is Puto?
Puto is a Filipino steamed rice cake delicacy normally eaten as snack.  Puto is also, oftentimes, served to accompany savory dishes like dinuguan (pork blood stew) or pancit (rice noodle).
The traditional one is made from rice, water, and sugar that is stone-grinded to make the batter or what we call 'galapong'. It is normally fermented overnight before steaming them. Of course, everything became easy when rice flour became available.
But this recipe of Cheese Puto actually does not use rice at all, it uses all-purpose flour instead.  Yeah I know, I was skeptical about it as well at first but it turned out to be really good, and I would say I prefer it better than using rice flour because it makes smoother and softer Puto.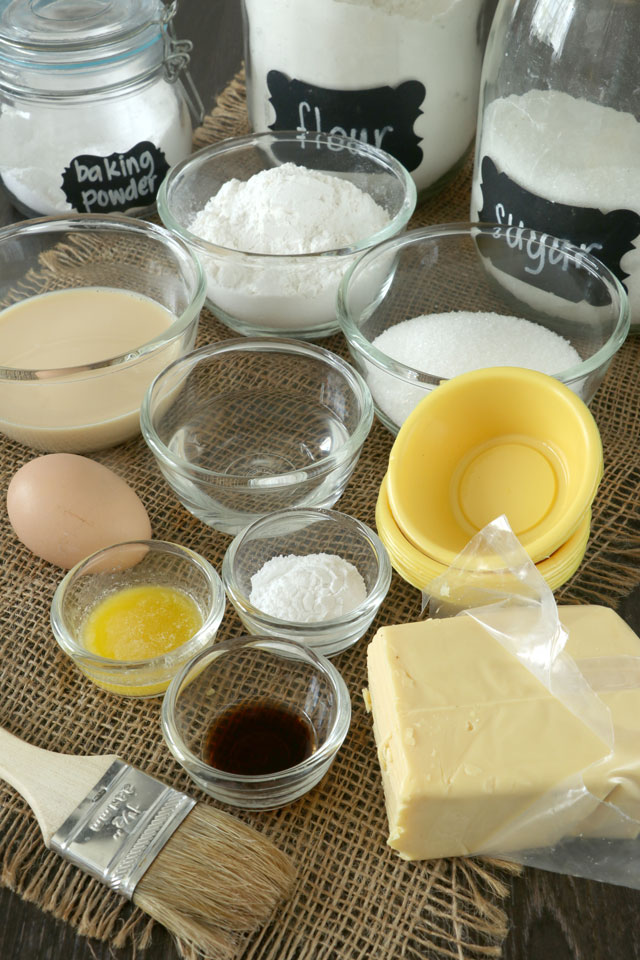 What Cheese to Use?
I get this question a lot and I know why.  In the Philippines, the common cheese you can get is packed in foil and boxed and you usually get them from the shelves and not in the fridge section of a grocery store. The most popular brand is  Kraft Eden cheese and I read that it is the equivalent or similar to Kraft Velveeta in the US.
I used to buy loads of this cheese and bring them back to Germany. Once there, I remove them from the boxes and freeze them. They would last for months to a year that way.
For those who do not have access to this kind of processed cheese, I would recommend other cheeses like Gouda or Cheddar.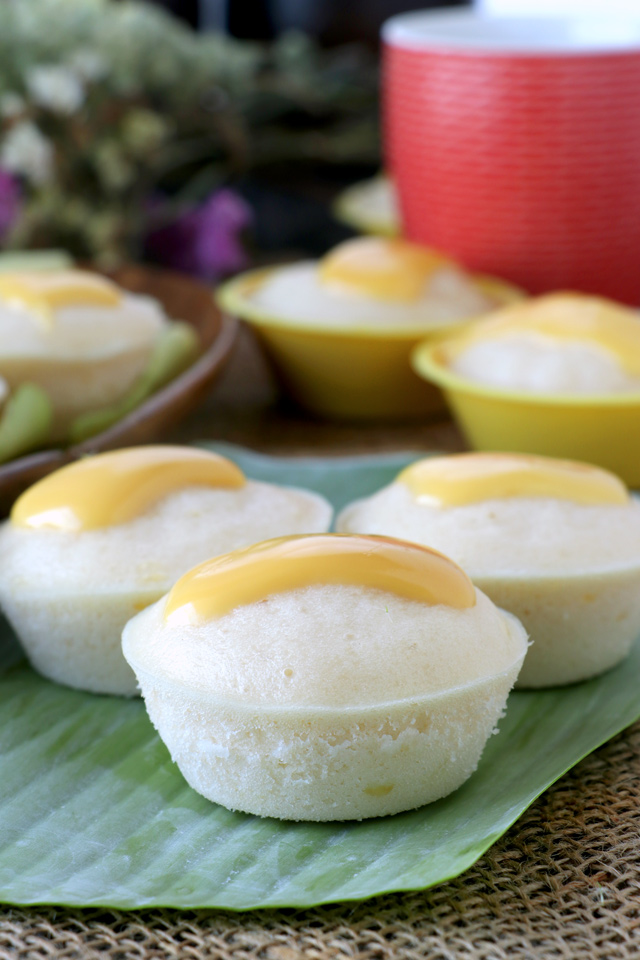 Additional Tips:
Avoid using high speed when mixing the batter as this creates more air bubbles that can be trapped in the batter and will form holes when steamed.
Place a cheesecloth or clean kitchen towel in between steamer racks and the top cover to avoid water from dripping to the batter. This will result in uneven cooking and disinformed top.
It is very important to use low heat. Bring the water to a simmer then turn the heat to the lowest as possible. Just enough to keep the steam forming but do not let the water boil. High temperatures will result in an uneven rise of the batter instead of forming a perfect dome.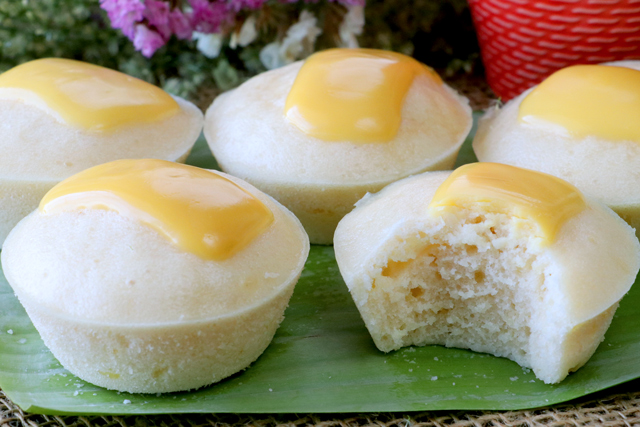 Printable Recipe
Puto Cheese
This Puto Cheese recipe uses simple ingredients to make the perfect, delicious Puto. You will never buy the ready mix Puto ever again.
Ingredients
1

cup

flour

½

cup

sugar

2

teaspoons

baking powder

1

large

egg

½

cup

milk

(evaporated or fresh)

¼

cup

water

1

tablespoon

butter

-melted

1

teaspoon

vanilla extract

¼

cup

grated cheese

strips

cheese

- for topping

butter or oil for brushing the molds
Instructions
In a mixing bowl, combine flour, sugar and baking powder.

Add the milk and egg and mix using a whisk or electric mixer at medium speed only until batter becomes smooth.

Add the water, butter and vanilla extract and mix well for a minute or two. Lastly, add the grated cheese and fold in slowly using a spatula or spoon.

Grease each mold with butter and fill the molds with batter up to ¾ full.

Fill the bottom of the steamer with water and bring to a gentle simmer over very low heat. Place the molds in the steamer basket and steam for about 10 to 12 minutes or until toothpick inserted comes out clean.

Remove the lid and add a strip of cheese on top of each put. Steam for another minute or two until cheese melts. Turn off heat and let it rest until slightly cooled down.

Remove the cooked Puto Cheese from the molds and transfer to a serving plate.
Notes
While mixing the ingredients, avoid using high speed of the mixer or the Puto would rise too much and become airy.
You may also mix by hand using a whisk but also at moderate speed.
While steaming, I place a cheesecloth or clean kitchen towel in between steamer racks and the top cover to avoid water from dripping to the batter.
Just double (or triple) the recipe to double the yield.
Silicon cupcake molds can also be used.
Nutrition
Calories:
131
kcal
Carbohydrates:
20
g
Protein:
3
g
Fat:
3
g
Saturated Fat:
2
g
Cholesterol:
26
mg
Sodium:
57
mg
Potassium:
159
mg
Fiber:
0
g
Sugar:
10
g
Vitamin A:
130
IU
Calcium:
108
mg
Iron:
0.8
mg
For those who are asking about the plastic molds I used to steam these Puto in, I got them from the Philippines. But you may also use the Silicone muffin molds  like the one below I found on Amazon. I also use them for making Puto sometimes just like I would use the plastic molds.
Here are also examples of steamers used to make Puto. The middle one is a stove-top variation while the one on the right is electric. You may click on the photos to see where you can buy them as well.
This recipe for Puto Cheese was originally published in June 2016. Updated in March 2020 to include new photos and recipe video. Additional tips were also provided.