Pancit Bihon, a popular Filipino rice vermicelli noodle dish made flavorful with meat, shrimps, and vegetables making this a complete meal in one that is very easy to make. Popularly served at birthdays and on every special occasion!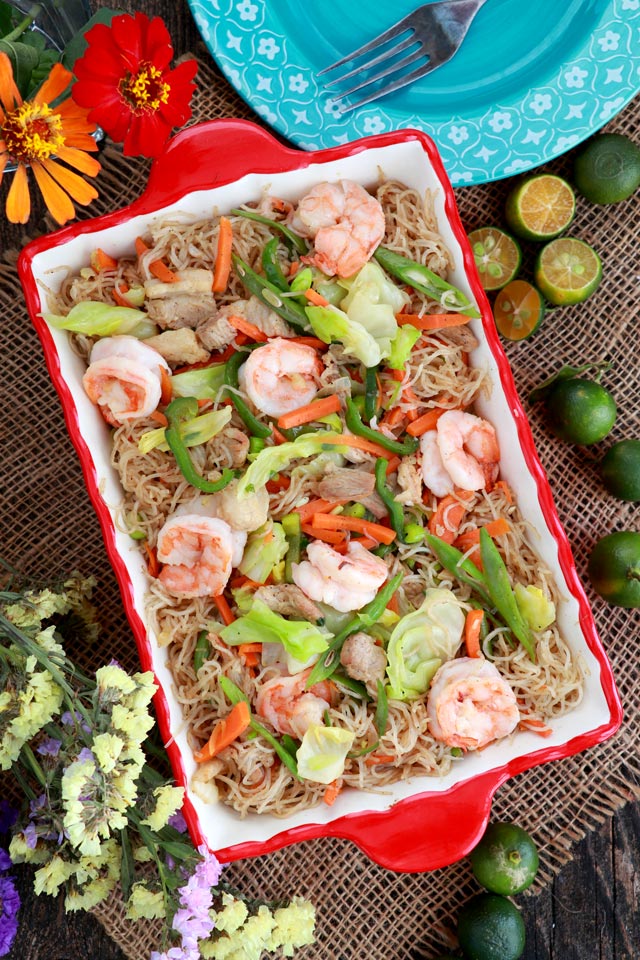 What is Pancit?
Pancit simply refers to noodles in Filipino cuisine. While Pancit Bihon is a specific thin form of rice noodle. Also known as rice vermicelli noodle, rice sticks, and bee hoon.
To many Filipinos, a birthday will not be complete without eating pancit. It is said to symbolize long life and you are not to cut it while cooking. This belief, I think, we inherited from the Chinese Filipino settlers, who introduced the noodles to us from the early years among many other things.
But the word pancit or 'pansit' which is translated from Hokkien 'pian i sit' actually means 'convenient food' or something that is cooked fast.
Although the noodles may be of Chinese origin, Pancit Bihon or Pancit Guisado, itself is 100% Filipino.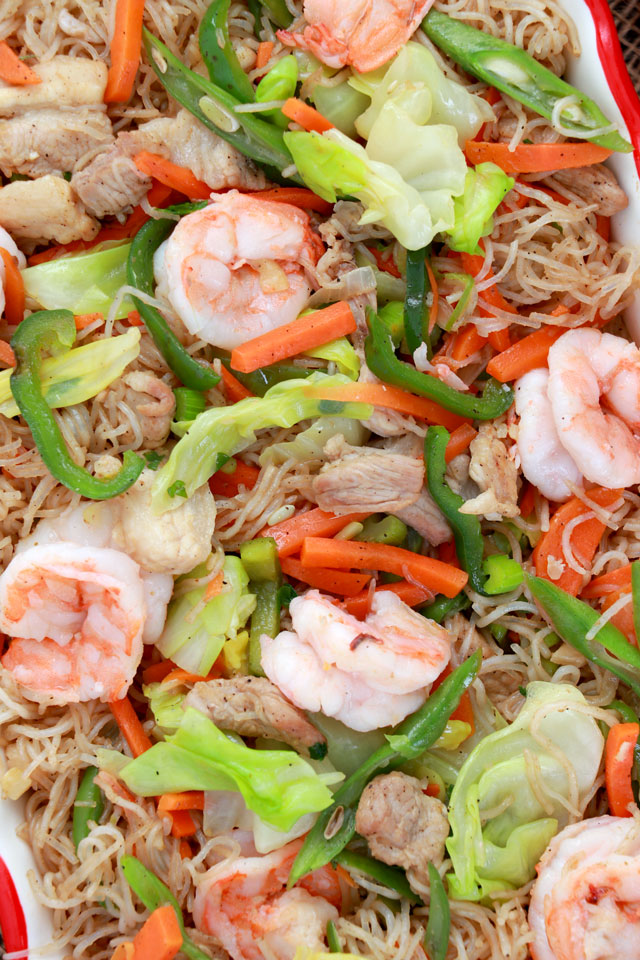 Ingredients for Pancit Bihon
The basic ingredients in making Pancit Bihon are:
Bihon (rice vermicelli)
chicken (breast) or pork (belly)
garlic
onion
carrots
spring beans (Baguio beans) or snow peas
cabbage
fish sauce of soy sauce
ground pepper
Other ingredients you can add to make it more special:
shrimp
bell peppers
celery
chorizo or Chinese sausage
Spring onions
All I can say is that no matter how you make it or with what, it will always be one of Filipinos favorite dish.
How to cook Pancit Bihon
Methods of cooking Pancit Bihon varies from one person to another. Although the basic ingredients are mostly all the same.
Saute garlic and onion in oil. Add meat (chicken or pork) and cook. Add the shrimp (if any) and cook until it completely turns pink.
Add the carrots and beans then followed by the bell peppers and celery.
Add fish sauce or soy sauce, ground pepper and pour in water (or shrimp stock). Bring to a boil.
Remove all solids using a slotted spoon leaving the liquids behind. 
Add the vermicelli rice noodles and cook until almost done and most of the sauce has been absorbed.
Toss in the cabbage and add back the cooked vegetables.
 Tips for Cooking a Great Pancit Bihon
Different brands of vermicelli noodles could result in differently when cooked. Based on my experience,  the amount of water or liquids usually vary from one brand to the other.
Using a brand for the first time, it's hard to know how much water you need to add for it to be perfect. That is, not dry and not soggy.  I would suggest soaking the noodles first in some tap water for a few minutes before cooking. This way it will not dry out all the added liquids while cooking as they would still continue to do so afterward that sometimes results in dry pancit.
Prepare all the ingredients beforehand as the process is done quite fast. Remove veggies when they are just about half-cooked to prevent overcooking and becoming soggy. The residual heat will cook the further.
 Cut vegetables and meat in equal sizes so they all cook evenly and remember, the smaller they are the faster they cook.
What Dishes to serve with Pancit Bihon?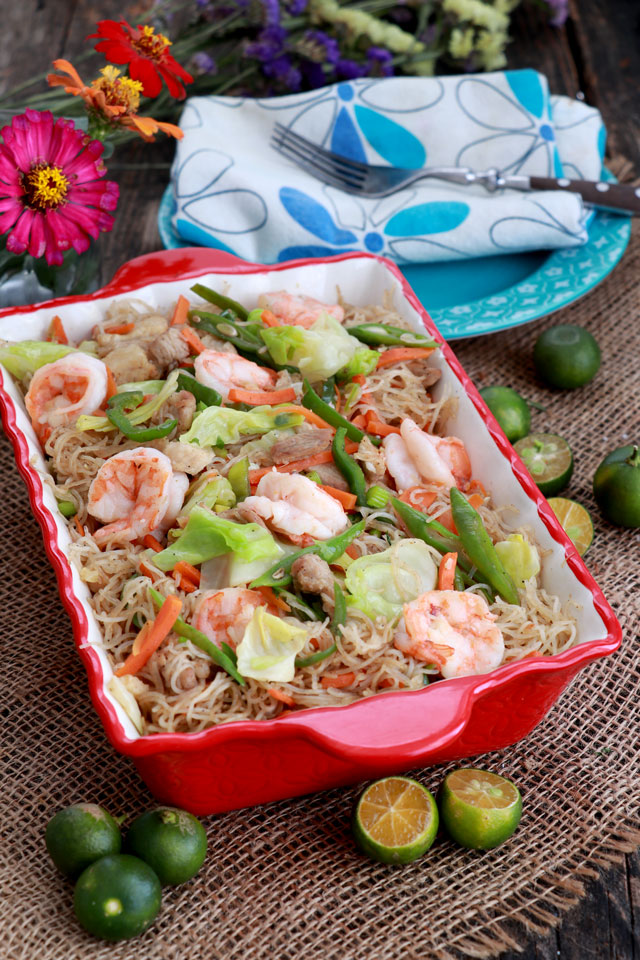 Pancit Bihon Guisado may be enjoyed on its own. But if you are planning a meal or dinner for a bigger crowd, I recommend the following recipes for a complete Filipino food experience.
What to do with leftover Pancit?
If you made Pancit more than what is needed, transfer the leftovers to a container with lid and place in the fridge. It should last for a couple of days. Never cover while still warm or it will spoil faster.
Reheat in the microwave or in a skillet before serving.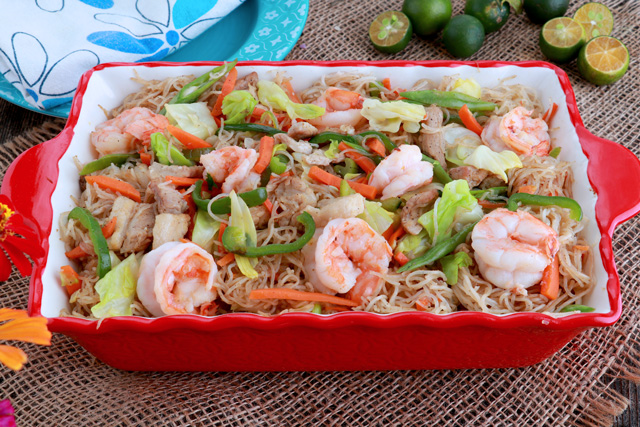 Other Pancit and Noodle Recipes to try:
Printable Recipe
Pancit Bihon
Try this easy Pancit Bihon recipe, an all-time favorite Filipino fried noodles dish made from rice vermicelli, shrimps, pork and mix of vegetables.
Ingredients
3

tablespoons

vegetable oil

2

cloves

garlic

- minced

1

medium

onion

- chopped

½

pound

pork belly

- cut into small, thin slices (See NOTE 1)

½

pound

shrimp

- shelled and deveined (see NOTE 2)

2

medium

carrot

- cut into small strips

1

cup

spring beans

or young snow peas (chicharo) - cut into diagonal strips

1

medium

bell pepper

- cut into strips

½

cup

celery stalk and leaves

- chopped

1

small

cabbage

- cut into smaller pieces

4

tablespoons

fish sauce

(soy sauce can also be used instead)

3-4

cups

water

1

shrimp cube

or chicken cube (optional) (see NOTE 3)

8

oz

Vermicelli rice noodles

- uncooked

½

teaspoon

ground pepper

6

pieces

calamansi
Instructions
In a wok or wide skillet, saute garlic and onion in oil over medium-high heat. Add pork until tender. Add the shrimps and cook for a few minutes until most has turned pink. Remove shrimp and set aside.

Add the carrots and beans and cook for 2 minutes, stirring often to keep from burning. Add the bell peppers and celery and cook for another 2 minutes.

Add fish sauce/ soy sauce and ground pepper and stir several times. Pour in the shrimp juice/stock if using or 2 cups water and shrimp cube. Let simmer until vegetables are tender but still crisp.

Remove everything from the wok leaving only the liquids. Add the shrimp cube to the liquid and stir until dissolved.

Add the vermicelli noodles and spread it so they are submerged completely in the liquids. Let it simmer for some minutes while stirring now and then. They will absorb the liquids so you may add more water if they are still too hard. They will keep on absorbing the liquids even after they are cooked so add just a bit more so that your pancit will not dry out if not to be served and eaten immediately.

Add back the vegetables leaving some for toppings. Toss in the cabbage. Mix noodles and vegetables together. Transfer to serving platter and top with the remaining cooked vegetables. Serve with kalamansi or lemon.
Notes
NOTE 1. Alternatively, chicken breast may be used instead of pork.
NOTE 2. If you bought fresh shrimps with the head part intact, you can use the head to add more flavor to your pancit. Pound the heads using mortar and pestle or just chop them using a knife to extract the juice. Add 2 cups of water. Set a strainer over a bowl and strain. Set the shrimp juice/stock aside and discard the rest.
NOTE 3. If not using shrimp cube, add 1-2 tablespoon more of fish sauce or soy sauce.
Nutrition
Calories:
497
kcal
Carbohydrates:
45
g
Protein:
15
g
Fat:
28
g
Saturated Fat:
13
g
Cholesterol:
122
mg
Sodium:
1527
mg
Potassium:
542
mg
Fiber:
5
g
Sugar:
7
g
Vitamin A:
4300
IU
Vitamin C:
76.3
mg
Calcium:
143
mg
Iron:
2.3
mg
This Pancit Bihon recipe was originally published in June 2015. Updated on June 2019 to include new photos and improvements on the recipe itself.