Try this no-meat, super quick and easy stir-fry Chow Fun Recipe! You will definitely love how simple yet flavorful it is! Perfect as sides or for light meals.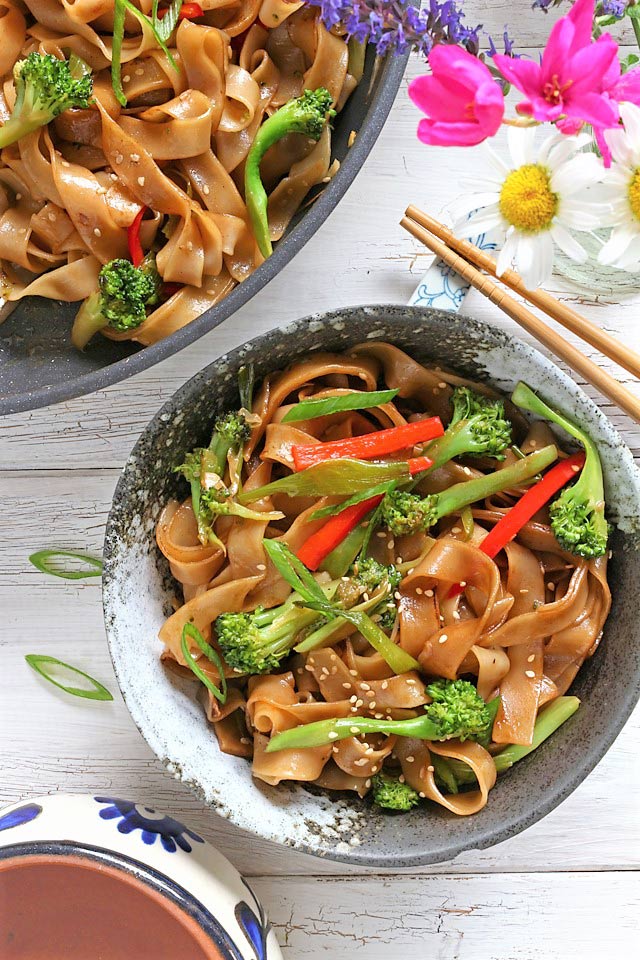 As I am in the process of updating and improving old post and recipes, I came across this one and I can't believe that I wrote this post almost exactly a year ago. So many things have happened in just a short span of a year.
Same time last year Armin and I were so busy packing (and selling) our stuff and preparing everything for our move to the Philippines. This time, we are again busy with buying stuff and organizing a move...to our new home. We are also just back from a trip and hopefully, Armin can get around his busy schedule to write about it as well and share some of our great (and not so great) experiences from our trip in Taipei with lots of pictures of course.
Below are the texts from the original post. I thought I'd keep it so I can read it again in the years to come... 
Just got back from a long-month vacation with my parents who came to us to have their first-ever Europe tour. We went to see some places here in Germany, like the walled city of Nördlingen; the Hohenzollern Schloss; the beautiful city of Munich. We also did some small trips near our area. We also brought them to Austria to see the Alps up close. Then we spent some days lazing around in Jesolo, Italy and for them to see Venice.
After this, Armin had to go back to work but my parents and I went on and visited my brother and his family in Paris. My parents flew back to the Philippines last Friday. It was a hectic month and the weather was a bit weird for a summer. Rainy and cold most of the time, but it was fun and time well spent with family.    
Since I am still recovering from a vacation hangover (a.k.a. feeling lazy), I choose to share with you this really easy and simple Cantonese all-time favorite dish, Chow Fun. It is a dish of flat rice noodle that is stir-fried. It is also common to add meat, usually beef that has been marinated. But if you are like me at the moment, trying to avoid anything fussy, then this Vegetable Chow Fun is a perfect dish for you too! 
Chow Fun recipes usually use the fresh wide flat rice noodles known as Ho Fun (hor fun, he fun, shahe fun, chow foon).
I can't find it here in our area but I saw this dry wide rice sticks. This is called Bahn Pho the Thai equivalent for the Chinese Ho Fun which is also used for Pad Thai.  
How to Prepare Dry Chow Fun Noodles
Different brands of dry Chow Fun noodles may call for different ways of preparing it.  It might be best to follow the package instructions but here are some more tips to guide you on how to prepare the noodle so you will not end with soggy or uncooked noodles.
Cook or soak the rice noodles according to the instructions until softened but it should still a bit chewy inside. Do not overcook as it will continue to cook later when stir-fry. It might take as little as 5 minutes or up to 30 minutes.
Rinse rice noodles with tap water and drain excess water.
To avoid rice noodles from getting sticky, you may add 2 teaspoons of sesame oil to the drained noodles and toss it by hand, covering each noodle with a thin film of sesame oil.
Quick & Easy Vegetable Chow Fun
Try this no-meat, quick and easy, stir-fry Chow Fun! You will definitely love how simple yet flavorful it is!
Ingredients
14

ounces

rice noodle

(dry flat)

4

tablespoons

sesame oil

2

clove

garlic

- minced

2

stalk

spring onion

- white part separated from green, cut into strips

2

cup

broccoli florets

3

tablespoons

soy sauce

¼

cup

oyster sauce

¼

cup

water

(or dry sherry)

1

small

red bell pepper

- cut into strips

1

teaspoon

sugar

- optional
Instructions
Cook noodles according to package directions. Some require soaking in boiling water for some minutes and others need to be cooked in a pot of boiling water for a few minutes.

In a bowl, combine soy sauce, oyster sauce, water (or dry sherry) and sugar (if adding). Stir until well blended and sugar is dissolved.

In a wok or skillet, heat sesame oil over medium-high heat. Saute the garlic and the white part of spring onion until tender and aromatic. Add the broccoli florets and cook for a minute while stirring continuously.

Add the pre-cooked flat rice noodles and toss several times to make sure they do not stick together. Pour in the sauce and toss until the noodles are fully covered in sauce.

Stir in the green parts of spring onion and red bell pepper. Cook for another 2 minutes, stirring constantly.

Transfer to a serving dish and enjoy while hot.
Nutrition
Calories:
529
kcal
Carbohydrates:
90
g
Protein:
6
g
Fat:
14
g
Saturated Fat:
2
g
Cholesterol:
0
mg
Sodium:
1348
mg
Potassium:
257
mg
Fiber:
3
g
Sugar:
2
g
Vitamin A:
925
IU
Vitamin C:
65.8
mg
Calcium:
54
mg
Iron:
1.5
mg