Kare Kare is a classic Filipino slow-cook stew, usually using oxtail and/or ox tripe, with deliciously thick deep yellow peanut sauce with some vegetables. It has a very subtle taste because it is traditionally unsalted, allowing the flavors of the peanut sauce and the meat to surface and be enjoyed. It is usually served with some shrimp paste to make up for the lacking saltiness in the stew itself.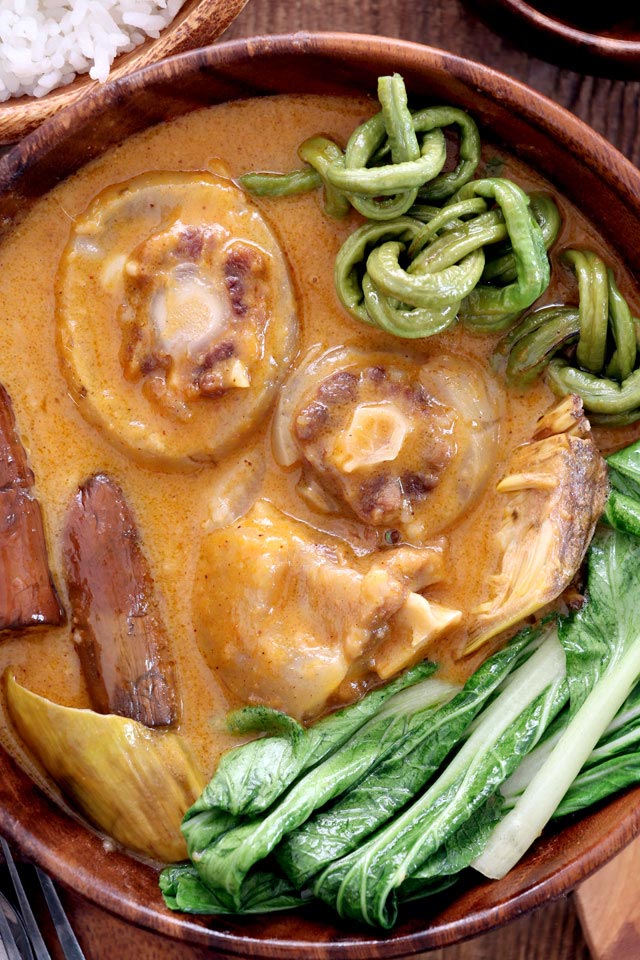 I can't believe that I haven't written about traditional Kare Kare recipe, aside from my old post on Crispy Kare Kare recipe that I wrote about some years ago. To think that it is one of my all-time favorite dishes ever. So much that more often than not, when I see it on the menu when we are eating out, you can count on it that I will order that.
Of course, there are times that I end up getting disappointed. Some of the restaurants seem to think that it is ok to use sweet peanut butter in Kare Kare. Others, who do not know any better, might even like it. But for me, this is a sacrilege to this wonderful classic dish.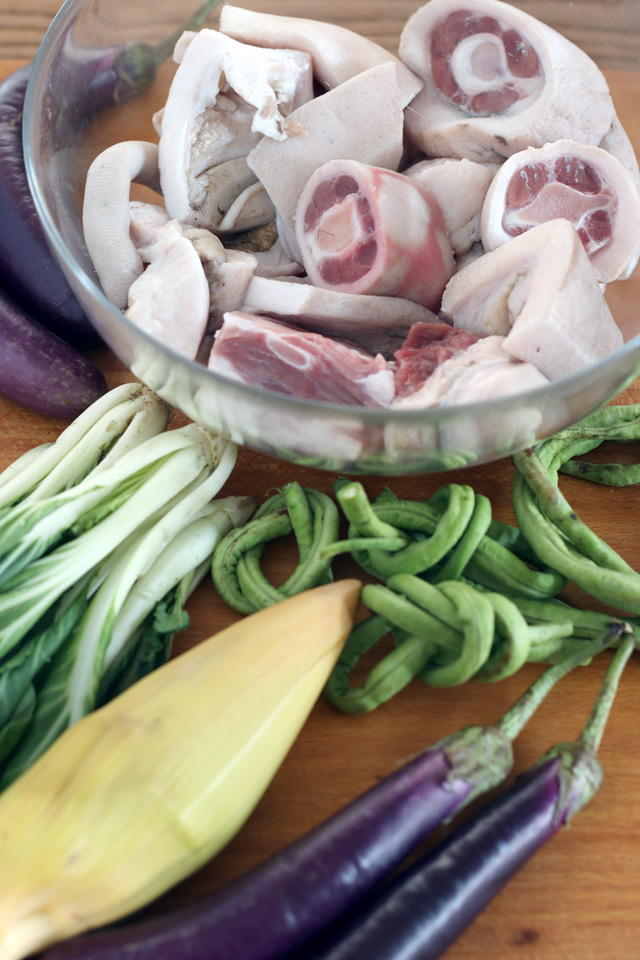 Up to this day, I can still remember how my Inay's (our Papa's mom) Kare Kare tasted like. My aunts' Kare Kare taste also the same, traditional and unadulterated!
I asked my Mama how Inay cooked her Kare Kare and I was blown away by the effort and amount of work she put into it. She told me that Inay would roast and grind her own peanuts and glutinous rice for the sauce. And we are talking about the manual stone grinders at this time.
Good thing though that in this day and age, you do not have to go through all that trouble and can just easily buy the ready ingredients at the market or groceries. They even offer Kare Kare mix, which I have tried but does nothing for me.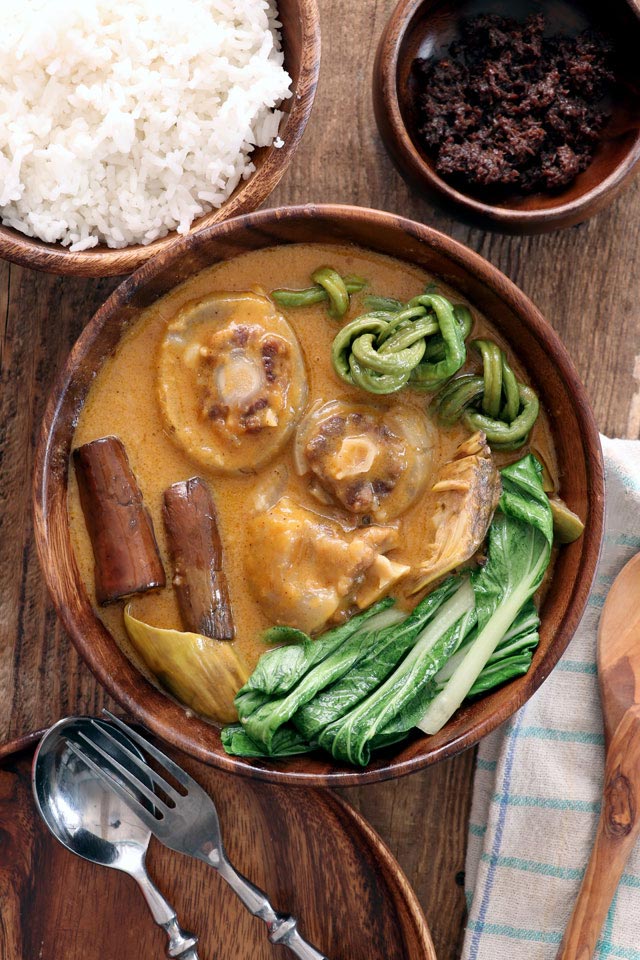 Instead, I use sticky or glutinous rice flour and peanut butter. BUT (and it is a really big but) I only use unsweetened or the really lesser sweet peanut butter. I like using Skippy Creamy Peanut butter (this is not an ad, I did not get paid for this) because of its creamy texture and is not sweet at all, you may use other brands of the same quality. Skippy is, however, slightly salty so if you are to use it, skip the salt. Although I, for one, do not add any salt to the sauce just like how it was done originally.
Otherwise, you can roast and grind your own if you have a food processor at home. Or if you are in the Philippines, you can usually get peanut butter especially for Kare Kare in the markets, just ask for it.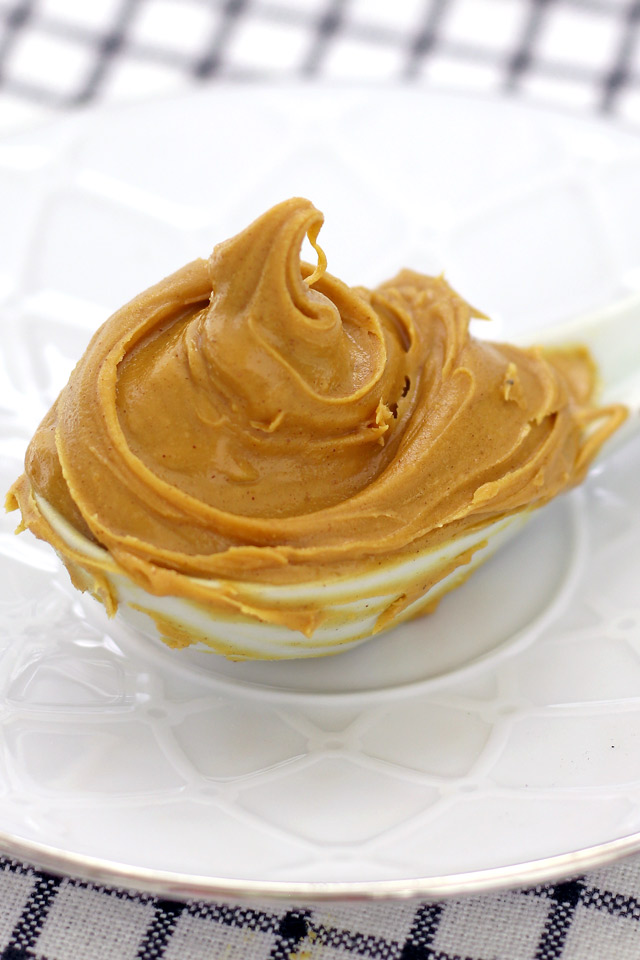 Other meats you can use for Kare Kare are pork belly, pork hocks or feet, beef chuck, beef shank, beef brisket, calves feet.
You may or may not add banana heart, although it makes it more authentic if you do. However, if done wrong, it can turn out a bit bitter and look discolored and unappetizing. To prepare banana heart prior to cooking, peel off the outer (red) layer of banana heart until you reach a white or pale-colored core. Cut the stem and discard. Slice, in half, lengthwise, and then into 4 each half. Immerse it immediately in cold water with salt and let sit for at least 20 minutes to remove the bitter sap and avoid browning. Squeeze gently with hands and rinse before adding to the pot.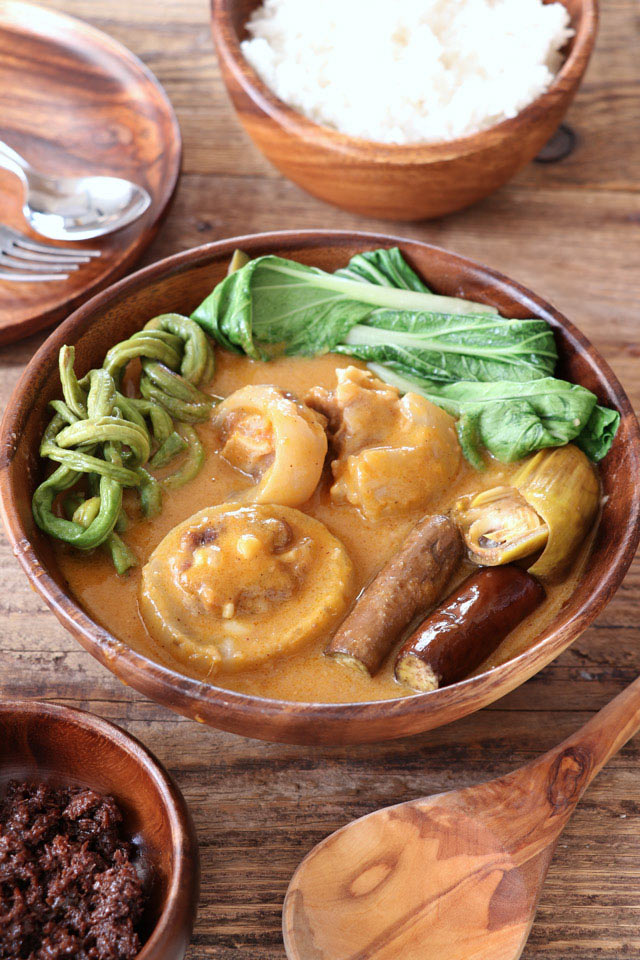 Printable Recipe
Kare Kare
A classic Filipino slow-cook stew, usually from oxtail and ox tripe cooked with delicious peanut sauce and vegetables.
Ingredients
2

pounds

oxtail

- cut into serving size

1

pound

ox tripe

- cut into serving size

6

cups

water

2

tablespoons

oil

2

cloves

garlic

- minced

1

medium

onion

- chopped

6

pieces

yard-long beans

- ends trimmed and cut into 3-inch pieces

1

small

banana heart

(optional) - cut and pre-soaked

2

medium

eggplant

- cut into 2-inch pieces

2

tablespoons

annatto powder

1

cup

peanut butter

- less sweet or unsweetened

½

teaspoon

salt

(optional)

¼

cup

sticky rice flour

3

medium

pechay or bok choy
Instructions
In a pot, heat oil over medium-high heat. Saute garlic and onion until limp and aromatic. Add the meat and sear for a minute to let the juices out.

Pour in water and bring to a boil. Reduce heat to low. Simmer for 3 hours, pot covered, or until the meat becomes very tender. Add more water if needed to make sure you have at least 3 cups of stock for the sauce.

Using a skillet over medium heat, toast sticky rice flour for a few minutes, stirring often, until it turns light brown in color. Transfer to a small bowl and add ¼ cup of water and set aside.

Once meat is tender, add the yardlong beans, banana heart, and eggplant to the pot and cook until

al dente, add the peanut butter and annatto powder. Season with salt if desired. Stir and make sure that peanut butter is completely dissolved.

Once vegetables are cooked, gradually add the toasted rice flour mixture to the pot and mix well. Cook for a few minutes until the sauce thickens.

Lastly, add the pechay or bok choy and turn off the heat. Transfer to a serving pot or dish. Serve hot with steamed rice and some shrimp paste.
Nutrition
Calories:
865
kcal
Carbohydrates:
10
g
Protein:
81
g
Fat:
56
g
Saturated Fat:
16
g
Cholesterol:
249
mg
Sodium:
844
mg
Potassium:
305
mg
Fiber:
2
g
Sugar:
4
g
Vitamin A:
30
IU
Vitamin C:
2.1
mg
Calcium:
77
mg
Iron:
9.9
mg