WARNING!!! Not for the faint of heart! (Literally)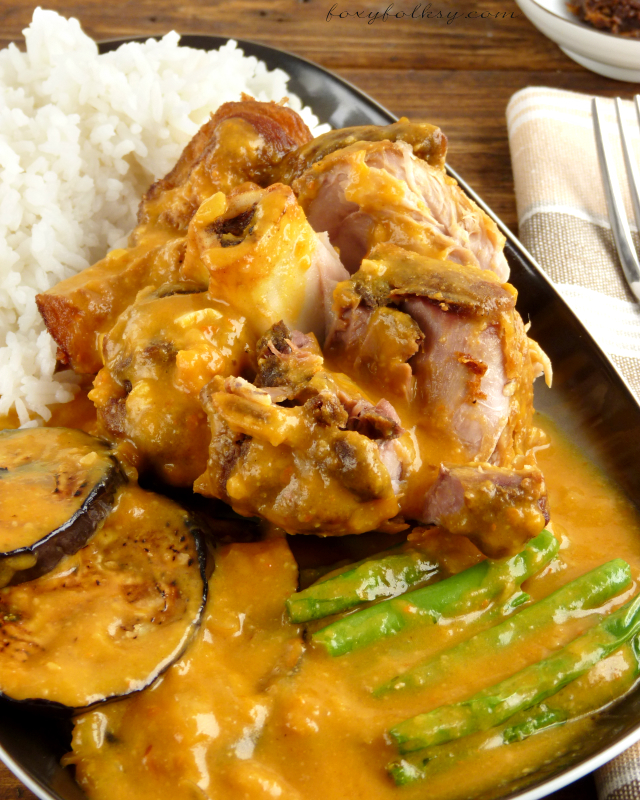 Kare-kare is one my favorite Filipino dishes. Origin of this dish is a bit vague, most believe that it originated from Pampanga, known as the culinary center of the Philippines (which just happens to be my hometown, ehem) although some also say that it is related to indian 'kari' that was introduced by some Indians who settled in Cainta, Rizal in the early years but later on the dish transformed into the present form because the settlers ran out of their spices and did not know the local equivalent and where to find them so they had to make substitutes. It is a stew with meat, peanut sauce and an assortment of vegetables.  To describe how it tastes is a bit difficult. The sauce itself is not salty, in fact, others might say it is a bit bland but I guess that is what makes it good because you can get a good taste of the ingredients.  Kare-kare is always paired with 'bagoong' or shrimp paste to give it that distinctive taste. Traditionally, oxtail and tripe is used for this recipe, boiled several hours to make it really tender. It also gets its yellow or orange color from 'achuete' or annatto and the thick sauce from the combination of peanut sauce and sticky or glutinous rice paste or flour.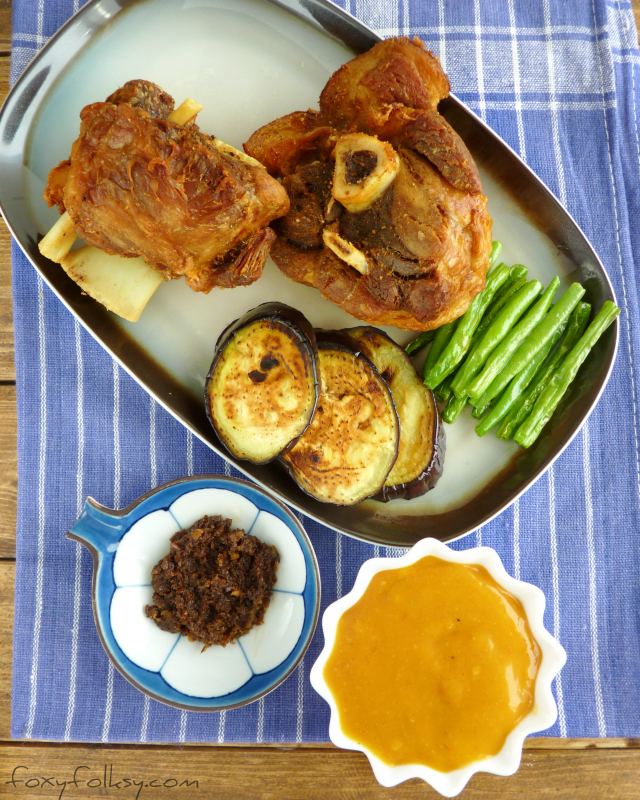 But this version of Kare-kare recipe is not the traditional type. First, I did not use oxtail but instead, I used pork shank or 'pata' as we call it in Tagalog. Second, the 'pata' is first boiled and later deep-fried to make it crispy. The broth from the port shank is then used to make the Kare-kare sauce. I got this idea from a restaurant in Pampanga where my parents brought me, one time, for dinner during my previous vacation to the Philippines just so I can try this dish that they got popular for.
Printable Recipe
Crispy Kare-kare
Kare-kare is a popular Filipino dish served at special occasions. Try this crispy Kare-kare recipe that uses pork shank or 'pata' instead of the traditional oxtail and tripe.
Ingredients
FOR CRISPY PATA
2

(about 1 pound each)

pork shank

1

big

onion

- sliced

2-3

cloves

garlic

- crushed

1

teaspoon

peppercorn

1

tablespoon

salt

(or more)

water for boiling

(enough to cover meat)

oil

for deep frying
FOR KARE-KARE SAUCE
4-5

tablespoons

vegetable oil

1

small

onion,

- chopped

2

cloves

garlic

- minced

½

cup

peanut sauce

or peanut butter (unsweetened)

¼

cup

glutinous rice flour

2

cups

pork broth

1

teaspoon

annatto powder

1

eggplant

- cut into slices

1

bundle of string beans

cut into 3-inch (7 cm) length
Instructions
Put all ingredients for the Crispy pata (pork shank), except oil, in a pot and boil over medium-high heat for 1-2 hours or until meat is tender. Remove the meat from the broth and let the excess liquids drain out. Deep fry pork shanks in hot oil until skin gets crispy.

While waiting for the pork shanks to get done, prepare the sauce. In a saucepan, heat oil over medium heat. Once the oil is hot, add the eggplants and cook both sides until a bit brown, remove eggplants and cook the string beans next. Set them aside. Alternatively, the vegetables can also be boiled or added later when the sauce starts to thickens.

In the same pan, saute garlic and onion with the remaining oil just until they are soft.

Add 2 cups of the broth or stock and the annatto powder. Mix in the peanut sauce or peanut butter and the rice paste or flour and let it simmer until the sauce thickens. Remove from heat.

Assemble and serve with shrimp paste on the side. Perfect for steaming hot rice.
Notes
Do not use peanut butter that is sweet or too sweet. You can also grind your own roasted peanuts with a food processor.
You can also roast and grind your own sticky or glutinous rice to make the rice flour. Or just substituted with cornstarch dissolved in water.
Nutrition
Calories:
285
kcal
Carbohydrates:
25
g
Protein:
4
g
Fat:
18
g
Saturated Fat:
11
g
Cholesterol:
0
mg
Sodium:
2595
mg
Potassium:
396
mg
Fiber:
4
g
Sugar:
10
g
Vitamin A:
25
IU
Vitamin C:
13
mg
Calcium:
32
mg
Iron:
0.6
mg