Definitely not your ordinary glass noodle! What I find unique with Japchae and what I like most about it, is the translucent, slippery and elastic-like noodles made from sweet potato starch.  It is definitely nothing like other noodles I've had before and I am loving it!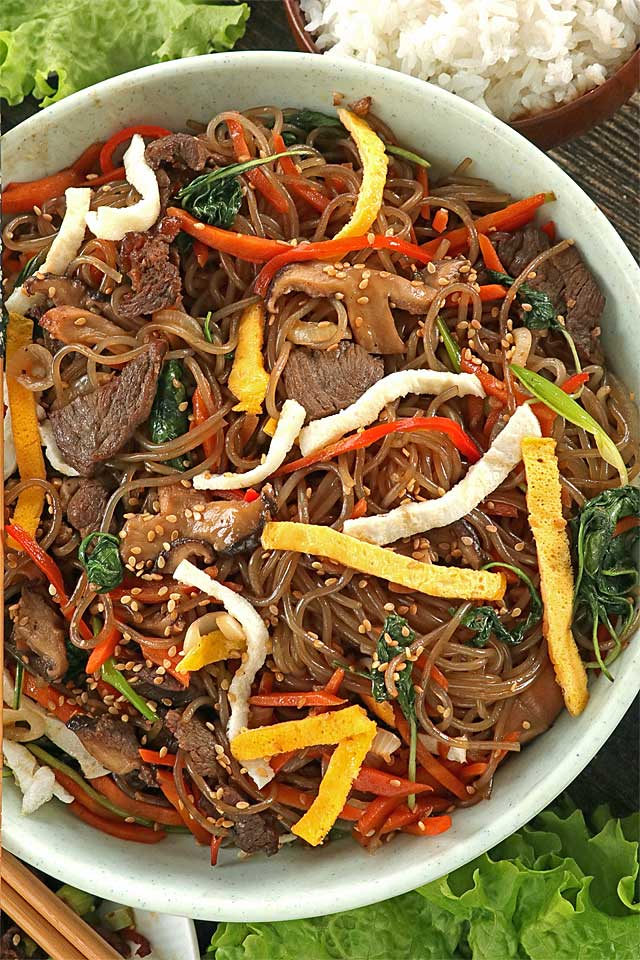 What is Japchae?
Japchae is a beloved Korean dish made of sweet potato starch noodle called Dangmyeon. It is stir-fried in sesame oil with vegetables, meat, and a sweet-savory sauce.
It is a commonly served side dish at holidays and special occasions but is also enjoyed as much on any ordinary day.
The process involved in preparing traditional Japchae means each of the ingredients will have to be stir fried separately then mixed together at the end which could be a lot of work. Stir-frying the ingredient separately is believed to give each ingredient an enhanced individual flavor and texture.
Japchae in a hurry
What they say about the traditional way is probably true. But of course, if you are as running out of time or simply in a hurry, you probably would like to cut through the long individual process.
It is really not much different. Only, you add each ingredient to the pan in order and with some intervals to allow them to slightly cook first and finish all together in the end.
And from the outcome of this dish, I could not really complain. It is almost if not exactly the same as the one I have at Korean restaurants. So it is either they are also doing some shortcuts or the difference between the methods are subtle that it can be ignored because it tastes so good anyway.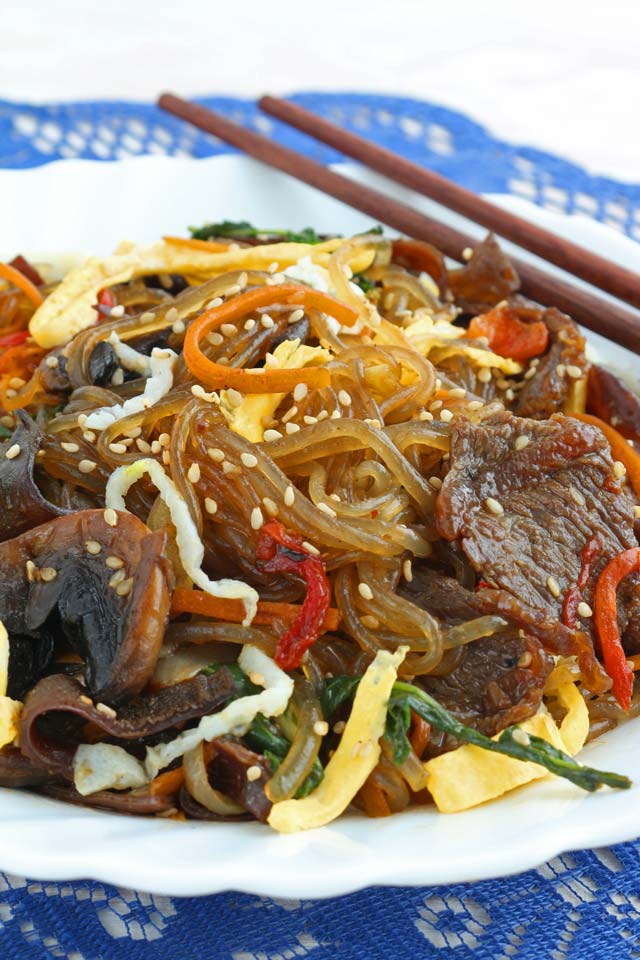 Ingredients for Japchae
The main ingredient is sweet potato starch noodles or dangmyeon. 
Beef is commonly used as meat and should be marinated for at least a couple of minutes before cooking. A tender cut of beef like rib eye fillet is ideal.
For making the sauce and marinade, you will need soy sauce, sugar, sesame oil, garlic, ground pepper, and rice wine (mirin).
To add color and flavor, you will need some vegetables like carrots, bell pepper, shiitake mushroom, spinach, and green onions.
Lastly, you may add some toasted sesame seeds and strips of fried egg white and yolk to top it off.
Additional Tips for making Japchae
You may consider serving Japchae with Bulgogi, because that would be practical. They use almost the same marinade so you can easily make two dishes in one prep.
You can also use dried shiitake mushroom. Just soak them in water for a few hours beforehand. Oyster mushroom can also be used as an alternative.
This recipe makes enough for 6-8 servings as a side dish. It can be eaten on its own and is good for 3-4 people then. For leftovers, store in the fridge in an airtight container for up to 3 days. It usually lasts longer than that but the texture and flavor may not be the same.
You can have Japchae hot or cold. You can also easily warm it up in the microwave.
If using the traditionally long noodles, cut them a little with kitchen scissors for easy mixing and eating.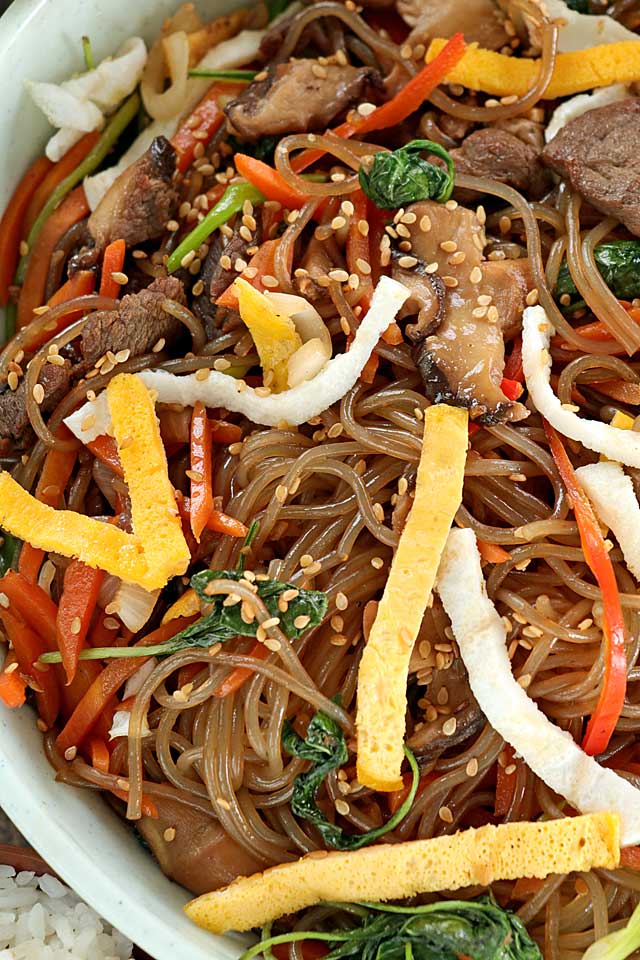 Other Korean Food to serve with Japchae
Bulgogi - grilled or stir-fried beef
Kimchi - homemade, fermented or pickled, spicy napa cabbage and daikon radish
Gyeran Mari - Korean-style egg rolls
Printable Recipe
Japchae made Easy
Try this easy Japchae recipe, a popular Korean dish of sweet potato noodle, stir-fried in sesame oil with vegetables, meat and sweet-savory sauce.
Ingredients
BEEF and MARINATE
100

grams

beef (rib eye fillet)

- sliced very thinly

2

tablespoons

soy sauce

1

tablespoon

brown sugar

2

tablespoons

sesame oil

2

cloves

garlic

- minced

¼

teaspoon

ground black pepper

1

tablespoon

rice wine (mirin)
VEGETABLES
2

big

mushrooms

(shitake or champignon or wood ear)

1

medium

carrot

- julienned

1

small

red bell pepper

- julienned

1

medium

yellow onion

- sliced

2

stalks

green onion

- cut into 1 inch length

2

cups

fresh spinach
ADDITIONAL
1

tablespoon

sesame seed

2

tablespoon

vegetable oil

1

large

egg

- white and yolk separated
Instructions
Combine all ingredients for beef and marinate in a bowl. Mix using spoon or hand and let it marinate for at least 30 minutes.

Meanwhile, cook the noodles in a pot of boiling water for 5 minutes. Do not overcook. Strain and rinse with cold water. Remove excess water and place in a big bowl. Combine soy sauce, sugar, and sesame oil in a small bowl and mix until sugar is dissolved. Add to the noodles and toss well. Set aside.

Heat up the non-stick pan over medium-high. Add the sesame seed and stir for a minute or two until toasted. Remove from pan and transfer to a small bowl.

Pour the egg white on the pan and cook for a few seconds until it turns opaque and firm enough to turn. Cook the other side as well just until cooked but not browned. Transfer to a small plate. Beat the egg yolk and cook the same way.

Heat vegetable oil in the pan over high heat. Squeeze out the marinade from the beef using your hands. Add the beef and stir-fry for a minute.

Add the carrots and mushrooms and stir-fry for another minute. Add the onions and bell peppers and cook for another minute. Lastly, add the spinach, green onions and the remaining beef marinate (if any). Cook for 30 seconds and then add the cooked noodles. Toss with the rest of the ingredients for 2-3 minutes until noodles are fully cooked.

Transfer to a large bowl or serving dish. Cut the cooked egg white and yolk into thin strips and add on top of the noodles. Sprinkle with sesame seed and serve.
Notes
You may use presoaked dried shiitake mushroom or oyster mushroom.
Serve either warm after cooking or cold. 
Store leftovers in the fridge in an airtight container for 3-5 days.
Reheat in the microwave, if desired.
Nutrition
Calories:
689
kcal
Carbohydrates:
76
g
Protein:
15
g
Fat:
36
g
Saturated Fat:
14
g
Cholesterol:
46
mg
Sodium:
1306
mg
Potassium:
481
mg
Fiber:
3
g
Sugar:
6
g
Vitamin A:
5350
IU
Vitamin C:
11.6
mg
Calcium:
101
mg
Iron:
3
mg
This Japchae recipe was originally published in August 2015. Updated in 2019 to include new photos and additional tips. The recipe remains the same.