Here's another classic Filipino recipe that will rock your taste buds- Adobong Pusit! It is an adobo variation that uses squid and incorporates its ink into the savory adobo sauce. A definite must-try!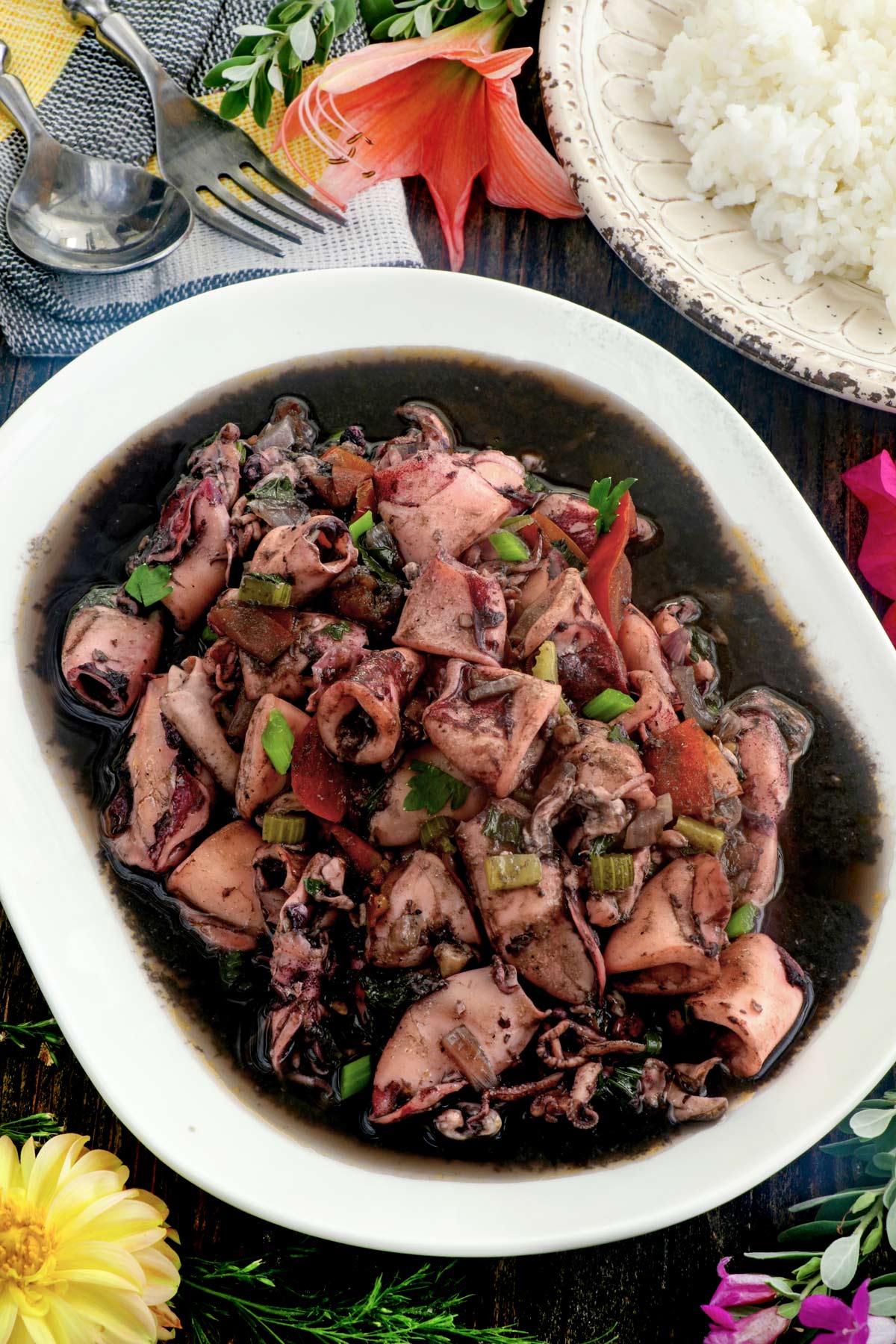 When it comes to Filipino cuisine, Adobo is right there at the top, with the likes of Sinigang and Kare-Kare. Adobo is also unofficially considered by many as our national dish. Of course, with the ever-innovative thinking of Filipinos, Adobo is not only constrained to meats like pork, beef, and chicken but seafood as well.
What is Filipino Adobo?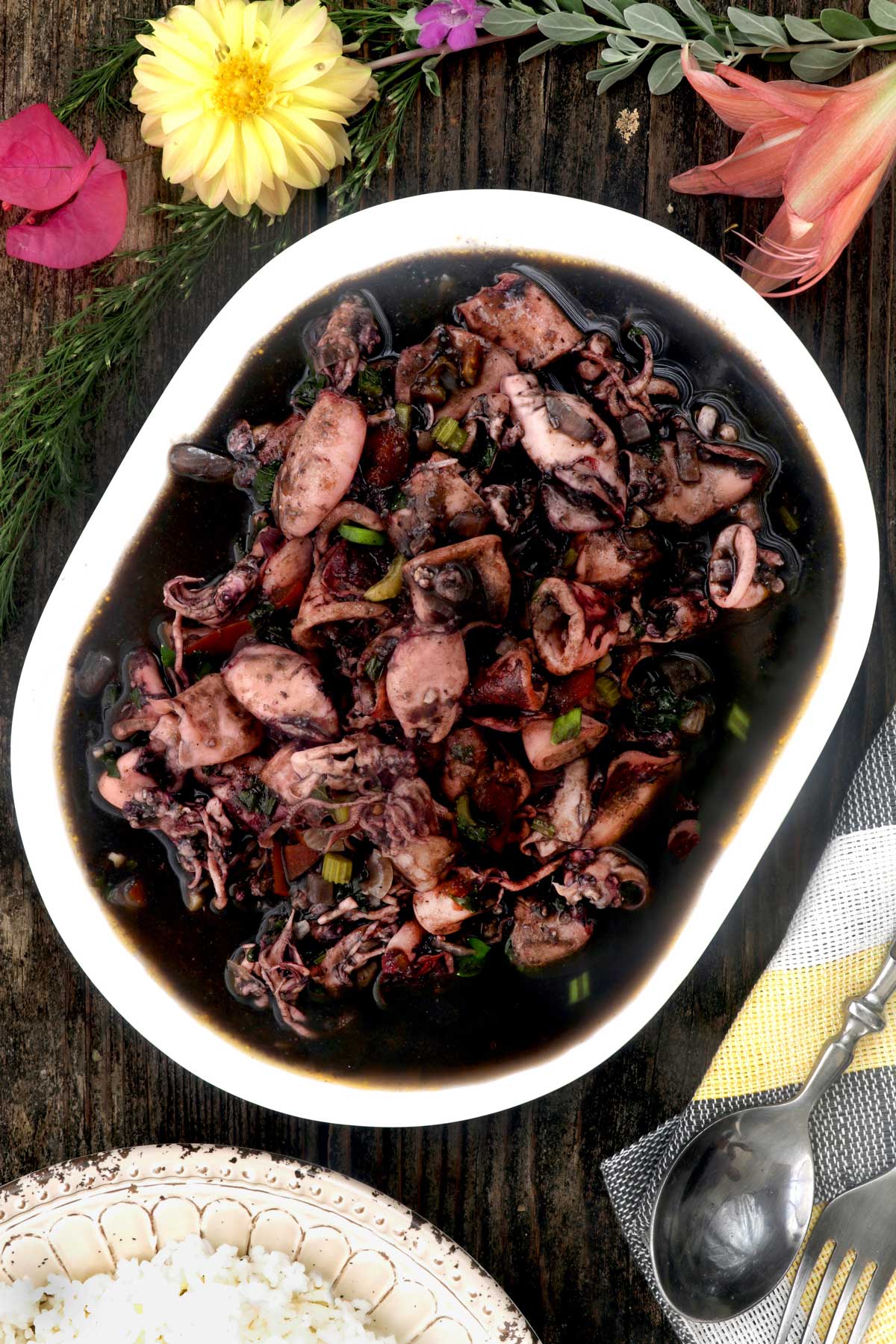 The Mexicans and the Spanish have their version of adobo. Whereas the Spanish version includes chili, garlic, marjoram, and oregano, the Mexican variety uses dried peppers, chilis, and spices that result in a dark red or burgundy sauce.
However, the Philippine version uses only vinegar as its main flavoring agent and tenderizer, with other ingredients common to the locale. Some regions add coconut milk or turmeric instead of the typical soy sauce. Bay leaves, peppercorn, garlic, and fish sauce are other common ingredients for cooking adobo. The most known Filipino Adobo is where pork or chicken (or a mix of both) are used. But we do have many other variants that you should try:
About Adobong Pusit
Adobong Pusit is yet another Filipino Adobo that is well-loved. You may say that this is the seafood version as it uses squid (pusit) and is quite unique because squid ink is also used as the coloring agent instead of soy sauce and it enhances the flavor of the sea and imparts extra umami flavors.
My version of the squid adobo recipe is a bit different from others as it uses veggies like tomatoes and celery. In contrast to other adobong pusit, it is darker and has a different flavor profile because of the ink. But do not fret; it is equally quick and easy to make!
Ingredients
The ingredients for this recipe are easy to find in any local supermarket or even in your pantry.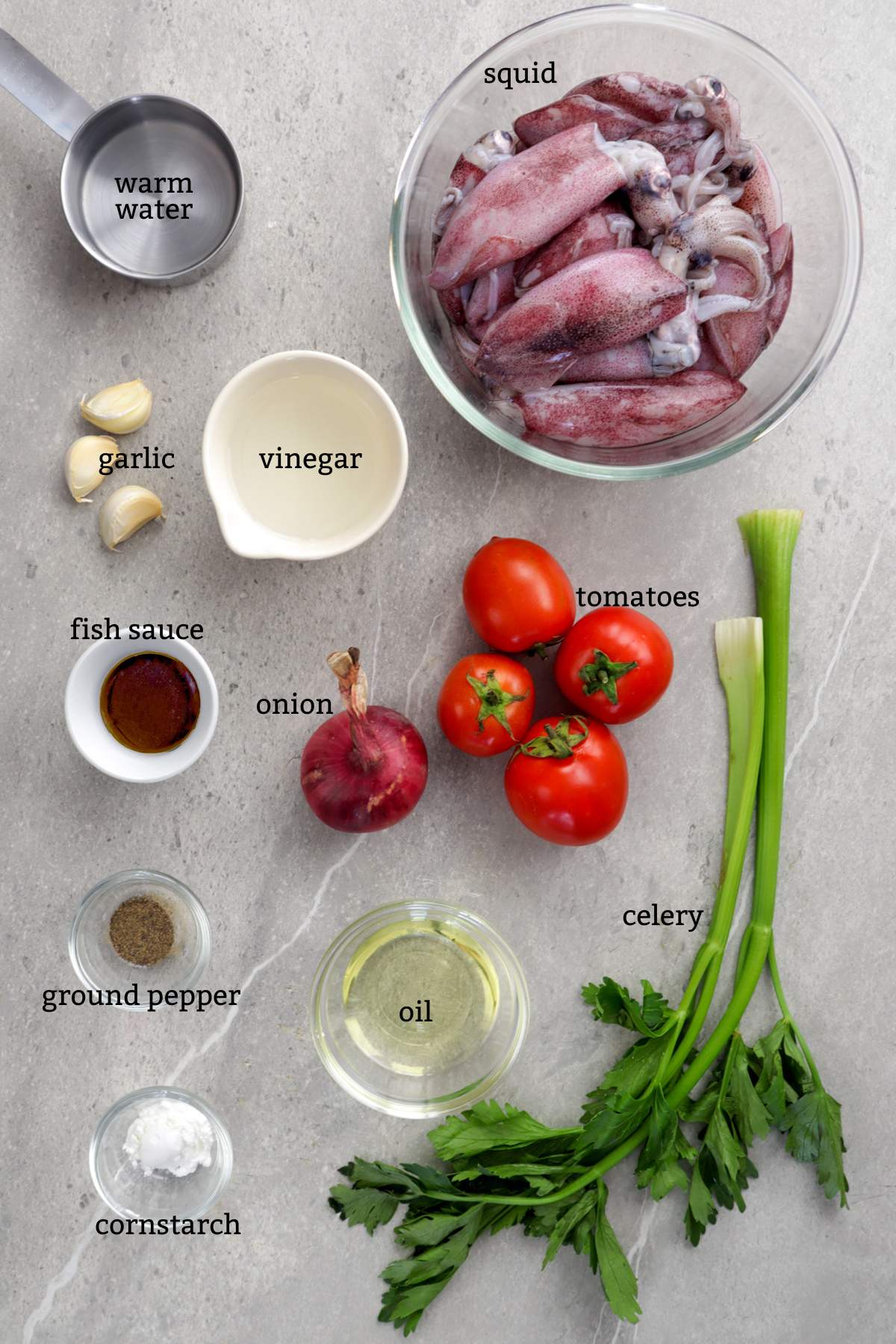 The basic aromatics of Adobo are garlic, onion, and pepper. Others do not add onion to their Adobo but we grew up doing it and I love the added texture and sweetness of it.
Use neutral oil for sauteing like vegetable, canola, or sunflower oil.
I usually use regular white vinegar, though you can use cane vinegar or coconut vinegar too.
I use fish sauce for added umami flavors but you can also use sea salt or regular salt.
I prefer using small to medium squids as they cook quite quickly and are more tender. However, feel free to use bigger ones if that is what you have.
If you're not a fan of celery or can't find it, you can replace it with green bell peppers in a pinch. It has the same crunch and texture while adding its flavor.
I added a cornstarch slurry to make the sauce thicker and silkier without having to cook it too long which will result in the squid becoming rubbery.
Cooking Tips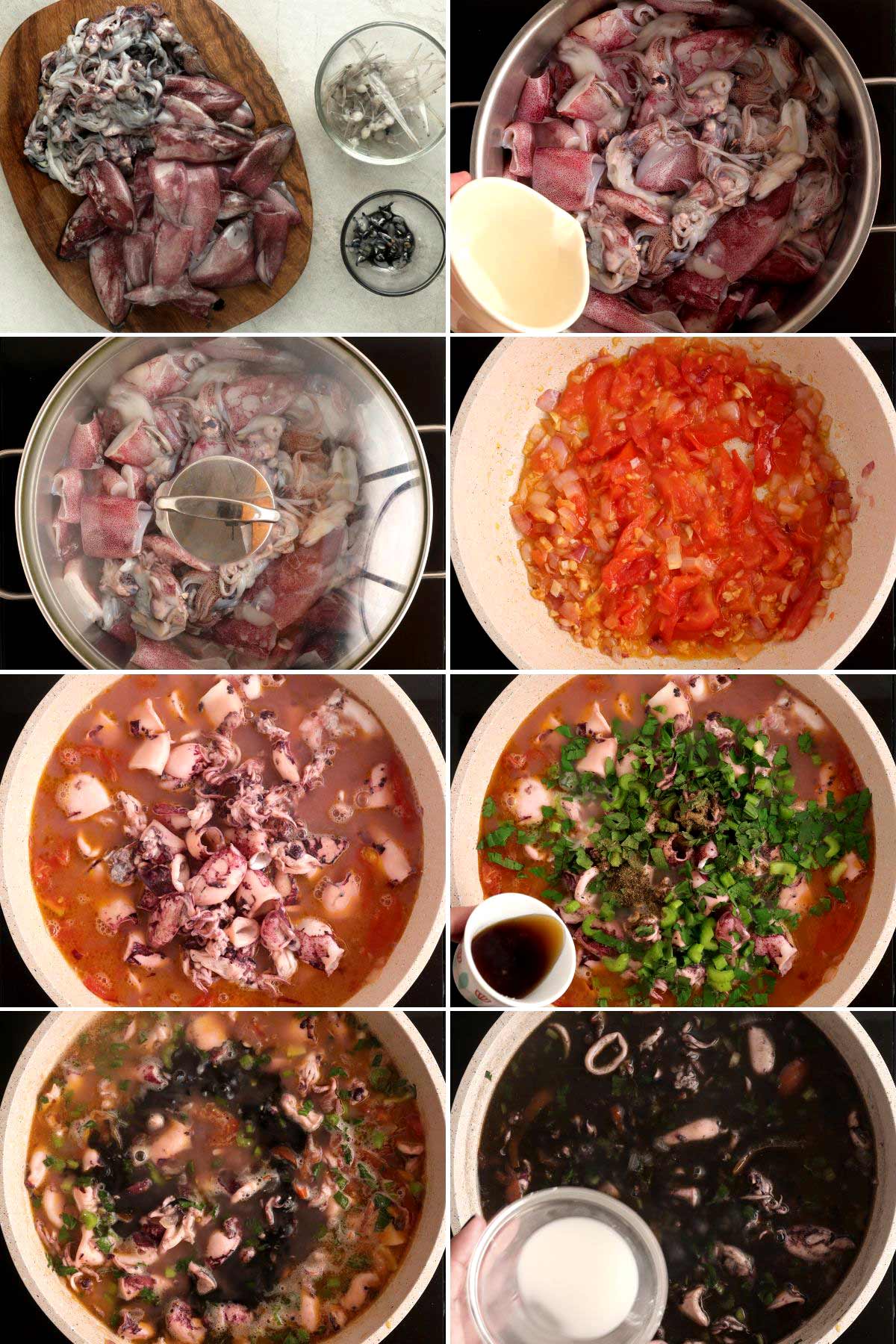 Freshness is key. When buying squid, make sure to choose the one that looks shiny and smooth. Its skin should also be slightly transparent, meaning they are still fresh.
Make sure not to overcook your squid. An overcooked squid will have a rubbery texture and might be too chewy.
DO NOT stir once the vinegar has been added. Just let it simmer and cook undisturbed. If you mix it prematurely, you will get that raw, acidic vinegar taste which is highly unappetizing. The rule of thumb is to follow your nose. Once the sharp smell of the vinegar is gone, you can continue cooking.
If you're a fan of spicy food, then you can add chopped green chilis on top of your steaming Adobong Pusit for an extra kick.
How to Prepare and Clean the Squids
Cleaning and preparing squid is perhaps the most challenging part of this recipe. Do not get me wrong; it is not that difficult once you get into the rhythm.
Start by detaching the head with the innards from the body.
Remove the ink sacs carefully, place them in a small bowl, and set them aside. Be careful in handling the ink sacs. Take care not to press or squeeze on them, or they will burst.
Remove the beak and cartilage from the base of the tentacles, then discard. The cartilage is the plastic-like soft bone found in the body of the squid.
Cut the squid's body horizontally into 1-inch thick pieces for the bigger ones.
Storing Abobong Pusit
The great thing about Adobo is that they are made to last a long time and taste even better after a day or two! But since this recipe contains tomatoes, you must ensure that you refrigerate it as soon as possible. It should last up to 5 to 7 days and reheats quite well.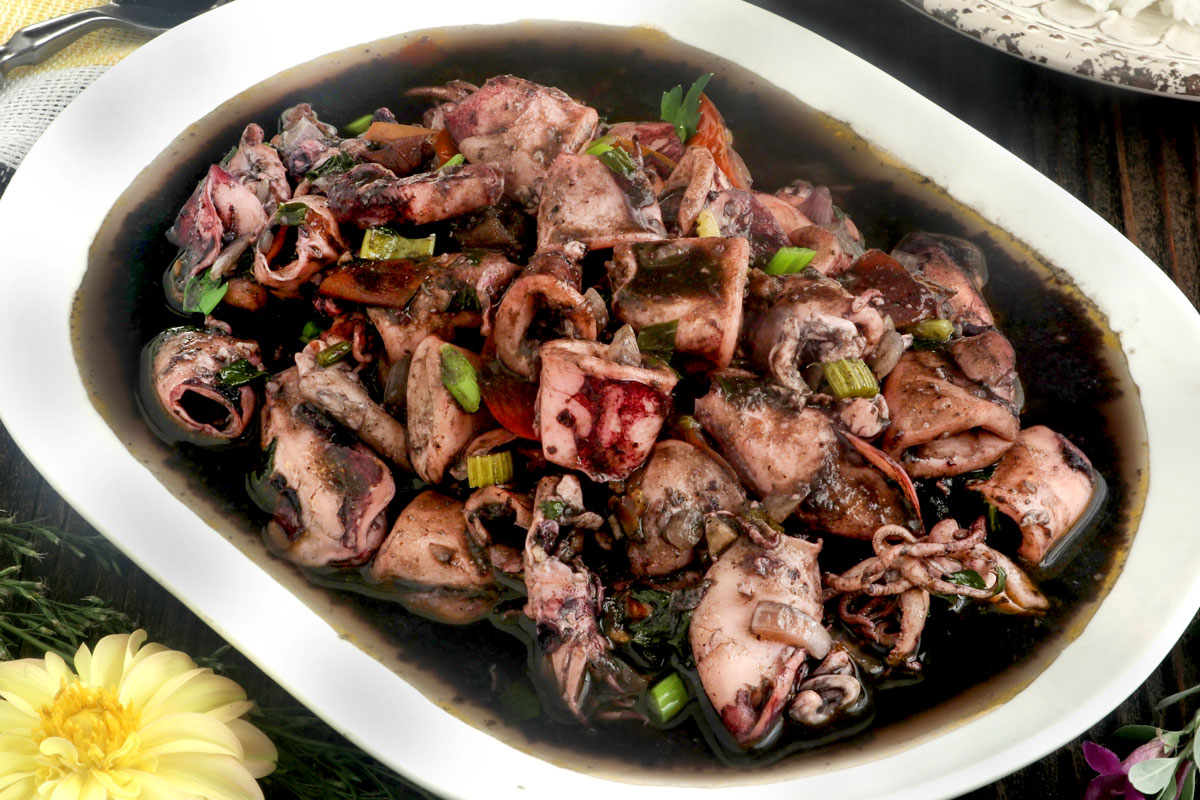 Printable Recipe
Adobong Pusit Recipe
Here's another classic Filipino recipe that will rock your taste buds- Adobong Pusit! It is a variation that uses squid and incorporates its ink into the savory adobo sauce. A definite must-try!
Ingredients
1.5 - 2

pounds

squid

5-6

tablespoon

vinegar

2

tablespoon

oil

1

medium

onion

3

cloves

garlic

¼

cup

warm water

1

cup

tomatoes

2

tablespoon

fish sauce

¼

teaspoon

ground pepper

2

stalks

celery

1

tablespoon

cornstarch

dissolved in ¼ water
Instructions
Clean the squids by detaching the head with the innards from the body. Remove the ink sac carefully and place them in a small bowl, then set aside. Remove the beak and cartilage from the tentacles, then discard.

Cut the squid's body horizontally into 1-inch thick pieces. Place them on the pot together with the tentacles.

Pour vinegar in a pot and turn the heat on medium. Cover with lid and let it boil for 2 minutes. Remove from heat and set aside.

2 tablespoon oil,

1 medium onion,

3 cloves garlic,

1 cup tomatoes

Heat oil on a deep pan and sauté garlic and onion using medium heat until limp and fragrant. Add tomatoes and cook for 2 more minutes.

Add the boiled squid with vinegar. Then cover pan with lid and simmer for a minute.

2 tablespoon fish sauce,

¼ teaspoon ground pepper,

2 stalks celery

Add fish sauce, ground pepper, and celery. Stir and simmer for 3 more minutes.

While waiting, get the small bowl with the ink sacs and crush them using a fork to extract the ink. Then add warm water. Pour the ink mixture into the pan and stir until well incorporated.

Make a cornstarch slurry by dissolving cornstarch in ¼ cup of water. Then pour over the squid mixture on the pan. Let it simmer until it thickens a bit. Then remove from heat and serve!
Nutrition
Calories:
274
kcal
Carbohydrates:
13
g
Protein:
31
g
Fat:
10
g
Saturated Fat:
1
g
Polyunsaturated Fat:
3
g
Monounsaturated Fat:
5
g
Trans Fat:
0.03
g
Cholesterol:
437
mg
Sodium:
820
mg
Potassium:
684
mg
Fiber:
1
g
Sugar:
3
g
Vitamin A:
482
IU
Vitamin C:
18
mg
Calcium:
89
mg
Iron:
2
mg
Frequently Asked Questions
Why is my squid rubbery?
The chewy, almost rubber-like texture means that you overcooked the squid. To ensure that this doesn't happen, stay within the cooking time allotted in the recipe above. If followed correctly, your squid will be tender and perfect!
Can I use frozen squid rings for this recipe?
Yes, no problem. Though you will not have the ink sac, it should still be delicious.
How do I make my adobo sauce thicker without overcooking the squid?
Simple! I added a cornstarch slurry during the latter part of cooking to achieve a thicker sauce.