Try this Chinese Dimsum featuring Chicken Feet! It is a deliciously spicy and savory appetizer but is also perfect in a bed of steaming white rice for a filling lunch or dinner.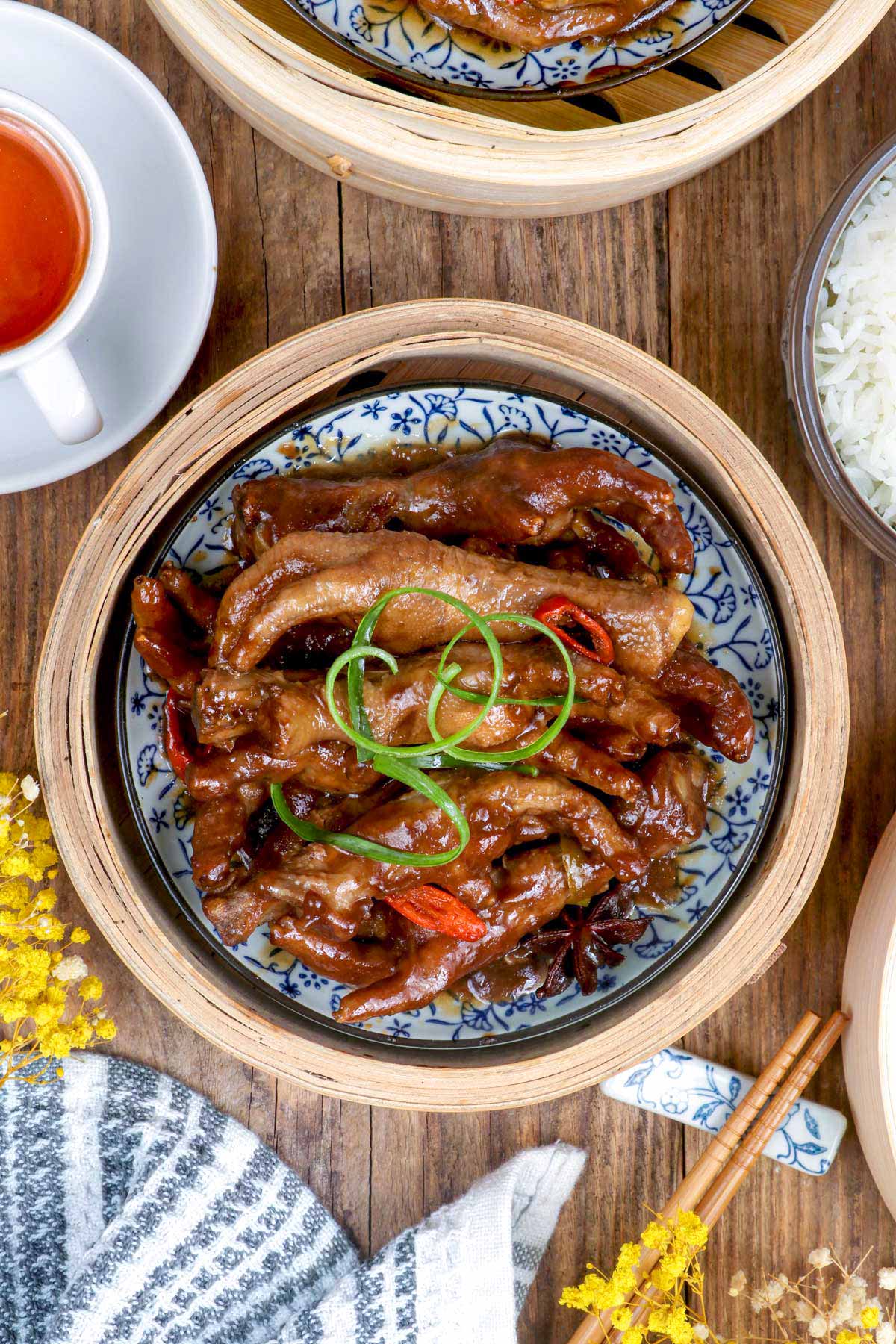 Dim sums are an array of traditional Chinese dishes made up of small portions or plates of snack dishes. In Chinese, the word dim sum means 'touch the heart' as small servings were designed to only touch and stimulate the heart and not quench the appetite. Some examples of popular dim sums are Shumai, Siopao, Stuffed Cabbage, and today's recipe - Dimsum-style Chicken Feet.
What is Chicken Feet Dimsum-style?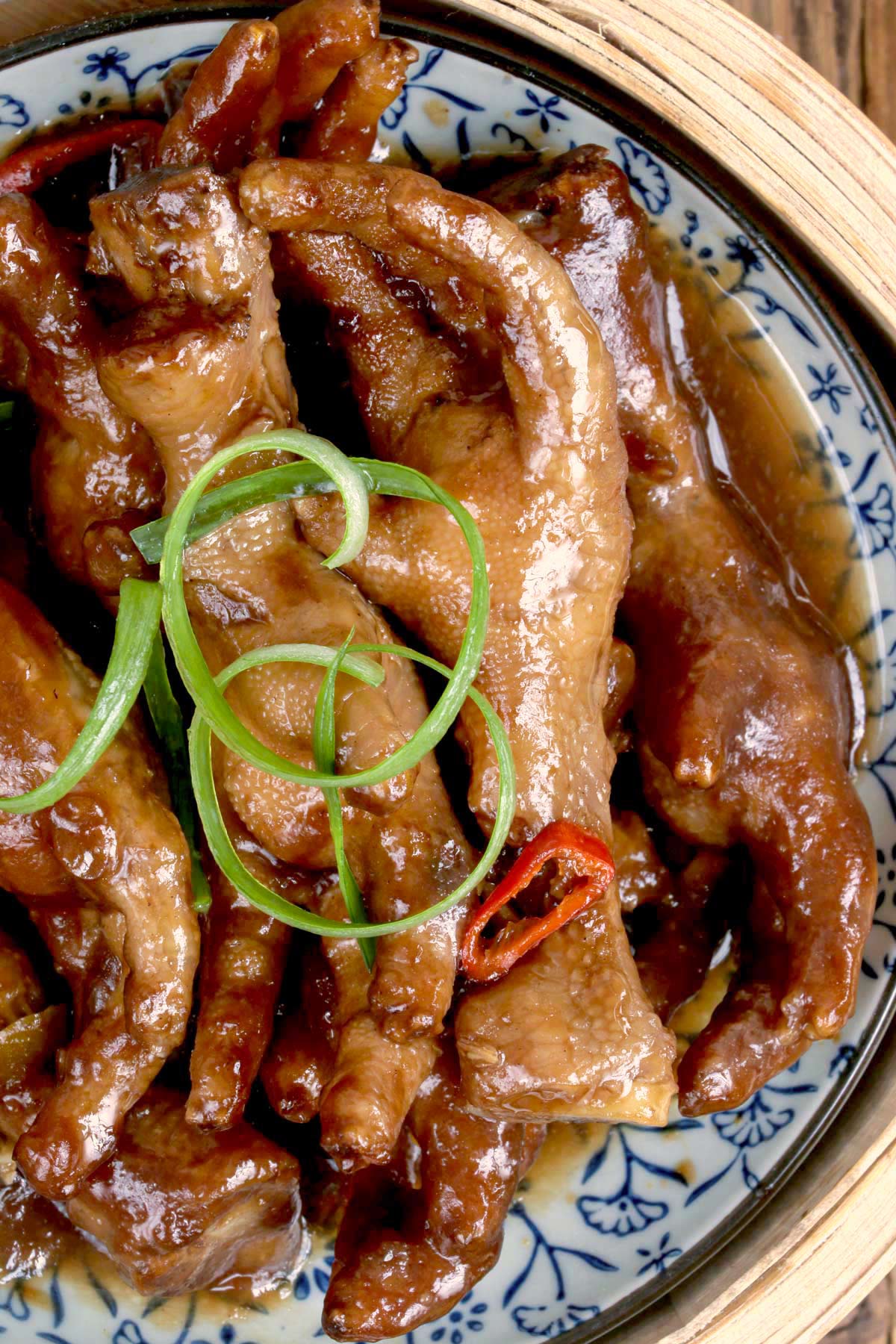 Chicken feet are also called "phoenix talons" or "tiger claws," but here in the Philippines, we call them "adidas", after the famous shoe brand (Filipino humor at its best!). Though considered an unusual delicacy in most countries, chicken feet are not uncommon in Asian cooking.
Chicken Feet Dimsum is one of the classic Chinese dim sums, it is called Feng Zhao in Chinese. The chicken feet are blanched, soaked, and then deep-fried. It is then coated with an umami sauce made with soy sauce, sesame oil, rice wine, and an array of spices and seasonings. Finally, they are arranged in small bowls and steamed until the flavor is fully infused in the chicken feet.
Ingredients You'll Need
Chicken feet- washed, nails trimmed and outer skin peeled.
Vinegar- is added to boiling water to blanch the chicken feet.
Dark Soy Sauce- this is a type of soy sauce that is richer, slightly thicker, and less salty compared to the regular soy sauce we use. It will give the chicken feet a nice flavor and color after blanching them.
Oil- for frying
Iced or cold water- you will be placing the blanched pieces in a bowl of this to stop further cooking.
Sauce Ingredients: to give the chicken feet a sweet, savory, tangy, and umami-rich flavors. I used fresh garlic, ginger, brown sugar, white ground pepper, soy sauce, oyster sauce, rice wine, sesame oil, and water. I also mixed in cornstarch to make the sauce thicker.
Star anise- this popular fragrant Asian spice has a sweet, licorice-like taste that will give the dish a distinct flavor.
Green chili and Thai chili- add more or less depending on how spicy you like your Chicken Feet to be!
Cooking Tips
Ask your local butcher to clean and trim the chicken feet when buying them. This will save you time and effort! You can also find them in Asian stores frozen and already cleaned.
Make sure to pat dry the chicken feet before frying to minimize the oil splatters.
Fry in batches to ensure that you cook them evenly. They should be golden brown and crunchy!
As this is a dim sum, which is served in small portions, divide the chicken feet into three (3) deep dishes or bowls when steaming.
The level of spiciness is adjustable! You can forgo the chilies if you don't like spicy food, use a smaller amount for less heat or more chilies for greater heat.
How to Serve and Store
Chicken Feet Dimsum is usually served as an appetizer, but you may also enjoy this dish for lunch or dinner served on a bed of hot rice. It is also great as booze food!
If you are making this ahead of time, or have any leftovers, you can store them in airtight containers and keep them in the fridge for up to three days or up to 2 months in the freezer.
You can reheat the Chicken Feet Dimsum in the microwave if you are in a hurry. However, this method might dry them out. So, if you have time, transfer them to a steam-proof plate and steam for 10-15 minutes.
Printable Recipe
Chicken Feet Dimsum-style Recipe
Try this Chinese Dimsum featuring Chicken Feet! It is a deliciously spicy and savory appetizer but is also perfect on a bed of steaming white rice for a filling lunch or dinner.
Ingredients
500

grams

chicken feet

washed, nails trimmed and outer skin peeled

4

cups

water

for boiling

¼

cup

vinegar

1

tablespoon

sugar

2

tablespoons

dark soy sauce

1-2

cups

oil for frying

start with 1 cup and add as needed

2-3

cups

iced or cold water

for soaking
SAUCE
2

cloves

garlic

minced

1

tablespoon

ginger

minced

1

tablespoon

cornstarch

1

tablespoon

brown sugar

1

teaspoon

white ground pepper

2

tablespoons

soy sauce

2

tablespoons

oyster sauce

1 ½

tablespoons

water

3

tablespoons

rice wine

1

tablespoon

sesame oil

3

pieces

star anise

1

long green chili

sliced

2

Thai chili pepper

sliced
Instructions
4 cups water,

¼ cup vinegar,

1 tablespoon sugar,

500 grams chicken feet

In a pot over medium heat, combine 4 cups of water, vinegar, and sugar. Bring it to a boil. Add the chicken feet and blanch for 3 minutes. With a slotted spoon or a mesh skimmer, remove them from the hot water and transfer them into a bowl of cold water to stop further cooking.

2 tablespoons dark soy sauce

Drain the water from the bowl, then add dark soy sauce and mix to coat. (This is to give them a nice color.) Pat dry the chicken feet with paper towels.

In a wok, heat the oil over medium heat. Fry the chicken feet in batches until golden and crispy, about 5-8 minutes.

2-3 cups iced or cold water

Plunge the freshly fried chicken feet directly into a bowl of cold water and let them soak for at least an hour or up to 4 hours. (This will make them soft and wrinkled.) Drain well and discard liquid.

2 cloves garlic,

1 tablespoon ginger,

1 tablespoon cornstarch,

1 tablespoon brown sugar,

1 teaspoon white ground pepper,

2 tablespoons soy sauce,

2 tablespoons oyster sauce,

1 ½ tablespoons water,

3 tablespoons rice wine,

1 tablespoon sesame oil

In a bowl, combine all ingredients for the sauce except for the star anise and the chilies. Add the chicken feet and toss to coat completely.

3 pieces star anise,

1 long green chili,

2 Thai chili pepper

Place the chicken feet with sauce in a deep plate or bowl. Add star anise and scatter the chilies on top. Place the bowl in a steamer and steam for 30-40 minutes or until tender and wrinkled.

Serve while hot and enjoy!
Nutrition
Calories:
1199
kcal
Carbohydrates:
17
g
Protein:
36
g
Fat:
108
g
Saturated Fat:
13
g
Polyunsaturated Fat:
29
g
Monounsaturated Fat:
61
g
Trans Fat:
1
g
Cholesterol:
140
mg
Sodium:
1883
mg
Potassium:
156
mg
Fiber:
1
g
Sugar:
9
g
Vitamin A:
182
IU
Vitamin C:
5
mg
Calcium:
189
mg
Iron:
3
mg
Frequently Asked Questions
Are chicken feet healthy?
They are indeed! Chicken feet are high in collagen and calcium, which is great for our bone health, and makes our skin and hair stronger and more elastic! They are also said to improve a person's joint and heart health.
How to prepare chicken feet?
Using a sharp knife or kitchen scissors, trim off the nails by cutting off the first knuckle. Peel off the skin and rinse thoroughly under cold running water.
How do you peel the chicken feet?
If the chicken feet that you bought still have the yellowish peel/skin on them, you would want to remove that before proceeding with cooking them. To remove the yellow skin, soak them in water-vinegar mixture for about 15 minutes. Drain and peel off the skin. Another way is quickly dipping them in boiling water for about 30 secs, plunge them in an ice bath and then peel off the skin.