This Chinese-style Pork Asado is an easy one-pot dish made by braising pork shoulder in a sweet-savory sauce until fork-tender! Serve it as a main dish with rice or use it as a filling for Siopao.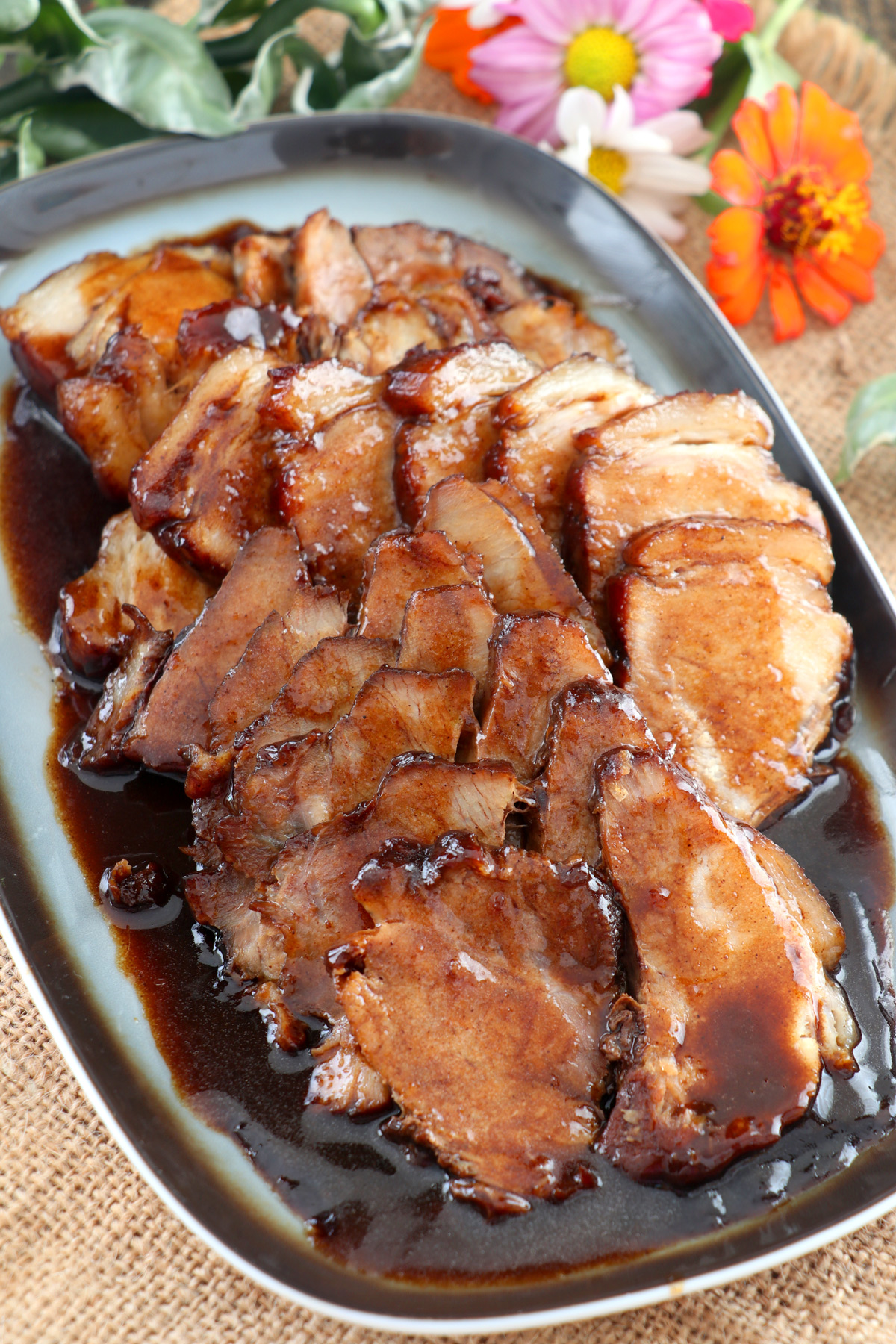 What is it?
This version of pork Asado is one of the many that we learned from the Chinese. It is a sweet and savory dish close to Char Siu in flavor. What characterizes this dish though is the use of five-spice powder. It is mostly made from star anise, cloves, cinnamon, Sichuan pepper, and fennel seed. This spice is what gives the dish its distinct oriental flavor.
It is very different from Kapampangan Pork Asado, which is a savory dish cooked in a rich tomato sauce base with potatoes and spices.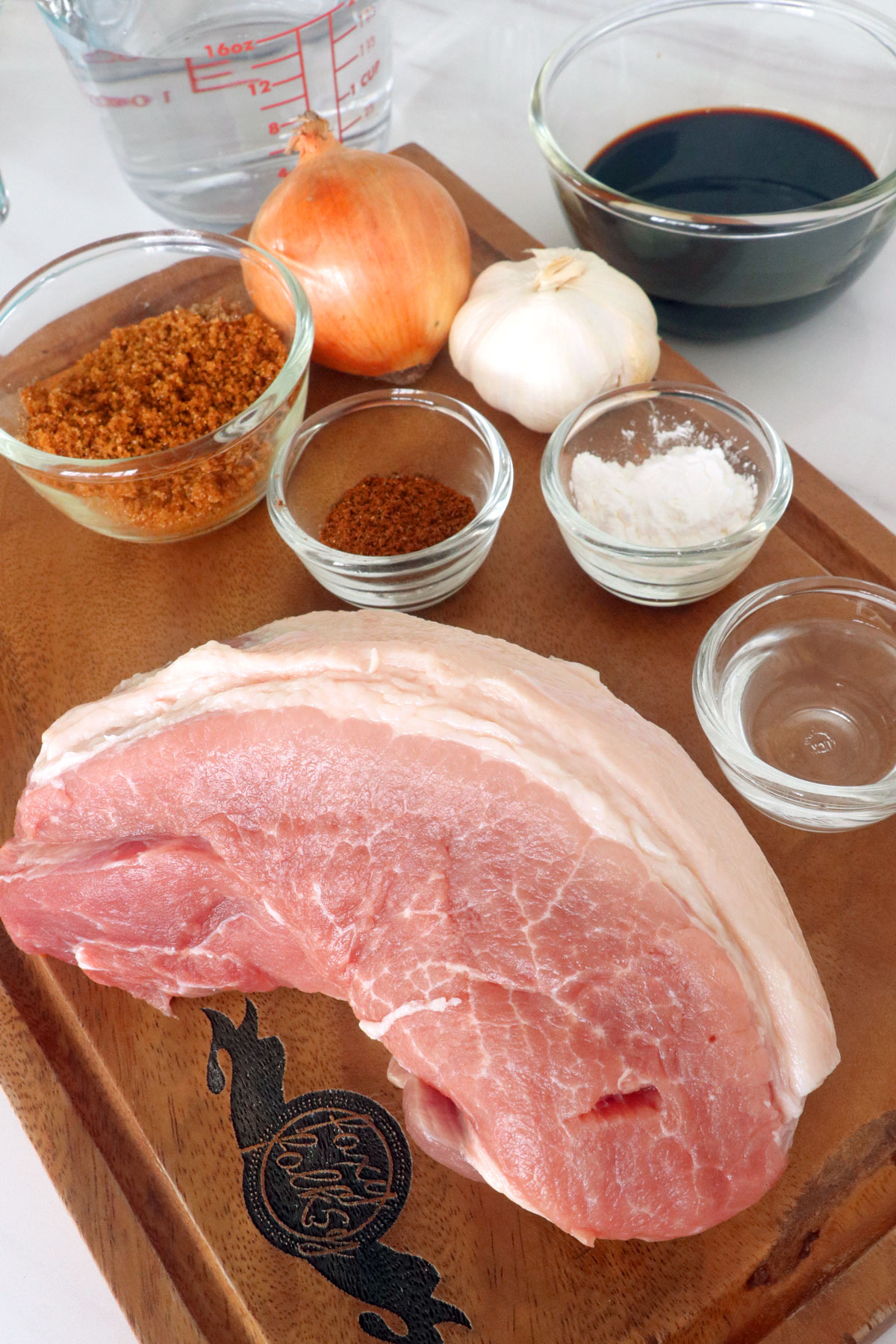 Chinese-Style Pork Asado vs Char Siu
You may wonder what the difference is between the two as some refer to this Pork Asado recipe as the Filipino equivalent of Char Siu. Both are of Chinese origin and have some identical ingredients used. However, Char Siu is roasted either over a fire or in the oven while Pork Asado is seared and simmered in a pot. Both are equally delicious!
How to make your own Five-Spice Powder at home
If you are unable to buy the ready-mix five-spice powder, don't fret! Make one at home using the following ingredients:
10 cloves
1 ½ teaspoon fennel seeds
3 pieces star anise
1 teaspoon Sichuan pepper
1 teaspoon cinnamon powder
Once you have all these, all you need to do is to grind them all together.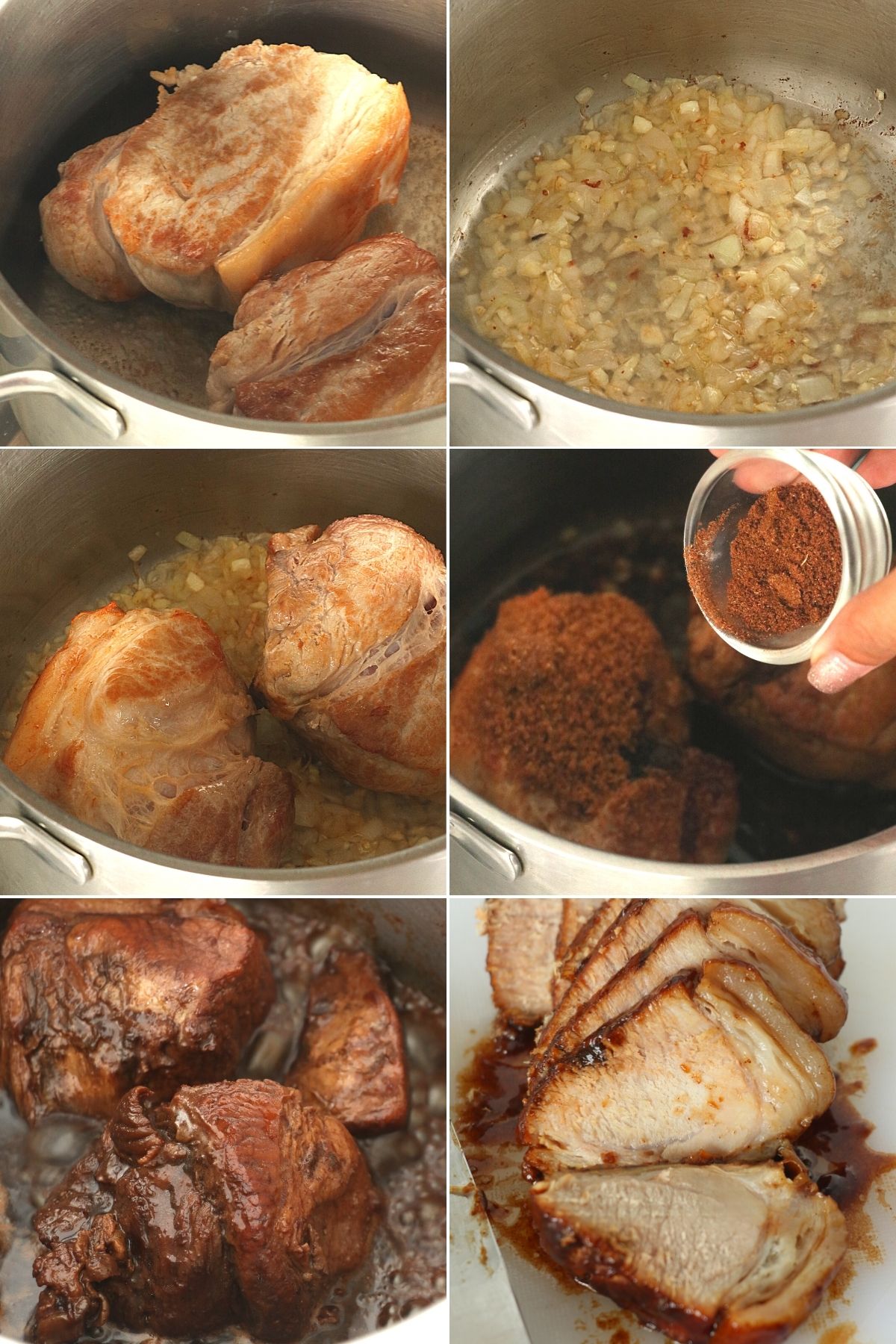 Foxy Tips when making Pork Asado Chinese-Style
If you cannot find cooking rice wine you can substitute it with cooking sherry or brandy. Or you can just skip this ingredient entirely.
Make sure to not season the meat slab with salt before searing. Salt will draw moisture out of the meat and will prevent you from getting a nice brown sear.
Pour enough water to cover the meat. This will be the base of your sauce later on and will thicken with the help of the cornstarch slurry.
Let the meat rest before slicing. This will allow juices to redistribute resulting in a juicier and more flavorful dish.
If you are looking for more sweet-savory dishes, try these: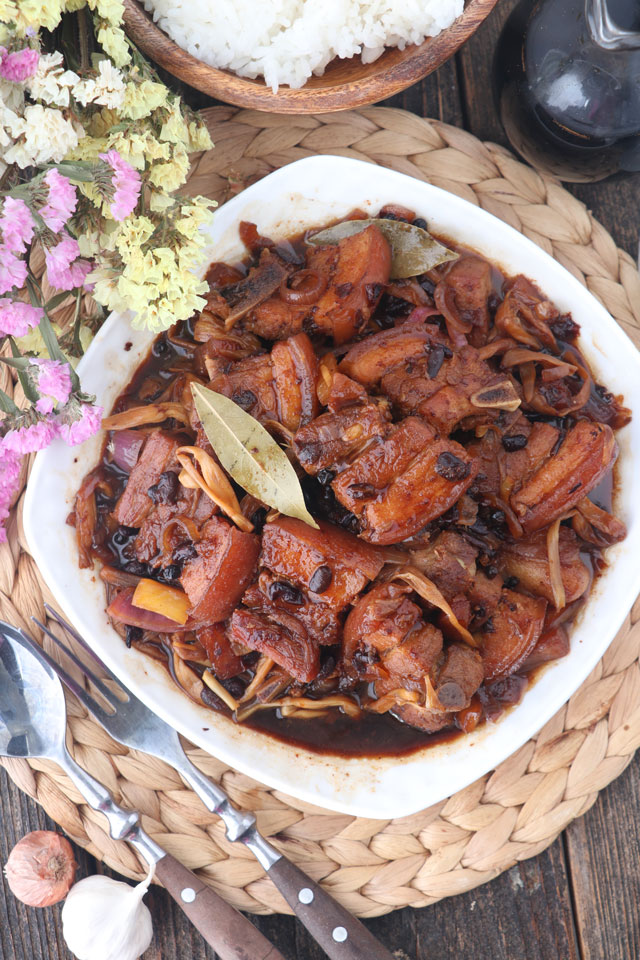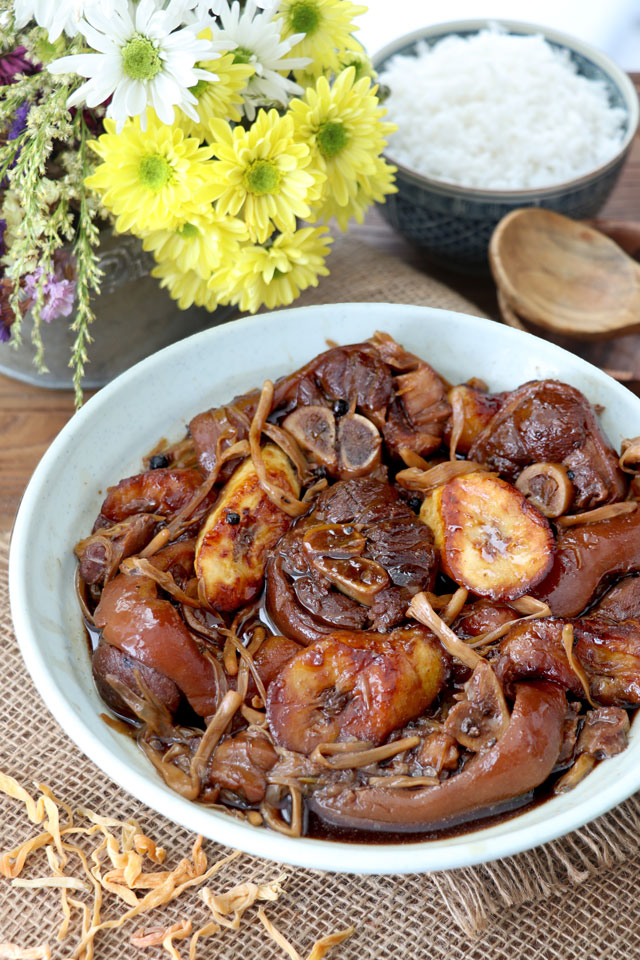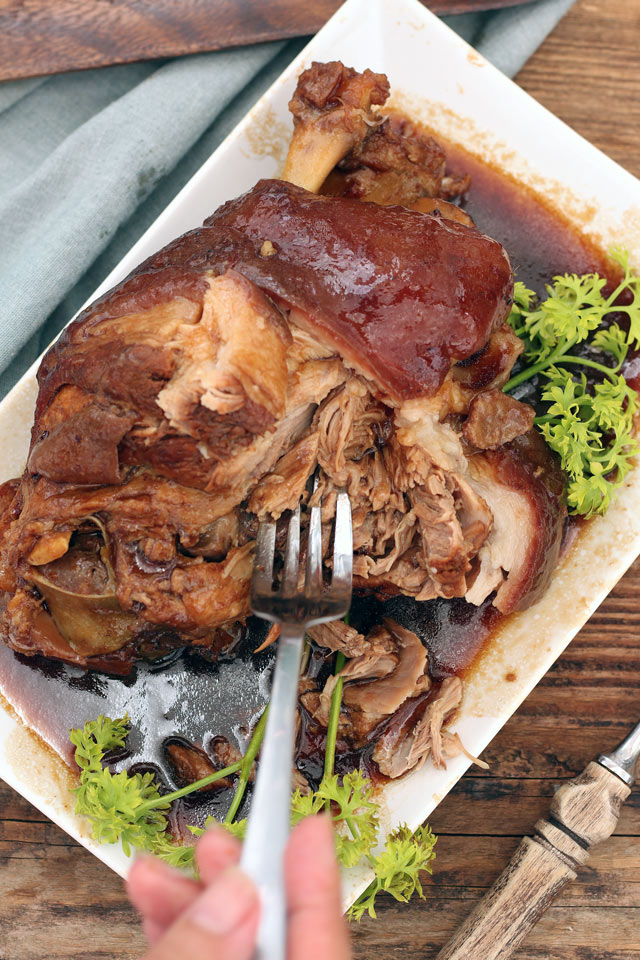 Printable Recipe
Chinese-style Pork Asado
This Chinese-style Pork Asado is an easy one-pot dish made by searing the pork shoulder then simmering it in a spiced sweet-savory sauce until fork-tender! Serve it as a main dish with rice or use it as a filling for Siopao.
Ingredients
2-3

tablespoon

oil

1

kg

pork shoulder

2

cloves

garlic

minced

1

medium

onion

chopped finely

½

cup

soy sauce

2

tablespoon

cooking rice wine

optional

¼

cup

brown sugar

2

teaspoon

five-spice powder

1-2

cups

water

2

teaspoons

cornstarch dissolved in 2 tablespoon water
Instructions
Heat oil in a pot over medium heat. Sear the pork shoulder slab on all sides just until lightly browned. Remove meat from oil and set aside.

From the same pot with oil, saute garlic and onion until limp and aromatic.

Add back the meat. Pour in soy sauce and cooking rice wine and add the brown sugar and five-spice powder and cook until sugar has caramelized.

Pour in water enough to cover the meat. Cover pot with lid and let it simmer over low heat until meat is fork-tender.

Remove cover and turn the heat to medium-high to reduce the liquids. Add the cornstarch slurry and simmer until the sauce becomes thick.

Take the meat from the sauce and let it rest for 10 minutes on a cutting board. Slice the pork into thin slices.

Arrange the slices on a serving dish. Drizzle the thick sweet-savory sauce on top of the meat and serve while still warm.
Nutrition
Calories:
255
kcal
Carbohydrates:
13
g
Protein:
22
g
Fat:
12
g
Saturated Fat:
3
g
Cholesterol:
68
mg
Sodium:
1163
mg
Potassium:
446
mg
Fiber:
1
g
Sugar:
10
g
Vitamin C:
3
mg
Calcium:
40
mg
Iron:
2
mg