Pork Asado is a common Filipino dish for special occasions. But do not confuse this one with other Filipino Asado recipes you find on the net. This is not the sweet-savory kind that was inherited from the Chinese, like my recipe for Chicken Asado that is usually used also as siopao filling.
This, my friends, is the traditional Pork Asado Kapampangan. It is not sweet at all and is cooked in tomato sauce and other stuff that makes it really special.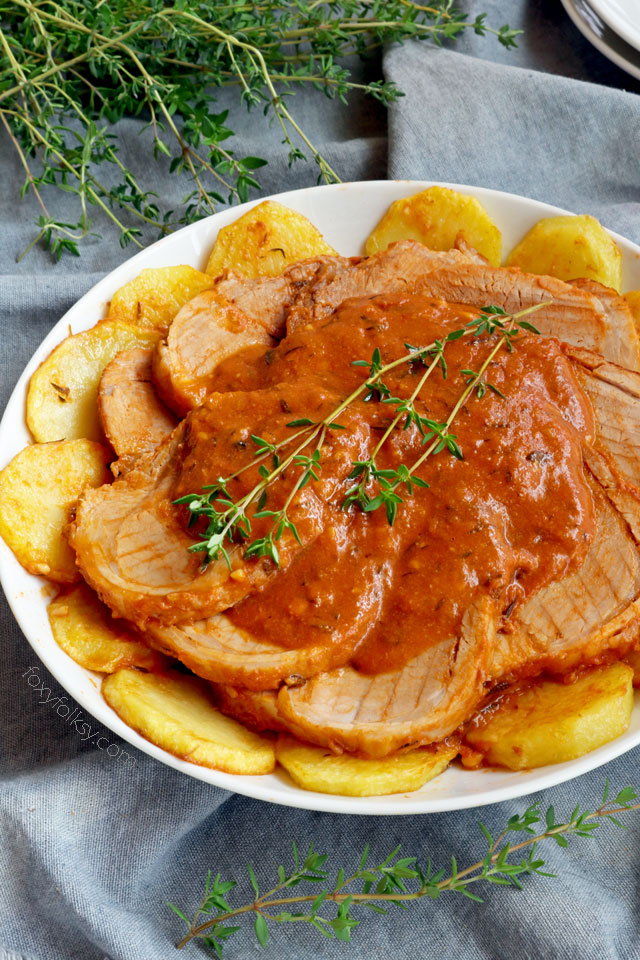 I have a very faint memory of my grandma (papa's mom), Inay, preparing this dish for a Fiesta in the barrio where I grew up.
I was really small then, maybe not yet even seven, but I was really curious and fascinated by the preparation especially in the kitchen. But at such events, the cooking is not even done in the kitchen. I remember her cooking various dishes in a huge wok or 'kawa' over an open fire at the yard next to the house.
Fiestas in earlier years are big! I am talking about hundreds of people, your neighbors, people from neighboring barrios, relatives and friends from near and far places, come to your house to be fed. It is a festive occasion indeed.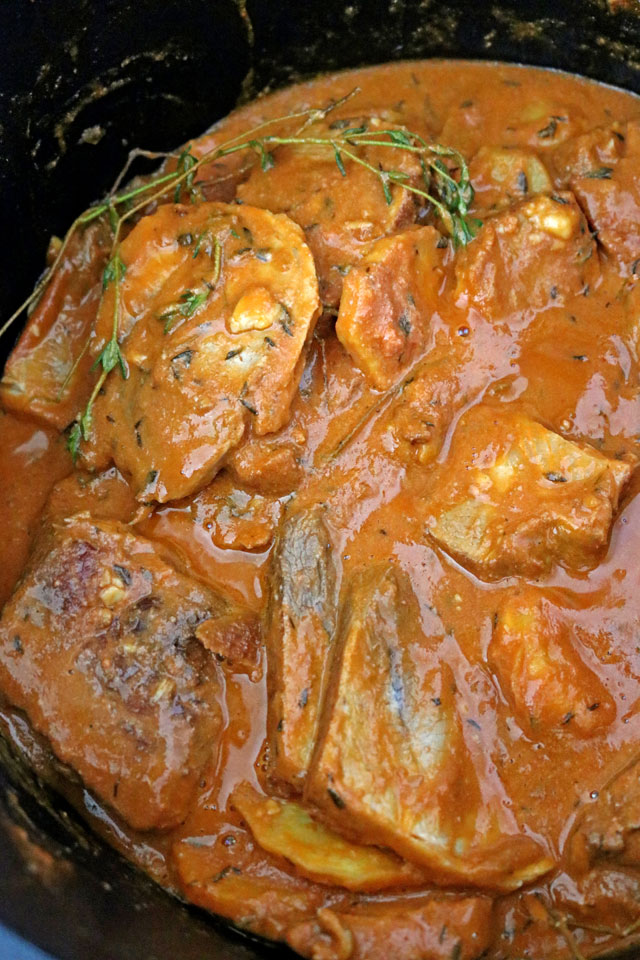 Inay was actually quite known in our barrio for her great cooking skills. Too bad I cannot ask her about her Asado recipe as she is no with us anymore.
I asked my mama if she has an idea of how Inay's Pork Asado Kapampangan is done. She also only has vague recollection of how Inay did it but with what we both remember, I tried to recreate this wonderful traditional dish.
For this recipe, pork shoulder or what is known as 'kasim' in Tagalog is the cut of choice.  Inay would cook it in big cuts and will slice them thinly when ready to serve. Mama told me that Inay also put chorizo de Bilbao and Vienna sausages. Unfortunately, I don't have the first and then I forgot to add the latter. Oh well, those are actually optional ingredients but makes the dish special of course.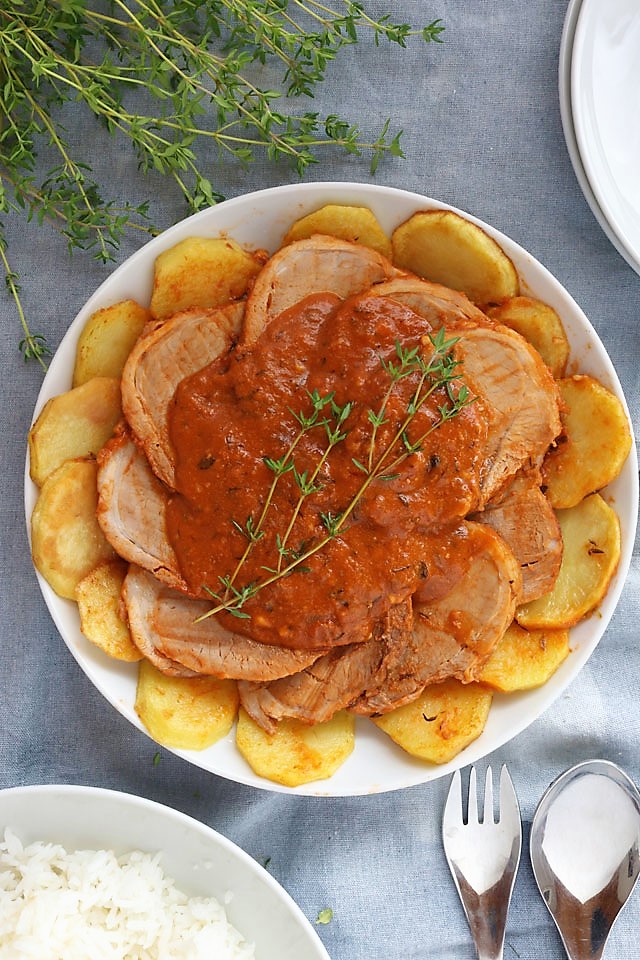 This dish is usually prepared a day ahead of the occasion. Letting it rest overnight actually makes the flavor blend and taste so much better.
Since I made a lot for just two people to eat, there was some leftover. I just left the whole pot on our kitchen countertop. Just covered with the lid as I do not have space left in the fridge.
I am thinking it should be fine as it is not so warm anymore. Also my grandma, like a lot of people, in earlier years do not own a fridge and even if she did, the whole thing with her other menus for the Fiesta will not fit.  
Printable Recipe
Pork Asado Kapampangan
Try this special Pork Asado Kapampangan recipe from my hometown for a traditionally delicious Filipino dish.
Ingredients
3

tablespoons

oil

2

large

potatoes

- peeled and cut into slices

2

pounds

pork shoulder

- cut into 3-4 big chunks

2

cloves

garlic

- minced

2

medium or 1 large

onion

- chopped

1

cup

tomato sauce

¼

cup

lemon juice

or calamansi juice

½

cup

soy sauce

1

bunch

dried thyme

or oregano

10-12

pieces

peppercorn

2-3

cups

water

3

ounces (small can)

liver spread

½

cup

grated cheese
Instructions
Heat 2 tablespoon oil in a pot over medium-high heat. Fry the potato slices in a single layer until lightly browned. Remove from oil and set aside.

In the same pot, add another tablespoon of oil. Sear the pork shoulder cuts until browned. Remove from oil and set aside.

Still, in the same pot over medium heat, saute garlic and onions until limp and aromatic. Pour the tomato sauce, calamansi or lemon juice, and soy sauce.

Add the pork cuts, dried oregano, and peppercorns and cook for a minute or two, turning the cuts from time to time.

Add the water and bring to a boil. Once it starts to boil, cover the pot with the lid and turn the heat to low. Let it simmer until meat is fork-tender, about 45-60 minutes.

Remove cover add the liver spread and turn heat up to reduce the liquids to a thicker sauce. Add the grated cheese and cook for another 2-3 minute.

Serve with rice while warm.
Nutrition
Calories:
375
kcal
Carbohydrates:
7
g
Protein:
30
g
Fat:
25
g
Saturated Fat:
7
g
Cholesterol:
112
mg
Sodium:
1859
mg
Potassium:
667
mg
Fiber:
1
g
Sugar:
2
g
Vitamin A:
5040
IU
Vitamin C:
9.4
mg
Calcium:
130
mg
Iron:
4
mg