This sweet Chinese-style Chicken Asado has just the right balance of sweetness and saltiness. Made from the juicy tender and flavorful chicken thigh that can be enjoyed with rice or as a filling to steamed buns.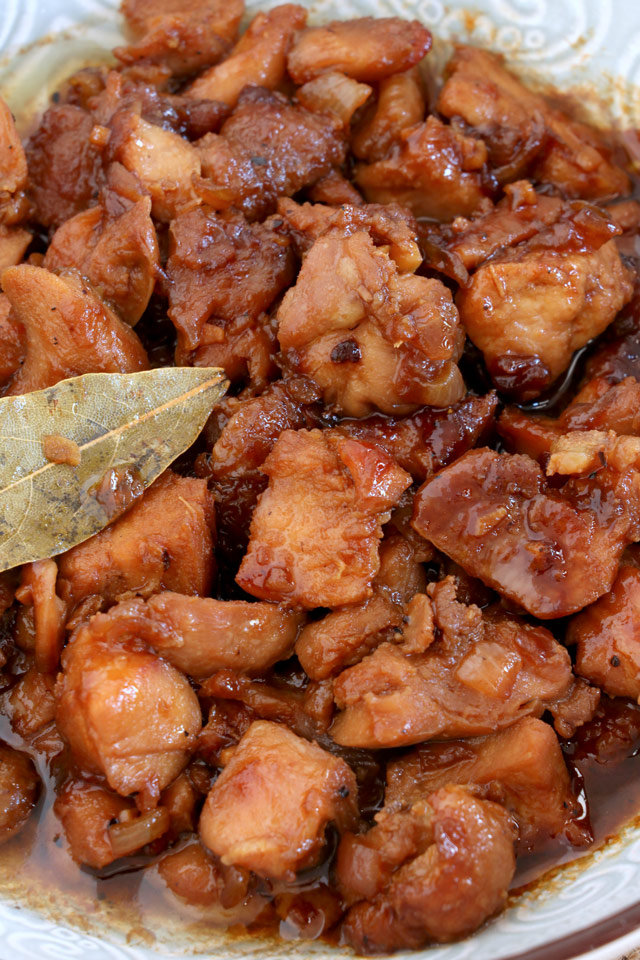 What is Asado?
The name "Asado" would suggest Spanish origins but this Filipino dish is actually Chinese-influenced as you can see in the ingredients used. Not surprising, since the Philippines was under Spanish rule for 300 years a long long time ago, but longer than that, Filipinos were already trading with China. So I would say it is a mixture of both cultures as most of the Filipino dishes are.
The word Asado —from the Spanish word "Asar" that means to roast or grill, in general it refers to anything that is roasted, grilled or barbecued.
This Chicken Asado is actually a variation of the more popular pork version. that is closely related to Char Siu— a type of Chinese barbecued pork. And similarly, it is also used as filling to Filipino steamed buns, siopao Asado.
About the ingredients
In this recipe, I used chicken thigh because it is juicier and brings more flavor as it has enough amount of fats. However, like the common variation, pork can be used instead of chicken. I would suggest using pork shoulder that is ideal for braising and slow cooking. Beef can also be an alternative.
If you are to serve it as a viand, cook it bone-in. But if you plan to use it as a filling for steamed or baked buns, then remove the bones or buy the chicken thigh fillet.
Traditional Filipino Asado dishes do not use Hoisin sauce. But if you have it might as well use it. It adds a nice gloss and thicker sauce. If not, you can simply add 2-3 pieces of star anise or five-spice powder to the boiling liquid. You may also need a sauce thickener like cornstarch slurry added towards the end of cooking.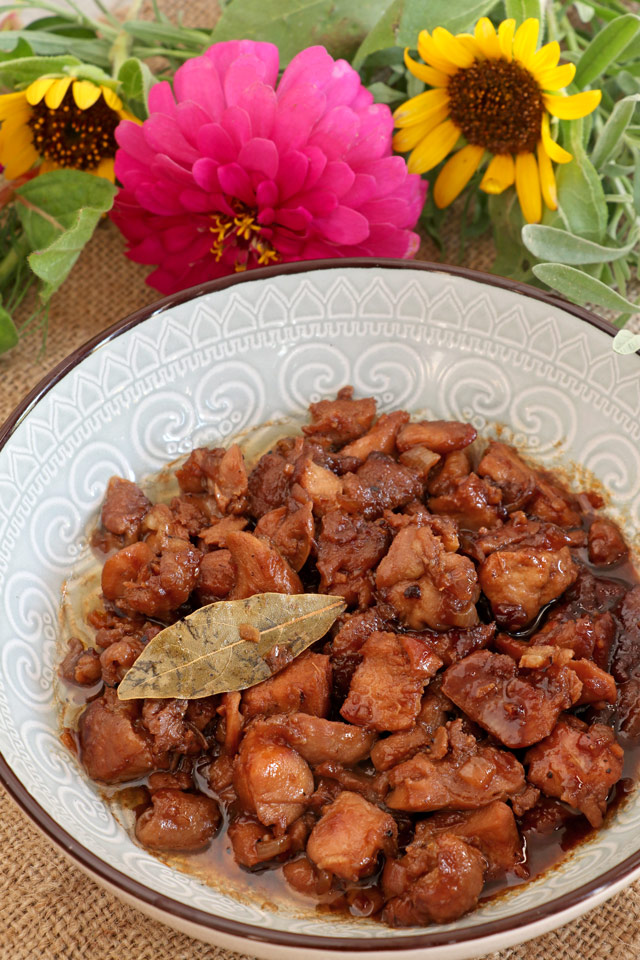 Other similar dishes to try: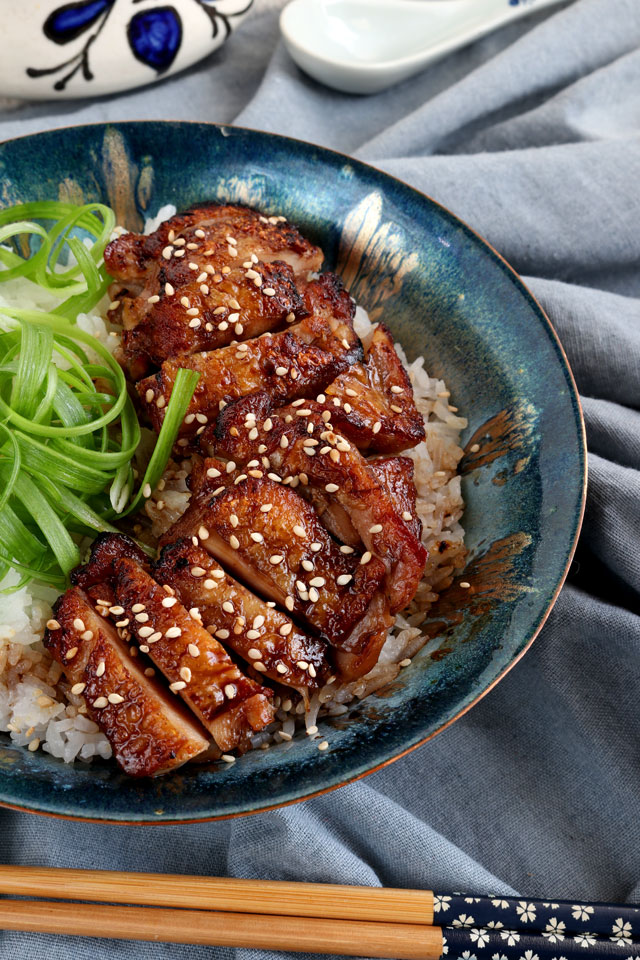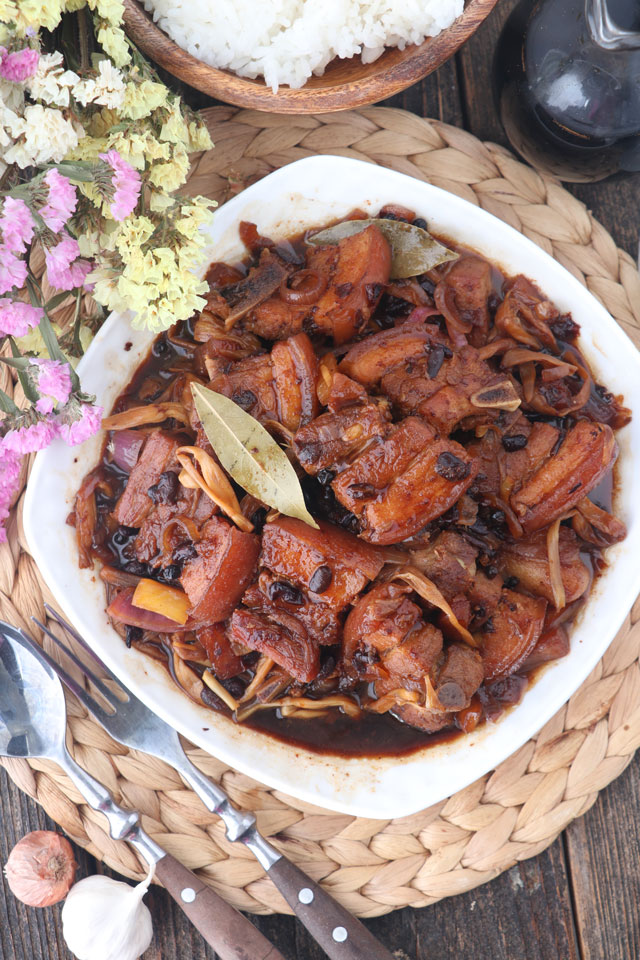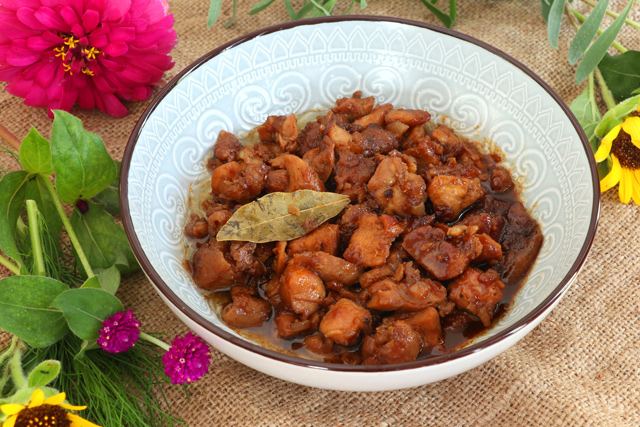 Printable Recipe
Sweet Chicken Asado
Filipino chicken asado is a dish that is both sweet and salty, using soy sauce, brown sugar and other spices. This version was slowly cooked to get that tender melt-in-your mouth goodness.
Ingredients
2

tablespoons

oil

2

cloves

garlic

- minced

1

medium

onion

- chopped finely

1

pound

chicken thigh fillet

2

cups

water

3

tablespoons

soy sauce

2

tablespoons

brown sugar

3-4

pieces

bay leaf

2

tablespoons

Hoisin sauce

¼

teaspoon

pepper
Instructions
In a deep pan or pot, heat oil over medium heat. Add chicken, skin side down, and sear both sides until cooked and lightly browned. Remove from oil and cut into small cubes.

In the same pot with oil, saute garlic and onion until aromatic and lightly browned. Add back the cut chicken pieces.

Pour in soy sauce and add brown sugar and bay leaves. Cook until the sugar has slightly caramelized, then add water. Once it starts to boil, turn down the heat and simmer for 30-40 minutes or until the meat becomes tender--add more water if needed.

Once the liquids is reduced to a thick sauce and the meat is fork-tender. Add Hoisin sauce and season with pepper. Stir.

Transfer into a serving dish and serve with steaming hot rice.
Notes
This recipe is good enough for 4 servings as a main dish. 
If to use as a filling for steamed buns, it should be good for 10 buns.
Nutrition
Calories:
882
kcal
Carbohydrates:
40
g
Protein:
91
g
Fat:
38
g
Saturated Fat:
4
g
Cholesterol:
254
mg
Sodium:
3514
mg
Potassium:
1743
mg
Fiber:
3
g
Sugar:
28
g
Vitamin A:
305
IU
Vitamin C:
15.3
mg
Calcium:
116
mg
Iron:
4.3
mg
This recipe was originally published in February 2015. Updated in July 2020 to include new photos, more tips, and a recipe video.