Siopao is a popular Filipino snack. They are steamed buns that are filled with savory-sweet saucy meat dish called Asado or meatballs.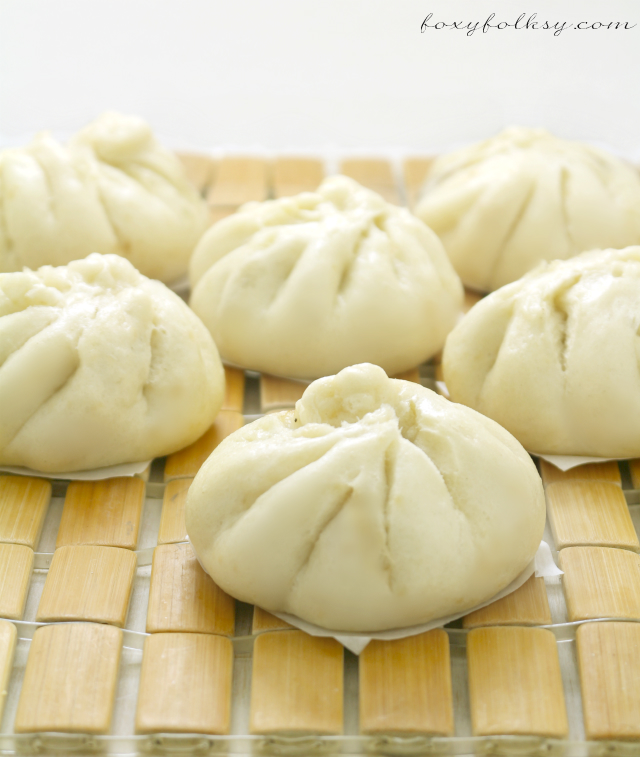 Steamed buns are very popular around Asia although it may be called differently in every country. Filipino Siopao Asado is similar to the Chinese Pork steamed buns 'Char Siu Bao'. Not surprising since it was the Chinese who introduced us this wonderful food.
Back home, Siopao is one of the favorite snacks and the usual choice is  Asado or Bola-bola. Asado is a way of cooking meat that has a sticky sauce that is both sweet and salty, it can either be pork or chicken. Bola-bola, on the other hand, uses ground meat to make meatballs as a filling. I already wrote about Chicken Asado before and you can get the recipe here.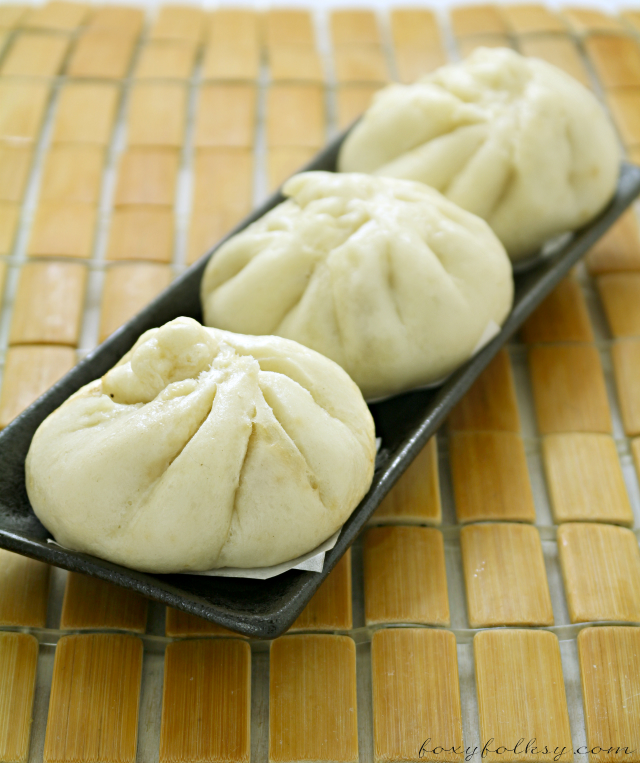 Siopao is usually sold in Chinese restaurants but it is also easily found in small stores or establishments or even sidewalk vendors, great on-the-go food.
I remember the first time Armin tried Siopao. It was during a long bus trip coming back from Bantayan Island to Cebu City. We had a shortstop and I was feeling hungry so I went down to look for something to munch. Lucky me,  a store was selling some steaming Siopao Asado and I got just one for me because I was was not sure if Armin would like them. He is usually not a fan of food that is sweet and salty. But after I convinced him to try it, I ended up going down again to get two more because he liked them...too much I think! Peace hon! 😉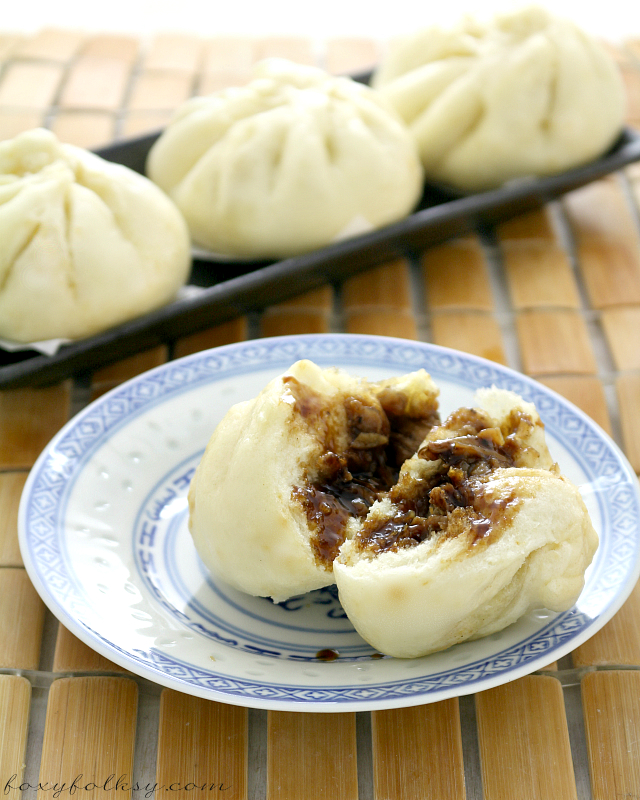 Printable Recipe
Siopao -Asado (Steamed buns with chicken filling)
Try this easy recipe for Siopao - Asado (Steamed buns with chicken Asado filling). It also includes a video for the instructions.
Ingredients
1

cup

warm water

¼

cup

+ 1 tablespoon sugar

1

pouch

active dry yeast

- about 1 Tbsp

2 ½

cup

all-purpose flour

½

tablespoon

baking powder

3

tablespoons

shortening

or vegetable oil

1

teaspoon

vegetable oil
Instructions
In a bowl, mix together the warm water, 1 Tbsp of sugar and yeast. Let stand for 5 minutes.

In a big bowl, combine the flour, rest of sugar and baking powder. Add the liquid to the dry ingredients and the 3 Tbsp shortening. Mix well until a dough forms.

Turn dough out onto a lightly floured surface. Knead the dough for 5 minutes or until smooth and elastic. Coat the dough with oil and place in a bowl. Cover the bowl with plastic wrap and let the dough rise for an hour or until it doubled in size.

Punch the dough down and turn it out onto a floured surface. Roll into a log and divide into 8-10 equal portions.

Form one into a ball and then using hand of rolling pin flatten it into about 4-5 inch circle leaving a small bulge in the middle. Scoop a tablespoon of filling and place it in the middle. Gather the ends towards the middle from one side until you reach the other end closing the filling in. Pinch and twist to seal the ends together o top. Repeat with the remaining dough balls. Let them rest for 5-10 minutes.

Before steaming, put a piece of parchment or wax paper at the bottom of each bun. Place the buns in the steamer leaving at least an each apart as they will rise and spread while steaming. Steam for 15 minutes. Turn off the steamer or remove from heat and let it stay closed for 5 minutes before removing the cover.

Let the buns cool a bit before serving.
Notes
You may also use instant yeast and add it directly to the flour or dough without the need of proofing it first.
Nutrition
Calories:
171
kcal
Carbohydrates:
29
g
Protein:
3
g
Fat:
4
g
Saturated Fat:
1
g
Cholesterol:
0
mg
Sodium:
2
mg
Potassium:
94
mg
Fiber:
0
g
Sugar:
5
g
Calcium:
31
mg
Iron:
1.5
mg