You surely won't be able to resist this scrumptious and finger-licking fried whole chicken. Extremely crispy on the outside and deliciously juicy inside.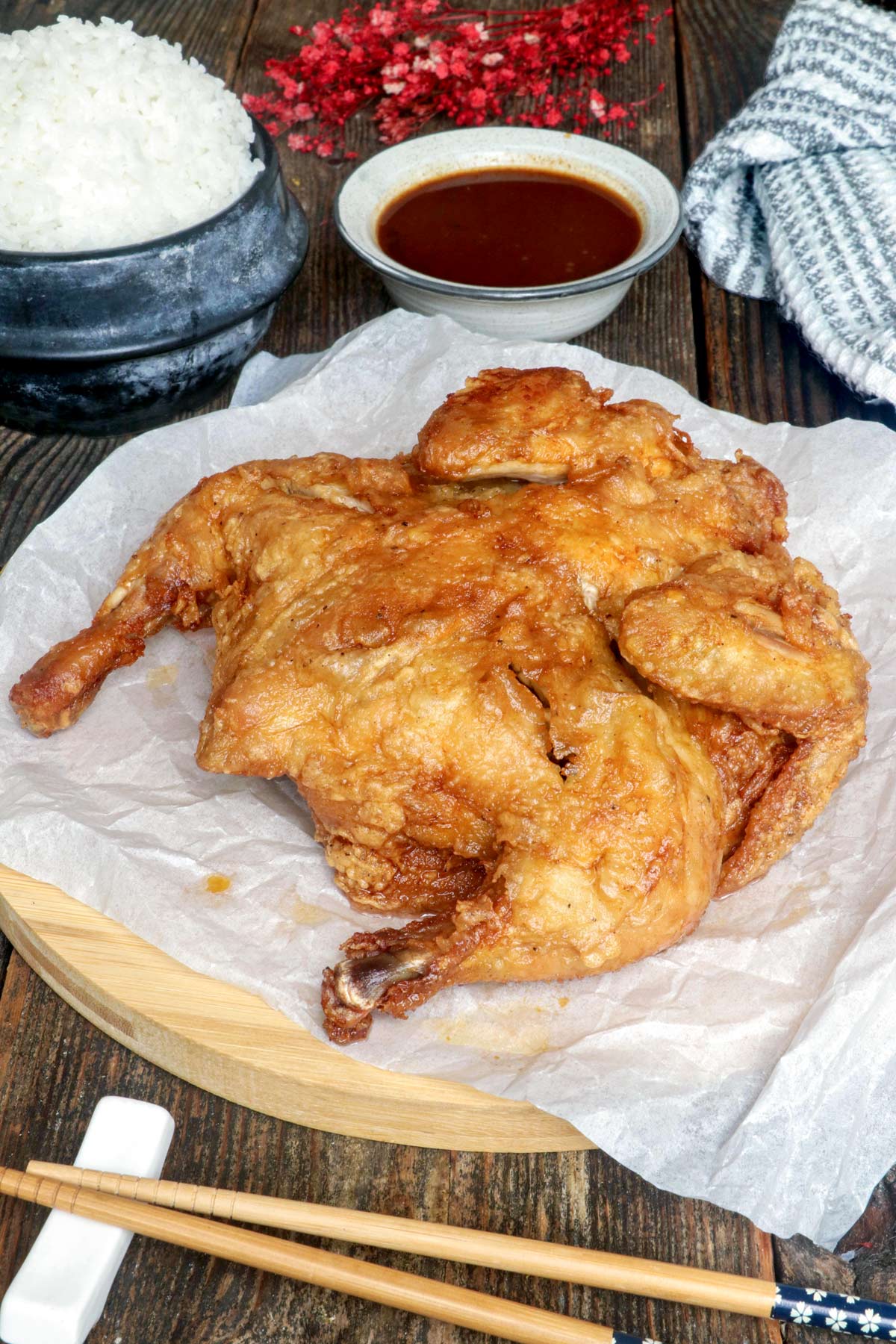 This crispy fried chicken recipe involves frying a whole chicken. The cooking technique I used was inspired by the Korean street food, Tongdak. First, we butterfly the chicken which is done by cutting it through the breast and then spreading and laying it flat. This helps it to cook faster and more evenly. It also makes it easier to marinate as it exposes the inside as well as the outside. It is then dipped in cold batter that gives it a crispy exterior when fried while retaining the tender juiciness of the meat. It is fried twice for the crunchiest fried chicken experience.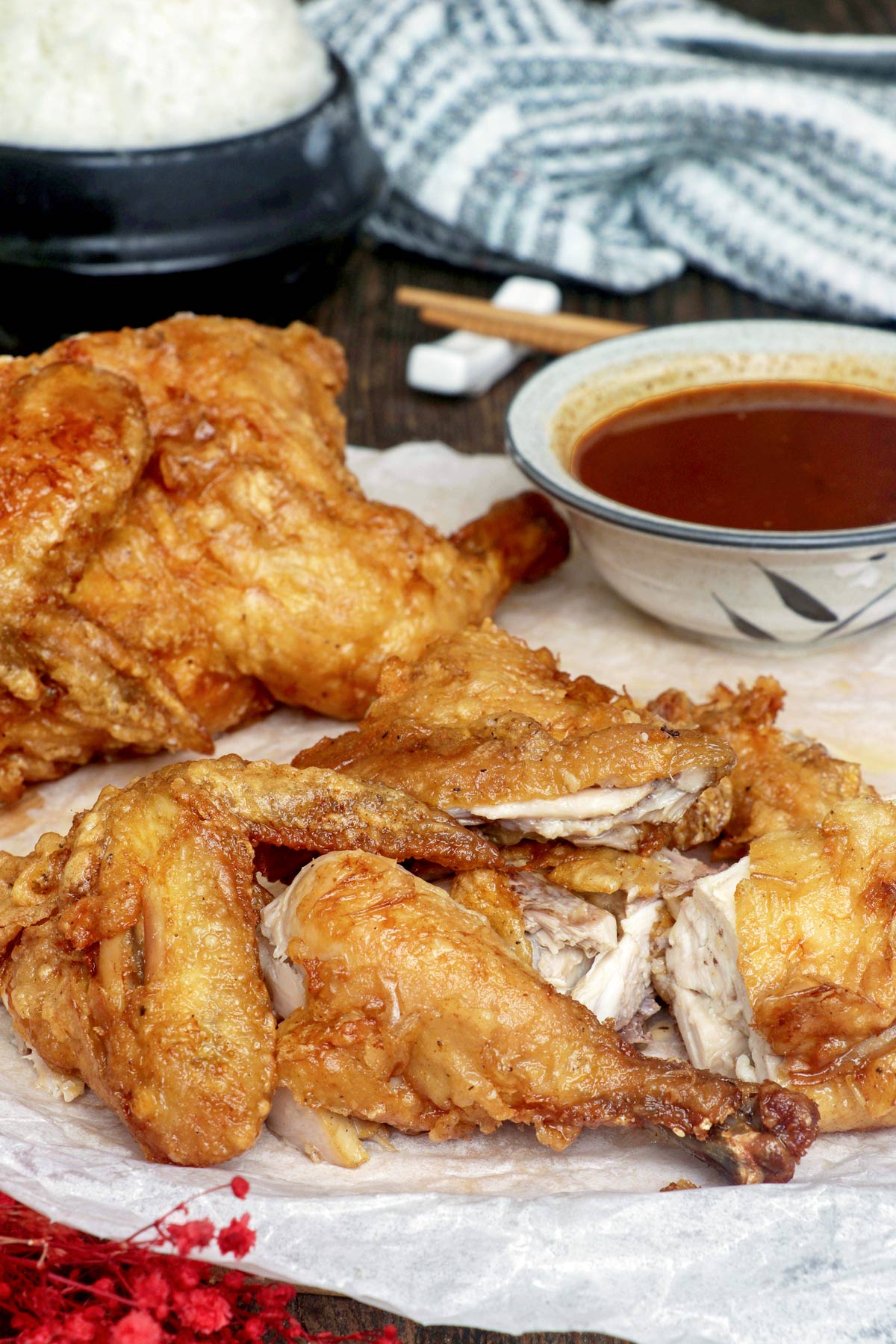 Why fry a whole chicken?
Frying a whole chicken is far more convenient and works better instead of doing it repeatedly with separate cuts or pieces. If you're short on time, frying a whole chicken is much less laborious and time-consuming. Less time spent cooking means more time for family fun!
Additionally, serving whole fried chicken is undoubtedly more appealing to the eyes and a great addition to your table during the holiday season or special occasions. You can also try Whole Chicken Hamonado, Butterflied Roast Chicken, and Pinaupong Manok.
Ingredients for whole fried chicken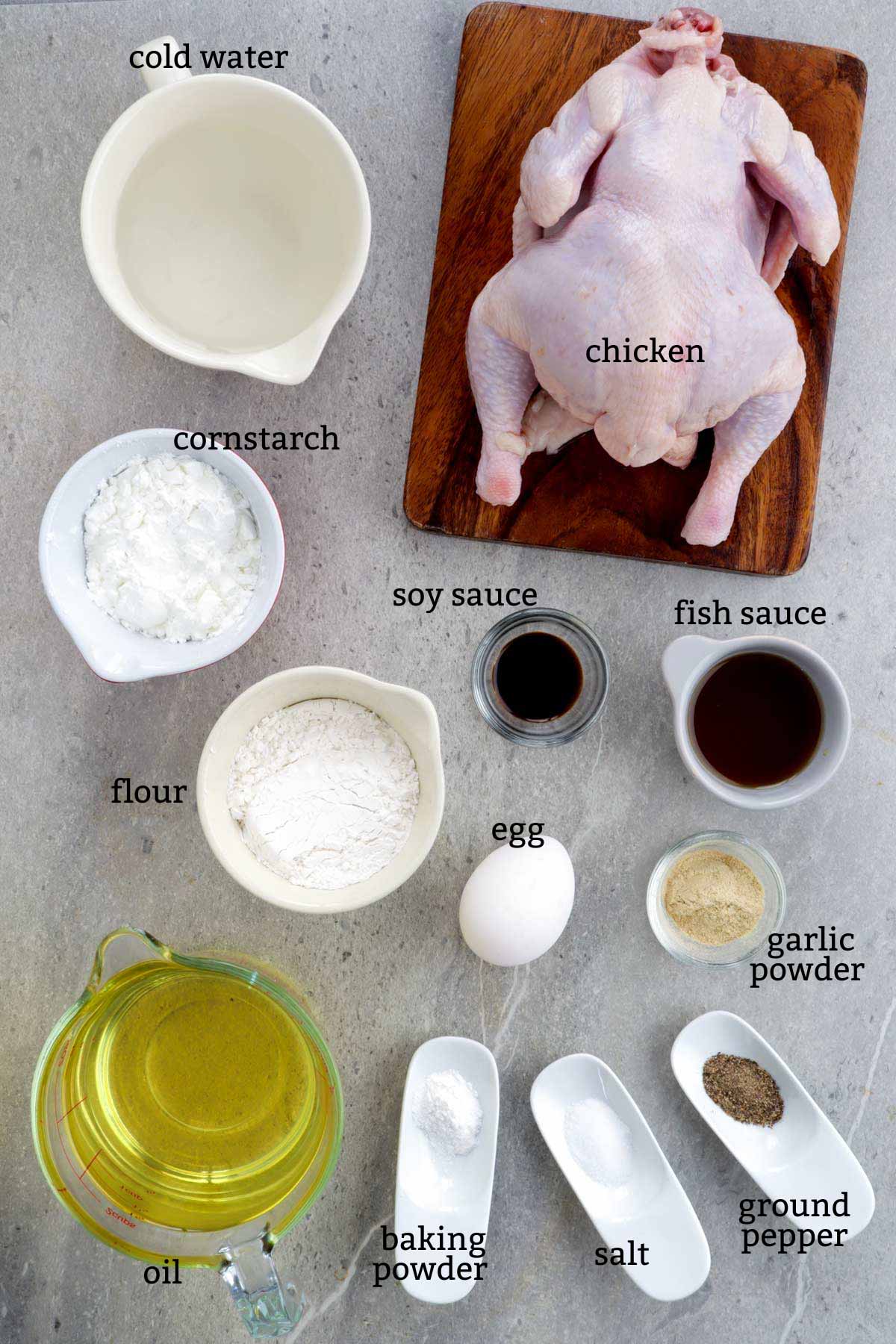 Whole Chicken - Spring chicken works best for this recipe. You can ask your butcher to butterfly the chicken when buying it if you are not confident with your knife skills.
For the Marinade:
Fish Sauce - marinating in fish sauce works well with meat or proteins that easily dry out.
Garlic powder - adds a subtle flavor and tastes sweeter without the overpowering raw garlic note.
Ground Pepper - adds depth of flavor and some spice to the chicken.
For the Batter:
Water - ice cold water is recommended as it makes the batter crispy and light when fried.
Egg - acts as a binder and helps the batter stick to the chicken better.
Flour + cornstarch - a 50-50 split of these two ingredients will give you a delicious crunch and a lovely golden breading color.
Baking powder - creates tiny air bubbles on the surface of the battered chicken when fried, making it crispy.
Soy sauce - is optional, but it adds a bit of umami flavor and color to the batter.
Oil - use any neutral-tasting oil with a high smoking point, such as vegetable oil, canola oil, and sunflower oil.
Try these other Delicious Chicken Recipes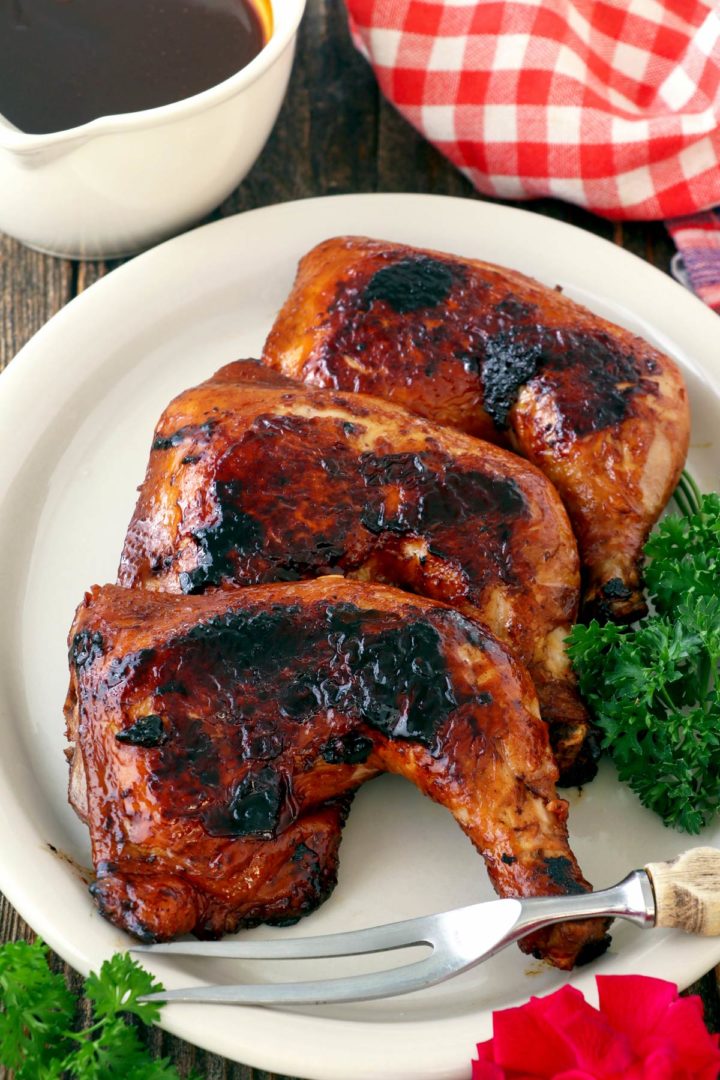 Tips for a Super Crispy Fried Whole Chicken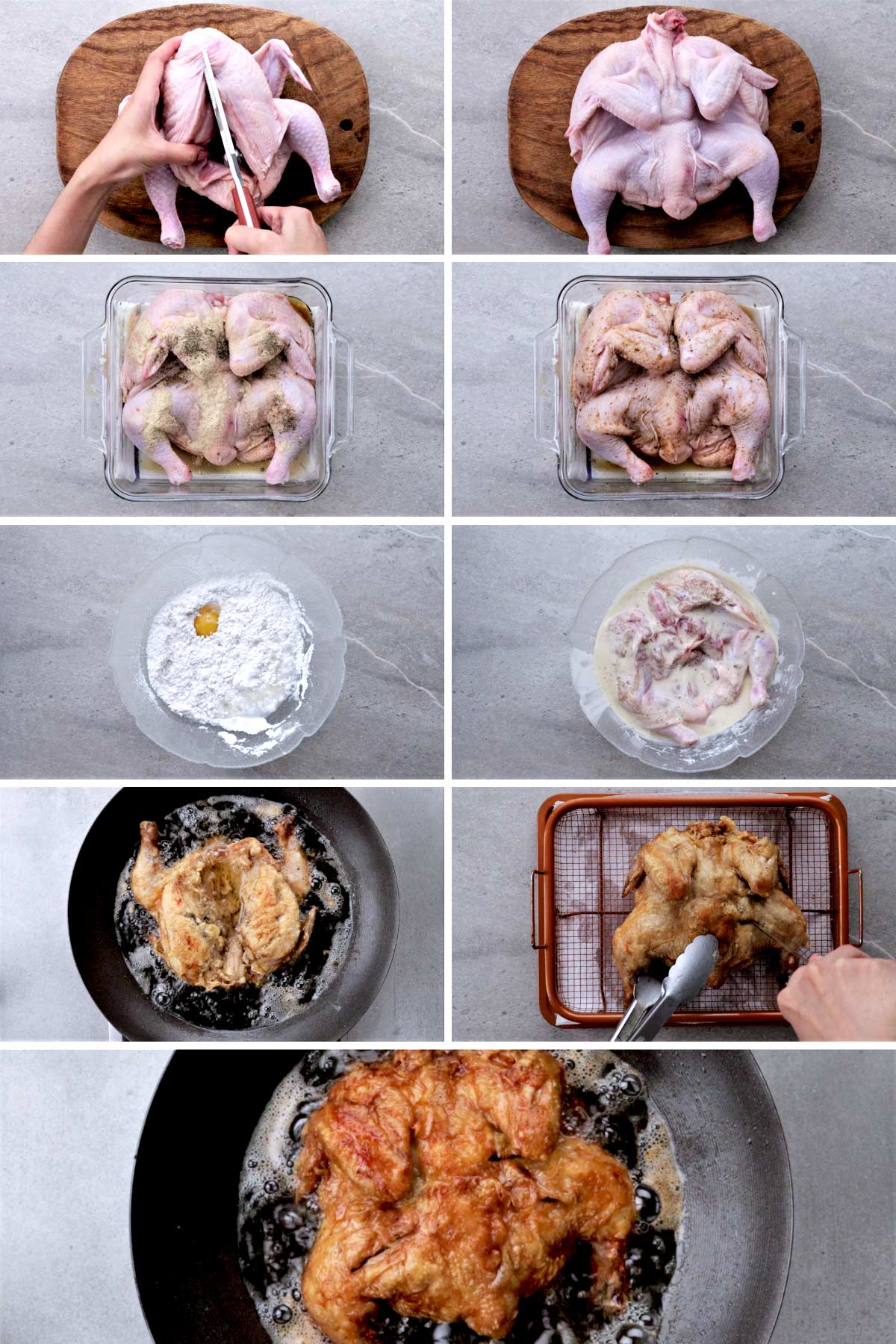 For a super crispy fried chicken, make sure to use cold batter! The secret is to mix the batter with ice-cold water right before you start frying in the hot oil. This way, you can avoid gluten development that can ruin the texture of the batter and make it chewy or elastic. Using cold batter is also known to prevent the flour from absorbing more oil.
Adding cornstarch instead of using purely flour makes sure that there is a lesser chance for gluten to form. Baking powder, on the other hand, creates tiny air pockets when heated. These two are key ingredients to a lighter, crispier coating.
Another secret is double frying. When you fry the chicken twice, you help remove more water from the skin. By giving the chicken some time to rest and cool after the first fry, you let the excess water escape from the skin. This makes the chicken get a golden and crunchy crust faster.
Serving and Storing Notes
For a satisfying and filling meal, serve this super crispy Whole Fried with homemade gravy, fries, mashed potatoes, or steamed rice.
Store leftovers in shallow airtight containers. You may also wrap them securely with heavy-duty aluminum foil or plastic wrap. If stored properly, you may keep them in the fridge for up to 3 to 4 days.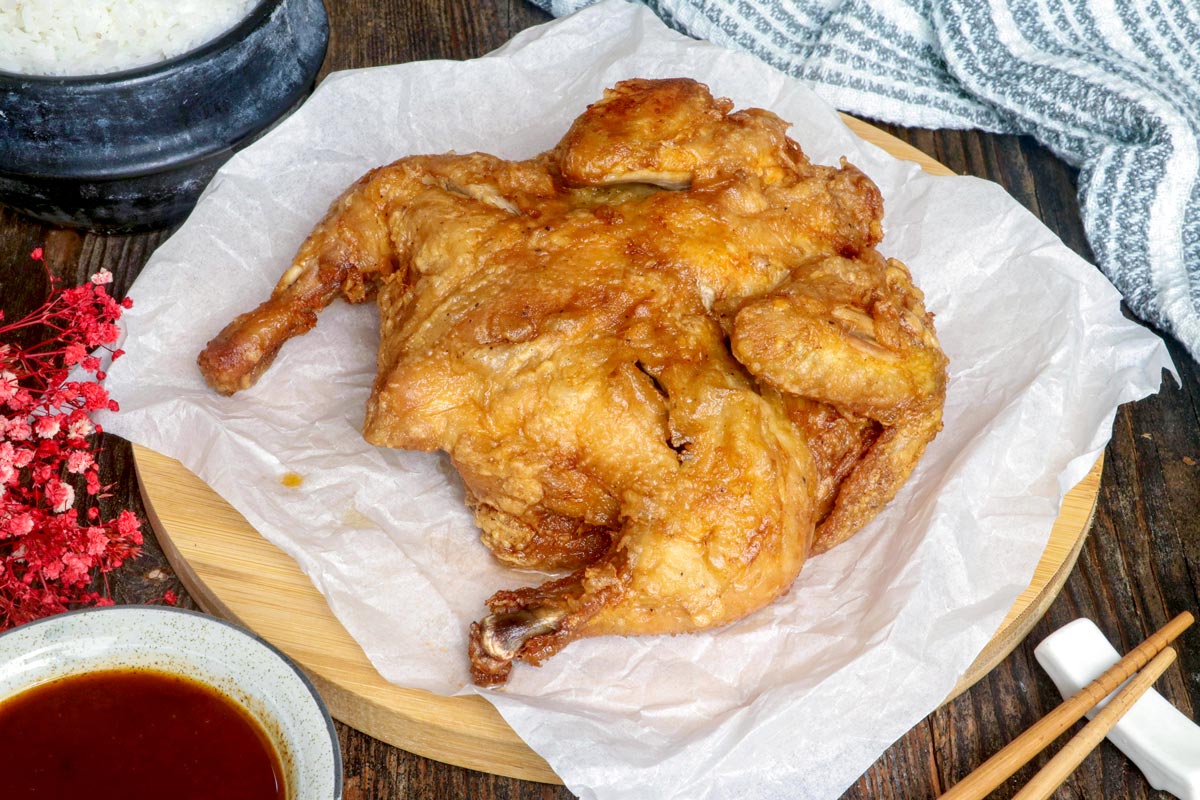 Printable Recipe
Super Crispy Fried Whole Chicken Recipe
Enjoy crispy fried whole chicken using these sure-fire tips and frying techniques. Juicy, tender, and crunchy chicken every time!
Ingredients
0.8 -1

kg

whole chicken (spring chicken)

2-3

cups

of oil for frying depending on the size of the frying pan
MARINADE:
4

tablespoons

fish sauce or 1 tablespoon table salt

1

tablespoon

garlic powder

½

teaspoon

fine ground pepper
BATTER:
½

cup

flour

½

cup

cornstarch

½

teaspoon

salt

adjust to taste

1

teaspoon

baking powder

½-¾

cup

ice cold water

1

medium

egg

from the fridge

1

teaspoon

soy sauce- optional

for color
Instructions
0.8 -1 kg whole chicken (spring chicken)

Butterfly the chicken. Using poultry shears/ kitchen scissors, cut through the chicken breast, to open up the chicken. Turn it over, laying it open and flat on the counter, and then press to make it flat and even.

4 tablespoons fish sauce or 1 tablespoon table salt,

1 tablespoon garlic powder,

½ teaspoon fine ground pepper

Transfer it to a flat pan of shallow dish. Season the top part with half of the marinade then turn it over and use the remaining half for the other part. Let it marinate for at least an hour or overnight in the fridge.

2-3 cups of oil for frying depending on the size of the frying pan

Heat oil in a large skillet or wok over medium heat to 175ºC /350ºF.

½ cup flour,

½ cup cornstarch,

½ teaspoon salt,

1 teaspoon baking powder,

½-¾ cup ice cold water,

1 medium egg,

1 teaspoon soy sauce- optional

While oil is heating up, sift together the flour, cornstarch, and baking powder in a large shallow bowl. Add the salt and mix. Add the egg and cold water and whisk into a smooth batter. (Remember to keep the batter cold.) It should not be too thick but not too runny, it should fall off the whisk easily and create thin ribbons that dissolve or disappear in seconds. Add soy sauce, if using.

Take the chicken by one leg and dunk it in the batter to coat one side then turn and coat the other side, making sure that the chicken is fully coated. Let the excess batter drip off the chicken.

Deep-fry it in the hot oil for 10 minutes. Turn it over and cook for another 10 minutes or until golden.

Turn the heat off and remove the chicken from the oil and transfer it to a dripping tray. If the oil has a lot of chunks/drippings from frying, you can scoop them ut or run the oil through a sieve.

Reheat the oil over medium heat. Using a knife make some cuts on the meaty parts (breast and legs) and poke some holes through the meat. Return the chicken to the hot oil for the 2nd frying. Fry for another 8-10 minutes, turning in between, or until it is nice brown and crispy.

Transfer to a dripping tray to remove excess oil. Serve with hot chili sauce or gravy.
Nutrition
Calories:
149
kcal
Carbohydrates:
30
g
Protein:
4
g
Fat:
1
g
Saturated Fat:
0.4
g
Polyunsaturated Fat:
0.3
g
Monounsaturated Fat:
0.4
g
Trans Fat:
0.01
g
Cholesterol:
41
mg
Sodium:
401
mg
Potassium:
167
mg
Fiber:
1
g
Sugar:
0.2
g
Vitamin A:
61
IU
Vitamin C:
0.03
mg
Calcium:
57
mg
Iron:
1
mg