Savor the juicy, tender chicken meat with delightfully charred and crisp skin without the hassle of grilling. This Stovetop BBQ Chicken recipe will let you enjoy the same sweet, savory, and smoky flavors of a Filipino-style chicken barbeque. It's a fuss-free method of making BBQ indoors!
No Grill Chicken BBQ
Is it too hot to fire up your outdoor grill? Or maybe you do not have enough outdoor space and grill your meat over hot charcoal? Don't fret! You can now make your chicken BBQ using your stovetop. Less mess, less effort, but the same finger-licking goodness!
This recipe is something that I learned from my Mama. It was one of her best-sellers while running her own food business. I remember marveling at how something cooked in a pan tasted so much like the honest-to-goodness charcoal-grilled ones!
So I'm sharing this recipe with those of you BBQ fans who don't have access to an outdoor barbecue or simply want to enjoy a BBQ without grilling. But if you are up to it, you can try my Chicken Inasal and Filipino Pork BBQ Skewers.
What part of chicken is best for Stovetop BBQ Chicken?
I used bone-in chicken leg quarters for this recipe, which come with the thigh, leg, and some back parts. You can also use chicken breast quarters, consisting of the wing, breast, and some parts of the back. Since chicken breasts are thicker and meatier, you need adjust the cooking time.
If you're not up to tackling the chicken with bones, you may use chicken thigh fillets. They cook faster, and they are tender and juicy as well. Chicken breast fillets are another option, but as mentioned above, they require a little more time to cook.
Placing a thermometer into the thickest portion of the chicken is the best way to determine whether it is cooked through every time. The temperature should read 165°F (74°C).
Ingredients You'll Need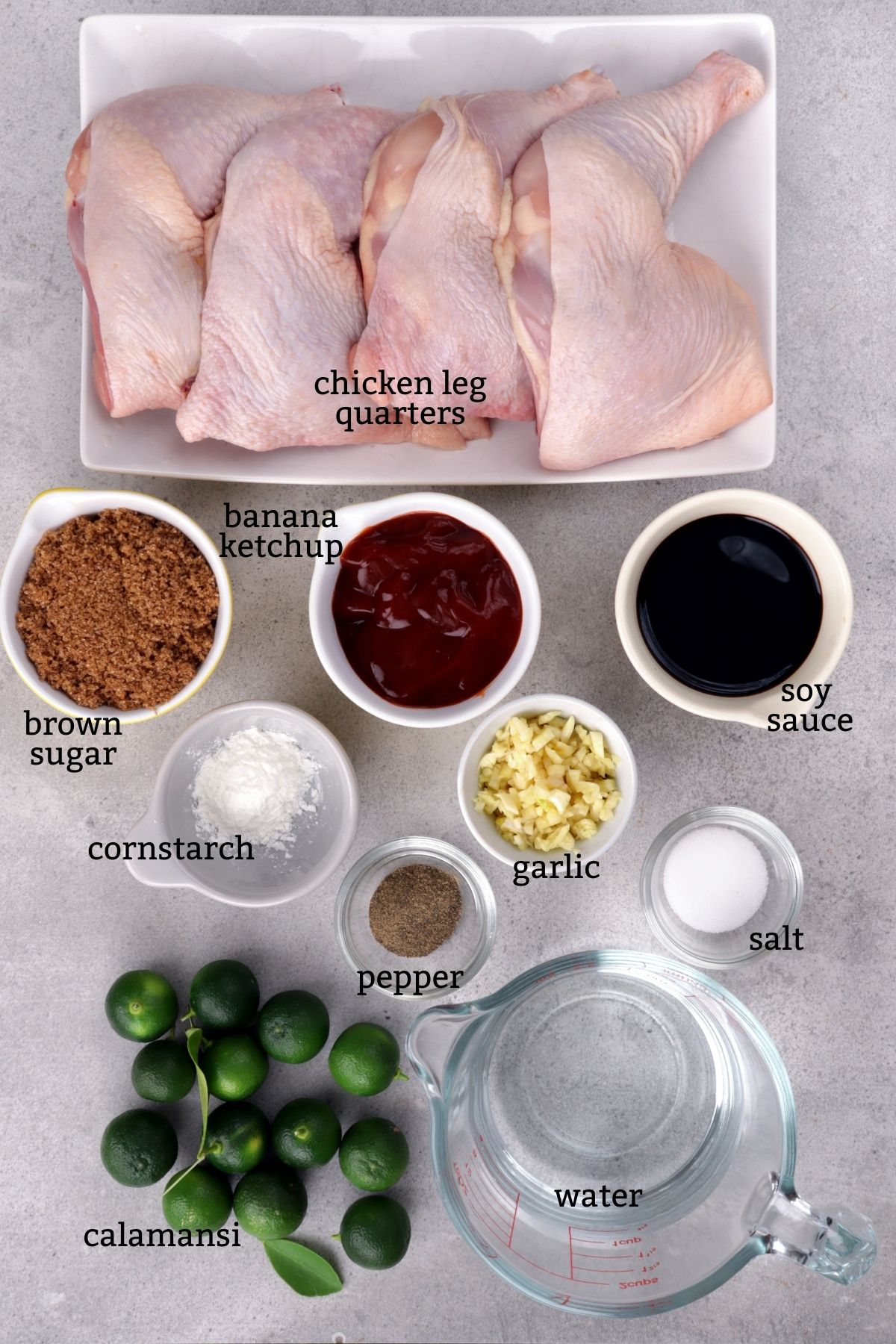 Chicken leg quarters
Soy sauce – lends umami goodness to the marinade and sauce!
Garlic - enhances the flavor of the chicken.
Brown Sugar – Filipino-style BBQ is not the same without the sweet sauce, right? You can also use regular white sugar in a pinch.
Banana ketchup- If you did not grow up in the Philippines, you might wonder what the heck this is. It is not that different from tomato ketchup. It just tastes a bit sweeter and fruitier.
Salt and Pepper - these are the basic seasonings of the marinade
Calamansi-aside from adding another layer of flavor, citric juice also tenderizes the meat as they marinate. If you do not have this, you can use lemon juice or vinegar instead.
Cornstarch- dissolved in ⅛ cup of water and poured over the sauce to make it thicker.
Water
Foxy Tips when Making Stovetop BBQ Chicken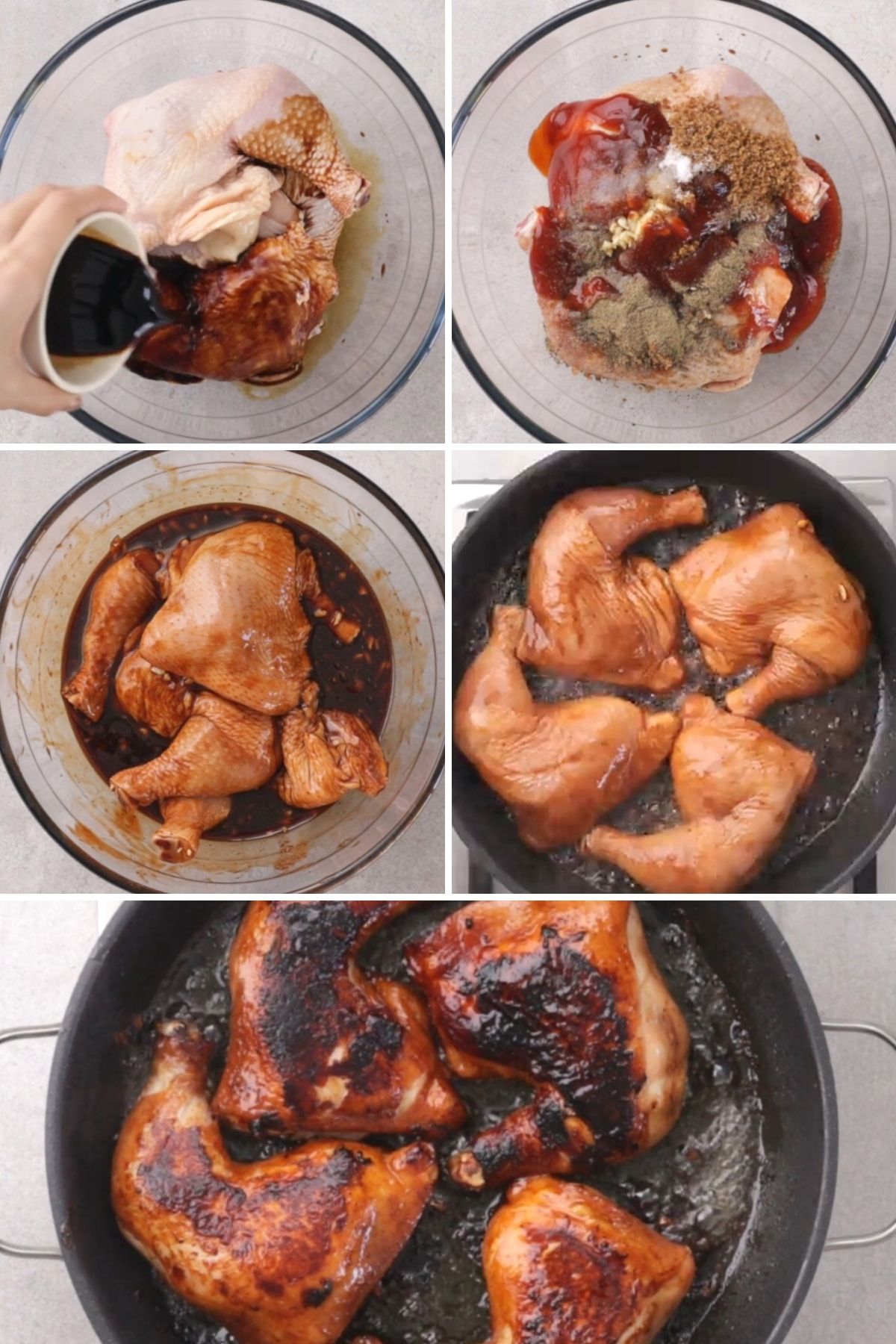 For food safety, keep the chicken in the refrigerator while it marinates and cover it with a tight-fitting lid or plastic film. You can also use a Ziplock bag when marinating the chicken.
Make sure that your chicken is not frozen. It should be thawed and at room temperature before you start cooking it. This will ensure that the chicken cooks more evenly.
You can also use a cast-iron grill pan if you have one. The ridges ensure that the fat drips off, and it will give you those pretty grill marks!
You will see some dark, almost black charring on the surface of the chicken. Don't panic; the chicken BBQ is not burnt! It is normal because the marinade contains sugar that darkens and clumps in hot oil.
This is a kid-friendly dish, but if you are a spicy food lover, feel free to add some red chilies or chili powder.
Everyone has their own 'secret' BBQ marinade or sauce. It can range from salty to sticky-sweet or marinate with lots of garlic. Feel free to tweak it to your liking.
How to Serve and Store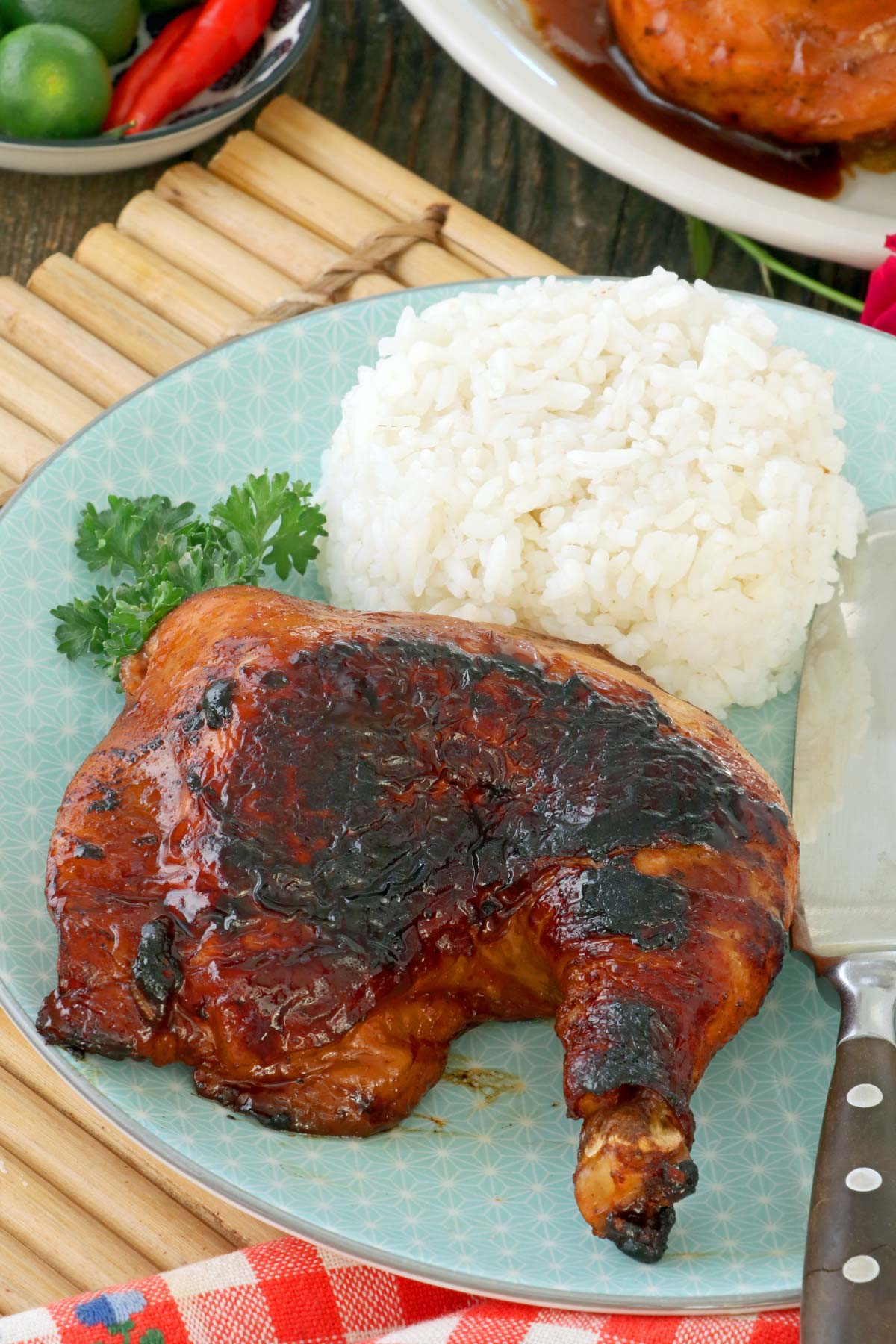 Enjoy your Stovetop BBQ Chicken drizzled with homemade BBQ sauce for a satisfying lunch or dinner. Serve with steaming hot rice or mashed potatoes.
Store sauce and chicken in separate airtight containers. Keep in the refrigerator for up to 4 days or in the freezer for up to 3 months.
To reheat, place the BBQ sauce in a pan over medium-low and add a bit of water. Once it starts to simmer, add the leftover chicken. Lower heat and turn the chicken, as needed, until heated.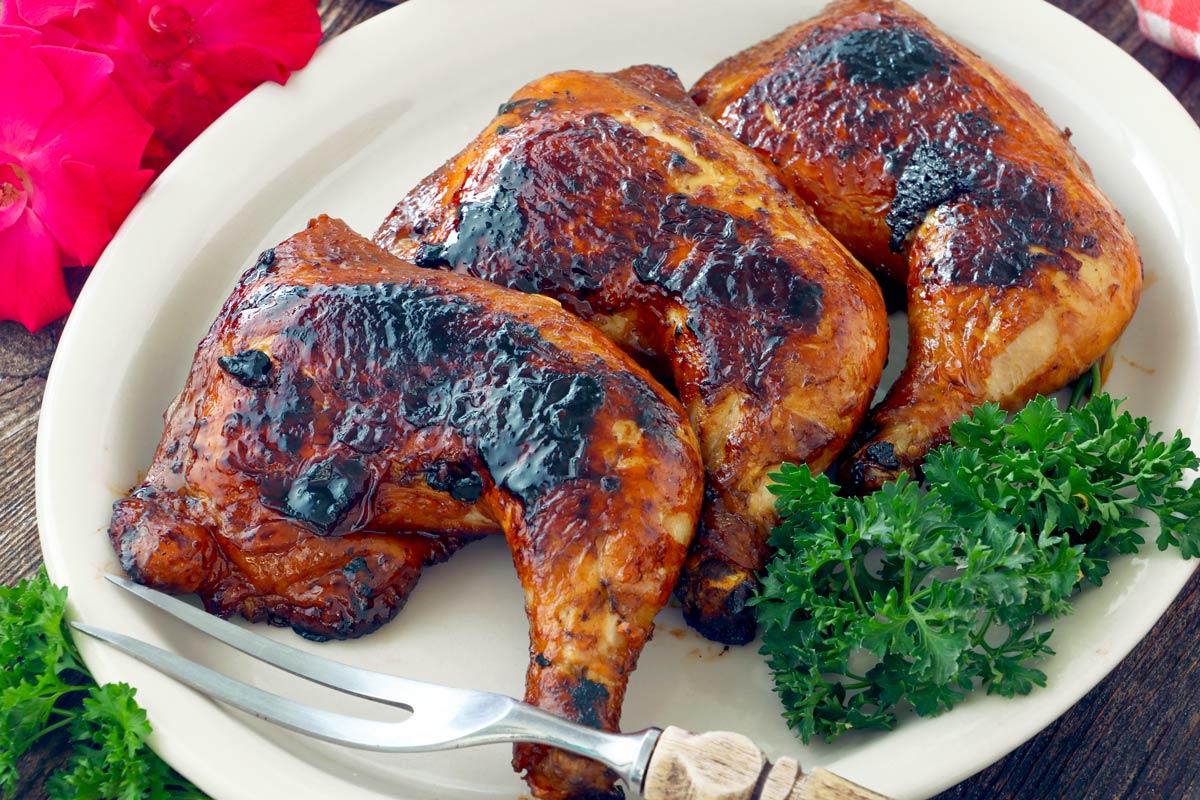 Printable Recipe
Stovetop BBQ Chicken Recipe
Savor the juicy, tender chicken meat with delightfully charred and crisp skin without all the hassle of grilling! This Stovetop BBQ Chicken Recipe will let you enjoy the same sweet, savory, and smoky flavors of Filipino-style barbeque. It's a fuss-free method of making BBQ indoors.
Ingredients
1

kilogram

chicken leg quarter

about 4 pcs

6

tablespoon

soy sauce

6

cloves

garlic

minced

½

cup

brown sugar

½

cup

banana ketchup

10

pieces

calamansi

squeezed

2

teaspoons

salt

1

teaspoon

ground pepper

oil

for frying

1

cup

water

½

tablespoon

of cornstarch

dissolved in ⅛ cup of water
Instructions
1 kilogram chicken leg quarter,

6 tablespoon soy sauce,

6 cloves garlic,

½ cup brown sugar,

½ cup banana ketchup,

10 pieces calamansi,

2 teaspoons salt,

1 teaspoon ground pepper

Place the chicken pieces in a large bowl, then add the soy sauce, garlic, brown sugar, ketchup, calamansi juice, salt, and pepper. Mix them all together using your hands until the chicken meat is well coated. Leave to marinate for 20-30 minutes.

Remove the chicken from the marinade. Set aside the marinade for later.

Fry the marinated chicken over medium-high heat. Cook until both sides of the chicken are brown and charred. Remove from heat.

1 cup water,

½ tablespoon of cornstarch

Make the BBQ Sauce using the leftover marinade. Run it through a sieve then add 1 cup of water. Bring to a boil over high heat then pour the cornstarch mixture while continuously stirring. Simmer until slightly thick then remove from heat.

Drizzle the sauce on top of the chicken and enjoy.
Nutrition
Calories:
639
kcal
Carbohydrates:
43
g
Protein:
38
g
Fat:
35
g
Saturated Fat:
10
g
Polyunsaturated Fat:
7
g
Monounsaturated Fat:
15
g
Trans Fat:
1
g
Cholesterol:
208
mg
Sodium:
5532
mg
Potassium:
664
mg
Fiber:
1
g
Sugar:
36
g
Vitamin A:
338
IU
Vitamin C:
4
mg
Calcium:
71
mg
Iron:
3
mg