Tangy and savory with garlicky flavors, Adobong Puti is another traditional way of making our beloved adobo minus the soy sauce. It is super simple to make and is equally delicious!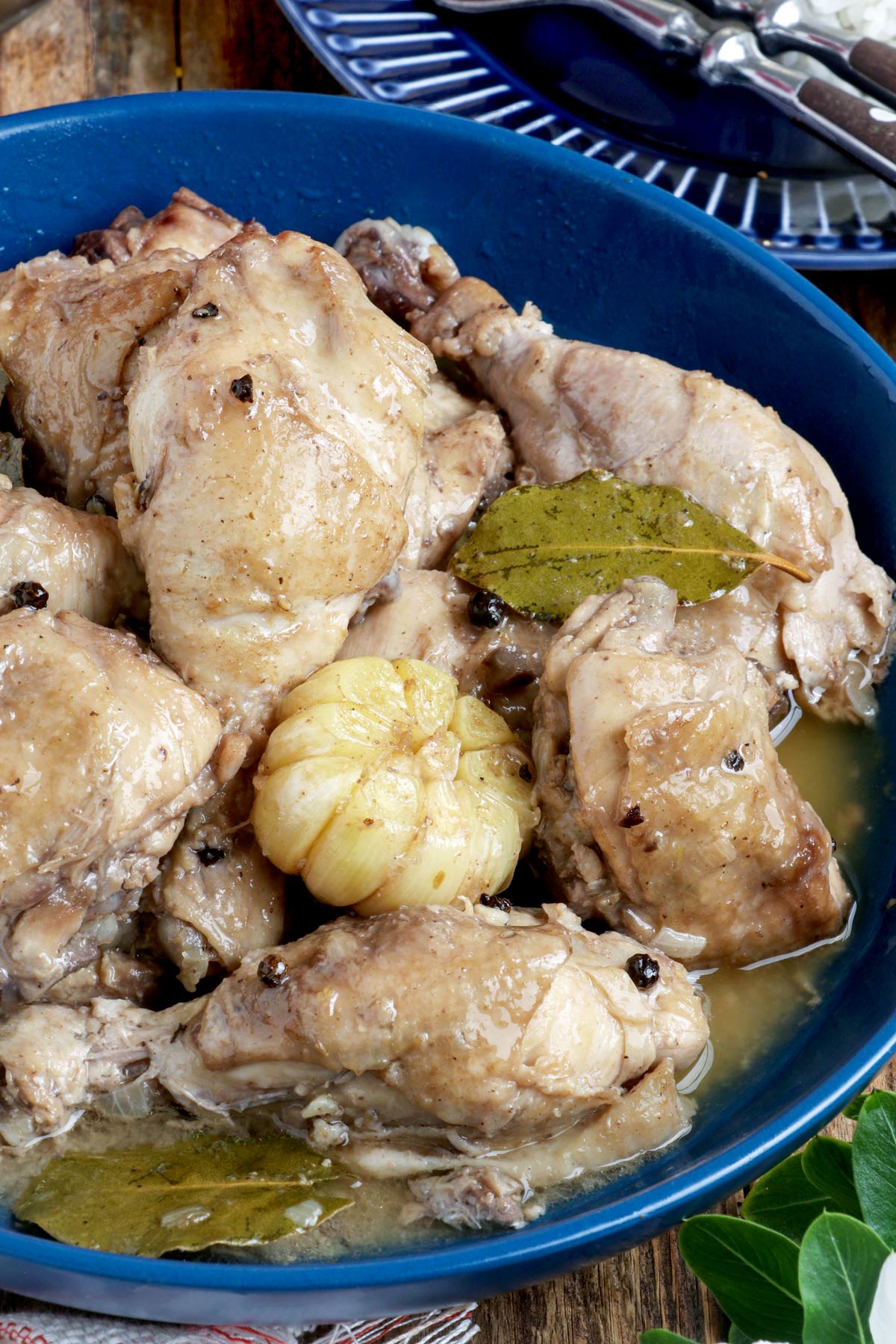 You might not be as familiar with this dish as you are with its more popular darker version, but if you like the conventional Chicken Adobo, you definitely will love this Adobong Puti. It is a vinegar-only version of Adobo but equally delicious with bold flavors. Perfect with lots of steamed rice for a satisfying lunch or dinner.
What Is Adobong Puti?
Also called Adobo sa Puti (White Adobo) or Arobong Maputi in Kapampangan, this variation is characterized by its clear sauce, thus its name. This is because of the absence of soy sauce. This traditional way of cooking adobo is similar to how the Spanish make Adobar, a way to preserve meat using vinegar and spices. This is also where adobo got its name; the Spaniards were reminded of how they marinate and preserve their food when they saw how our ancestors cooked the dish. However, while the Spanish version uses paprika and oregano, this recipe uses bay leaves and fish sauce.
Other Must-try Chicken Recipes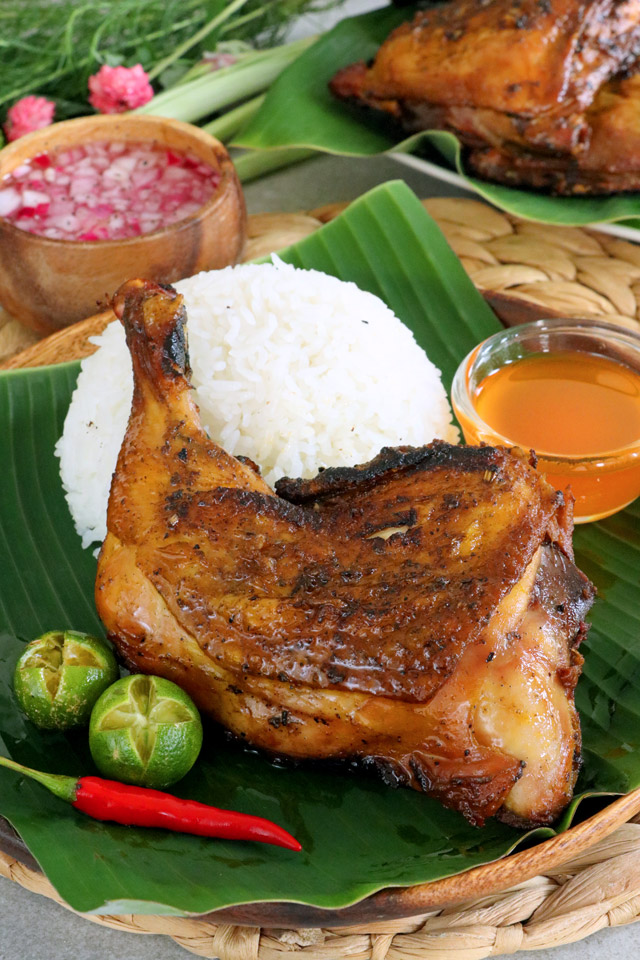 Ingredients You'll Need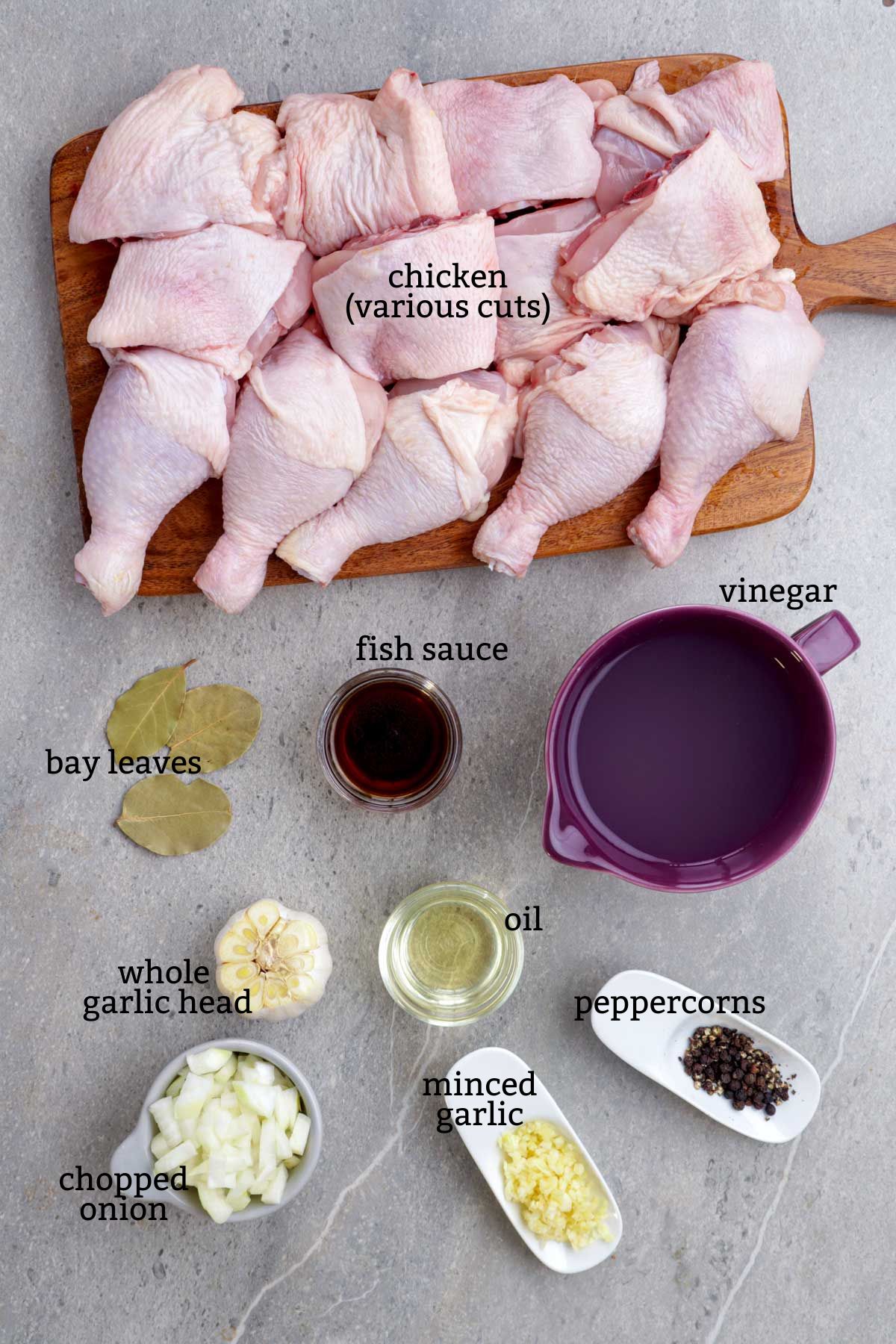 Oil- any type of neutral oil is okay.
Aromatics normally used are garlic, onion, peppercorns, and bay leaves.
Chicken- various bone-in chicken parts cut into serving pieces but if you want the healthier version, then chicken breast is also fine.
Fish sauce- this is optional, but it will add nice umami and briny flavors to the dish. If you do not have this, you can just add more salt to the dish. No worries, it will not make it taste fishy at all!
Vinegar – you can use distilled white vinegar. However, other types like cane and apple cider vinegar will also work, especially if you like to mellow down the tanginess.
Additional whole garlic head with the top trimmed. This will give the clear sauce a robust garlicky flavor!
Salt and pepper-  to taste if needed
Foxy Cooking Tips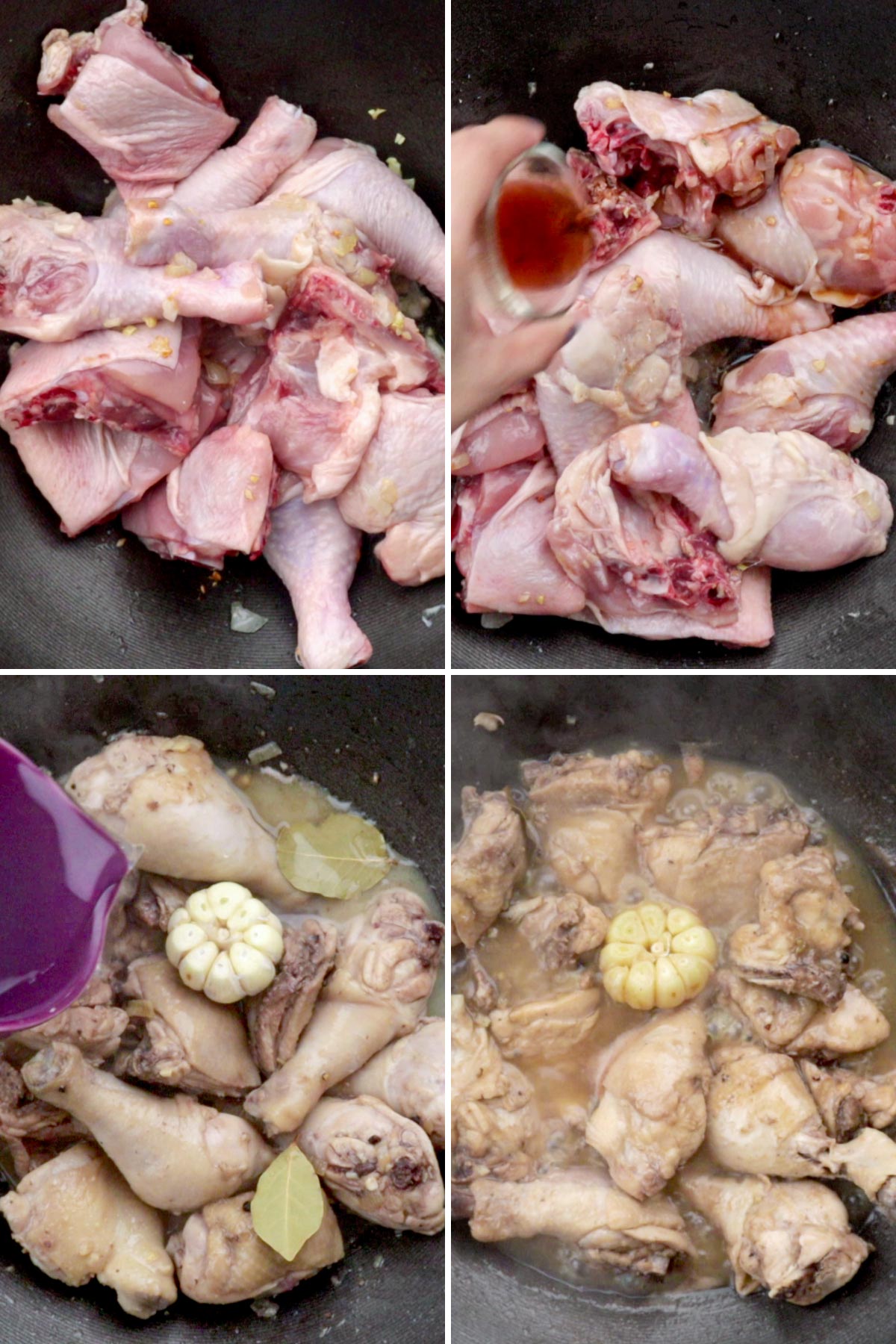 Sear the chicken pieces until the edges are lightly golden. Do not cook them thoroughly because they will continue to cook as you simmer them in vinegar.
Once the vinegar is added, refrain from stirring for a few minutes until the sharp acidity burns off.
Only use low heat for a slow simmer until the meat absorbs the delicious flavors from the spices and vinegar without drying out quickly. This will also allow the chicken to produce its own oil and juices until the clear sauce becomes thicker.
Do not wash the pan where you cooked the Adobong Puti right away. Instead, use it to fry your rice to give it a nice flavor!
Make your Adobong Puti more substantial by adding potatoes, hard-boiled eggs, or chicken liver.
Not a fan of chicken? You can also use pork belly or other pork cuts to make your Adobong Puti.
Storing Adobong Puti
Since it is cooked in vinegar, this dish is great for occasions where space in fridge is limited. It is great dish to bring on potlucks and picnics.
It is also great for advance meal prepping as it can last in the fridge or freezer for a long time. I actually love the taste better after it is reheated a day or two after it is cooked.
Place leftover Adobong Puti in a lidded container and refrigerate for up to five days or more, or freeze it for a couple of months.
Reheat on a stovetop by placing leftovers in a saucepan and simmer until heated through. Or just pop in the microwave and heat on high at 1-minute intervals.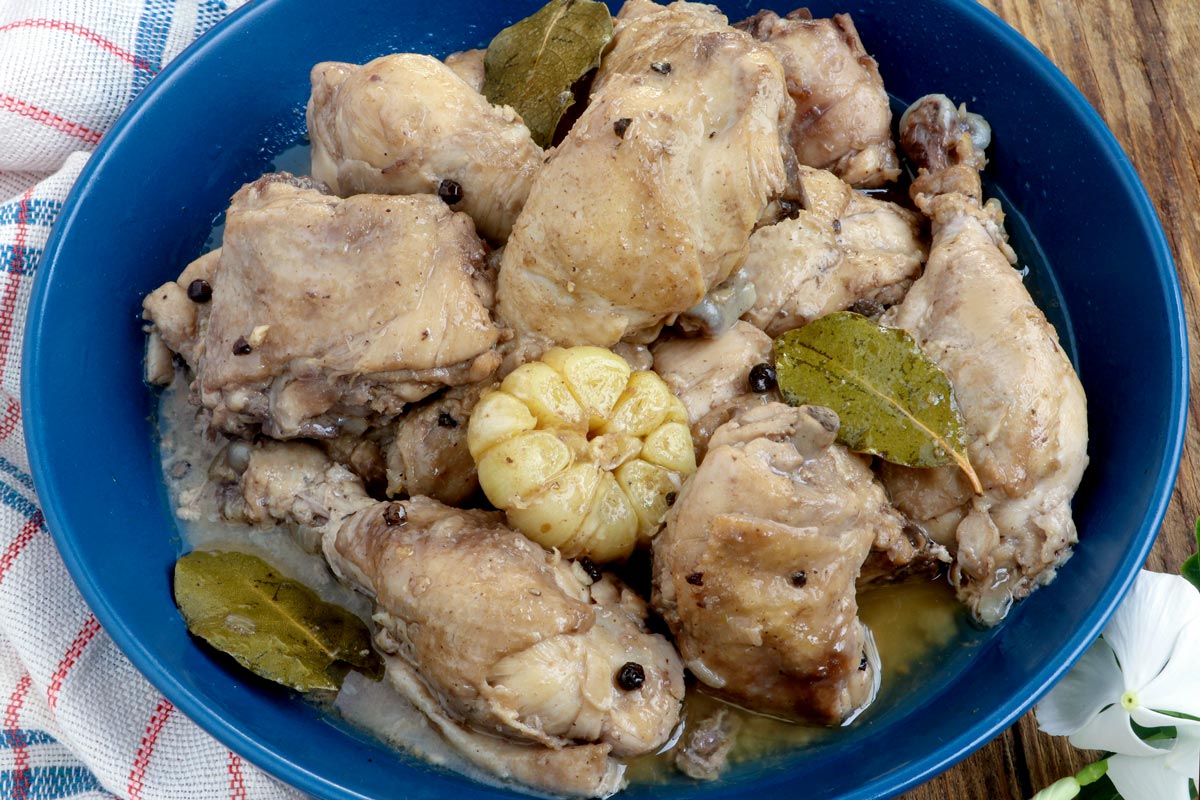 Printable Recipe
Adobong Puti Recipe
Tangy and savory with garlicky flavors, Adobong Puti is an unconventional yet flavorful way of making our beloved adobo minus the soy sauce. It is super simple to make and is equally delicious!
Ingredients
3

tablespoon

oil

2

cloves

garlic

minced

1

small

onion

chopped

2-2.5

pounds

chicken

various cuts

3

tablespoon

fish sauce

optional

1

teaspoon

peppercorns

cracked

8

fluid oz. (1 cup)

vinegar

1

head

garlic

top trimmed

3

pieces

bay leaves

Salt and pepper

to taste if needed
Instructions
3 tablespoon oil,

2 cloves garlic,

1 small onion

In a pan or wok, heat oil over medium heat. Saute onion and minced garlic until limp and aromatic.

2-2.5 pounds chicken,

3 tablespoon fish sauce,

1 teaspoon peppercorns

Add chicken pieces. Season with fish sauce and add the peppercorns. Cover and let it cook, turning once or twice until the edges turn light brown. Juices will come out from the chicken.

1 head garlic,

3 pieces bay leaves,

8 fluid oz. (1 cup) vinegar

Lower heat to low. Add the bay leaves and whole garlic, and then pour in the vinegar. Let it simmer uncovered for at least 5 minutes without stirring.

Cover and let it cook for 20-25 minutes or until the chicken is tender. If needed, season with salt and pepper.

Remove the cover and simmer for another 8-10 minutes still in low heat to greatly reduce the liquids to a thick sauce.

Transfer to a serving plate and serve with hot steamed rice.
Nutrition
Calories:
263
kcal
Carbohydrates:
4
g
Protein:
16
g
Fat:
19
g
Saturated Fat:
4
g
Polyunsaturated Fat:
5
g
Monounsaturated Fat:
10
g
Trans Fat:
0.1
g
Cholesterol:
60
mg
Sodium:
775
mg
Potassium:
231
mg
Fiber:
1
g
Sugar:
1
g
Vitamin A:
149
IU
Vitamin C:
4
mg
Calcium:
36
mg
Iron:
1
mg