Try this mildly sweet, savory, and flavorful Binakol recipe. It is a Visayan chicken soup made more delicious with coconut water and fresh shredded young coconut. Perfect with plenty of steamed rice during those cold and frosty days.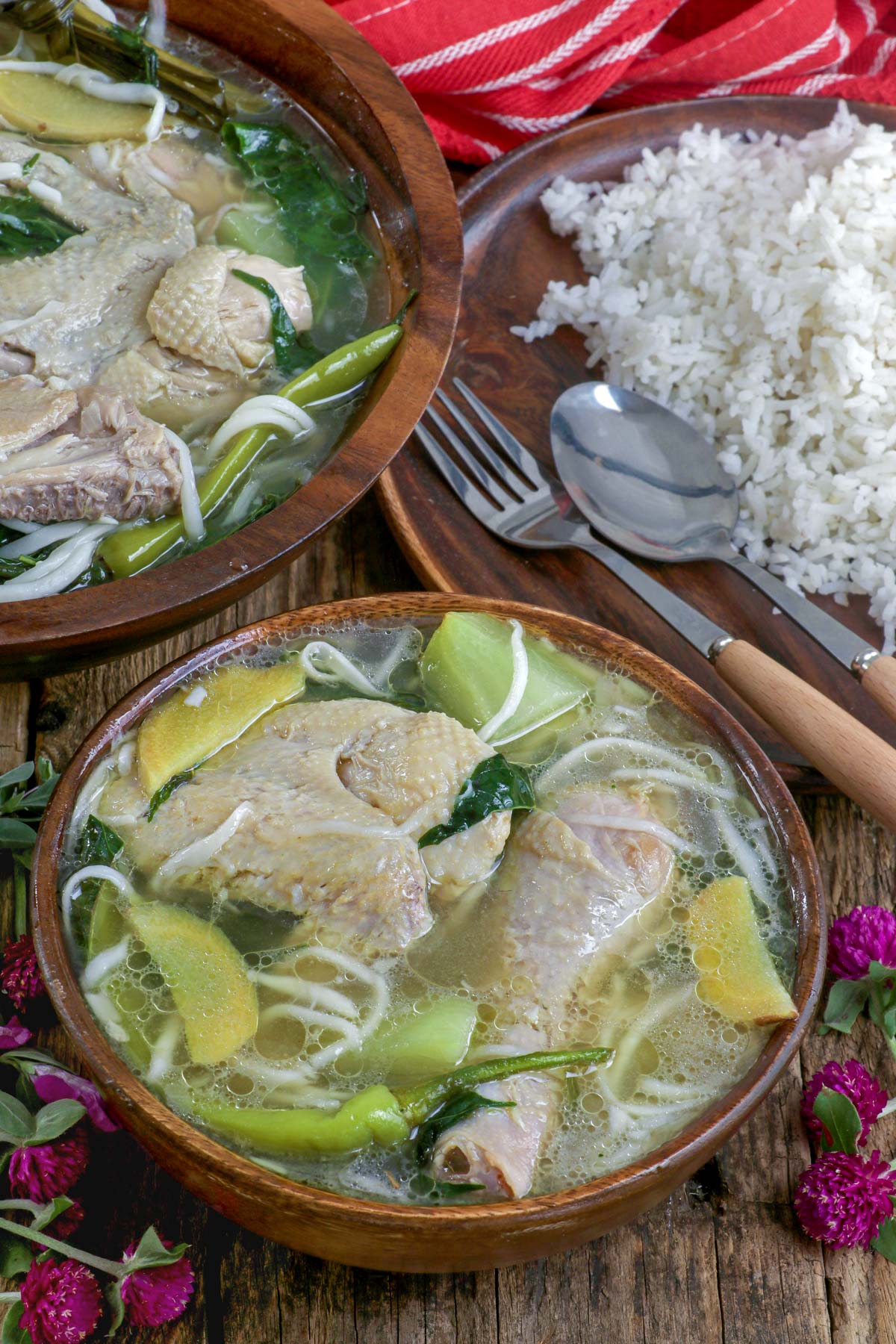 If you are looking for a comforting and hearty dish to cook for your family and you're tired of the usual dishes, then you should definitely try this Chicken Binakol recipe. Its surprising sweet and savory flavors are so refreshing and delicious! This dish is perfect during rainy or cold days as it will absolutely warm and cozy you up. Not only is it yummy, it's incredibly healthy as well!
What is Binakol?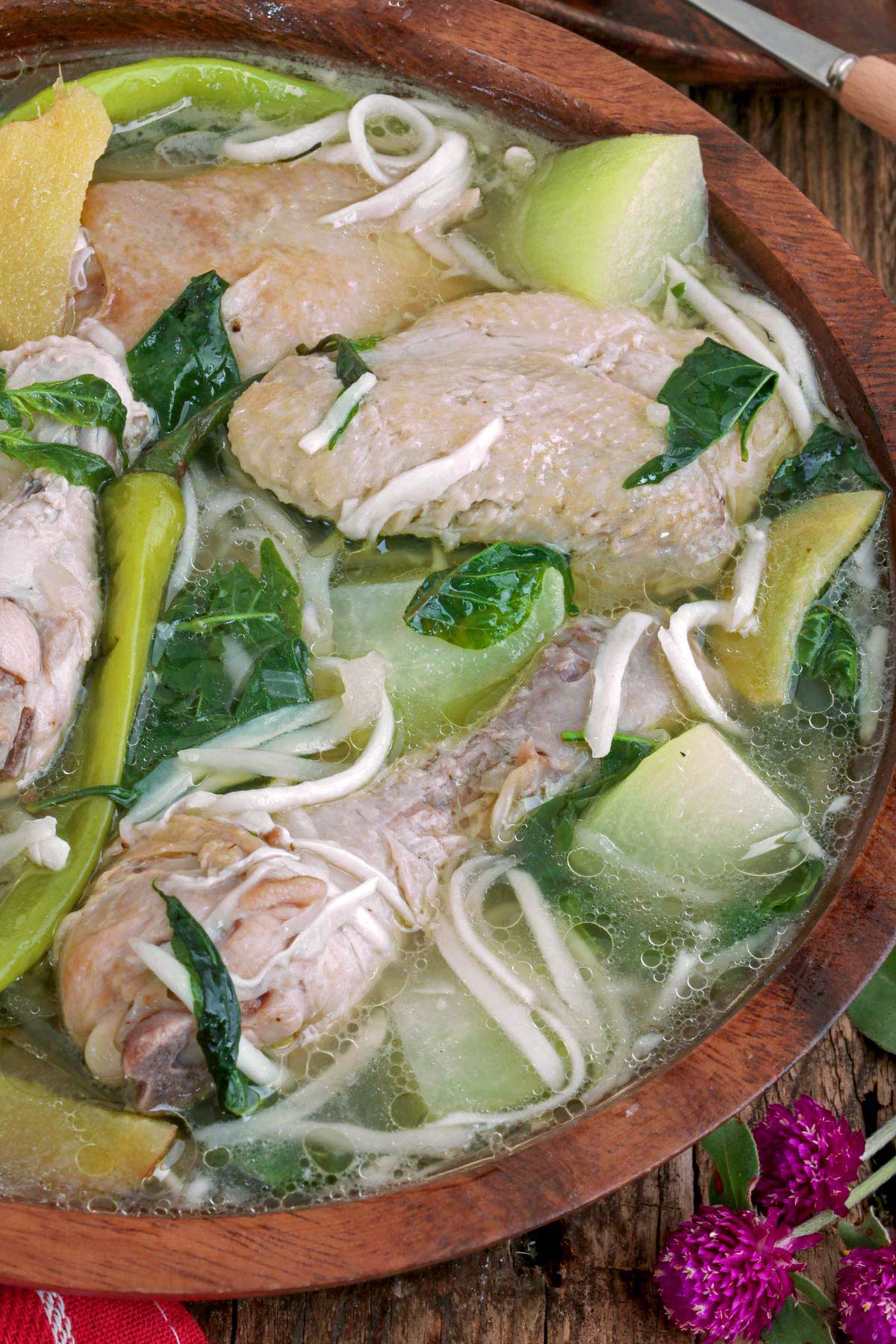 Binakol is a Filipino chicken soup that uses coconut water as the soup. The coconut meat is also normally added with other vegetables like chayote or green papaya and chili leaves.
It is very similar to the Filipino-favorite Tinolang Manok that is cooked exactly the same way sans the coconut components.
The coconut water provides a subtle sweetness and gives out a beautiful aroma to the dish. While the shredded coconut meat, which resembles to small noodles when added to the soup, adds richness and texture.
Chicken Binakol originates from the Western Visayas region where it is traditionally cooked using halved coconut shells or freshly cut bamboo tubes. The name "binakol" is derived from the Hiligaynon word "bakol" which translates "to spank." The chicken pieces are lightly whacked or spanked a few times with the side of the knife to tenderize the meat. The spanking of the meat also lets it absorb the flavor of the coconut water better.
Ingredients You'll Need in cooking Binakol
Chicken – use bone-in chicken pieces for a more flavorful broth. If available, use native chicken as it gives a more intense flavor and has a lower fat content.
Coconut – choose a young coconut as it has more water and the meat is tender. If fresh coconut is not available, use about 4 cups of coconut water and 1 cup of frozen coconut meat.
Chayote or green papaya – you can use whatever is easily available to you.
Chili leaves – you may substitute this with malunggay, spinach, or even pechay.
Green Chilis – if unavailable, you can use Thai chili peppers.
Lemongrass or tanglad lends a fresh, lemony aroma and citrusy flavor to the dish.
Ginger - gives a slightly spicy and peppery taste to the dish.
Cooking Tips
If you don't want the extra work of shredding the coconut meat, you can just cut them into chunks.
Cut the chayote or green papaya into uniform pieces to cook evenly. Also, slice them into bite-size pieces to cook faster.
Believe it or not, the easiest way to peel ginger is by using a small spoon. Just scrape the edge of the spoon against the skin and you'll be surprised to see how easily the skin comes off!
How to Serve and Store
Serve Chicken Binakol while hot with steamed rice and spiced fish sauce for dipping for an awesome and filling lunch or dinner.
Place leftovers in an airtight container and keep them in the fridge for up to 3 days.
You can either reheat leftovers on the stovetop or in the microwave.
Printable Recipe
Binakol Recipe
Try this Binakol recipe - a comforting and hearty Visayan chicken soup made delicious with coconut water and fresh shredded young coconut.
Ingredients
2

tablespoons

cooking oil

2

cloves

garlic

peeled & minced

1

medium

white onion

peeled & chopped

3

thumbs

ginger

peeled & sliced

3

tablespoons

fish sauce

2

pounds

chicken

various parts cut into serving size

2

cups

water

2

whole stalks

lemongrass

1

whole

fresh coconut

water reserved, and meat shredded into strips or chunks

1

medium

green papaya or chayote

peeled and cubed

2

pcs

green chilis

2

cups

chili leaves
Instructions
2 whole stalks lemongrass

Remove rooted part of the lemongrass. Crush the white part with the back of a knife then fold and bundle the leaves around the stalks. Set aside.

2 tablespoons cooking oil,

2 cloves garlic,

1 medium white onion,

3 thumbs ginger

In a pot over medium-low heat, saute ginger, onion, and garlic in oil until limp and aromatic.

2 pounds chicken,

3 tablespoons fish sauce

Add in the chicken pieces and stir to coat with oil. Then add the fish sauce. Cover and let simmer for 5 minutes. Juices and some fat will usually come out from the chicken.

2 cups water,

2 whole stalks lemongrass

Add water and lemongrass. Bring to a boil. Skim off the scum from the broth using a spoon or skimmer.

Add coconut water and bring again to a boil. Once it boils, lower heat and cover the pot. Let it simmer for 25-30 minutes.

1 medium green papaya or chayote,

2 pcs green chilis,

1 whole fresh coconut

Add the chayote or green papaya, green chilis, and coconut meat and season with ground pepper and more fish sauce or salt if needed. Let it cook for 5 minutes

Lastly, mix in the chili leaves and simmer for another minute. Turn off heat and serve.
Nutrition
Calories:
218
kcal
Carbohydrates:
4
g
Protein:
15
g
Fat:
16
g
Saturated Fat:
4
g
Polyunsaturated Fat:
4
g
Monounsaturated Fat:
8
g
Trans Fat:
1
g
Cholesterol:
54
mg
Sodium:
783
mg
Potassium:
286
mg
Fiber:
1
g
Sugar:
2
g
Vitamin A:
1094
IU
Vitamin C:
8
mg
Calcium:
35
mg
Iron:
1
mg
More Delicious Filipino Chicken Recipes