Learn how to make gravy with this easy homemade Gravy Recipe made from scratch that is perfect for your mashed potatoes, steaks and fried chicken. It never gets easier than this!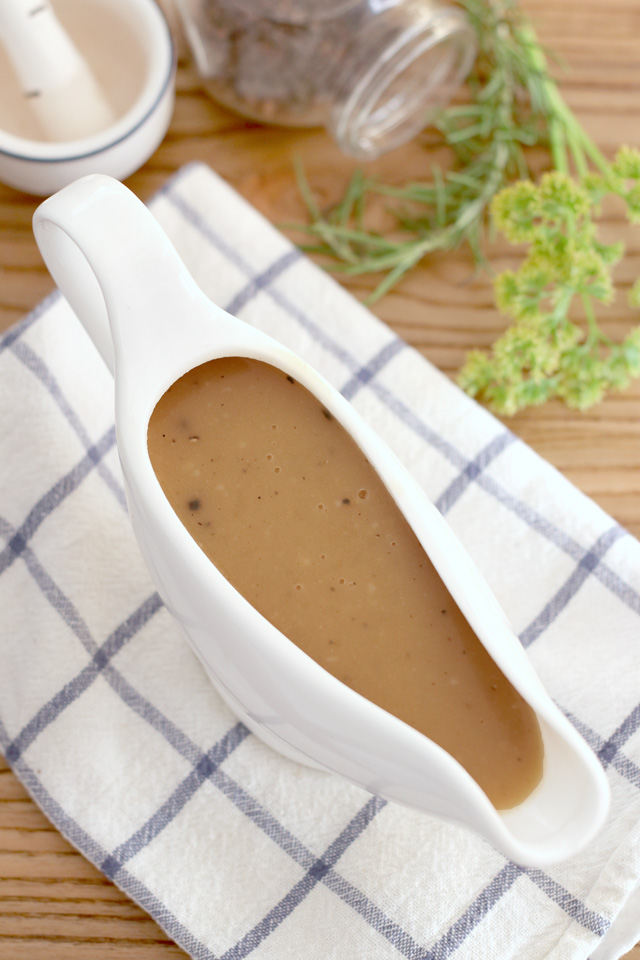 This is one of the first posts I have ever made when I started this humble blog. And I thought it is time to update it. Not only because the old photos make me cringe every time I look at them...talk about amateur! Hehe!  But it seems that in more than four years since I wrote this article, I have learned a lot both in the kitchen and on how to work a camera. I know there is still a lot of room for improvement but I am glad to see that I am learning and improving.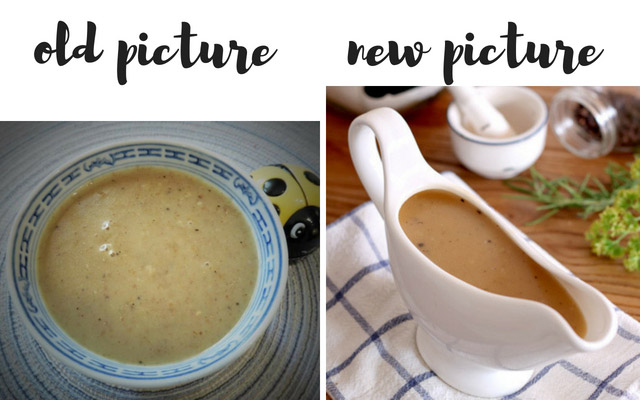 No matter how simple and basic the ingredients are, it is still my go-to gravy recipe of choice especially for fried chicken, steak or mashed potatoes. Although I made some changes to the procedure, learning from my cooking experience and all, it is the same simple gravy that I have always loved and used since college days.
But if you are in the mood for fancier stuff you can add a lot of other ingredients like cream or dijon mustard, slices of mushrooms, and other herbs that you would like to spice up your gravy.
I usually use chicken broth cube because it is really convenient and always available in my pantry. So when the need for gravy suddenly presents itself, I am always ready. But if you have more time to prepare or simply are avoiding using broth cubes or bullion, maybe because you are afraid of some MSG, you may substitute the water in the ingredients with natural chicken or beef broth.
As for me, well I've read a lot of articles about old and recent studies made regarding the use of MSG in food and a lot (if not all) of them already discredit the earlier claims that this food additive is bad for the health. Still, I just use such broth cubes in moderation and try to use other natural sources of umami or food enhancing flavor as much as I can.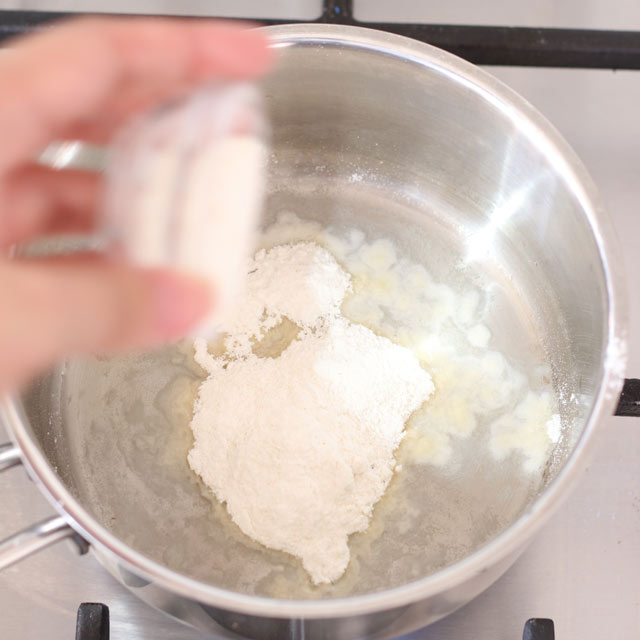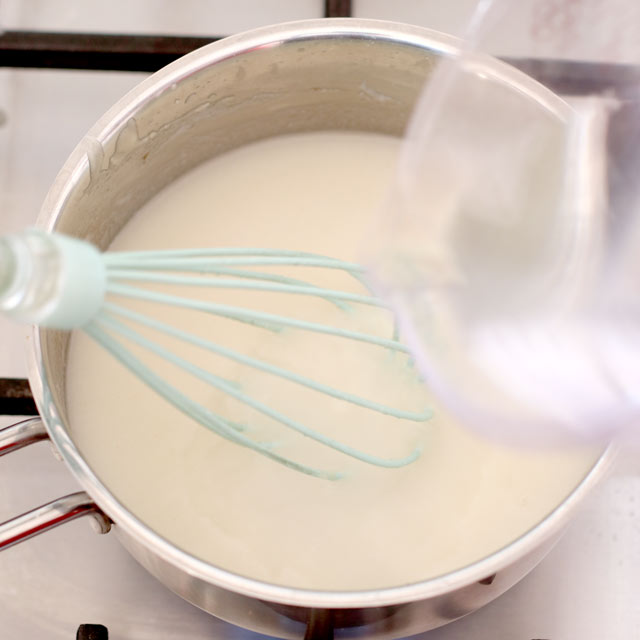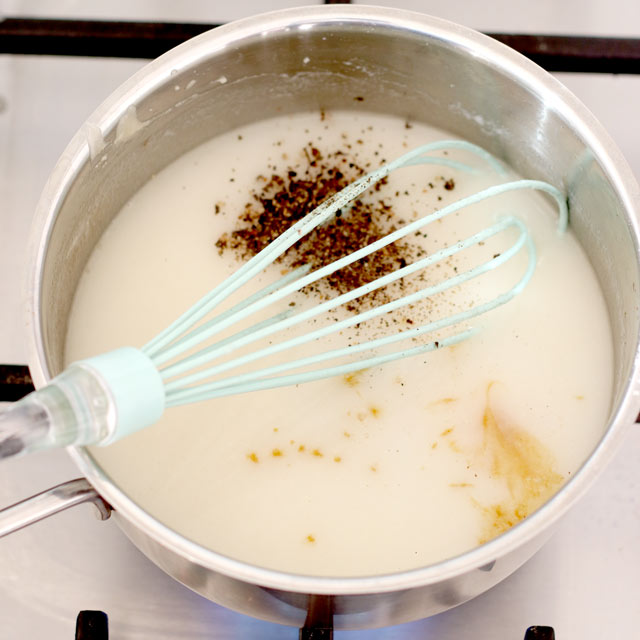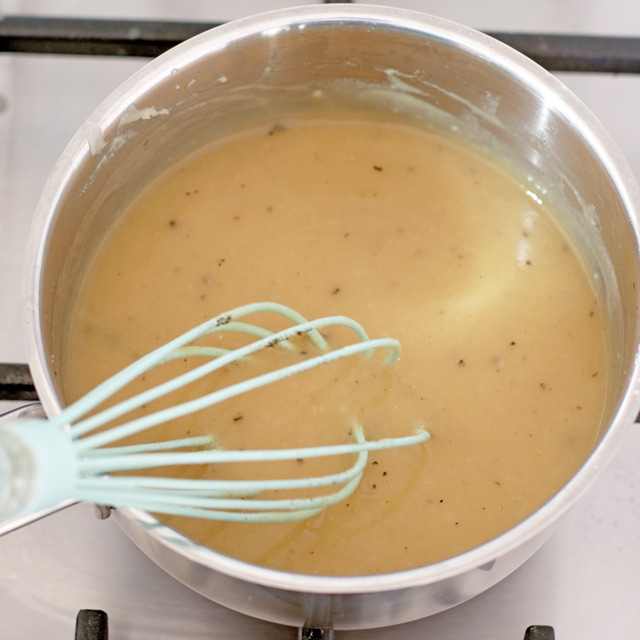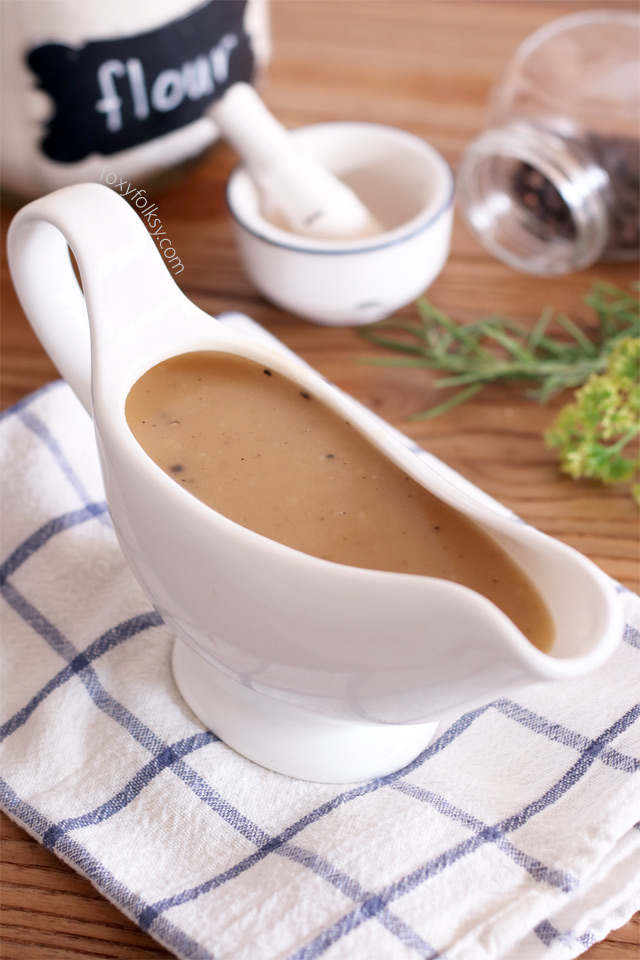 Printable Recipe
How to make Gravy
Learn how to make homemade Gravy from scratch with the most basic ingredients. So simple and tasty, perfect for your mashed potatoes, steaks and fried chicken.
Ingredients
4

tablespoons

oil

4

tablespoons

flour

2

cups

water

1

tablespoon

soy sauce

¼

teaspoon

ground black pepper

1

piece

chicken broth cube

(or ½ tablespoon if using powder)
Instructions
Warm oil in a saucepan over low heat. Add flour and whisk until both oil and flour turn into a smooth paste, about a minute.

Gradually add water while continuously stirring to make sure no lumps will form. Add broth cube, ground pepper, and soy sauce and bring to a simmer while stirring to avoid bottom from burning.

Once it starts to thicken, turn off heat. It will continue to thicken while the sauce is hot.

Transfer to a bowl or gravy boat and serve while warm.
Notes
You may use 1 tablespoon butter instead of oil for added creaminess by adding it when it starts to boil.
Nutrition
Calories:
313
kcal
Carbohydrates:
12
g
Protein:
2
g
Fat:
28
g
Saturated Fat:
2
g
Cholesterol:
0
mg
Sodium:
993
mg
Potassium:
19
mg
Fiber:
0
g
Sugar:
0
g
Calcium:
8
mg
Iron:
0.9
mg