'Pinaupong Manok sa Asin' is a unique Filipino dish characterized by the way a whole chicken is cooked- in an upright sitting position over a bed of salt. It involves simple ingredients and a straightforward cooking process but results in a delectable and intensely flavorful roasted chicken.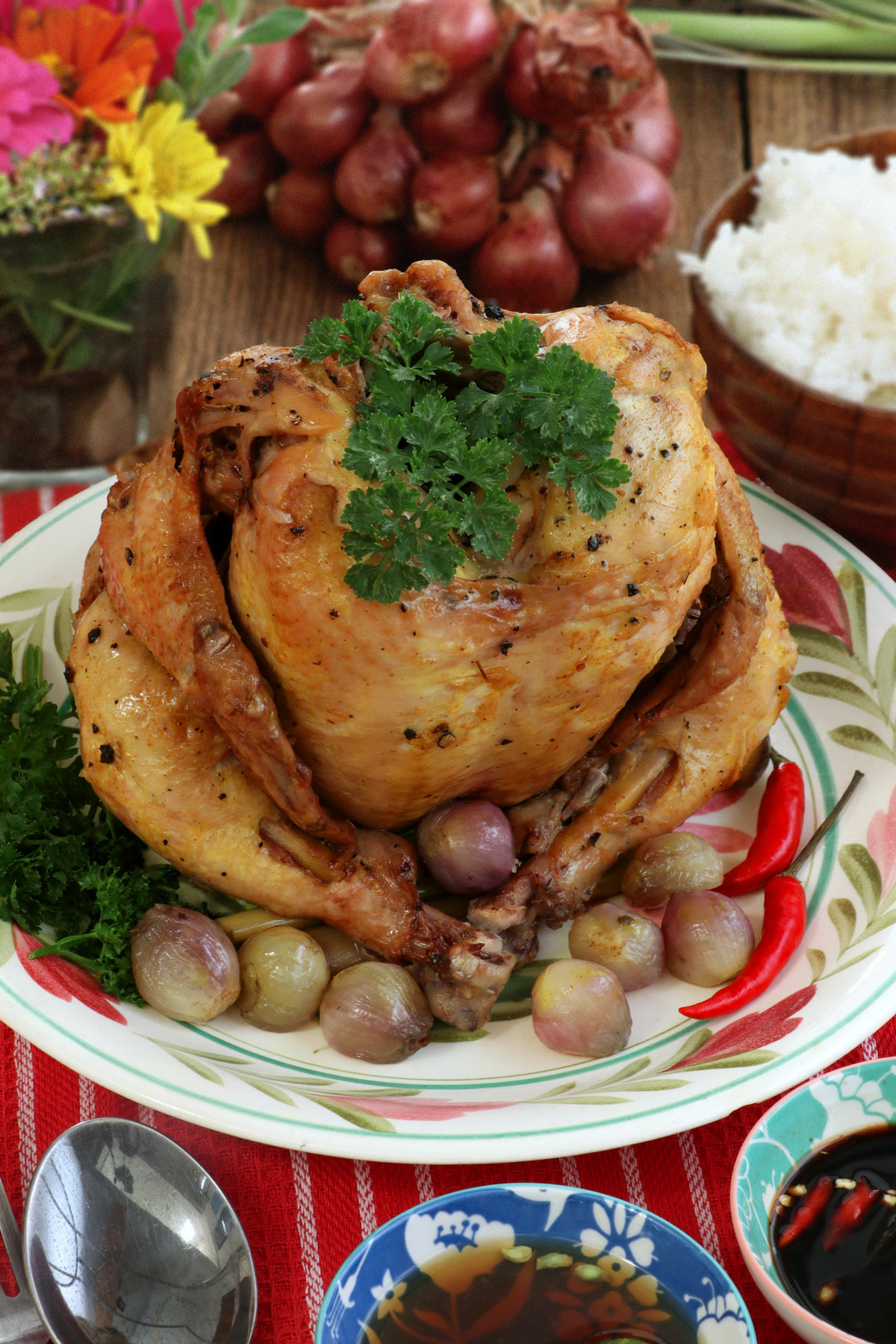 Jump to:
For this recipe, I marinated the chicken with a soy sauce mixture and stuffed it with lemongrass, shallots, and garlic to make it more flavorful! I love how the lemongrass makes the dish even more aromatic and gives it a citrusy flavor! This dish pairs great with steaming white rice or garlic fried rice with some Atchara on the side.
What is Pinaupong Manok sa Asin?
Pinaupong Manok sa Asin means "chicken seated on salt". Which refers to the position the chicken is cooked in. The chicken is positioned upright making it look like it is sitting on a bed of rock salt with banana leaves in between them. The bottom layer of salt keeps the chicken from burning, while the banana leaves keep it from touching the salt directly and also adds a unique scent and depth of flavor.
This dish is normally cooked in a palayok — an earthenware pot traditionally used for cooking various dishes over direct fire or charcoal.
The cooking process is quite simple. But it does require time to cook, at least 1 hour to 1 ½ hours on low heat! Letting the chicken cook from the steam of its own juices. So, patience is needed here, but the wait is well worth it as you bite on the succulent, fall-off-the-bone meat full of flavors.
Cooking Tips
Using fresh chicken that is firm and springy is always best. Look for meat that is pinkish in color. If you notice any unpleasant odors coming from the chicken, it's most likely no longer fresh.
Exfoliating the chicken with salt inside out helps clean the skin and cavity that a mere water wash cannot.
Make sure to know the size of the pot you are using before buying the chicken. It should fit properly with a bit of space on the sides and on top. You should be able to place the lid tightly so the heat does not escape.
Place a ramekin or metal can (like an empty can of sardines) inside the cavity to help secure the chicken and make it sit upright.
Storing leftovers
Before storing, allow it to cool down completely. If you have leftover chicken place them on airtight containers. Use aluminum foil if you do not have any on hand. Keep it in the fridge for a few days. If you do not plan on eating it within two days, keep it in the freezer packed in a container for longer shelf life.
FAQs
Why do we have to pound the lemongrass?  
When the lemongrass is pounded, it releases a citrusy flavor into the dish, making it more aromatic and unique in taste.
Is it okay to open the lid to check if the chicken is cooked
It is NOT recommended to open the lid while the chicken is being cooked to keep the heat within and avoid moisture from evaporating. 
I don't have a palayok, what can I use instead?
Since clay pots are no longer widely available, you can use conventional heavy-bottomed pots as an alternative. A Dutch oven will also do great.
What can I used as an alternative to banana leaves?
You can use corn husks or layers of parchment papers.
Printable Recipe
Pinaupong Manok
'Pinaupong Manok sa Asin' is a Filipino dish of whole chicken cooked in an upright sitting position over a bed of salt in a pot. Simple ingredients and a straightforward cooking process that results in a delectable and intensely flavorful roasted chicken.
Ingredients
1

whole

chicken

-about 1.5 kilograms

1

tablespoon

salt

1

teaspoon

ground black pepper

freshly ground

2

tablespoon

oil

- use sesame oil for added flavor

2

tablespoon

soy sauce

6

pieces

shallots

peeled (or 1 large onion cut into quarters)

1

head

garlic

peeled and crushed

3-4

stalks

lemongrass

2-3

cups

rock salt

banana leaves
Instructions
Exfoliate the chicken with some salt. Rinse and then pat dry, inside and out.

Mix soysauce, oil, 1 tablespoon of salt, and ground pepper in a small bowl, brush this generously inside the cavity and all over the skin of the chicken. Let it marinate for at least 30 minutes.

Separate the white stalk from the green leaves of the lemongrass. Using the back of a knife, crush the white part lightly to release the juices. Bundle it with the green parts. Stuff the chicken with the lemongrass, garlic and shallots.

Add remaining rock salt in a large claypot or regular pot, about an inch high and line with banana leaves fully covering the salt.

Place the chicken on top of the banana leaves in a sitting position. You can insert a small ramekin or a small empty can on the opening of the cavity to help the chicken stay in position.

Cover and cook over low heat for about 1 ½ -2 hours or until chicken is cooked and tender.

Serve with rice and your favorite dipping sauce.
Nutrition
Calories:
318
kcal
Carbohydrates:
4
g
Protein:
23
g
Fat:
23
g
Saturated Fat:
6
g
Trans Fat:
1
g
Cholesterol:
90
mg
Sodium:
845
mg
Potassium:
314
mg
Fiber:
1
g
Sugar:
1
g
Vitamin A:
171
IU
Vitamin C:
4
mg
Calcium:
29
mg
Iron:
2
mg
Other amazing Filipino chicken recipes to try