Forget takeout! This homemade version of Panda Express's Orange Chicken will blow you away with its deliciously sweet-sour, zesty, and mildly spicy flavors. It is made of crunchy chicken bites doused in a delicious citrus-flavored sauce that will dazzle your taste buds for sure.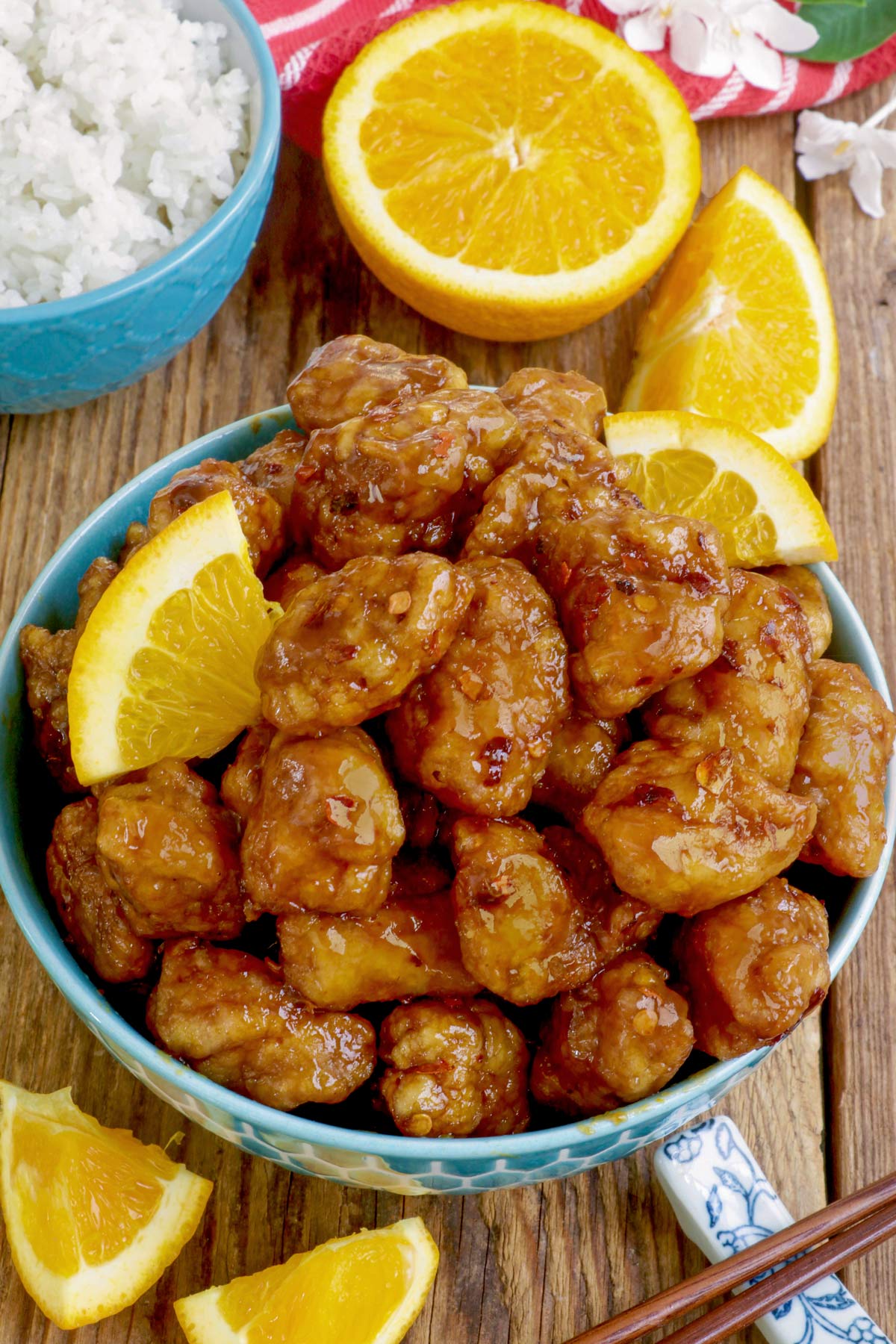 While Panda Express is a popular Chinese food chain in the US, it has only been a few years since its first branch in the Philippines opened. This, however, did not stop folks from instantly going in there and trying their talk-of-town, claim-to-fame Orange Chicken! So, for those who do not have the privilege of living near a branch, like us, here is our take on their famous dish.
This is not my first rodeo in making copycat recipes of famous dishes, though. I have tried making Charlie Chan, Mojo Potatoes, Choco Butternut Munchkins, and stir-fry Chao Fan before. I think that it is always nice to be able to recreate signature dishes at home and make them your own. It saves you money and you can make changes that fit your lifestyle or taste.
What is Orange Chicken?
Orange Chicken is one of the most popular dishes found in Chinese restaurants. It is not, however, a traditional Chinese recipe; it was invented and popularized by American-Chinese restaurants.
This Orange Chicken copycat recipe uses chicken thigh fillets cut into bite-sized pieces, dredged in batter, and fried to golden perfection. The crispy chicken pieces are then tossed in an orange sauce made with orange juice, brown sugar, soy sauce, vinegar, and chili flakes. Orange zest is added to the dish to achieve the signature citrus-orange flavor. With its sweet, zesty, and mildly spicy flavors, this dish will definitely tickle your tastebuds!
Ingredients You'll Need
For the breaded chicken:
Chicken thigh fillets - cut into 1-inch squares. I prefer chicken thighs because they are juicy and flavorful. However, you may also use chicken breast as a healthier alternative.
Ginger- adds a zesty flavor to the chicken. Ginger also helps tenderize the meat and is a great addition to any marinade.
Fish sauce- this well-loved Asian sauce adds a flair of oriental taste and umami flavor to the dish. If you do not have this, you can use salt and adjust the amount according to taste.
White ground pepper - has a subtler flavor than black pepper. In a pinch, you may also use finely ground black pepper.
Egg- aside from keeping the meat moist and juicy, this also helps properly coat the chicken pieces.
Cornstarch- this will give the chicken a crunchy and fluffy exterior when deep-fried than flour.
Oil- you can use canola or corn oil for deep frying.
For the Orange Sauce:
Orange - I used a big orange for the zest and freshly squeezed juice. The zest is a key ingredient in this recipe, so make sure you do not skip it!
Cornstarch- to thicken the sauce.
Brown sugar- you may also use coconut or muscovado sugar.
Vinegar- provides a tangy undertone to the sauce. You can use rice vinegar or white vinegar for this recipe.
Soy sauce- regular soy sauce was used in this recipe, but you may also use light soy sauce.
Chili flakes- for that punch of spiciness in every bite, fresh chilis can also be used.
Water
Salt- as needed.
Foxy Tips in cooking Orange Chicken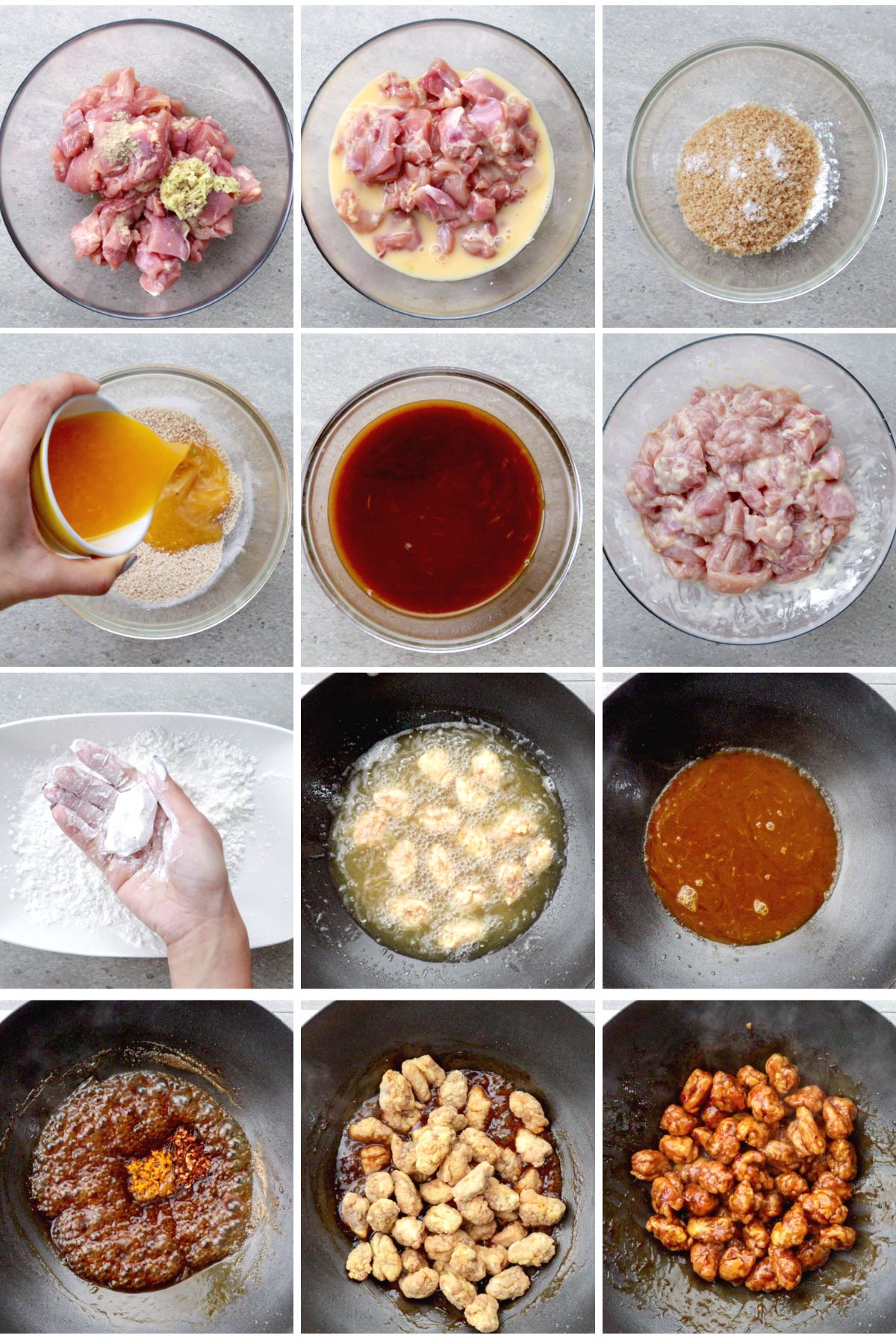 Make sure to place the orange zest in a sealed container to keep it fresh and moist. Dried-up zest is no longer as flavorful and aromatic.
The oil should be hot enough to make the chicken pieces light and crunchy on the outside. Test it by dipping a chopstick in the oil. If it bubbles up immediately, you are good to go.
Deep-fry the chicken pieces in batches if needed. If you overcrowd the pan, the oil temperature will drop and the chicken breading will absorb more oil and become soggy rather than crispy.
While it is known for its signature citrusy, sweet, and spicy sauce, you can omit or reduce the chili flakes to make it kid-friendly.
To make this dish vegetarian, you may substitute the chicken with tofu. Just make sure to remove excess liquid from the tofu as much as possible.
More Chinese-Inspired Dishes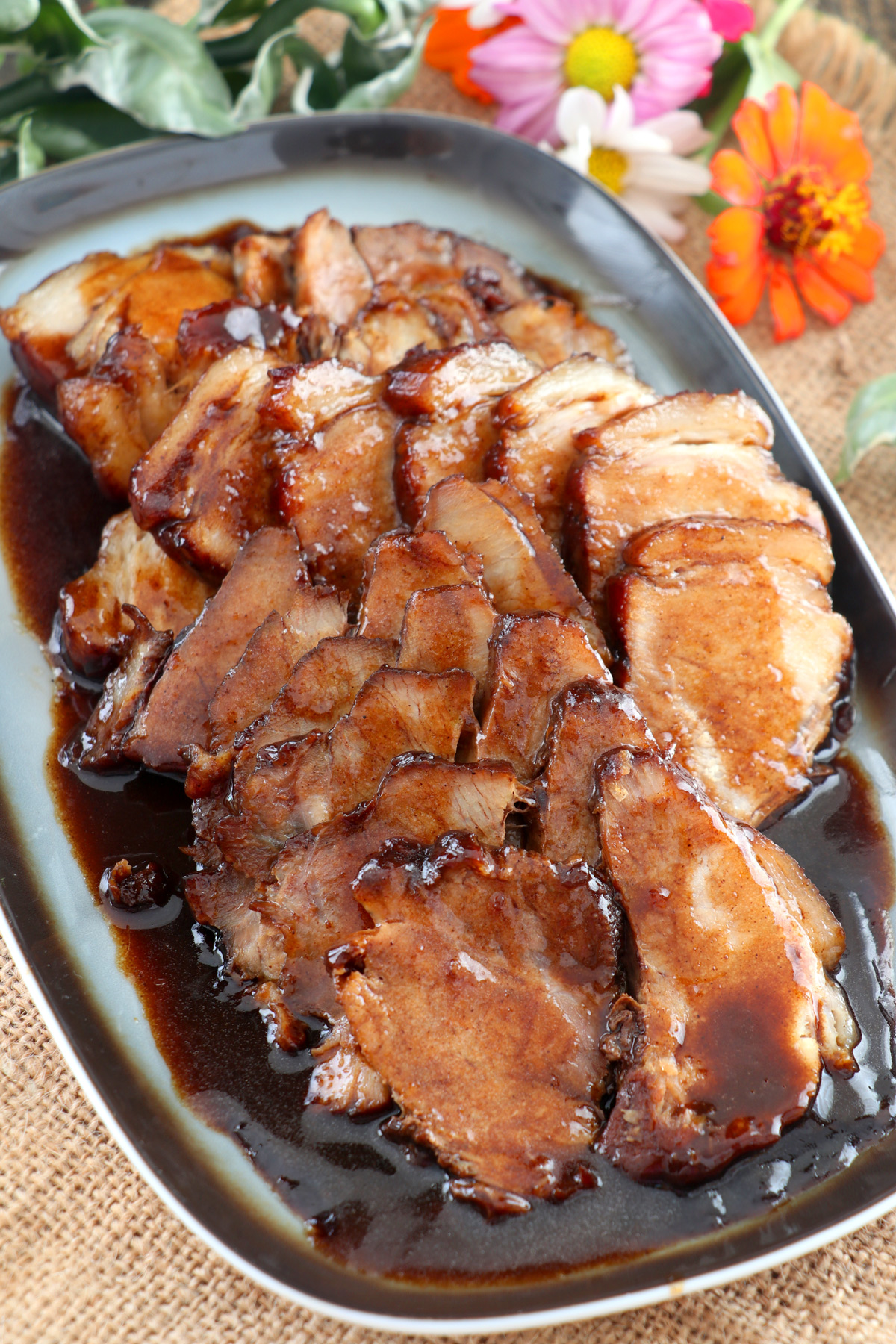 Serving and Storing Notes
This dish pairs well with steamed white rice or fried rice. For added flavor and texture, top your Orange Chicken with sesame seeds, chopped spring onions, or more orange zest!
Place leftovers in a lidded container and refrigerate for up to four days. It is also great for making ahead as it can be frozen for a month or two. This makes it a great addition to your weekly or monthly meal plan.
You can reheat it in the microwave or on the stovetop. When reheating, you may need to add a little water to reconstitute the sauce. If frozen, thaw before reheating.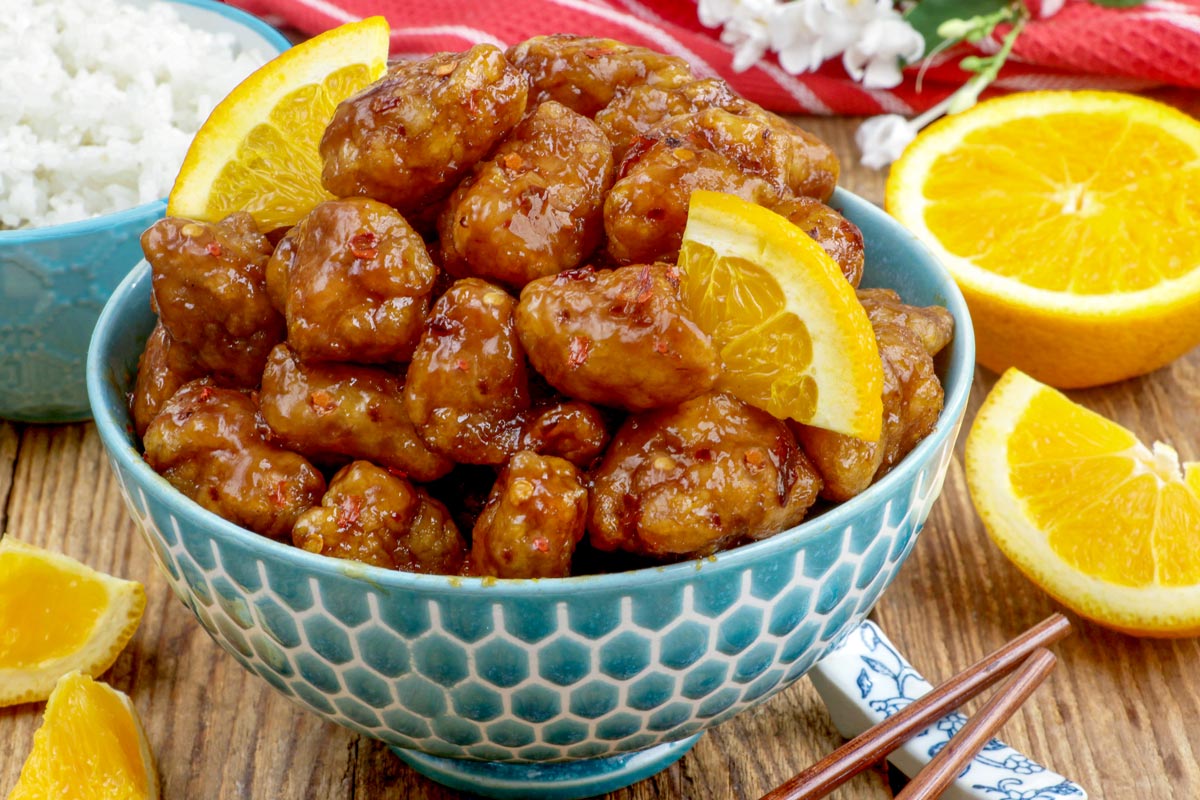 Printable Recipe
Orange Chicken Recipe
This homemade version of Panda Express's  Orange Chicken will blow you away with its deliciously sweet, zesty, and mildly spicy flavors.
Ingredients
CRUNCHY CHICKEN
1

pound

boneless chicken thigh

cut into 1-inch cube

1

tablespoon

ginger

grated

1

tablespoon

fish sauce

or use salt and adjust the amount according to taste

¼

teaspoon

white ground pepper

1

medium

egg

beaten

¼

cup

cornstarch

½

cup

cornstarch for dredging

1-2

cups

canola or corn oil for deep frying
Instructions
1 pound boneless chicken thigh,

1 tablespoon ginger,

1 tablespoon fish sauce,

¼ teaspoon white ground pepper,

1 medium egg

Place chicken pieces in a bowl and add the grated ginger, fish sauce, and white pepper, and mix. Add beaten egg and mix again. Let it marinate for at least 15 minutes or while you prepare the other ingredients.

Use a zester and get the zest from 1 orange. Set the orange zest aside for later (cover it so it will not dry out). Now use a squeezer or juicer to get the juice from the same orange, it should be about ½ cup of orange juice.

1 tablespoon cornstarch,

¼ cup brown sugar,

orange Juice,

¼ cup rice vinegar,

¼ cup water,

2 tablespoon soy sauce,

Salt

In a bowl, combine the dry ingredients for the sauce and mix then pour in the wet ingredients except for the orange zest and chili flakes. Mix well until sugar and salt are dissolved. Set aside.

Add ¼ cup cornstarch to the marinated meat and mix well with your hands or a spatula.

½ cup cornstarch for dredging

Place ½ cup of cornstarch on a plate. Take a piece of meat and roll it with cornstarch to fully cover. Press it inside your hand to make sure the cornstarch sticks firmly to the meat. Do the same to the rest.

1-2 cups canola or corn oil for deep frying

Heat oil in a wok over medium-low heat. Check if th oil is hot enough by dipping a chopstick, it should bubble immediately.

Deep fry the meat in batches if needed, do not overcrowd. Do not stir for 1 minute after putting in hot oil so the cornstarch won't shed off. Fry for 3-4 minutes or until golden brown. Remove the meat from the oil using a spider ladle and place it on an oil-draining rack or plate lined with a paper towel.

1 orange zest,

½ - 1 teaspoon chili flakes

Empty the oil from the wok, no need to wipe it clean. Turn on the heat to medium-high. Pour the sauce mixture into the wok and simmer until it has thickened. Add the orange zest and chili flakes. Lower heat to low and continue to simmer until quite thick.

Add back the fried chicken pieces. Toss and mix for 10 seconds until everything is coated with sauce. Transfer to a serving dish.
Nutrition
Calories:
964
kcal
Carbohydrates:
42
g
Protein:
21
g
Fat:
79
g
Saturated Fat:
10
g
Polyunsaturated Fat:
21
g
Monounsaturated Fat:
46
g
Trans Fat:
0.3
g
Cholesterol:
152
mg
Sodium:
992
mg
Potassium:
329
mg
Fiber:
1
g
Sugar:
15
g
Vitamin A:
387
IU
Vitamin C:
4
mg
Calcium:
41
mg
Iron:
2
mg