Delicious braised pork belly with savory-sweet soy-vinegar sauce with a distinguishing taste of tausi cooked until tender. Pork Humba is another Filipino dish to try!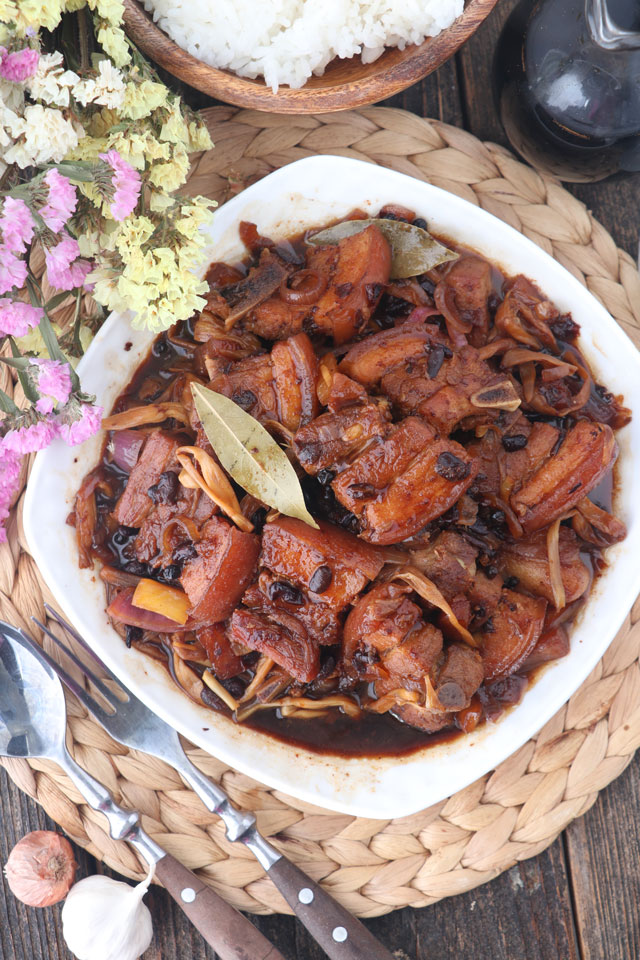 What is Pork Humba?
Humba is a Filipino braised pork dish that is very popular in the Visayan and southern regions. Said to be a derivative of the Chinese Hong-ba (also Hong-Shao-Rou or Red Braised Pork Belly). It is believed that it was introduced by Chinese immigrants and was adapted by our Visaya folks. They replaced some of the ingredients like Shaoxing wine and five-spices with what is more easily found locally. Ginger is also omitted and instead, tausi is used.
Like any others, there are different manners of cooking this dish. Some people would marinate the meat first before searing. Others would skip the searing part entirely.
Adobo Vs. Humba
Humba or sometimes homba is usually likened to the Adobo. They are both cooked with soy sauce and vinegar. Humba, however, has a mildly sweet take from the addition of brown or muscovado sugar and/or pineapple.
Another difference is the way they are cooked.  Unlike Adobo, that you just put together and simmer until sauce thickens, Humba is cooked using the braising technique. The pork belly which usually has a good amount of fats is first seared to render the fats. It will then be simmered in liquids and spices.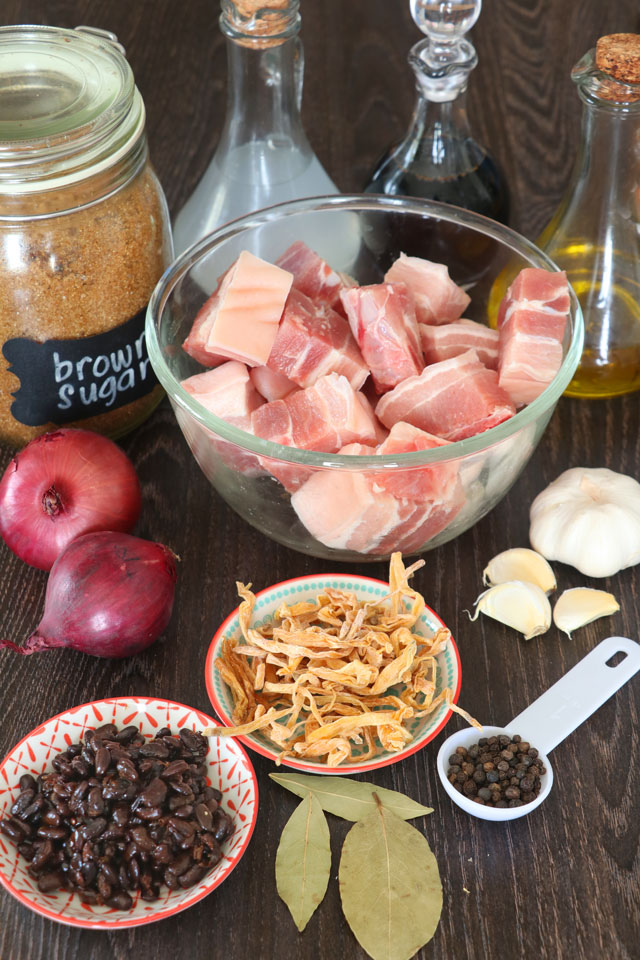 What is in Humba?
Meat- It is normally made with pork and the most common cut used is the belly or liempo. Pork leg, hocks, and sometimes shoulder are also used. Hard-boiled eggs are also sometimes added.
Braising liquid- Soy sauce, vinegar, and water are used for braising the meat. Pineapple juice is also sometimes added while some use soda (Sprite or 7-up).
Spices- Like Adobo, it also has bay leaves, peppercorn, garlic, and onions. Another thing that sets them apart is the added tausi (fermented black beans), which is a must ingredient. Banana blossoms are also added optionally so as pineapple bits.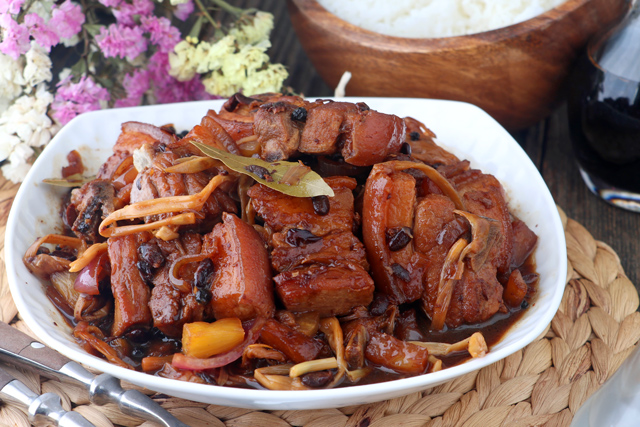 Printable Recipe
Pork Humba
A Filipino braised pork belly dish with sweet-savory soy-vinegar sauce. Made more flavorful by adding black fermented beans (tausi) and banana blossoms.
Ingredients
2

tablspoons

oil

1.5

pounds

pork belly

- cut into 1x2-inch sizes -see NOTE 1

4

cloves

garlic

-minced

1

medium

red onion

- chopped

¼

cup

soy sauce

¼

cup

vinegar

2

cups

water

- add more if needed

1

tablespoon

peppercorn

2

pieces

bay leaves

¼

cup

dried banana blossoms

(optional)

¼

cup

fermented black beans (tausi)

- see NOTE 2

½

cup

pineapple tidbits

- liquids included (optional)

3

tablespoon

brown sugar
Instructions
Heat oil in a large pot over medium heat. Sear pork belly until lightly browned and fats are rendered. Set fried pork aside. Remove excess oil from the pot and leave just about 2 tablespoons.

In the same pot, saute garlic until golden and aromatic. Add back the pork belly and stir.

Add the rest of the ingredients and stir. Cover the pot and let it simmer for 40-50 minutes or until pork is tender. Add more water if needed until meat is fork-tender.

Remove the cover and continue to simmer until liquid is reduced to a thick sauce.

Transfer to a serving dish and serve with plain rice.
Notes
NOTE 1 : If pork belly has a lot of fat, separate the fatty part from the leaner part. Sear the fatty part first to render the fats. Sear the leaner meat for shorter time so it will not dry up and become chewy.
NOTE 2: If using dried fermented black beans, soak it a bit and rinse before adding as it may be too salty. If using the canned ones with liquid, drain the liquid. 
Nutrition
Calories:
1013
kcal
Carbohydrates:
23
g
Protein:
23
g
Fat:
93
g
Saturated Fat:
33
g
Cholesterol:
122
mg
Sodium:
1469
mg
Potassium:
561
mg
Fiber:
4
g
Sugar:
15
g
Vitamin A:
75
IU
Vitamin C:
6.5
mg
Calcium:
57
mg
Iron:
10.4
mg