Char Siu is basically roasted or barbecued pork from Cantonese cuisine that is very popular in Hong Kong and I would say in most Southeast Asian region commonly served at Chinese restaurants. It is usually sticky, sweet and savory.
I do not remember exactly when I got my first taste of Char Siu but it was definitely on one of the trips I made to Hongkong. It could be actually from my first (Hongkong-Macau) trip with friends, Roms and Leony. One of the highlights of our trip to HK, aside from going to Disney and Ocean Park, was trying out the HK food including their street food! Char Siu is difficult to miss because you will find them hanging in windows of siu mei shops beside other equally yummy roasted meat, like chicken, goose or duck. They look and smell so good that you will surely be tempted to try them out as you should!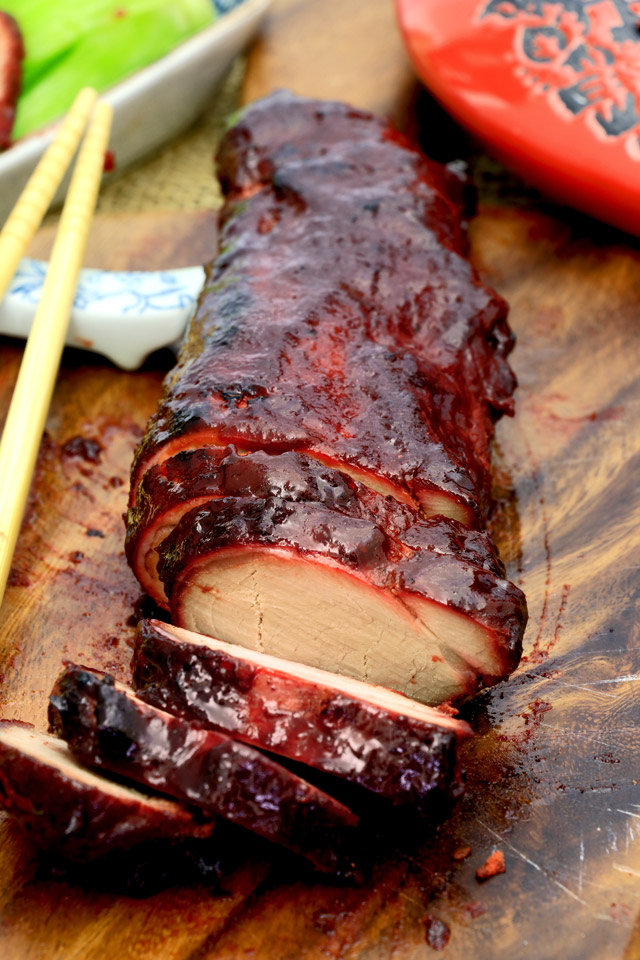 My last trip to Hongkong was in March 2012 with my parents and sisters. I thought we could spend some quality time before I leave for Germany to join Armin and at the same time, our youngest sister, Cherry, for Dubai. It was great! I have to say I really love Hongkong! There are so much to see and things to try and we wanted to see and try them all… What we did not have so much of, though, was…time, so what we would do was to get some take-outs from these siu mei shops and have our lunch on the go, usually at the parks which a lot of people do anyway. My favorites are the Char Siu and Siu Ngo (roasted goose). They would pack them on a foam lunch box on top of steamed rice and sometimes with a little green vegetable like Pak Choi on the side and a sauce for dipping.
Other recipe calls for five-spice powder, which I do not have. But I do have all of the things needed to make it: cloves, fennel, star anise, pepper and cinnamon. Although I skipped the cinnamon…do not ask me why, I guess I was just not in the mood for it at the time… and I sub cumin for fennel seeds, also for no reason… actually I got them mixed up..hehe…but that is totally fine! So if you happen to have this five-spice powder, feel free to use it instead.
WANT MORE RECIPES? Subscribe to our newsletter and follow us on Facebook, Pinterest and Instagram for all of the latest updates.
Char Siu
Char Siu is roasted or barbecued pork from Cantonese cuisine usually sticky, sweet and savory. Try this Char Siu recipe and learn to make it from scratch.
Print
Rate
Total Time:
1
hour
15
minutes
INGREDIENTS
1 1/2

pounds

pork neck or belly
FOR MARINADE
2

tablespoons

hoisin sauce

2

tablespoons

Thai bean sauce

2

tablespoons

soy sauce

1

tablespoon

oyster sauce

3

tablespoons

cooking cherry

-

or brandy

10

cloves

1 1/2

teaspoons

cumin

2-3

pieces

star anise

1

teaspoon

black pepper

1

teaspoon

salt

5

cloves

garlic

2

pieces

bay leaf
BASTING SAUCE
1

teaspoon

cornstarch -

- dissolved in 1/4 cup water

3

tablespoons

honey
INSTRUCTIONS
Wash pork and cut into long chunks. Tab dry with paper towel and set aside.

Put all the ingredients for the marinade in a mixer and pulse for 3 minutes or until dry ingredients turn into fine bits and pieces.

Take each pork cut and dip it one by one in the marinade covering all sides. Place them in a Ziploc bag or any freezer plastic bag. Seal and place the bag in the fridge and let it marinate for at least a day, better for 2 days.

When ready to cook, take the pork out of the fridge and transfer the pork to the grilling tray. Set the marinating sauce aside. Roast the marinated pork in a preheated oven at 300°F / 150°C for 40 minutes to an hour with the tray placed in the middle position.

Meanwhile, prepare the basting sauce. Strain out the used marinating sauce to remove the coarse bits and heat in a saucepan over low fire. Once it stars to simmer, add the cornstarch mixture to the sauce and stir until it gets thick. Remove from heat and mix in the honey.

Baste one side of the pork and move the tray on the top position turning oven settings to broil. roil the pork until it gets a bit darker and sides slightly charred. Do the same on the other side.

Once done, cut into thin slices and serve with rice, noodle or steamed buns. You may also pour some of the basting sauce on top or serve it as a dipping sauce.
Nutrition Facts
Char Siu
Amount Per Serving
Calories 1337
Calories from Fat 1089
% Daily Value*
Total Fat 121g 186%
Cholesterol 163mg 54%
Sodium 1862mg 78%
Potassium 511mg 15%
Total Carbohydrates 38g 13%
Protein 24g 48%
* Percent Daily Values are based on a 2000 calorie diet.
Tried this recipe?
Tell us how it went. Tag us at @foxyfolksy or leave a comment and rating below.