Transform your leftover lechon into a whole new dish that is deliciously saucy, sweet, and tangy. This Lechon Paksiw is made by simmering mouthwatering roasted pork in vinegar, lechon sauce, and spices.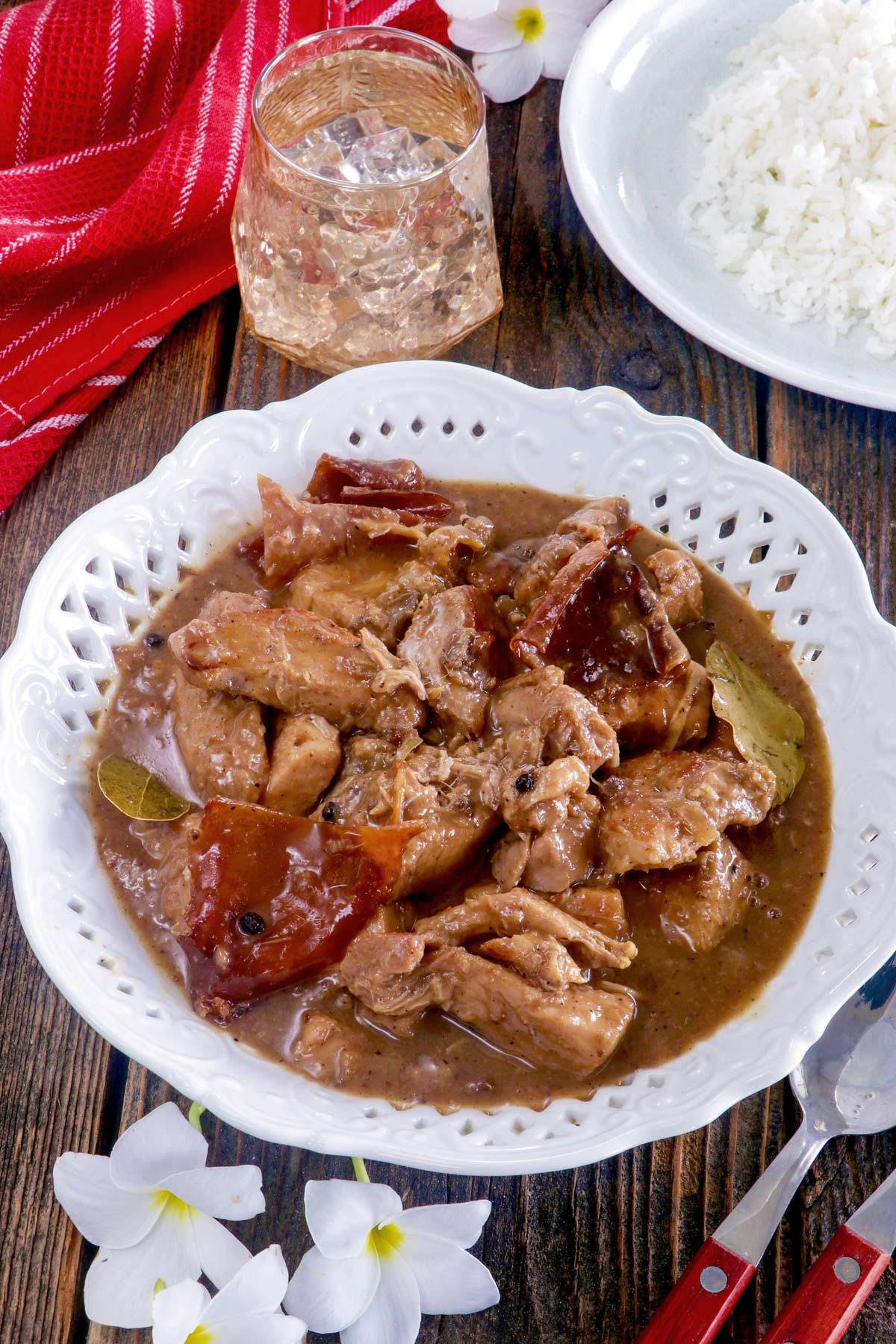 Holidays are an excellent opportunity to indulge in some delicious and mouthwatering meals. The table is laden with delectable foods including Pancit, Menudo, Pork Barbeque, Leche Flan, and the pièce de résistance, Lechon.
Lechon is a Spanish word that refers to a roasted suckling pig. Lechon is delicious, but it doesn't taste as good when reheated. This Lechon Paksiw recipe is one of the best ways to upcycle your leftover roasted pig. It not only keeps for a very long time, thanks to the vinegar's preservative properties but also gets you to create a whole new dish!
What is Lechon Paksiw?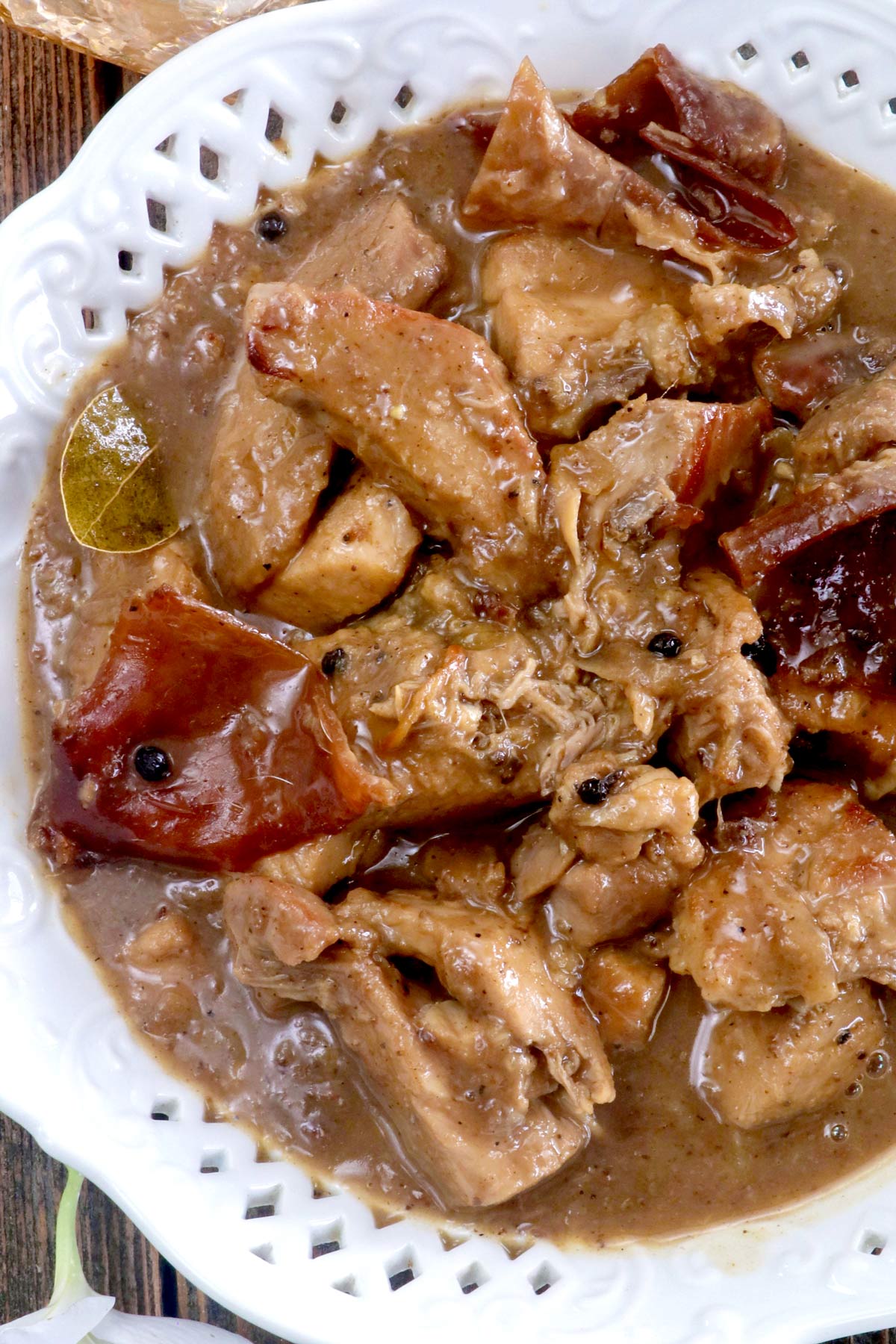 Lechon Paksiw is a popular Filipino post-holiday meal that is traditionally made from leftover roast pork that was served during the festivities. Paksiw is a cooking method where food is cooked or simmered in vinegar.
Paksiw na Lechon is made by chopping the unconsumed lechon into serving pieces and stewing them in vinegar, aromatics, and lechon sauce. This dish is quick and easy to make and is ready in about 15 minutes!
Ingredients You'll Need
Pork Lechon - chop leftover pieces in uniform pieces for even cooking. If you don't have leftover lechon, you may use Lechon Kawali or Lechon Belly to make this dish.
Lechon sauce - has a sweet, tangy, and garlicky flavor. I used the bottled commercial variant for this recipe as it is more convenient, but you may also create your own.
Aromatics - I used onion, garlic, peppercorn, salt, and bay leaves for this recipe.
Vinegar - It is best to use white or distilled vinegar for this recipe.
Brown Sugar - This is optional. Some lechon sauces are already sweet, do a taste test first before adding this to your dish. Dark brown sugar or muscovado are good alternatives.
Tips for Making the Best Lechon Paksiw
After adding the vinegar, allow it to boil without stirring to cook off the sharp or strong acidic flavors.
You may add about 2-3 tablespoons of the liver spread to add a depth of flavor. Add it toward the end of cooking as this help thicken the sauce as well.
If the sauce of your Lechon Paksiw turns out to be thicker than intended, add hot water. Allow it to simmer until you achieve the consistency you want.
Storing Notes
Store leftovers in airtight containers. Paksiw na Lechon can keep for 3 to 5 days. You can extend their shelf life by placing them in freezer-safe containers or bags.
To reheat, thaw and place in a sauce pot over medium heat and bring to a simmer. You may add hot water to dilute the thickened sauce. Alternatively, you may reheat it in the microwave.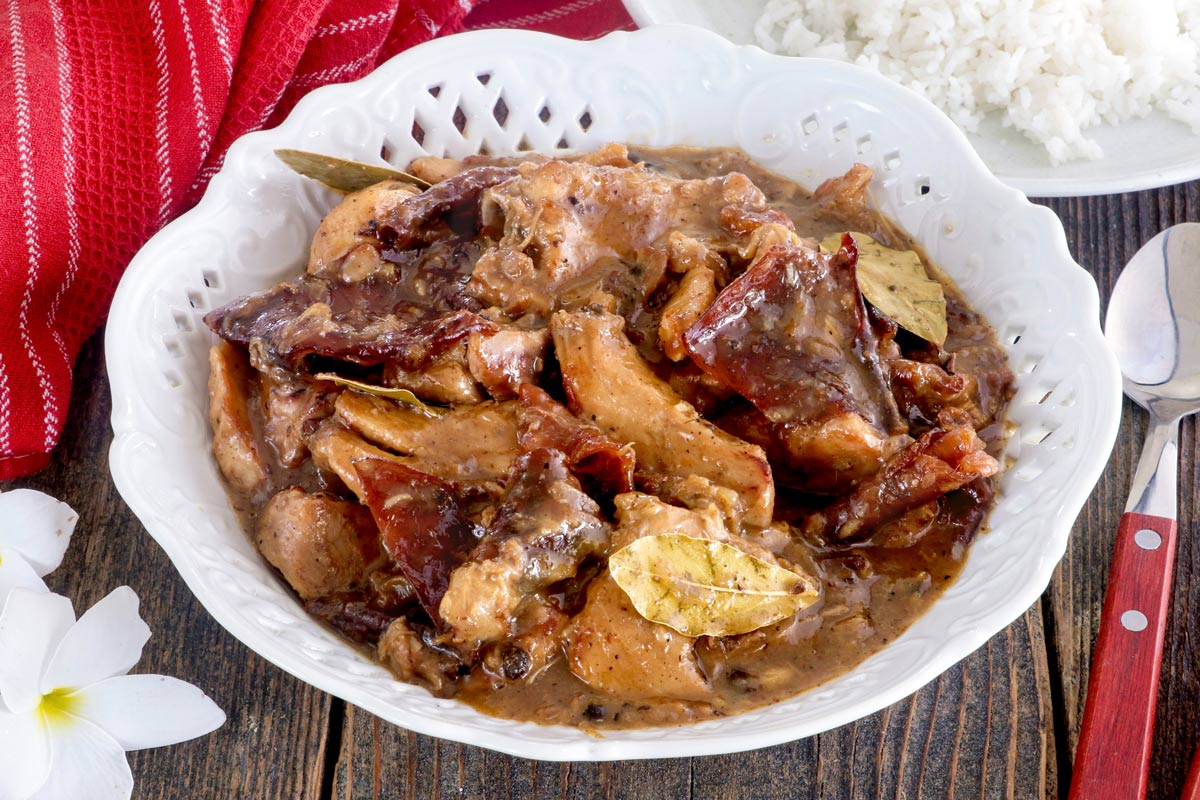 Printable Recipe
Lechon Paksiw Recipe
Turn your leftover lechon into a whole new dish that is deliciously saucy, sweet, and tangy with just a few simple ingredients!
Ingredients
2

tablespoons

oil

1

medium

onion

sliced

3

cloves

garlic

minced

2

pounds

leftover pork lechon

1

cup

water

¼

cup

vinegar

½

teaspoon

peppercorn

¾

tablespoon

salt

4

pcs

bay leaves

1

cup

lechon sauce

1

tablespoon

brown sugar

optional
Instructions
2 tablespoons oil,

1 medium onion,

3 cloves garlic

In a pot or a wok heat the oil. Saute onion and garlic until limp and aromatic.

2 pounds leftover pork lechon,

1 cup water

Add leftover lechon and cook until lightly browned. Add water & let it simmer for about 2 minutes.

¼ cup vinegar,

½ teaspoon peppercorn,

¾ tablespoon salt,

4 pcs bay leaves

Add the vinegar, and bring to a boil uncovered and without stirring for about 2-3 minutes. Add peppercorn, salt, and bay leaves. Stir and let it simmer for another minute or two.

1 cup lechon sauce,

1 tablespoon brown sugar

Pour the lechon sauce and cook for a minute. Add sugar (if using) an cook until the sauce slightly thickens.

Transfer to a serving platter and enjoy!
Nutrition
Calories:
96
kcal
Carbohydrates:
7
g
Protein:
1
g
Fat:
7
g
Saturated Fat:
1
g
Polyunsaturated Fat:
2
g
Monounsaturated Fat:
5
g
Trans Fat:
0.03
g
Sodium:
1333
mg
Potassium:
67
mg
Fiber:
1
g
Sugar:
4
g
Vitamin A:
66
IU
Vitamin C:
3
mg
Calcium:
27
mg
Iron:
1
mg