Try this Pata Tim recipe for melt-in-your-mouth succulent meat with a perfect sweet-savory sauce that goes with it.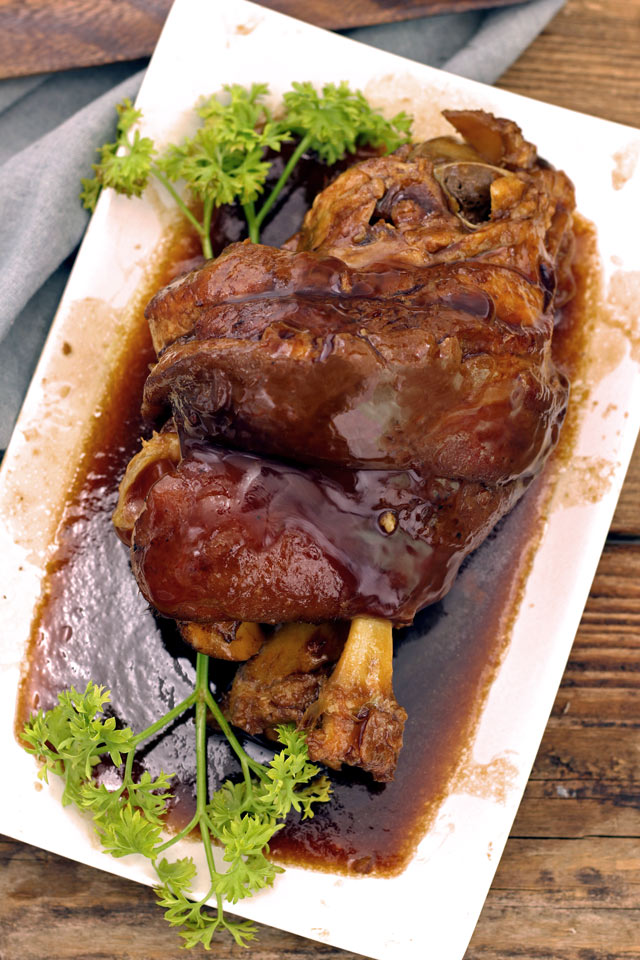 Pata Tim (Braised Pork Hocks)
Pata Tim is a popular Filipino-Chinese dish of braised pork hock that is cooked long and slow until the meat becomes so tender it literally falls out of the bones.
Ingredients
3

pounds

whole pork leg (ham hock)
FOR THE BRINE
4

cups

water

¼

cup

salt

3

pieces

star anise

3

pieces

bay leaves

½

teaspoon

peppercorn
FOR BRAISE
3

tablespoons

oil

- for searing

3

cups

water

½

head

garlic

- cut into half, crosswise

2

tablespoons

brown sugar

¼

cup

soy sauce

3

pieces

star anise

3

pieces

bay leaves

½

teaspoon

peppercorn

3

tablespoons

cornstarch

¼

cup

water
Instructions
Pour 4 cups of water into a pot. Add salt, star anise, bay leaves, and peppercorns. Bring to a simmer until salt is dissolved. Let it cool down to room temperature.

Place pork hock in a large bowl or a Ziploc bag. Pour the brine solution over the pork hock and cover. Place in the fridge overnight (or up to 3 days). Remove from brine and pat the pork hock dry.


In a pot just large enough to fit the whole pork hock, heat oil over medium-high heat. Sear all sides until golden about 3 minutes each side.

Pour 3 cups of water and add the garlic, brown sugar, soy sauce, star anise, bay leaves, and peppercorns. Cover the pot with the lid and bring to a boil.

Once it starts to boil, turn down the heat to low and cook for at least 3 hours or until the skin and meat are so tender they easily separate from the bone. Remember to turn the meat every other 30 minutes.

You may have to add more water until the meat reached the desired tenderness.

Make sure also that by that time, you still have at least 1 cup (up to 1.5 cups) of the liquids remaining.

Gently remove the pork hock and transfer to a serving dish. Run the remaining liquids through a strainer or a sieve to remove the chunky pieces. Return the liquids to the pot and turn heat to low.

Dissolve the cornstarch in ¼ cup of water and gradually pour this mixture into the pot with liquids while continuously stirring to form a thick sauce.

Pour sauce over the pork leg and serve. This is usually eaten with steamed rice. You may also add some steamed bok choi for sides.
Nutrition
Calories:
613
kcal
Carbohydrates:
15
g
Protein:
78
g
Fat:
24
g
Saturated Fat:
5
g
Cholesterol:
214
mg
Sodium:
8076
mg
Potassium:
1338
mg
Fiber:
1
g
Sugar:
6
g
Vitamin A:
95
IU
Vitamin C:
1.8
mg
Calcium:
71
mg
Iron:
3.6
mg
What is Pata Tim?
Pata Tim or Patatim is a popular Filipino-Chinese dish of braised pork leg or hock that is cooked long and slow until the meat becomes so tender it literally falls out of the bones.  The whole pork leg (pata) is cooked in a mixture of soy sauce, sugar, spices like garlic, bay leaves, star anise, and peppercorns. Other spices that can also be used or added are hoisin sauce, cinnamon, rice wine, and five-spice powder. It is also common to add shiitake mushrooms and blanched pak choi.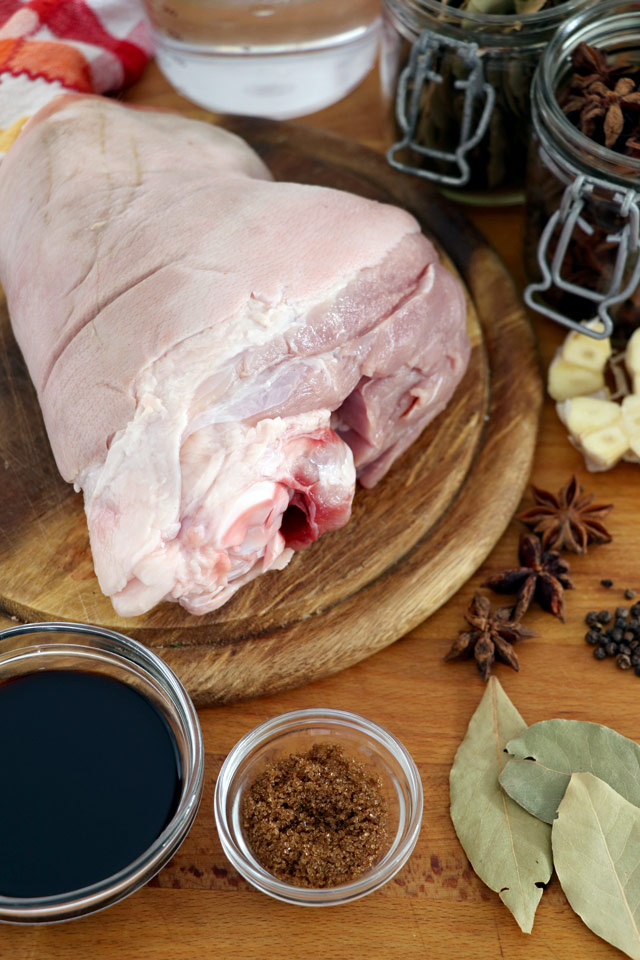 The truth is, I was not a big fan of Pata Tim. I find them usually cooked a bit too sweet for my liking. I do not even remember the last time I had it because obviously, it is not a favorite. But a recent event changed my mind.
Just a few days ago my family and I went out to celebrate my Mama's birthday. We went to a favorite local buffet restaurant for lunch, Tabehoudai. It is clearly a Japanese restaurant just by looking at the name but they also serve food of various cuisines. Armin and I especially enjoy their sushi table where we can have all the sushi and sashimi we can eat. This time though I noticed my Mama came back with a small plate of this tender looking pork meat cuts. I just could not resist trying it and the moment it touched my mouth it was pure heaven.
Unbelievably soft meat that almost seems like they melt away on your tongue and it tastes soooo darn good. I was thinking to myself this can't be...."Pata Tim" my Mama, however, confirmed. Now I am converted.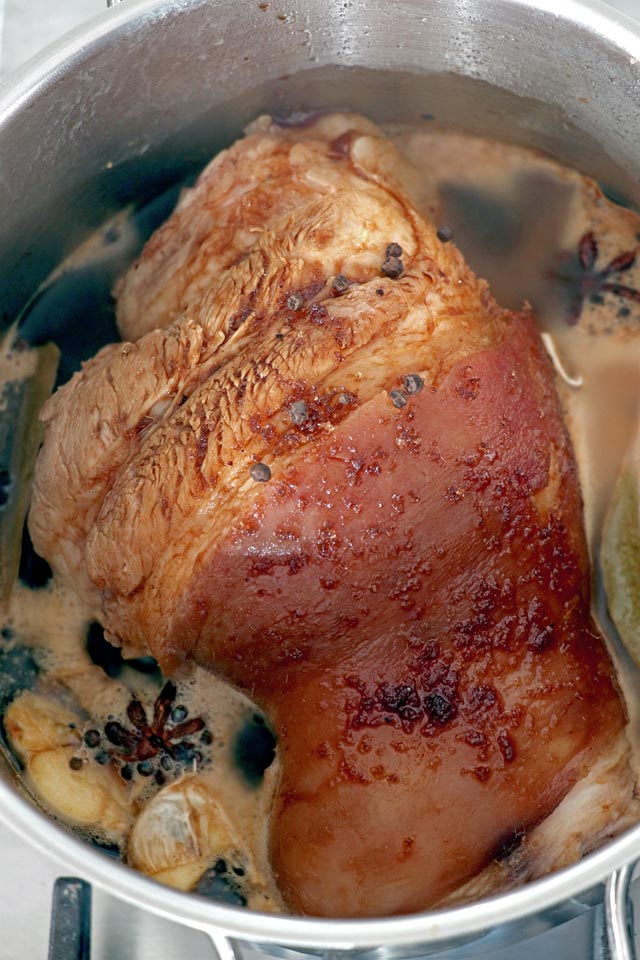 It is not just the tenderness of the meat that made me rethink my position about this dish. Also how they were able to make the perfect balance of seasoning. What I really liked is that it was not as sweet as the Pata Tim I know of and the flavors have seeped so deep into the meat but never overpowering the flavor of the pork itself.
I know that no self-respecting restaurant will ever divulge their secret recipes. So I tried to make a copycat of their Pata Tim by comparing some recipes and making some changes. I came up with this recipe here.
I brought the finished product to my parents for a final taste test. It passed with flying colors! Almost like the one in Tabehoudai my Papa said.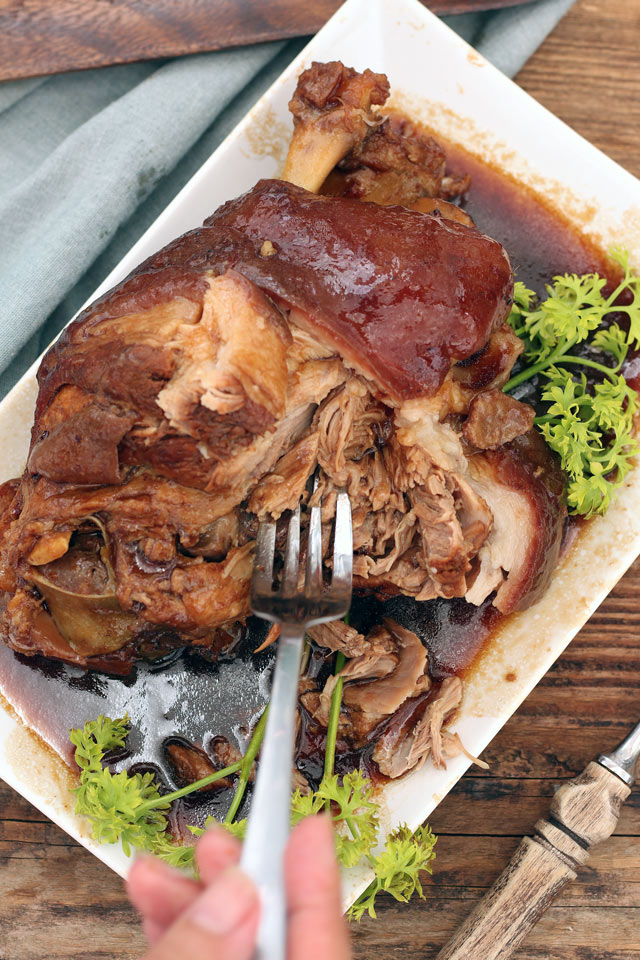 Tips on cooking the best Pata Tim
This dish is normally cooked using uncut pork leg. If cooking for a bigger crowd and you do not have a really big pot to fit the length of the leg, just take two smaller sizes. Get the ones without the trotters (feet), they do not have meat in them anyway.
I see a lot of other recipes that do not brine their pork leg. I highly suggest not to skip this part.  Letting the meat soak at least overnight (upto 3 days) in a brine solution will give you flavors that go beyond the surface of the meat. This is especially true with big chunks of meat.
Patatim is known also for its savory-sweet thick sauce. If the meat is already tender but there is still too many liquids, remove the meat from the pot and continue to simmer to reduce the sauce to at least a cup. A cornstarch slurry is added to thicken it. It also enables the sauce cling to the meat when poured into it preventing it from drying out and bringing with it all the flavors.
You can also add Shaoxing wine to the braising liquid to give it an extra rich flavor.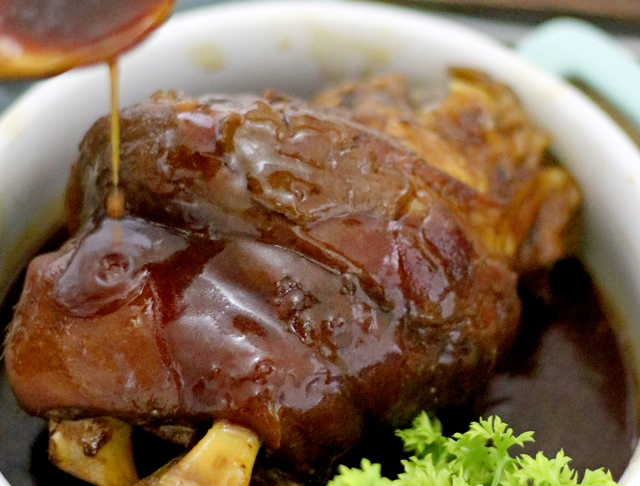 Other similar Pork recipes to try: