Updated: January 31, 2019
Leche Flan is a traditional Filipino dessert that is commonly served at Fiestas and other special occasions. It is caramel custard made of milk ('Leche' in Spanish), sugar and eggs and usually flavored with vanilla and key lime zest.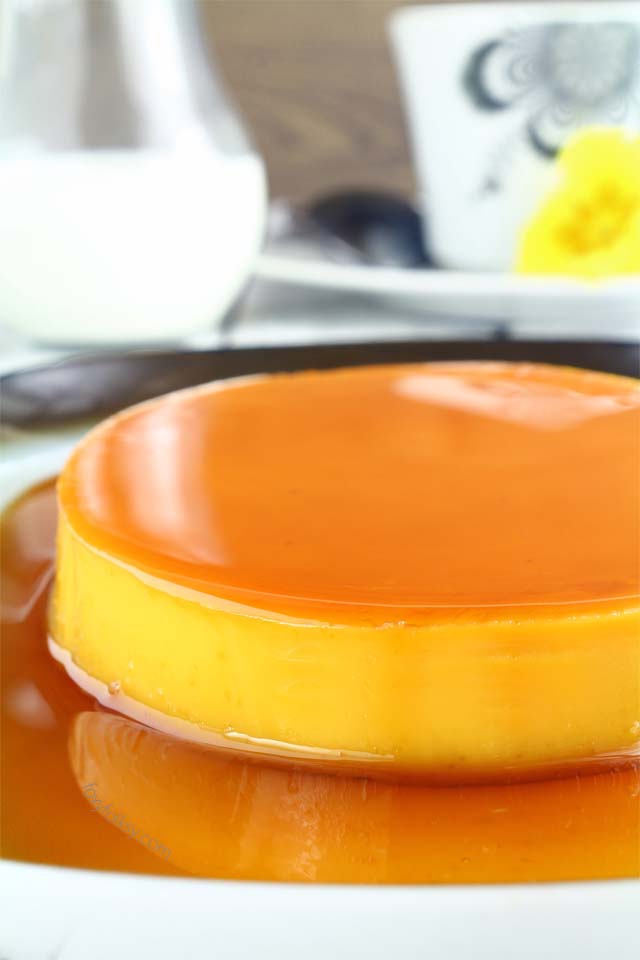 Back then, we celebrated Fiestas (feast day of a town's patron saint) every year in a really big way.
We would prepare and cook food a day or two ahead and on the day itself, visitors from neighboring towns or even those from afar would come to our doorsteps all day long and sometimes it can last until late in the night. It is a fun occasion for giving thanks and sharing your blessings.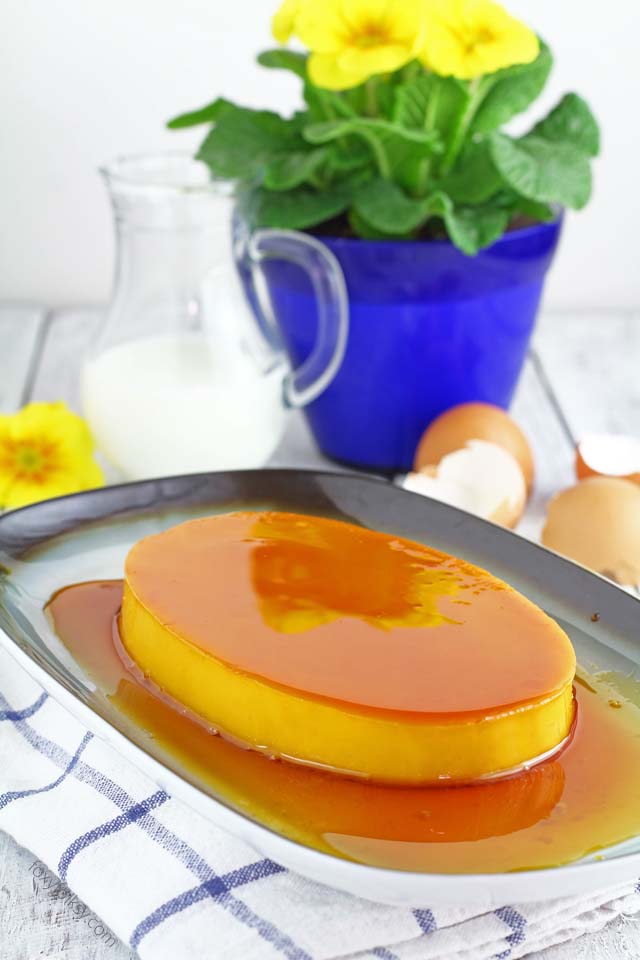 Being the eldest daughter, I was taught early to help in the kitchen. This recipe of Leche Flan was the very first dessert I learned and was taught to me by my Lola (grandma) when I was only ten or so.
The most important thing I remembered because she was very specific about it, is that I am not to make any bubbles while stirring the mixture to get that flawless texture. I also remembered how much my arms (yes both of them) and shoulders hurt from stirring real slow and for so long.
Good thing I do not have to do this manually now and let my stand mixer do all the work and I have some trick up my sleeves.
Well, it is not really so much of a trick, I only use a sieve or strainer to remove the stubborn pieces that take ages to melt.
I hope my Lola, bless her soul, is not frowning at me when she sees me doing this. (Yikes!) But I am sure she would understand.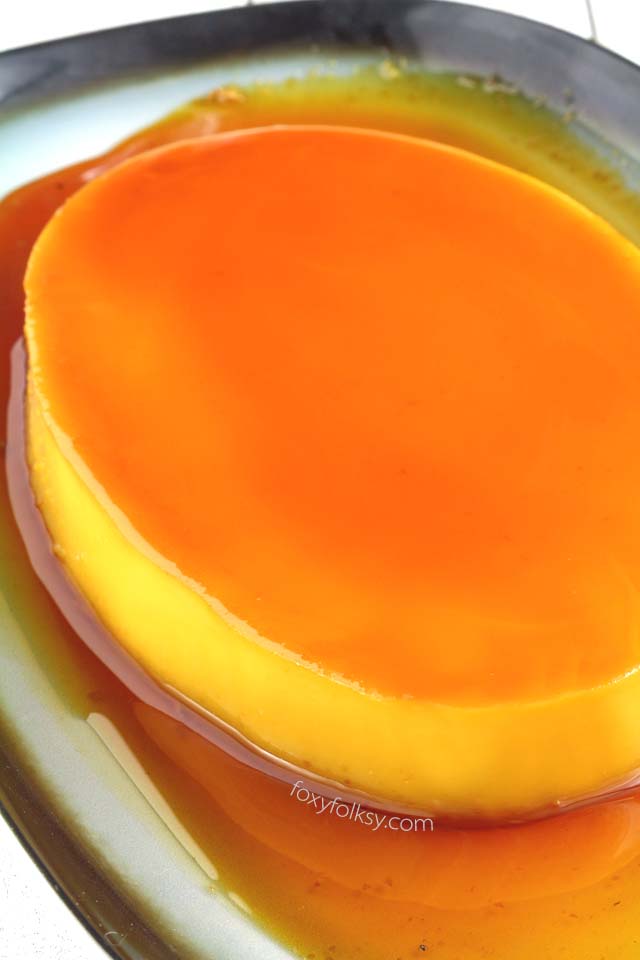 The secret to a creamy and smooth Leche Flan
I will also tell you a secret I learned to have a perfectly smooth-textured Leche Flan like this one.
This Leche Flan was baked in the oven in a water bath instead of steamed. I got this neat trick from Lalaine's Leche flan recipe of Kawaling Pinoy. I tried it on a batch I did for New Year's Eve and it worked nicely!
You may also be interested in trying my Puto Flan recipe. Combining two well-loved Filipino desserts in one, the Puto and Leche Flan.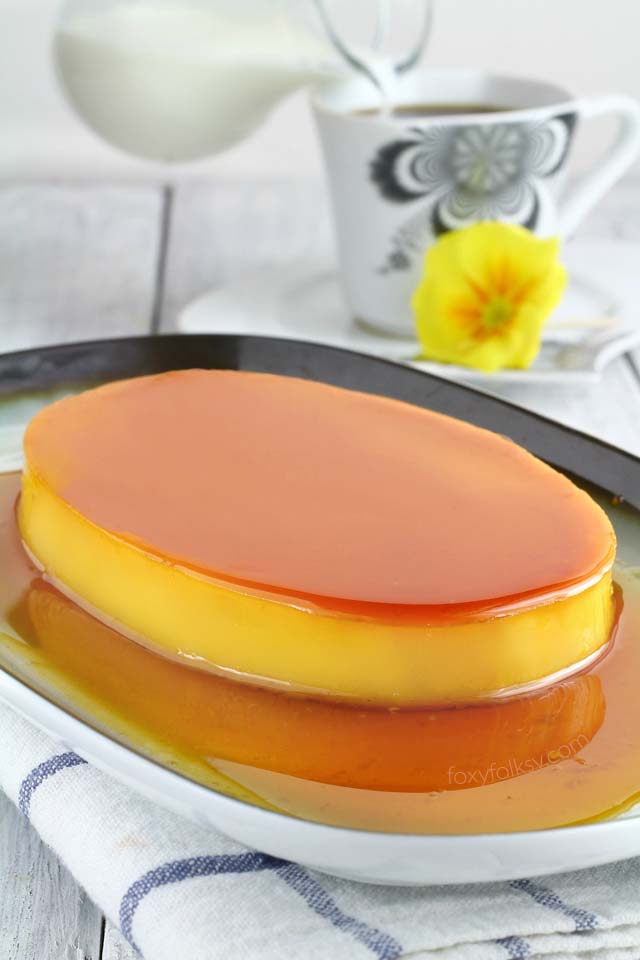 WANT MORE RECIPES? Subscribe to our newsletter and follow us on Facebook, Pinterest and Instagram for all of the latest updates.
Leche Flan
Learn the secret to a perfectly smooth and creamy Leche Flan! Get the recipe now for the ultimate dessert for any special events and occasions.
Print
Rate
INSTRUCTIONS
Scoop 3 tablespoons of sugar in each llanera or flan molds. Place the llanera on top of the stove over low heat. When the sugar starts to liquefy, using tongs, turn the llanera in a circular motion to prevent the sugar from burning and let them caramelize evenly. Remove from heat once all granules have turned liquid and are light brown. Set aside.

Place the egg yolks in a bowl, and slowly beat them with a fork. Try not to beat too fast and create bubbles. Slowly add the condensed and evaporated milk into the egg while continuously stirring. Lastly, add the vanilla extract and zest of key lime and stir a couple of times more until all is well blended. Sieve the mixture with a strainer to remove undissolved bits.

Pour the egg-milk mixture into each mold. Tap the mold several times on a flat surface to get rid of trapped bubbles. Place the filled llanera or mold in a water bath and bake in the oven at 180°C/355°F for 25-30 minutes or until an inserted toothpick comes out clean. Let them cool down and then place in the fridge. Serve chilled.
RECIPE NOTES
They may also be steamed like the traditional way but it might not be as smooth. To make just 1 llanera use the following ingredients:
4 egg yolks
1/3 cup evaporated milk
1/3 cup condensed milk
1/4 tsp vanilla extract
1/4 tsp lime zest (optional) If you do not have a llanera, you can also use a
round aluminum mold
.
Nutrition Facts
Leche Flan
Amount Per Serving
Calories 338
Calories from Fat 135
% Daily Value*
Total Fat 15g 23%
Cholesterol 651mg 217%
Sodium 30mg 1%
Potassium 65mg 2%
Total Carbohydrates 38g 13%
Protein 9g 18%
* Percent Daily Values are based on a 2000 calorie diet.
Tried this recipe?
Tell us how it went. Tag us at @foxyfolksy or leave a comment and rating below.