Mouth-watering Chinese Stuffed Cabbage Rolls bursting with savory oriental flavors packed with ground meat, mushrooms, and carrots drenched with a silky umami sauce. This hearty and healthy dish can be enjoyed as it is or served with rice for a filling lunch or dinner meal.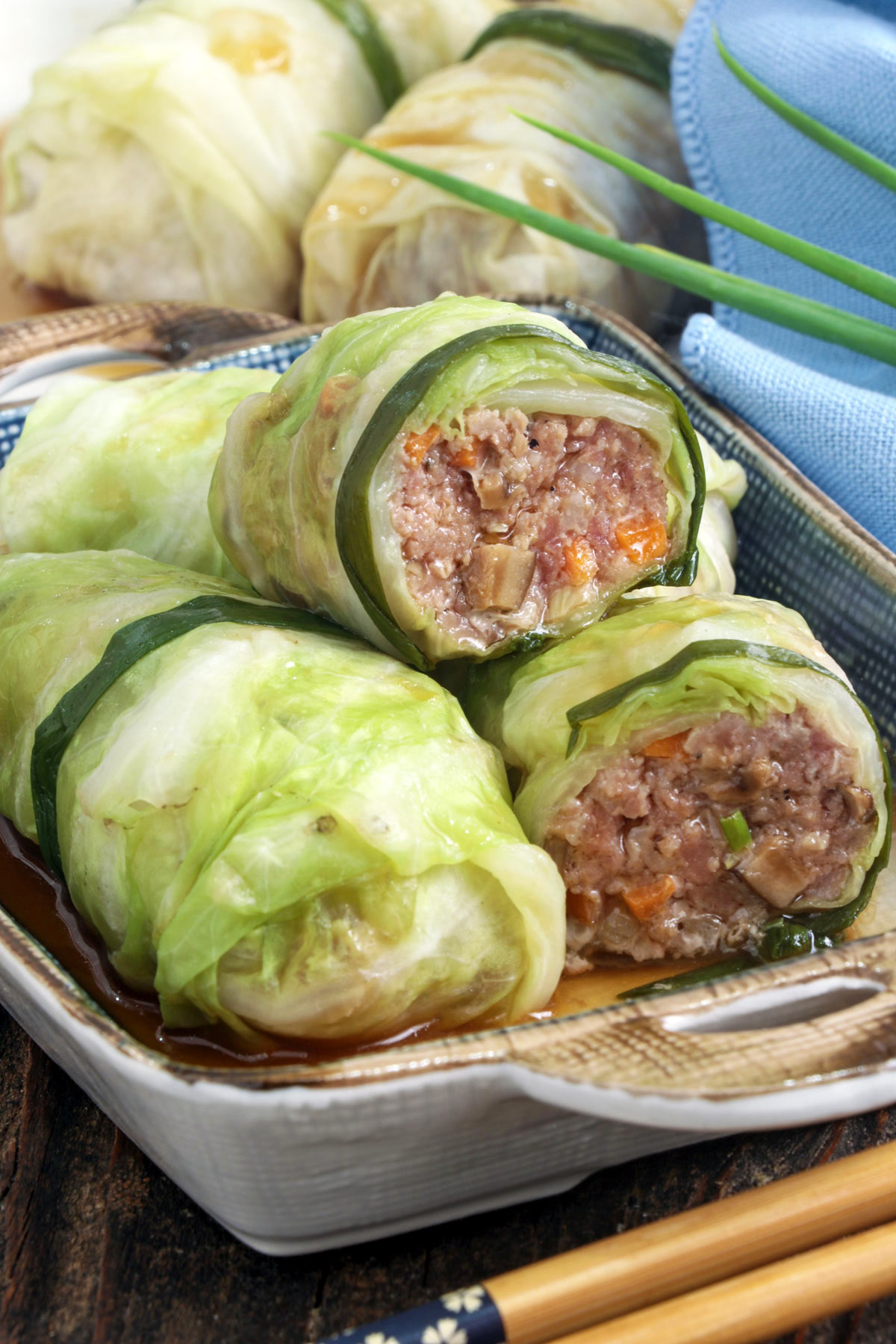 If you are craving for steamed dumplings but do not have the wrappers to make them then try making it with cabbage. The meat filling I used in this recipe is almost similar to my Shumai filling, sans the shrimp. But if you are up to it, you can make your own dumpling wrappers too.
What are Stuffed Cabbage Rolls?
Stuffed cabbage is made by stuffing and rolling varied meat and/or vegetable fillings in cabbage leaves. It can either be steamed, baked, or simmered in a sauce. Stuffed cabbages recipes vary widely by cuisine around the world, it is most common among Asian, African, and European countries
The sauce also differs depending on the country of origin. Since I am making an Asian-inspired version of this dish, I used a mix of soy sauce and oyster sauce with a bit of sesame oil. Other versions use tomato sauce, vinaigrette, yogurt, or even sweet and tart jams.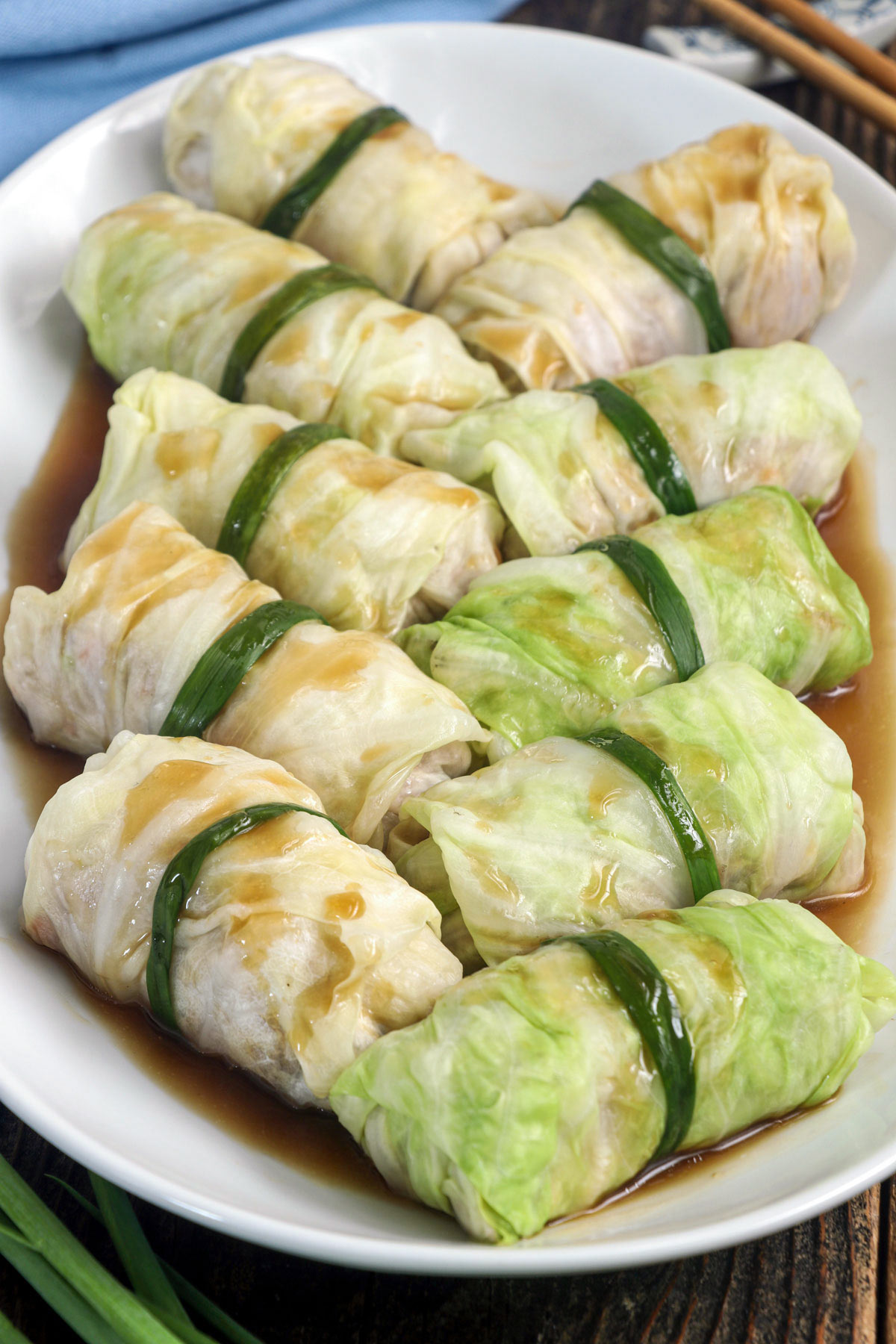 Stuffed Cabbage Rolls Variations
You can make it into an all-in-one dish by adding cooked rice or grains to the filling. Use bigger leaves to accommodate this bulkier version.
If you like your rolls to have a bit of a kick, add some Sriracha to the sauce.
To make a vegan version of this dish, omit the meat and use more mushrooms instead. You can also use mock meat, tofu, or add more plant proteins like lentils. You also need to skip the oyster sauce and use soy sauce mixed with maple syrup or agave nectar.
If you like a low-carb option, use ground chicken or turkey meat. Take note that these require less steaming time.
Ingredients You'll Need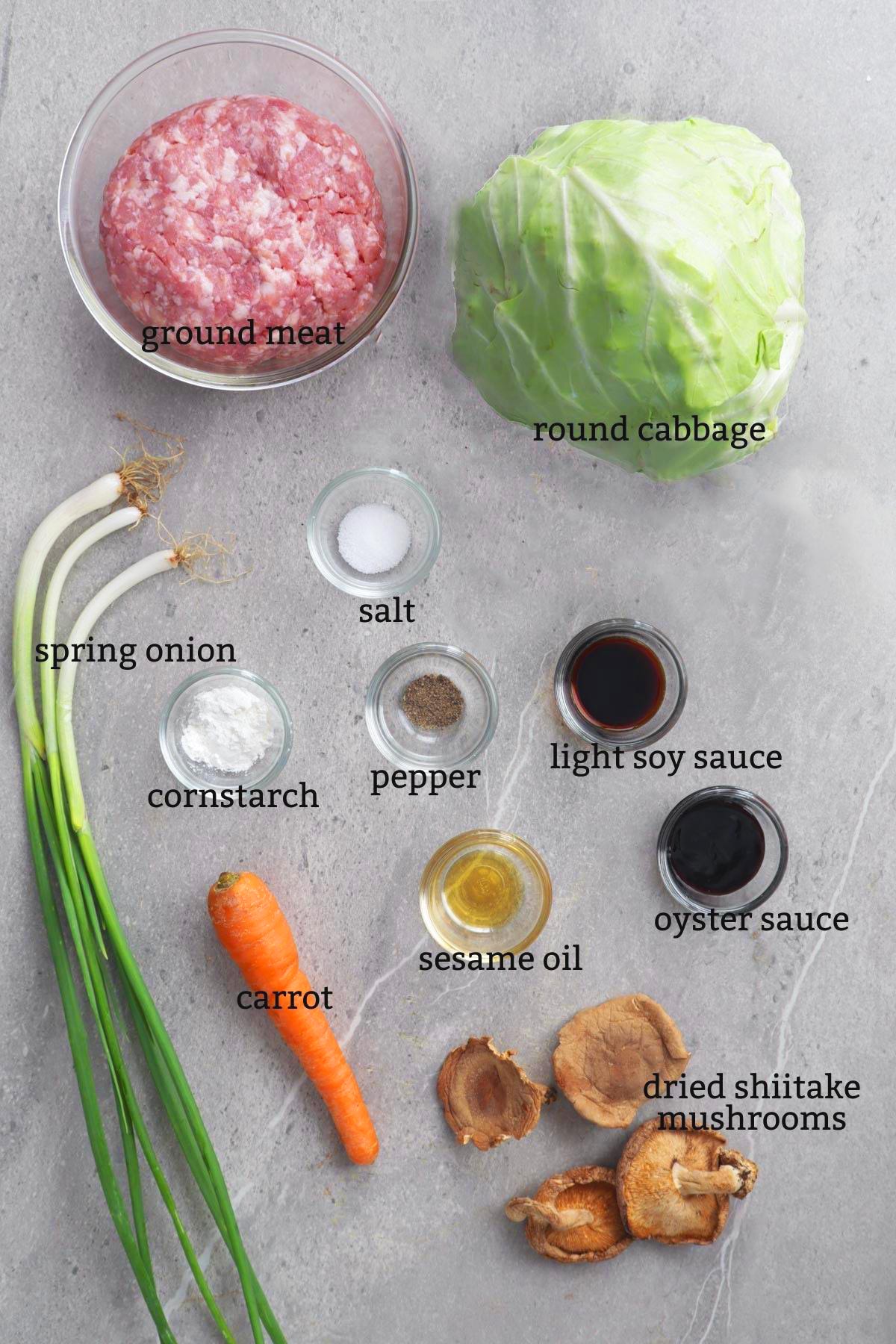 For the Cabbage Rolls
Cabbage - I used a medium-large round cabbage head for this recipe. They are easier to manage because of their wide, soft leaves but you can also use Napa cabbage (Chinese cabbage) which is also .
Ground meat - I used pork in this recipe. However, feel free to also use beef or other types of ground meat that you like.
Shiitake mushroom - bulks up the filling with its flavorful, meaty mince.
Vegetables- carrots and spring onions for more texture and flavor. You can add and use other veggies like celery, potatoes, or water chestnuts.
Light soy sauce- if you cannot find one, you can use regular soy sauce instead.
Oyster sauce - adds an earthy, slightly sweet and salty flavor to the dish. This condiment is widely used in a lot of Asian cuisines.
Salt and pepper- to taste.
For the Sauce
Oyster sauce
Liquid from steamed cabbage and mushroom soak- do not let these liquids go to waste! They add a nice depth of flavor to the sauce.
Sesame oil - this will give the sauce a toasted and nutty flavor.
Cornstarch - used to thicken the sauce
How to make perfect cabbage rolls!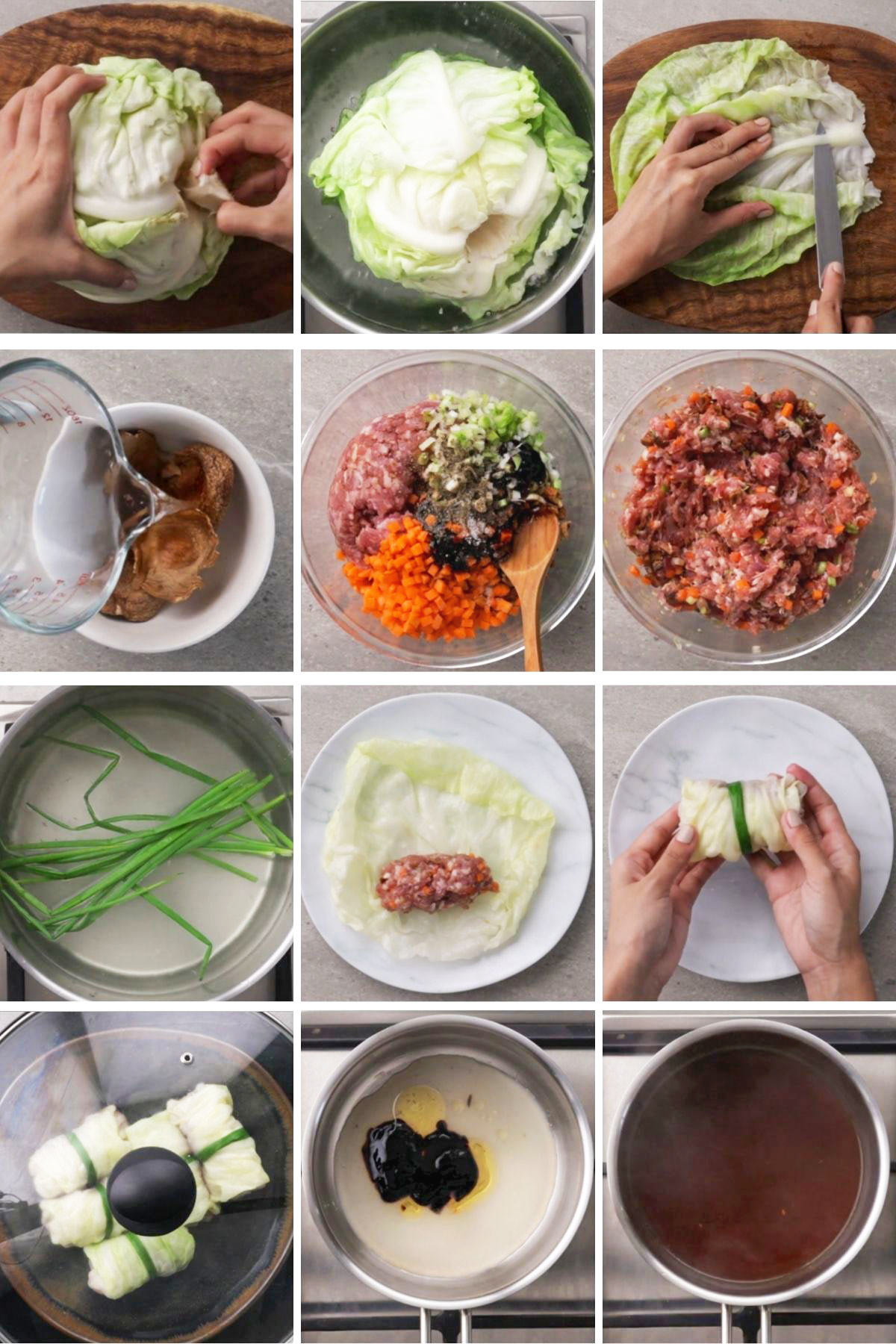 When using Napa cabbage, you have to cut off the thick, crunchy base for easier rolling. But do not let those go to waste! You can chop them into smaller pieces and add them to the stuffing.
When using round cabbage, cut out the core of the cabbage by inserting a knife around it so it will be easy to separate them later. Blanch it whole until the leave become limp and soft. If there is still a hard thick rib on the leaf, carve it out with a knife by laying it flat and then slicing out the protruding rib part.
When rolling the stuffing, start from the stem end and tightly roll the cabbage. This way, the stuffing is much more secure and the cabbage will less likely to uncurl as they steam.
Blanch a bunch of green onion leaves and use them to tie the stuffed rolls securely! Aside from having perfectly compact steamed rolls, they also infuse a mild flavor and aroma. Plus, they make the rolls look more appetizing.
Once you are down to the smaller inner leaves, simply place two leaves side by side, overlapping to create one larger leaf.
Storing and Making-ahead Notes
You can make these Cabbage Rolls ahead of time. Prepare the stuffed cabbage rolls, cover them, and store them in the fridge or chiller for 6 to 8 hours before steaming.
Leftovers should be placed in a container with a tight-fitted lid or covered in cling film
before placing them on the fridge. Make sure to consume within them within 3-4 days. To reheat, just pop them in the microwave until heated through.
For longer storage, cover them tightly with plastic wrap or place them in an airtight container and freeze them for up to three months.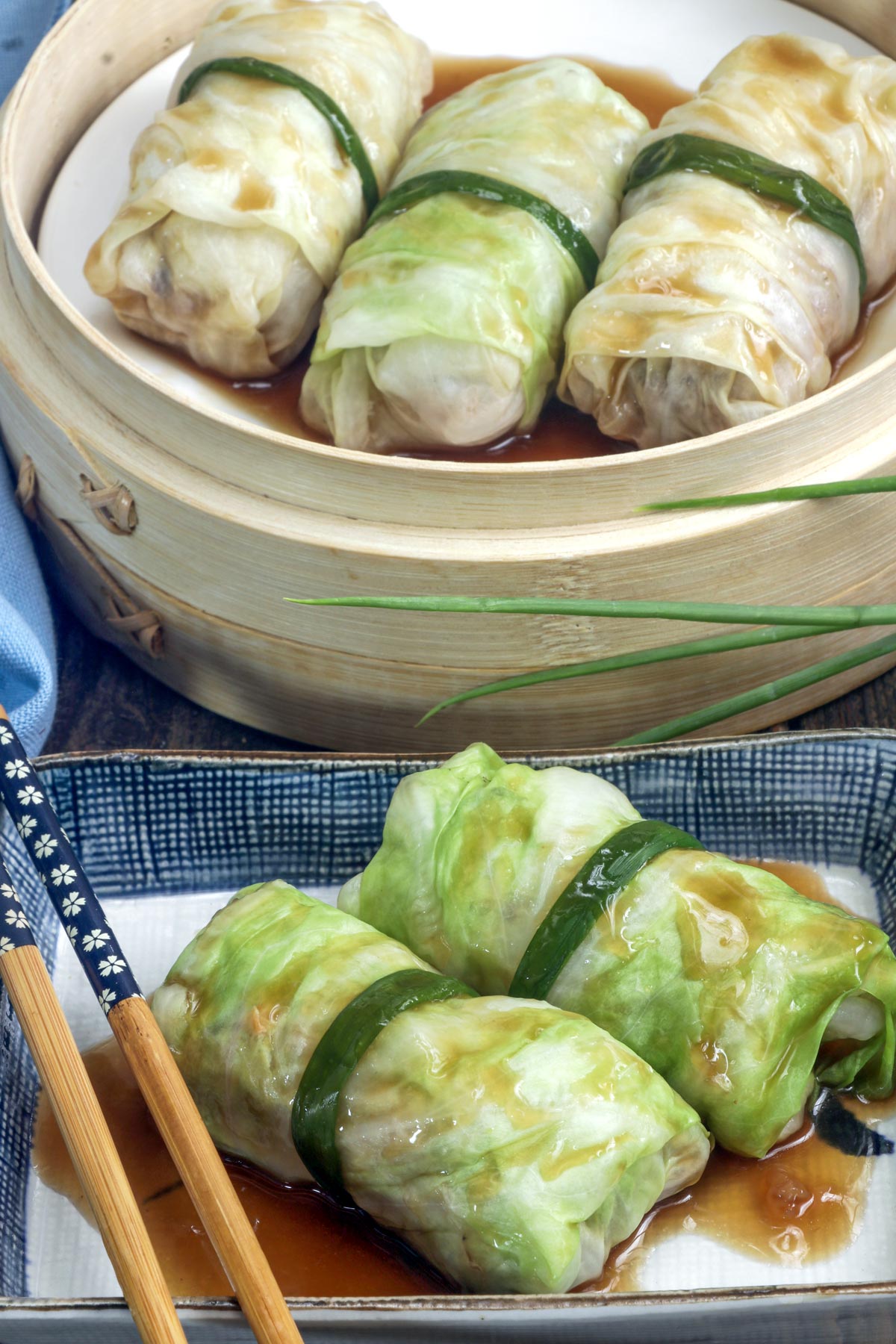 FAQs for Asian Stuffed Cabbage Rolls
Why are my cabbage rolls tough?
Tough cabbage rolls mean you might have not cooked them long enough. But don't fret because you can always return them to the steamer and cook them longer.
I don't want to par-boil the cabbage, what can I do instead?
The night before you are planning to cook this recipe, prepare the cabbage by cutting out the core and then freeze it overnight. Remove it from the freezer and thaw it for about 30mins-1 hour before stuffing it with the filling. Freezing helps break down the structure of the leaves making them more pliable.
Can I bake the Cabbage rolls?
Asian cabbage rolls are often steamed, not baked. However, I have seen other recipes where they are baked so yes, it is possible. You may bake them at 170C/350F for about 30 minutes.
Printable Recipe
Stuffed Cabbage Recipe - Chinese Style
Mouth-watering Stuffed Cabbage Rolls bursting with savory oriental flavors drenched with a silky umami sauce and packed with delectable ground meat, mushrooms, and carrots. This hearty and flavorful Asian dish can be enjoyed as it is or served with rice for a filling lunch or dinner meal.
Ingredients
For the Stuffed Cabbage Rolls:
1

head

round cabbage or napa cabbage

500

grams

ground meat

beef or pork

4

pcs

dried shiitake mushrooms

1

small

carrot

chopped

3

stalks

spring onion

white parts chopped, leaves separated

1

tablespoon

light soy sauce

1

tablespoon

oyster sauce

½

teaspoon

salt

⅛

teaspoon

ground pepper
Instructions
4 pcs dried shiitake mushrooms

Place shiitake mushroom in a bowl and pour (1 cup) hot water to cover to reconstitute it. Once hydrated and cold enough to handle, squeeze out the liquid and reserve the liquid and chop into small pieces.

In a pot with boiling water, blanch the spring onion leaves until softened (to be used as tie).

1 head round cabbage or napa cabbage

Remove the core of the cabbage. Blanch cabbage leaves in boiling water until they begin to wilt (it should take no more than 20 seconds). Separate the leaves. Drain and allow to cool to touch.

Trim the rib (thick white part) of the leaves to become more pliable. Reserve the trimmings and chop them finely.

500 grams ground meat,

4 pcs dried shiitake mushrooms,

1 small carrot,

1 tablespoon light soy sauce,

1 tablespoon oyster sauce,

½ teaspoon salt,

⅛ teaspoon ground pepper

In a bowl, combine ground pork, mushroom, carrots, green onion, chopped cabbage trimmings, soy sauce, oyster sauce, salt, and pepper. Mix until well combined.

Place a cabbage leaf flat on a plate, scoop about 2 spoonful of the filling and place it on top of one end of the cabbage leaf then wrap the sides over it and roll. Tie the roll with a green onion leaf if needed.

Place the rolls on a plate, seam side down. Place the plate on a steamer and steam for 12-15 minutes. Remove the plate from the steamer and transfer the rolls into a serving plate. Do not throw the liquids from the cabbage on the plate.

2 teaspoons cornstarch,

liquid from mushroom soak,

liquid from steamed cabbage,

1 tablespoon oyster sauce,

1 teaspoon sesame oil

For the sauce, combine the water from soaking the mushroom and cornstarch to make a slurry. Collect the liquids from the steamed cabbage in a saucepan and season with oyster sauce and sesame oil. Bring to a gentle simmer over low heat and once simmering add the slurry and cook until it the sauce thickens.

Pour the sauce over the cabbage rolls and serve.
Nutrition
Calories:
162
kcal
Carbohydrates:
7
g
Protein:
10
g
Fat:
11
g
Saturated Fat:
4
g
Polyunsaturated Fat:
1
g
Monounsaturated Fat:
5
g
Trans Fat:
1
g
Cholesterol:
36
mg
Sodium:
374
mg
Potassium:
328
mg
Fiber:
3
g
Sugar:
3
g
Vitamin A:
960
IU
Vitamin C:
34
mg
Calcium:
51
mg
Iron:
2
mg
More Delicious Asian Recipes: