A scrumptiously rich tomato-based stew of pork meat and liver. This classic Filipino Menudo recipe will wow you with its amazing flavors considering the simplicity of the ingredients used!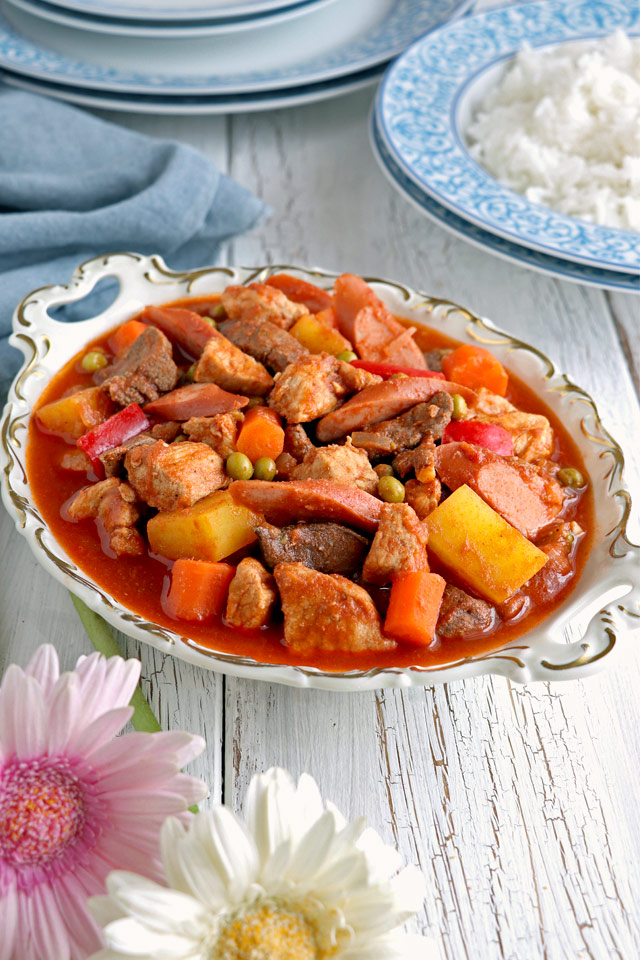 This traditional Filipino dish is different from the Mexican Menudo. The Mexican version is soup-based, it is not a stew. They also use tripe and chilies as their main ingredient while our version uses sliced pork meat and liver. Common vegetables like potatoes, bell pepper, and carrots are used. Sometimes green peas and raisins And of course, let's not forget - the hotdog!
It is one of the most common dishes you will see served when feeding a large crowd. It's a favored dish on Fiestas, celebrations, and family gatherings! It is also ever-present on menus of carinderias (budget-friendly eateries). The reasons behind it are simple.
First, it's a guaranteed crowd-pleaser because it is so flavorful and filling. Especially when paired with rice or bread! Second, it's very economical. You can make quite a large serving without breaking your budget as the ingredients used are very simple. Lastly, it is very easy to cook! It's a one-pan, no-fuss dish that does not require intricate steps to complete.
I remember my mama expertly cooking this dish in huge wok. It's a big hit with the student customers in our canteen. They will order one serving of Menudo and two servings of rice and will always ask for extra sauce to be added! Your typical student budget meal!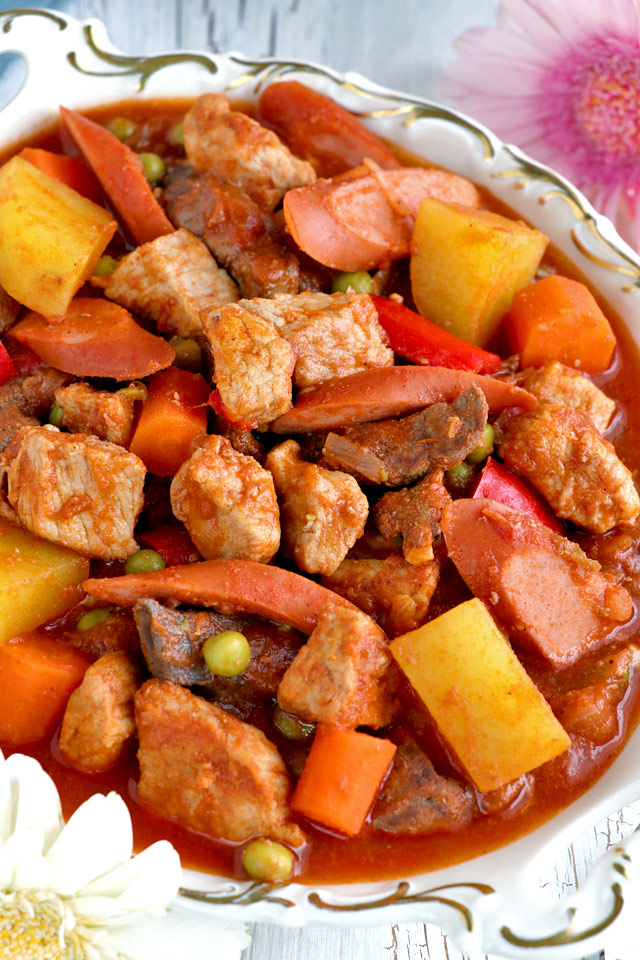 With how popular this dish is all over the country it's pretty inevitable that multiple variations have been created.
Vegetables- the usual veggies added to the dish are garlic, onions, potato, carrots, and bell pepper. Some recipes also include green peas, garbanzos, raisins, dried bay leaf, annatto seeds, and chickpeas.
Sauce- some of the more creative recipes out there incudes the use of cheese, butter, paprika, Worcestershire sauce, and even Sprite to spice up their Menudo sauce!
Meat- you will encounter some Menudo made with chicken meat, beef liver, chorizo, sausages, and ham.
The different ingredient used per recipe depends on the availability per region. Some will also add more ingredients to make it more special for celebrations to differentiate it from the usual way it cooked for everyday meals.
Marinating the pork meat and liver in lemon or calamansi (Philippine lime) juice is optional. It gives the dish a pop of tanginess that makes it tastier. Others also prefer soaking their meat and liver in a soy-calamansi mixture.
Cut your meat and vegetables in uniform pieces as much as possible. This will make them cooked at the same time. You do not want some mushy carrots or potatoes while some are still al dente.
Cut the meat into bite-size cubes to allow them to cook faster with less simmering time. It also provides more open surfaces that will soak up the tomato gravy!
You can use different pork cuts for this dish. The most common are kasim (pork shoulder), and pigue (ham/leg cut). If you prefer a cut with more fat content, you can also use liempo (pork belly).
Make sure to follow the sequence of ingredients in this recipe. Do not cook the liver and pork at the same time. You have to simmer the pork longer to soften the meat. Pork liver does not require a long cooking time, or else it will become tough and chewy. Add the veggies last to make sure that they retain some of their natural texture and vibrancy.
If you love this Pork Menudo recipe and are looking for more Filipino tomato-based stews, try these: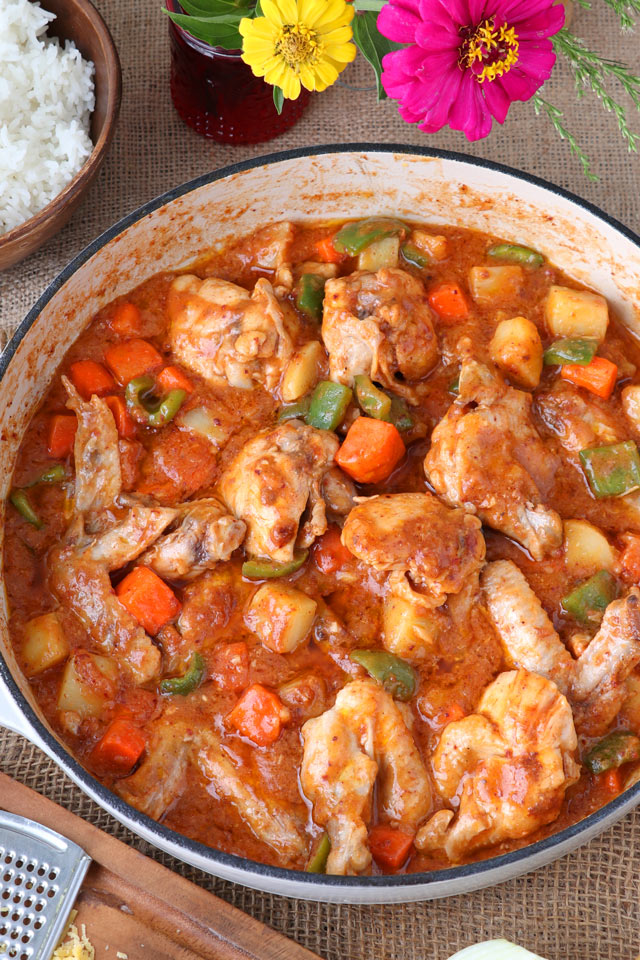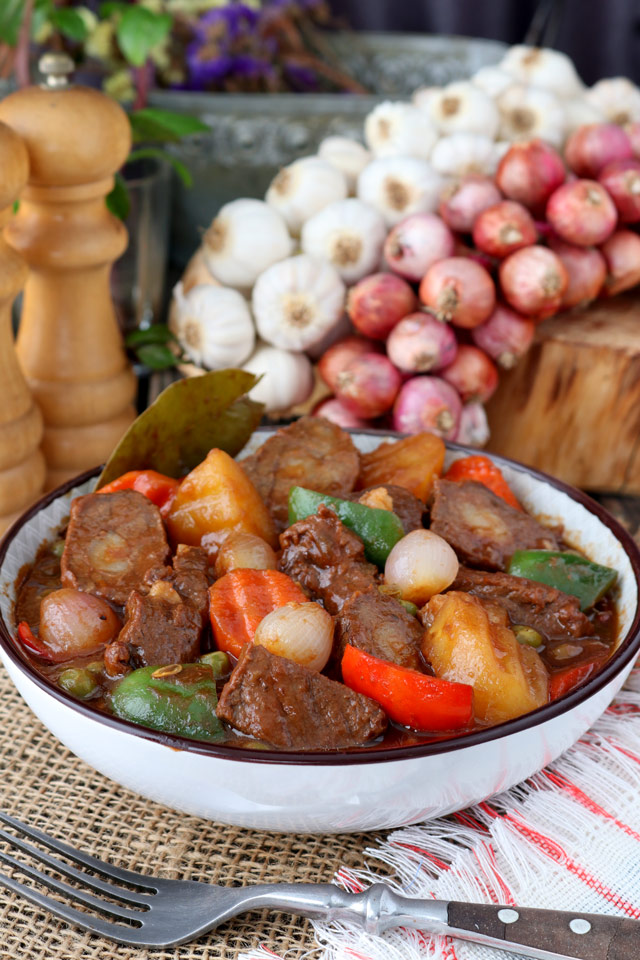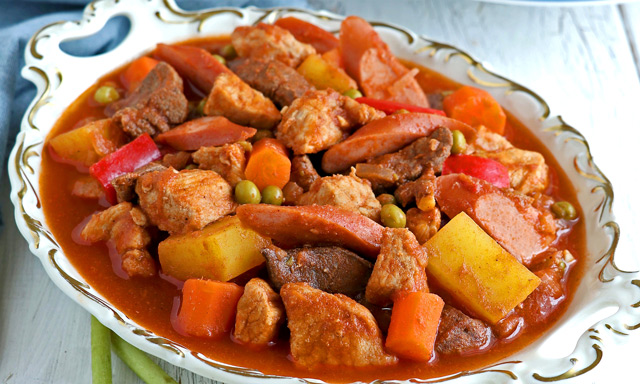 Printable Recipe
Have a feast with this classic Filipino Menudo recipe. A tomato-based stew of pork meat and liver usually served at special occasions like Fiestas.
Ingredients
1

lemon

- or 6 big calamansi (optional)

1

pound

pork

- cut into bite-size cubes

½

pound

liver (pork)

- cut into bite-size cubes

4

pieces

hotdogs/sausages

- cut into small diagonal slices

3

tablespoons

oil

2

cloves

garlic

- minced

1

medium

onion

- chopped

1

cup

tomato sauce

2

cups

water

2

medium

potatoes

- cut into cubes

2

medium

carrots

- cut into cubes

1 ½ - 2

teaspoons

salt

¼

teaspoon

ground pepper

1

small

red bell pepper

- cut into squares

1

cup

green peas

(optional) - (canned)
Instructions
If you want, marinate both the pork meat and liver with calamansi or lemon juice for at least 10 minutes.

In a deep skillet, saute garlic and onion in oil over medium heat until limp and translucent.

Add the pork and cook, stirring constantly, until all sides are no longer pink. Pour the tomato sauce and 1 cup water and let it simmer for 15-20 minutes, covered.

Add the liver and cook for some seconds while constantly stirring until sides are done.

Then add the hotdogs, carrots, potatoes and bell pepper. Add another cup of water and season with salt and pepper. Cover and let it simmer, stirring from time to time, for 15-20 minutes or until vegetables are cooked. Stir in the green peas and cook for another minute.

Serve with rice or bread.
Notes
Like all tomato-based stews, Menudo is best eaten the following day to give it some time for the flavors to blend.
If you've got the time, cook the pork meat longer over low heat to make sure the meat is really tender. 
If in a hurry, use a more tender cut like the loin. Pork belly may be added.
Nutrition
Calories:
376
kcal
Carbohydrates:
15
g
Protein:
24
g
Fat:
24
g
Saturated Fat:
6
g
Cholesterol:
168
mg
Sodium:
499
mg
Potassium:
772
mg
Fiber:
4
g
Sugar:
7
g
Vitamin A:
12480
IU
Vitamin C:
53.2
mg
Calcium:
50
mg
Iron:
10.9
mg
This recipe was originally published in May 2017. Updated in November 2020 to include new photos, more tips, and a recipe video.