Updated: October 28, 2019
Mechado is a Filipino tomato-based braised beef with savory-tangy flavors from calamansi and soy sauce. Traditionally made using leaner and inexpensive cuts of beef larded with pork fat to keep it juicy and more flavorful.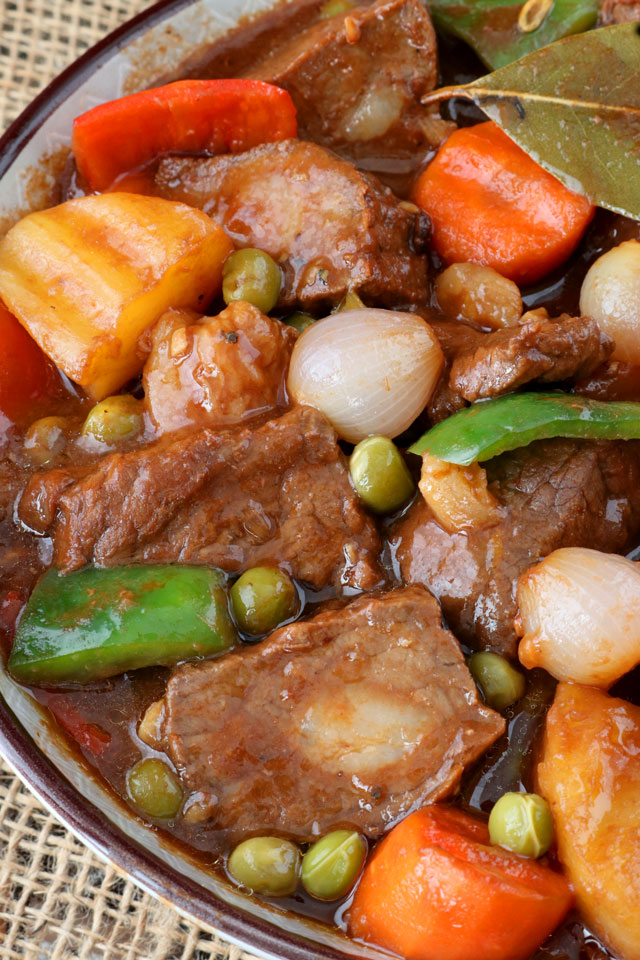 What is Mechado?
Beef Mechado or Mitsado is a classic Filipino dish greatly influenced by the Spanish way of cooking that was taught to our ancestors during their time here in the Philippines.
As marbled beef, prized for their tenderness, juiciness, and flavor,  were too expensive for most people at this time. Cheaper but very lean cuts are what most can afford. However, to achieve the desired marbling to some extent, the larding technique was applied.
This is done by inserting strips of pork fat or lard into lean cuts of meat in order to make it more flavorful and tender as genuine marbled meat. This also allows the meat to be cooked for a long time to be tender without getting dry.
The name Mitsado came to be because of the pork fat sticking out of the lean beef that resembles a wick (like of a candle) or 'mitsa' in Filipino or "mecha" in Spanish.

Modern-day Mitsado
Nowadays, larding is no longer a common practice in Philippine culinary. Even my Mama doesn't remember anyone using this technique. I guess, more people can now easily afford some marbled cuts of beef without breaking the bank.
When picking the kind of beef you're going to use for this recipe, it's better to use fattier beef,  since cooking Mechado calls for a longer cooking time as the beef simmers on low heat and the fat is instrumental in making sure that the beef does not dry out or come out too chewy to eat.
Since Mechado has a longer cooking time than other dishes, it's normally a dish served for a special occasion or on weekends but it's definitely more than worth the wait!
This recipe here is my attempt to reintroduce the traditional way of cooking Mechado.

Mechado vs. Menudo vs. Kaldereta
Many people, Filipinos included, are often confused between similar types of dishes such as Mechado, Menudo, and Kaldereta. They are all predominantly served with tomato sauce as a base and garnished with potatoes and carrots as their most common point.
However, here lie some differences; Menudo uses pork along with liver and is sauteed and stewed with the rest of its ingredients. While traditional Kaldereta uses goat meat, is also more common now to use beef. It is also braised but it is mainly characterized by being spicy hot.
Mechado also made with beef and braised, is flavored with soy sauce, calamansi juice and laurel leave that is the hallmark of its unique flavor.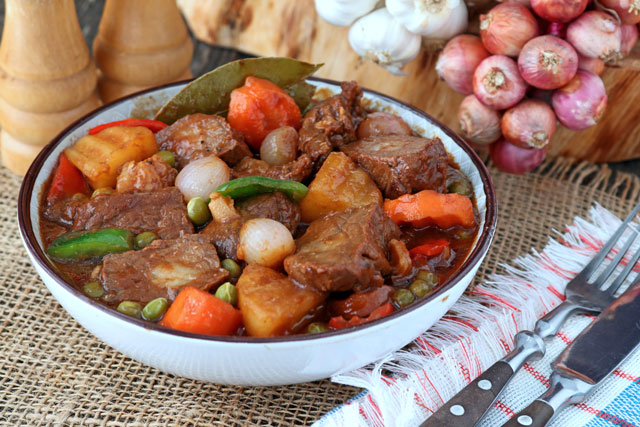 WANT MORE RECIPES? Subscribe to our newsletter and follow us on Facebook, Pinterest and Instagram for all of the latest updates.
Beef Mechado
Mechado is a Filipino tomato-based braised beef with savory-tangy flavors from calamansi and soy sauce. Traditionally made using leaner and inexpensive cuts of beef inserted with pork fat to keep it juicy and more flavorful.
Print
Rate
INGREDIENTS
1

pound

beef

-

- chuck, round or brisket

100

grams

pork fat (fatback)

-

- cut into long strips about half-inch thick (See NOTE 1)

1/2

cup

soy sauce

1

piece

lemon

-

- or 6 calamansi

1/2

teaspoon

ground pepper

3

Tbsp

oil

1

big

potato

-

- cut into cubes

1

big

carrot

-

- cut into rounds about half-inch thick

2

cloves

garlic

-

- minced

6

pieces

shallots

-

- 2 pieces chopped, rest whole

1

cup

tomato sauce

1

cup

water

2

pieces

bay leaves

1

medium

red bell pepper

-

- cut into squares

1

medium

green bell pepper

-

- cut into squares

1

cup

green peas
INSTRUCTIONS
Using a small knife, cut through the center of the beef to make a hole. Insert a pork fat from one end and push until it comes out to the other end. Do the same with the rest of the meat.

Place larded meat on a bowl. Pour in soy sauce and juice from 1 lemon and add ground pepper. Mix until all meat are well coated. Cover and marinate for at least an hour.

In a pot, heat oil over medium heat. Fry the potatoes and carrots until edges are lightly browned. Remove the potatoes and carrots from the pot and set aside. Turn heat to high and add the marinated beef and sear all sides until browned. Reserve the soy marinade for later.

Turn heat to medium. Move the meat to the sides. Add the garlic and shallots and cook until limp.

Pour in the tomato sauce and the reserved soy sauce marinade. Let it simmer for a minute or two and then pour in water. Add bay leaves and bring again to a simmer. Turn heat to low and cover pot and stew until beef is tender (about 1 1/2 to 2 hours).

Add back the potatoes and carrots. Add the bell peppers and green peas and season with fish sauce as needed. Simmer until sauce is reduced and vegetables are cooked.

Cut the bigger chunks to a smaller size. Transfer to a serving bowl and enjoy with rice or bread.
VIDEO
RECIPE NOTES
NOTE 1 : You may also use beef fat for larding. 
For easier insertion of fat into the meat, you may use a larding needle or freese the strip of fat beore inserting.
You may also use the same recipe for 1 1/2 lb of meat.
Nutrition Facts
Beef Mechado
Amount Per Serving
Calories 697
Calories from Fat 531
% Daily Value*
Fat 59g91%
Cholesterol 104mg35%
Sodium 2025mg84%
Potassium 811mg23%
Carbohydrates 17g6%
Protein 26g52%
Vitamin A 1655IU33%
Vitamin C 95.7mg116%
Calcium 60mg6%
Iron 4.7mg26%
* Percent Daily Values are based on a 2000 calorie diet.
Tried this recipe?
Tell us how it went. Tag us at @foxyfolksy or leave a comment and rating below.