One of my Mama's specialty dishes and her secret is now out. There is this slogan in Tagalog, "Sarsa pa lang ulam na!".  And this Afritada perfectly fits this phrase. It translates to something like the sauce itself is good enough to be a viand. Does that make sense? Well, it would once you try this recipe.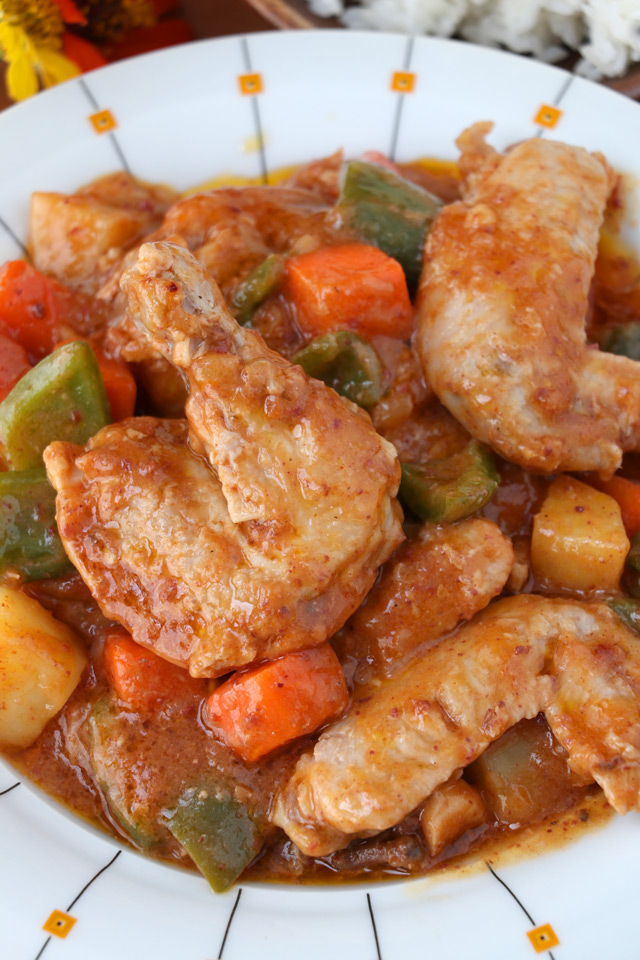 What is Afritada?
It is a popular Filipino dish that normally uses chicken for the meat. Beef, pork, and seafood are also sometimes used. The meat is stewed in tomato sauce together with carrots, potatoes, and bell pepper.
A delicious dish that fits any special occasion. But because it is very easy to prepare it is also commonly served for everyday meals. Because of its richness, it is usually served with plain steamed rice.
Afritada Vs. Menudo
When I look at other Afritada recipes, I understand why people get it confused with Menudo only cooked with chicken. That is because some cook them almost the same way. Growing up, the difference is very apparent to me as my Mama's Afritada is nothing like Menudo.
Aside from my Mama's (now not so) secret ingredients, below are the main comparisons between the two dishes.
Afritada typically uses chicken while Menudo uses pork meat and liver with additions of hotdogs.
Both can use tomato sauce or tomato paste for the sauce.
Carrots, potatoes, and bell peppers are found on both dishes. Green peas and raisins are sometimes added to Menudo.
Afritada is creamier from the added butter.
The secret to best-tasting Chicken Afritada
My Mama's Chicken Afritada is one of her most-requested dishes and it is definitely my Afritada goal. The problem is she does not use exact measurements and just go with her guts and follow what her taste buds say.
She did tell me her secret ingredients though. Margarine or butter, potted meat, and cheese. She adds these at the end and it makes the dish richer and creamier.
 You may use either butter or margarine. But my Mama's recipe requires the use of margarine, like Dari Creme. As for the cheese, I am pretty sure she uses the processed cheese we have in the Philippines like Kraft cheese (Eden). The difference with processed cheese, when used in cooking, is that it melts or more like dissolves into the sauce. Unlike the (real) cheeses I used to use when I was in Germany, it melts but does not fully integrate into the sauce.  
Patience makes perfect
Another thing that makes this recipe great is patience. The longer you cook this dish the better it gets. 
Notice the sauce? I promise I didn't use a lot of oil nor added a tub of margarine. That is from the chicken and the tomato sauce after long simmering and that is the goal. No, not to have a greasy dish but that the oil would separate from the thickened tomato sauce. Then you know you can turn off the heat.
If you find it too greasy for your liking, just skim off some of the oil with a spoon. But what is a little fat from time to time? It's what makes the dishes tasty.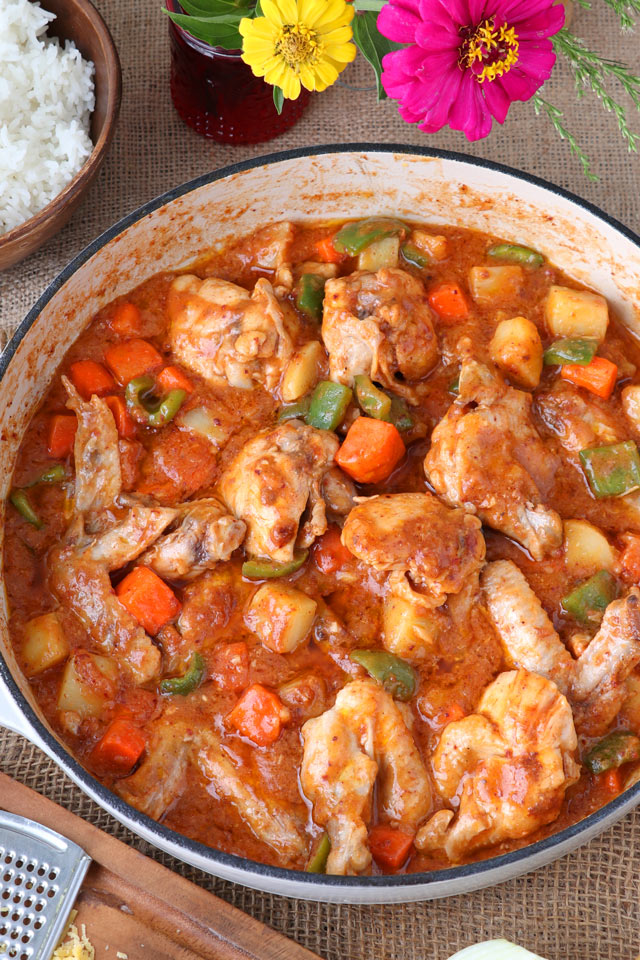 Additional Tips for the Best Afritada
Cut your potatoes and carrots in uniform sizes so they cook evenly and at the same time.

The best parts or cuts for this kind of dish are the legs and thighs or wings. Never use breast parts because they lack the collagen for long and slow stew and they will become dry and chewy.

Do not skip the searing of the meat part. This adds a depth of flavor to the dish.
Other Filipino Stew Dishes to try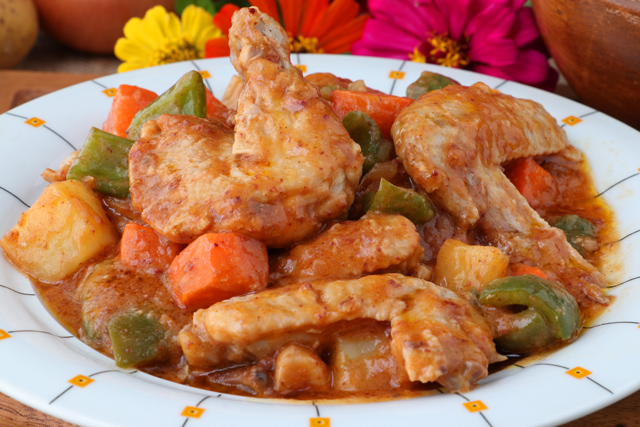 Printable Recipe
Chicken Afritada
Afritada is a Filipino favorite with tender chicken cooked in a rich savory tomato-based sauce. Cooked low and slow until the oil separates from the sauce and the meat becomes fork-tender. 
Ingredients
2

tablespoons

oil

1

big

carrot

- cubed

1

big

potato

- cubed

3

tablespoons

butter

1

medium

onion

- chopped

2

cloves

garlic

- minced

1

medium

red/green bell pepper

1 ½

cup

tomato sauce

1 ½

cup

water

2

pounds

chicken

- drumstick or wings

salt

¼

cup

potted meat

(optional)

¼

cup

Kraft cheese

(grated processed cheese) or Velveeta (optional)
Instructions
Heat oil in a skillet over medium heat.

Fry carrots and potatoes until edges are lightly browned. Set aside.

Sear chicken for 2-3 minutes each side. Remove from oil and set aside.

In the same skillet with oil. Saute garlic and onion until aromatic and limp.

Pour in the tomato sauce and 1 cup water. Turn heat to low and let it simmer for 5-10 minutes until the tomato sauce loses some of its sourness.

Add the chicken and ¼ - ½ cup water or as needed. Season with salt. Cover and simmer for another 30-40 minutes or until the chicken are cooked through and the sauce is reduced with the oil floating on the surface.

Add the potatoes, carrots and bell pepper, butter, potted meat and grated cheese. Cook for another 5 minutes.

Transfer to a serving dish and serve with hot rice.
Nutrition
Calories:
516
kcal
Carbohydrates:
9
g
Protein:
41
g
Fat:
34
g
Saturated Fat:
9
g
Cholesterol:
223
mg
Sodium:
623
mg
Potassium:
860
mg
Fiber:
2
g
Sugar:
5
g
Vitamin A:
4025
IU
Vitamin C:
45.7
mg
Calcium:
45
mg
Iron:
2.3
mg
The recipe was originally published in February 2018. Updated on March 2020to include new photos and a recipe video. The recipe remains the same.