Bicol Express is a spicy pork stew cooked in coconut milk which is definitely one of the most popular dishes among Filipinos.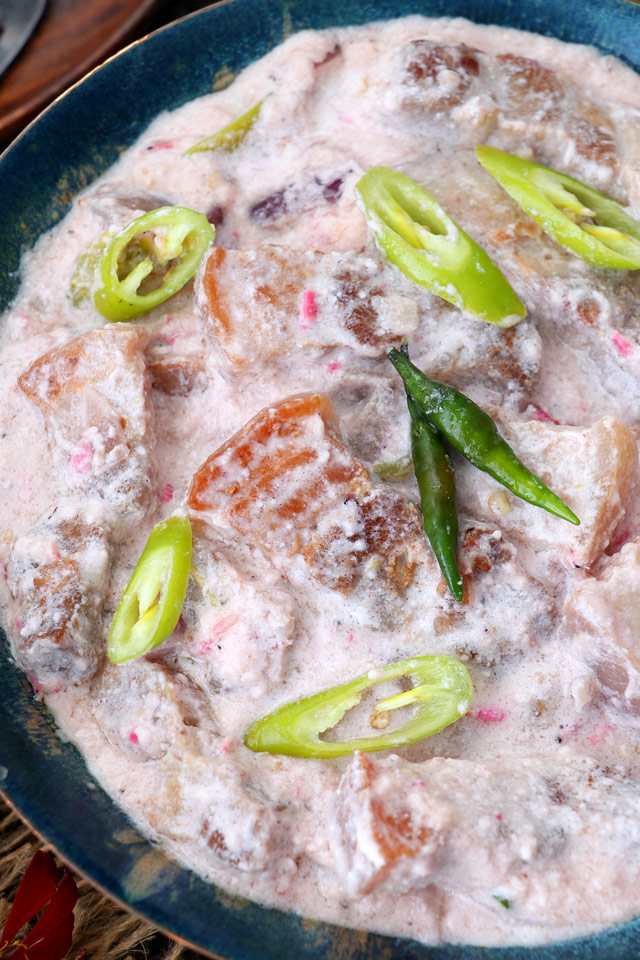 What is Bicol Express?
Bicol Express has it's funny, if not weird, name from the train that travels the Naga(Bicol)-Manila route. I don't really know why they chose to call it after the train but it definitely deserves to carry the name of the province of Bicol. Known in the Philippines for a lot of things such as the perfect coned, Mayon volcano, Pili nuts and, of course, for their love of spicy food.
There is a dispute, though, that is yet to be settled as to the real inventor of this unique dish. There are some who say that Bicol Express was actually invented by a Filipino food icon, Cely Kalaw, in her restaurant in Malate, Manila. And that it was only inspired by the Bicolano cuisine since Cely is not from Bicol but from Laguna. Of course, the Bicolanos are also staking their claim that it is indeed originally from Bicol only known in a different name, Gulay na lada (vegetable with chili) or Sinilihan.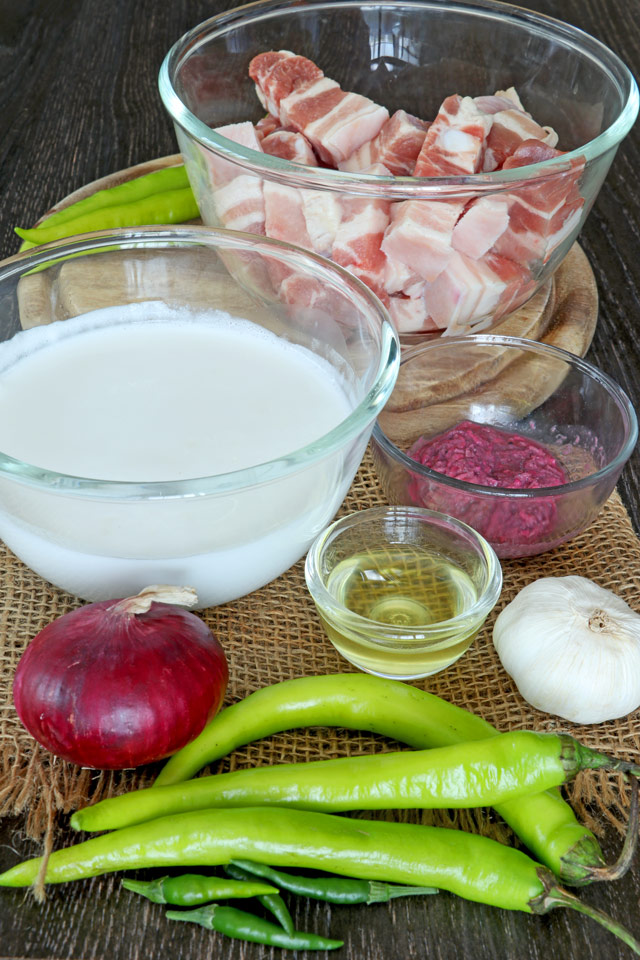 How to cook Bicol Express?
Make this dish is quite easy. The most basic ingredients would be:
Pork
Coconut milk
Green chilies
Shrimp paste (uncooked)
Garlic and Onion
Normally the process involves sauteing the pork and shrimp paste with garlic and onion. It will then be simmered in coconut milk until meat is tender. Lastly, chilies will be added to make it (very) spicy which is the signature of this dish.
In my own version of Bicol Express, I like to cook the pork first by frying it until lightly browned to render the fats for flavors. Then add the coconut milk and let it simmer until it makes a thick, creamy sauce.
Uncooked shrimp paste is easy to get by in the Philippines. But for those abroad, already cooked (guisado) bagoong can also be used.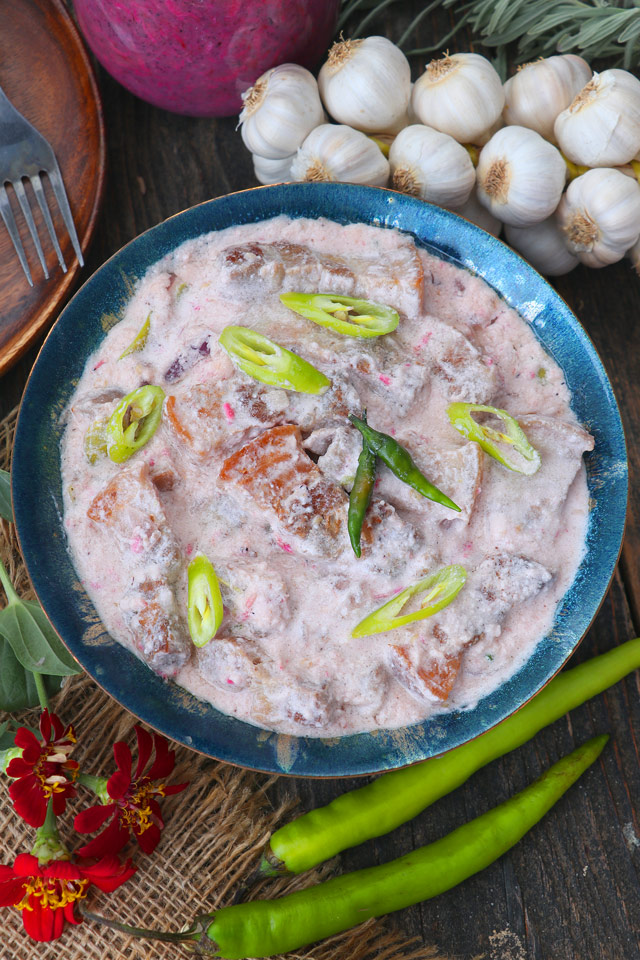 Another dish that comes to mind when I think of Bicol is Laing. It is somewhat similar to Bicol Express but instead of pork, it mainly consists of dried Taro leaves. Similarly, it is also cooked in coconut milk and is spicy. Dried fish is normally added for saltiness.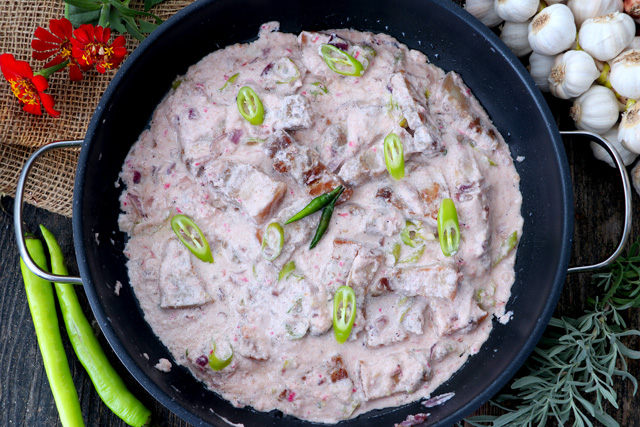 Printable Recipe
Bicol Express
Bicol Express is a spicy pork stew cooked in coconut milk which is definitely one of the most popular dishes among Filipinos.
Ingredients
2

tablespoons

oil

1

pound

pork belly

- cut into bite sizes

2

cloves

garlic

- minced

1

medium

onion

- chopped

3

pieces

green chili

- chopped

2

pieces

Labuyo Chili

- chopped (adjust according to how spicy you like it to be)


1 ½

tablespoons

shrimp paste

(uncooked bagoong)

1 ½

cup

coconut milk

salt
Instructions
Heat oil in a skillet over medium-high heat. Stir-fry the pork for several minutes until lightly browned.

Add the garlic and onion and cook until limp and aromatic. Add the shrimp paste and cook for another minute.

Pour in the coconut milk and chili and lower heat to low. Let it cook for several minutes until pork is tender and sauce begins to thicken and turn a bit oily.

Season with salt if needed.
Nutrition
Calories:
848
kcal
Carbohydrates:
5
g
Protein:
17
g
Fat:
85
g
Saturated Fat:
38
g
Cholesterol:
146
mg
Sodium:
249
mg
Potassium:
436
mg
Fiber:
1
g
Sugar:
1
g
Vitamin C:
3.7
mg
Calcium:
52
mg
Iron:
3.9
mg
This recipe was originally published in August 2017. Updated in April 2020 to include new photos and a recipe video. Recipe remains the same.