Get this Bicolano Laing recipe! Dried Taro leaves cooked in coconut milk with a lot of chilies! A simple no-fuss recipe that is as authentic as it can get!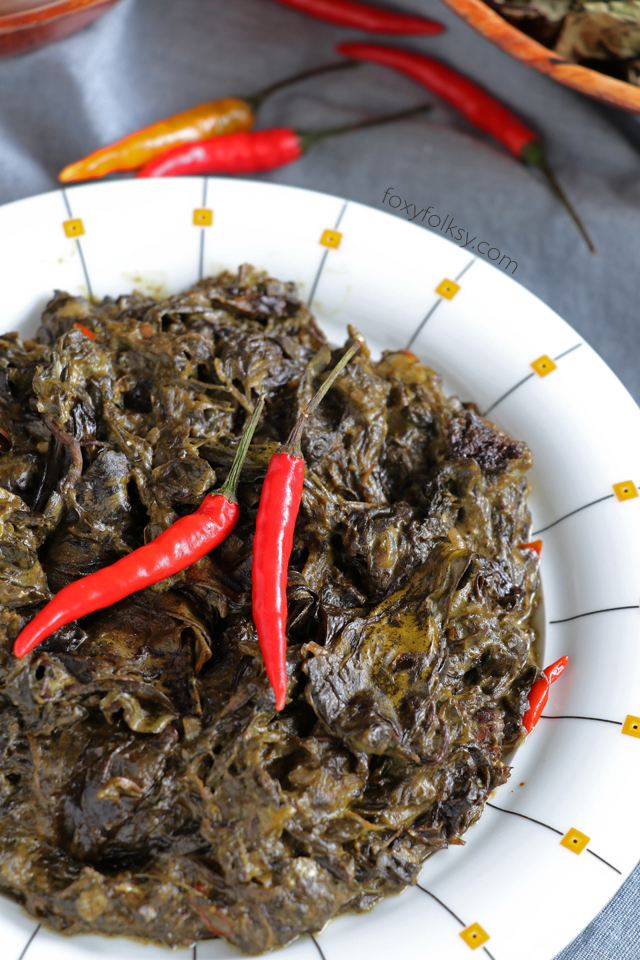 I wanted to make Laing for the longest time. However, dried Taro leaves are not available in Germany but now that we are back in the Philippines, I grabbed the chance to make some.
Buying the dried Taro leaves was the easiest part as they are available in most big supermarkets. Now, I had the option to buy canned coconut milk or use a fresh one. If you know me by now, you would have guessed that I chose the first rather than the latter..hehehe! I am all for making and doing it the easier way.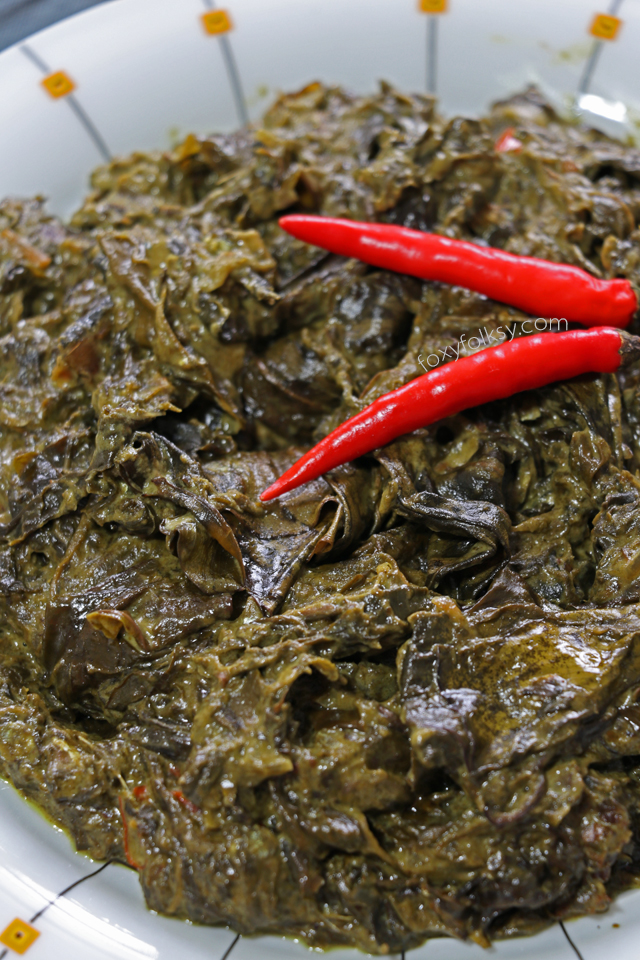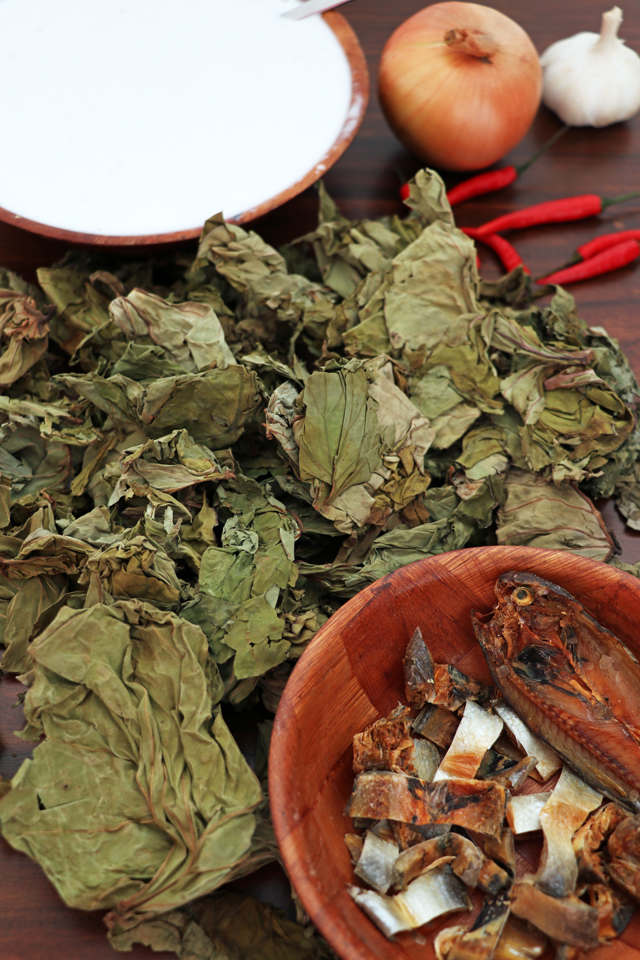 Now, I only needed to have an authentic recipe for Laing and it cannot get more authentic than getting it from a 100% Uragon. So I got in touch with an old friend and colleague from my very first job when I was still working in Manila (ages ago). Jonas is a born and bred Bicolano and gladly shared his simple but delicious Laing recipe.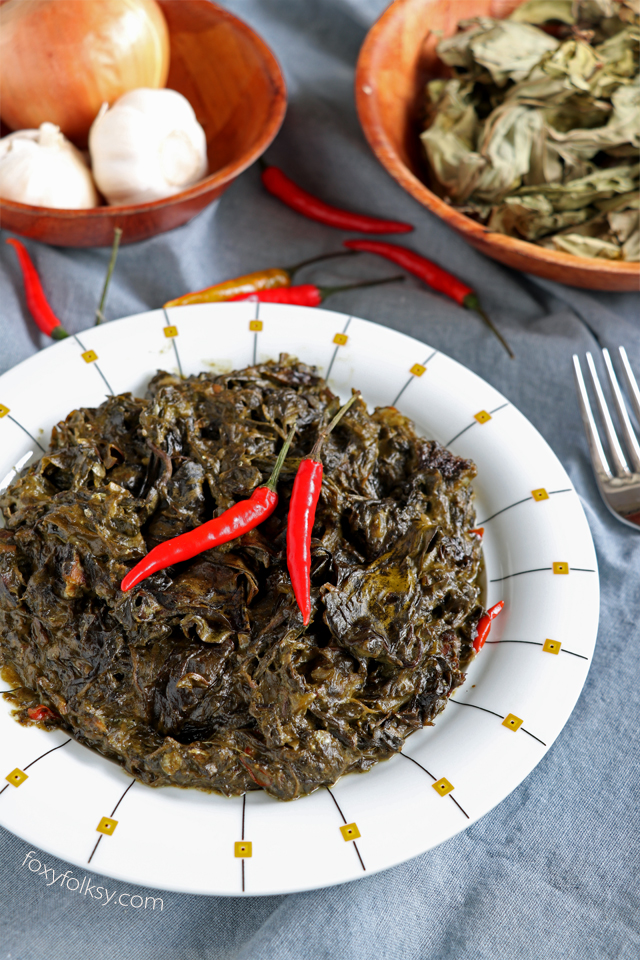 The truth is, I was not a big fan of Laing at the beginning until I tried the authentic Bicolano Laing. It was dried and oily, wherein the coconut milk has been cooked long enough to produce oil and the dried Taro leaves have completely absorbed the coconut milk in. Also, unlike other Laing I've tried before that, the leaves are still mostly intact and not mushy. That is how I like my Laing and this is my target. 
Unlike other Laing recipes, this one contains really just the basic ingredients and I would say it is more than enough and already perfect. Thanks again Jonas Bermeo for sharing your Laing recipe and for the additional tips...   
You may also like to check out another Bicolano dish: Bicol Express! 
Printable Recipe
Authentic Laing Recipe (Taro leaves in Coconut Milk)
Get this authentic Bicolano Laing recipe! Dried Taro leaves cooked in coconut milk with chilis! Simple no-fuss recipe!
Ingredients
4

cups

coconut milk

(add 1 cup water if using coconut cream)

1

medium

onion

- chopped

2

cloves

garlic

- minced

8-10

pieces

dried fish

or smoked fish

5

cups

dried Taro leaves

3

pieces

labuyo chili

or 5 pieces bird's eye chili - each cut into 4-5 pieces
Instructions
Place coconut milk, water, onion, garlic and dried fish in a pot. Bring to boil over medium-low heat.

Once it starts to boil, add the dried taro leaves. Cover pot with lid and let it boil for 10 minutes without stirring.

Add the chilis. Season with salt if still needed.

Let it boil until coconut milk is reduced or almost completely gone.
Nutrition
Calories:
380
kcal
Carbohydrates:
9
g
Protein:
5
g
Fat:
38
g
Saturated Fat:
34
g
Cholesterol:
0
mg
Sodium:
26
mg
Potassium:
611
mg
Fiber:
1
g
Sugar:
1
g
Vitamin A:
1350
IU
Vitamin C:
18.4
mg
Calcium:
70
mg
Iron:
6.6
mg